Vintage G-Plan cabinet furniture ranges (1953 to 1969)
G-Plan began in 1953 with just one range of furniture, Brandon, finished in light or mid oak. Light oak was the fashionable look in the early 50s, mid oak, meant to appeal to traditionalists, was much less popular. Consequently today most surviving Brandon is in light oak.
E Gomme introduced new ranges to keep up with changes in fashion. A combination of rich African mahogany and ebonised finished details, 'Tola and Black', was their next range. In the early 60s, Donald Gomme, the brains behind G-Plan, left the company and the firm lost its way. They launched a number of different ranges to attempt to please to all tastes. Donald's brother, Lesley Gomme, eventually brought things back under control towards the end of the decade and rationnalised the ranges concentrating mainly on the new Fresco range in cabinet furniture.
For collectors it is important to establish which range a piece comes from. This is our summary of the main G-Plan ranges from 1953 to 1970.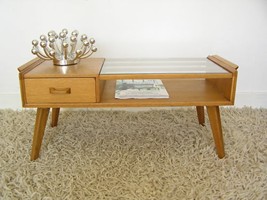 Brandon
Launch date: 1953
Finish: Light or mid oak
Designer: Victor Bramwell Wilkins
Features: Splayed legs, wooden handles, simple style
Brandon was the first range of G-Plan launched in 1953.
Chinese White
Launch date: 1956
Finish: Light oak and white
Designer: Unknown
Features: Wooden handles, white drawers or cupboard doors, some brass fittings. Pieces sometimes have black ebonised legs.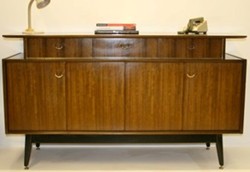 Tola and Black
Launch date: 1958
Finish: Tola (African Mahogony), ebonised legs
Designer: Unknown
Features: Brass fittings
Tola and Black was a new glamorous range for the late 50s. It is sometimes found without the ebonised legs, with the furniture finished in tola only.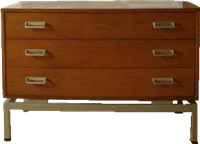 Limba
Launch date: 1960
Finish: Honey coloured limba (an African wood) with metal legs
Designer: Lesley Dandy
Features: Very severe minimalist design
Although very much in the modern style, Limba did not work for G-Plan. Stag's C-Range of a few years' earlier was much more successful. By the end of the fifties people were looking for more bling and found Limba a bit too reminiscent of office furniture.
G-Plan Decorated
Launch date: 1961
Finish: White lacquer and pale grey laminated plastic decorated with plants in a Chinese style
Designer: Lesley Dandy
Features: Chinese style
G-Plan Decorated brought a more feminine look to the bedroom. Inspired by period Chinese pieces finished in lacquer, G-Plan Decorated combined modern style with a traditional finish. It was a break with Gomme's modernist approach to G-Plan.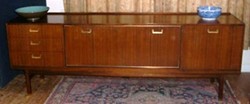 New Tola
Launch date: 1961
Finish: Tola with brass handles and wooden legs
Designer: Lesley Dandy
Features: Low long look.
The new Tola (Oak finish was also available) was influenced by the Scandinavian trend of long low sideboards. However, the finish in Tola was similar to other Gomme pieces. The range included G-Plan's longest sideboard (model number 4007) which measured 7 feet 3 inches. There was a smaller 4 feet 9 inches sideboard (4005) with a similar finish. There were also two dining table options: an extending table (4305) and a drop leaf table (4310). Gomme was a little behind the times with this range. Competitors MacIntosh and Austinsuite had already started marketing teak ranges with a Scandinavian look.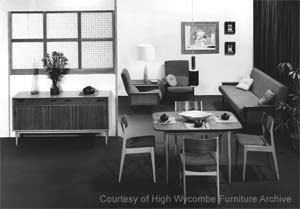 G-Plan Group 3
Launch date: 1962
Finish: Oak and teak veneers, or all teak from 1963
Designer: Richard Young
Features: Simple style
Group 3 was inexpensive furniture designed for flats and small houses. Aimed at the young end of the market, it was also modern and well designed.
G-Plan Danish
Launch date: 1962
Finish: Teak or rosewood
Designer: Ib Kofod-Larsen
Features: Top quality finish. Teak furniture had rosewood handles Some sideboards had leather handles.
G-Plan introduced Danish in 1962 in response to competition for Scandinavian imports. It was a move upmarket for Gomme and today G-Plan Danish is Gomme's most sought after range. See G-Plan Danish for more information.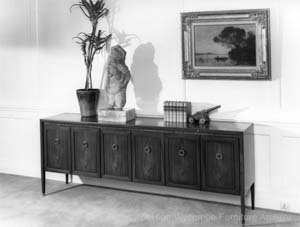 G-Plan Collector
Launch date: 1962
Finish: American walnut
Designer: Unknown
Features: Rounded off square metal handles, panel doors.
Gomme was very active with new ranges in the early 60s. Collector was more traditional looking than contemporary G-Plan.
G-Plan Young Idea (bedroom)
Launch date: 1963
Finish: Light oak with walnut rosewood and white lacquer contrasts
Designer: Unknown
Features: Built-in type furniture
This new range of bedroom furniture for 1963 was designed to look built-in. The range included chests of drawers, dressing tables, wardrobes, cupboards and headboards.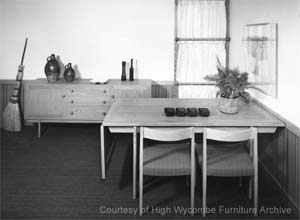 G-Plan Country Style
Launch date: 1964
Finish: Bleached oak
Designer: Richard Young
Country Style was plain furniture finished in natural oak. It followed the trend of pine finished kitchens which was just beginning in the mid sixties.
G-Plan Brasilia
Launch date: 1964
Finish: Teak
Designer: Victor Bramwell Wilkins
Brasilia was simply styled teak furniture inspired by Scandinavian design. The range included a large 6 foot 9 inch sideboard. There were smaller sideboards, sideboards with cupboards on top, three different styles of dining room chair, two dining room tables and a gateleg table.
Brasilia was dropped from G-Plan's catalogue by 1971.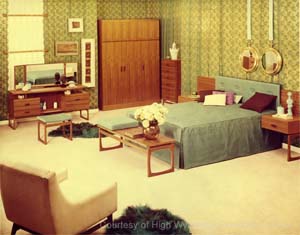 G-Plan Quadrille
Launch date: 1965
Finish: Teak
Designer: R Bennett
Features: Simple style, teak finish handles, similar to Fresco, but smaller.
Quadrille was modern bedroom furniture in a simple style and teak finish.
G-Plan Fresco
Launch date: 1966
Finish: Teak
Designer: Victor Bramwell Wilkins
Features: Teak finish, sculptured look.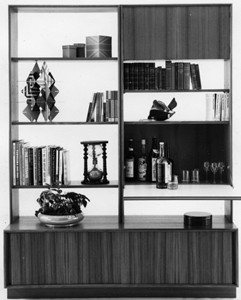 Gomme introduced Fresco in 1966 for the dining room. It had a sculptured look to it and the chairs had circular seats. This was one of Gomme's most successful ranges and remained in the catalogue for many years. For more information see G-Plan Fresco.
G-Plan Form Five
Launch date: 1967
Finish: Teak
Designer: R Bennett
Features: Teak finish, modern look
Form Five was a range of modern furniture in a simple minimla style introduced around the end of the 60s and exbanded in the early 70s. Gomme replaced the Form Five range with the Fresco wall furniture range in 1975.
See also G-Plan ranges 1970 to 1979
Read more
Your comments
Comments
Hi Steve, Firstly I'd like to thank you for the comprehensive information you've so kindly provided on mid century furniture which I've found invaluable. Please could you tell me the difference between 'Tola', 'Tola & Black' and 'Librenza' or whether they are all names for the same range of furniture? I'd also appreciate any advice you could give regarding the value of a 'Tola & Black' wardrobe, chest of drawers and dressing table as prices seem to be varying wildly. Many thanks for any help you can give!