G-Plan coffee tables
Some of G-Plan's earliest marketing suggested buying a coffee table as a wedding present so that the happy couple could begin their G-Plan collection. Today a coffee table is a good piece to start a collection of retro furniture with too. It brings a touch of style to any room and G-Plan coffee tables were some of the most stylish pieces of furniture of the retro era. This is our selection of some of the best designs to look out for.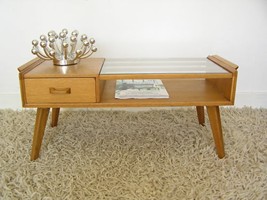 G-Plan Brandon coffee table
This G-Plan Brandon coffee table, right, was known as a Cocktail Table. The glass top was for cocktails before a meal. The designer was Victor Bramwell Wilkins (V B Wilkins). It was finished in light oak, as used in the rest of the Brandon range. This table dates from the early 50s.
These tables were also made in a darker mid-oak finish.
G-Plan circular/oval coffee tables
This is one of the most collectable G-Plan coffee tables.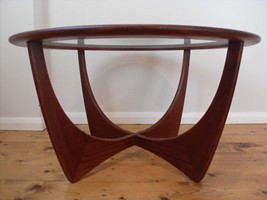 G-Plan made both circular and oval versions of this table. The finish is usually in teak, although in the later 60s a white finish became very fashionable and some of these table are in white. Some of the oval ones have an all-glass top.
The design dates from around 1969 and was by V B Wilkins.
These table are often called 'Astro' by some dealers and collectors, but Gomme used that term for the table pictured below. If you would like one of these expect to pay around £100 for a good one on eBay, although you can get restoration project for a lot less.
G-Plan circular and oval coffee tables on eBay
G-Plan Astro occasional table
For 1970 V B Wilkins designed this very stylish occasional table for G-Plan. It was known as G-Plan Astro and was described as an occasional table rather than a coffee table. It was finished in teak and afrormosia and sold for £32 10s in 1970.
This design is also known as the G-Plan 'Spider' by some dealers and collectors.
This is a much rarer design and when I looked I only found one for sale on eBay.
G-Plan spider/astro tables on eBay
G-Plan Hexagonal table
The Hexagonal table was designed by V B Wilkins in 1967. It marked a radical departure for G-Plan at the time. It cost £19 10s at its launch.
This is also a rare piece. These do come up on eBay from time to time, but expect to pay around £300.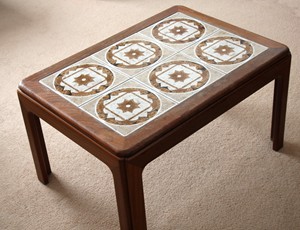 70s G-Plan tiled coffee tables
This design, by Leslie Dandy, dates from 1973. In the informal 70s, low coffee tables were popular as people often sat on the carpeted flooor. This design, with the tiled top, is typical of the period. It was also available in a cream finish. Like most G-Plan furniture it is solidly constructed and well made.
These tiled coffee tables are quite common. You should be able to get a one in a good condition for around £50.
Look for G-Plan tiled coffee tables on eBay
Read more
Add your comments on G-Plan coffee tables
Comments
I have a pink and white tile top coffee table with slatted magazine rack but can't find that colour of tile on any teak retro tables or anywhere come to that. Mum thinks she may remember it as being a G-plan. The long strips along the front and back are sculpted and the tiles sit in a frame. Many thanks for any info