G-Plan collectors' guide
Collectors have their eyes on particular ranges. G-Plan teak furniture is fashionable. The sideboard, right, is part of the Fresco range, which Gomme (the makers of G-Plan) introduced in 1966. It is finished in teak, which has a distinctive grain pattern. The influence for the design came from Scandinavia. Fresco was designed by V B Wilkins.
The most famous designer who worked for Gomme was Ib Kofod-Larsen. He designed the G-Plan Danish range in the early to mid-sixties. Kofod-Larsen's designs were the response to growing imports of Scandinavian, and particularly Danish furniture, from the late 50s. G-Plan Danish was an attempt to capture back some of this market share.
If you are looking for G-Plan Danish, the furniture is printed with a gold embossed stamp bearing Kofod-Larsen's signature and the words 'G-Plan Danish design'. There is a tendency amongst eBay sellers to describe pieces as by Kofod-Larsen, when they were not. His pieces are comparatively rare, as they were significantly more expensive at the time than other G-Plan furniture.
G-Plan labels
G-Plan labels can be very important in establishing the piece as genuine.
Gomme used two labels on regular G-Plan furniture. They used a third label on G-Plan Danish,.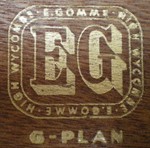 Gold embossed stamp 1952 to 1965
The gold embossed stamp, left, was used by Gomme on the first range of from 1952 and continued into the sixties. It was a 'brand' in the true sense of the word. G-Plan was branded furniture and every piece was marked with this stamp.
The text says 'E Gomme, High Wycombe'. EG in the centre, stands for E Gomme. 'G-Plan' is in capital letters under the stamp.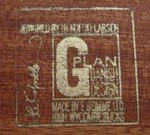 G-Plan Danish label
The label, left was used on pieces designed by Ib Kofod-Larsen. It carries his signature and the words 'DESIGNED BY IB KOFOD-LARSEN, G-PLAN DANISH DESIGN, MADE BY E GOMME LTD, HIGH WYCOMBE, BUCKS'.
Look out for this label on pieces attributed to Ib Kofod-Larsen.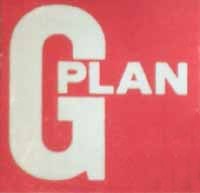 Red label 1965 to 1975
They used a red label, right, for 'G-Plan' from the second half of the sixties onwards. Unlike the gold stamp, these labels can come off and can be stuck on non-genuine pieces. Although this label was replaced by the red and gold one (below) around 1976, I think it was used later than that. Certainly catalogues up to 1980 illustrate this label.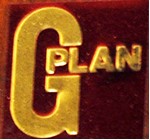 Red and gold metallic label 1975 to 1985
A red and gold metallic label appeared around the mid-seventies (see right). It is similar to the red and white label except that the text is in metallic gold.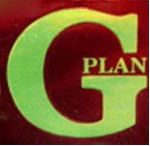 Red and gold metallic label 1985 to 1990
A different style of red and gold label appeared from 1985 (see left). Note the different font and different position of the word "plan".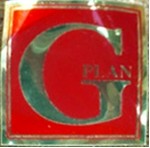 Red and gold metallic label 1990 to 1992
From 1990 and until the G-Plan factory in High Wycombe closed in 1992, Gomme used this new style of label (right). Again a red and gold label, but this time with a gold border.
Where do I buy G-Plan
You can buy Vintage G-Plan from specialist dealers and it does turn up in Selfridges in Oxford Street, London. However, if you are able to do you homework and want the best prices, I would recommend eBay.
On eBay you can find:
How do I sell G-Plan?
The short answer is on eBay. If you want the best price and the widest choice of buyers, sell on eBay. You will need to take some good quality digital pictures and write a description and give item dimensions, if possible.
How much is it worth?
It all depends on the particular piece and the condition. G-Plan Danish, by Ib Kofod-Larsen is always worth more. G-Plan teak furniture is also more valuable. The best way to value something is to register for a seller account on eBay and browse completed listings.
What about shipping
Have a look at Furniture collection and delivery. There are a number of couriers that welcome approaches from sellers. It's quite good if you can suggest one in the advert, it makes the buyer's life easier.
Read more