G-Plan Danish
G-Plan Danish by Ib Kofod-Larsen is amongst the most desirable of all retro style furniture.
Gomme introduced the G-Plan Danish range in 1962 in response to intense competition from genuine imported Scandinavian furniture. All the design work was done by the Dane, Ib Kofod-Larsen and the majority of this furniture bears the G-Plan Danish stamp with his signature.
G-Plan Danish was finished in classic teak with details, such as the handles, being in rosewood. There were some pieces made predominantly in rosewood. As was common with most quality furniture of the era, the solid parts, e.g. the legs were made in solid afrormosia, with some elements in beach.
The original range included the following pieces:
4020 - sideboard 7ft 6 in in teak, with sycamore interior and square handles in rosewood, cost then £61 10s
4021 - sideboard 5 ft 6 in with similar finish (illustrated above), cost £47 10s in 1962
4320 - extending table capable of seating ten people, top teak frame and legs in solid afrormosia
8022 - teak trolley
6243 - three seater settee
6241 - matching easy chair
6245 - low backed easy chair
6247 - TV (armless) easy chair
Dining chair with curved rosewood back
8730/8731 - low open bookcases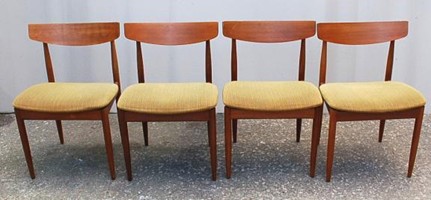 Gomme was able to manufacture these designs to their usual high standards, although G-Plan Danish was somewhat more expensive than their other furniture. Consequently it is rarer.
Ib Kofod-Larsen designed another range of furniture for Gomme in 1966 under the G-Plan Danish label. The most impressive piece was a 6 ft 4 in sideboard veneered in Rio rosewood. It featured thin elegant legs in solid rosewood and two large circular handles finished in leather. The sideboard sold for £85 at the time. There was also a teak version of the same design selling for £65.
G-Plan Danish label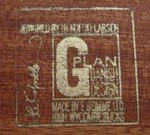 To be one hundred percent certain a piece is genuine G-Plan Danish, look out for the G-Plan Danish label illustrated left.
The G-Plan Danish label was used on pieces designed by Ib Kofod-Larsen. It carries his signature and the words 'DESIGNED BY IB KOFOD-LARSEN, G-PLAN DANISH DESIGN, MADE BY E GOMME LTD, HIGH WYCOMBE, BUCKS'.
Look out for this label on pieces attributed to Ib Kofod-Larsen.
Buy G-Plan Danish
G-Plan Danish does come up on eBay. Look for:
Add your comments on G-Plan Danish
"Hello, we have the gplan gomme ib kl trolley and the stamp is very similar to the one listed above but doesn't have as much writing on it just GPlan Danish and his signature below it. What does this mean, earlier or later than the other stamp?" KR 19/10/2014
"To be honest with you I'm not sure. The style of the piece itself might be a better way to date the item rather than the label. I've seen several versions of the G-Plan Danish label. best regards" Steven 19/10/2014
"We have a 75" long G-Plan sideboard in rosewood, with metal handles, and sliding and folding doors. The label is a normal G-Plan gold printed one, E.Gomme, High Wycombe, no mention of the Danish design though. The base is the usual turned legs and curved underbrace. Is this a rare model? Cannot see one like it anywhere." David 08/11/2015
"Ive got a chair set and an arm chair with the danish design logo on but can't find anything about them. It's a set of four dining chairs. Really great." John 16/08/2017
Retrowow
Your guide to vintage and retro