G-Plan sideboards
A G-Plan sideboard is a great statement piece. It will bring bags of retro style to any dining or living room and will give you a place to store plates, cutlery and glasses for a fraction of the price of a new piece of furniture of similar quality.
This our guide to some of the more significant G-Plan sideboard designs.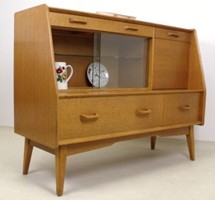 G-Plan Brandon 1952 and later
Brandon was the range that started it all off. G-Plan Brandon was a perfect example of the post-utility contemporary style of the early to mid fifties. The light oak finish complemented the brightly coloured and patterned wallpaper and carpets of the period.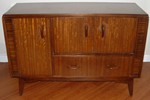 Brandon was also sold in mid-oak, for those that preferred a more traditional look. The sideboard, right, is also Brandon finished in mid-oak.
G-Plan tola and black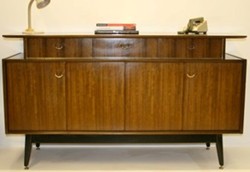 Like cars, in the second half of the fifties, furniture went two-tone. Tola, or African mahogany, was combined with an ebonised black finish for legs, to produce a uniquely 1950s' look. Often shiny brass handles completed the pieces.
It was all about glamour. Whilst Brandon was understated good taste, this was the furniture equivalent of a Vauxhall Cresta.
G-Plan used introduced a range of tola and black furniture, including this sideboard in around 1958.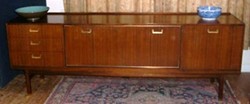 G-Plan tola 1962
The two-tone fashion did continue into the early 60s, but Gomme launched a new range for 1962 in tola without the ebonised legs. However, for once they were a little behind the game as Austinsuite and McIntosh had already launched ranges in the new fashion, teak.
G-Plan small sideboard 1964
This G-Plan sideboard was introduced by Gomme in 1964. It was finished in teak veneer. This model was designed for the smaller home, being taller rather than wider, bucking the trend of the time. The designer was Victor Bramwell Wilkins.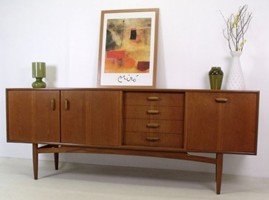 G-Plan teak sideboard 1967
This sideboard, pictured right, was in the Scandinavian style. G-Plan introduced this style a few years earlier with a range of pieces designed by Ib Kofod-Larsen. This design though was by V B Wilkins. It is often wrongly attributed to Kofod-Larsen.
G-Plan Fresco 1966
G-Plan Fresco was Gomme's most successful range. There were several sideboards, this one illustrated left, is the original one.
Buy G-Plan sideboards
There is a always a good selection of G-Plan sideboards on eBay. You should expect to pay for £100 to £400 for one on good condition. Be careful of damaged pieces which will be worth considerably less.
Look for:
Read more
Add your comments on G-Plan Sideboards