Vintage G-Plan
The G-Plan brand was launched in the 50s. It defined modern furniture from the 50s to the 70s. In those days 'G-Plan' was a generic term for modern furniture in the way we still use 'Hoover' for vacuum cleaners. G-Plan was not cheap, but it was the brand most people aspired to own.
After many years of neglect a new generation is discovering G-Plan again. Vintage pieces are commanding high prices. People are finding that furniture from the 50s and 60s and particularly G-Plan, was better made than antique furniture and looks stunning in a modern setting.
Topics
G-Plan pieces
G-Plan brand history
G-Plan was the brainchild of Donald Gomme. The family firm, E Gomme, had made traditional style furniture since the Victorian age. In 1952 he brought the firm up-to-date when he launched G-Plan. G-Plan combined modern style, a national brand name and a clever concept - interchangeable furniture.
Before G-Plan, furniture was only available in suites for the bedroom, dining room or living room. G-Plan changed furniture buying forever. Now people could buy as much or as little G-Plan as they wanted. They could buy one coffee table or a complete G-Plan look for the whole house.
Brandon - the first G-Plan range
The first G-Plan range was called Brandon. It was finished in light oak and in the contemporary style of the early fifties. It had a light look and feel, tables chairs and even heavy wardrobes and sideboards appeared to float off the floor. This affect was achieved with splayed legs and a simple, uncluttered look; both were key styling points for early fifties contemporary. G-Plan borrowed much from designers such as Robin Day, who pioneered contemporary furniture design. G-Pan was, though, aimed at a much wider audience.
G-Plan mid fifties glamour
Gomme updated the style of G-Plan throughout the fifties, sixties and seventies. The original light look of Brandon gave way to darker tola, or African mahogany. In the mid to late fifties there was a fashion for black ebonised legs and brass fittings. G-Plan followed this trend and upgraded its furniture with a glamorous look.
Initially, Gomme's success did not last into the early sixties. For G-Plan, 1960 was a bad year. The new G-Plan range for 1960 was not inspiring; it was yet another variation on tola, black and brass, which was already old fashioned.
Gomme introduced numerous different designs in an attempt to recapture the magic G-Plan formula. The severe and functional Limba bedroom range, designed by Leslie Dandy, ought to have been a best seller. Limba was veneered in a straight grain wood to make matching easy, but it stood on metal legs and looked a little like office furniture. The trade loved it; the public hated it. Limba was too advanced for its time; retailers soon cursed it as they were stuck with pieces of the unpopular Limba range in their showrooms. "Lumbered with Limba", was a phrase in common currency.
The World's Most Comfortable Chair
Although Limba was a disaster for Gomme, the firm had one notable success in 1962. It introduced a large, rounded swivel armchair with wings. It was available in several fabrics, but the buttoned black vinyl was a sixties style classic. This chair was very much a male thing; it could have come straight out of a James Bond movie. It was the chair that Michael Caine as Jack Carter, knocked Cliff Brumby into in the classis film "Get Carter". The inspiration for the chair was probably Arne Jacobsen's Egg Chair of 1958, which was similar in shape, but plainer. Gomme proudly proclaimed that it was the World's Most Comfortable Chair.
Ib Kofod-Larsen and G-Plan's first teak furniture
G-Plan went Danish in 1962. In an attempt to stop losing sales to Scandinavian imports, they hired their own Danish designer, Ib Kofod-Larsen. He designed a complete new range for Gomme, G-Plan Danish, in 1962. The highlight of the range was a 7 ft 6 inch sideboard in teak, which had unusual square rosewood handles. It was in the latest fashion of the era and looked stunning. The G Plan Danish sideboard sold for 61 10s [897 in todays money], which was rather expensive for a mass-market piece.
G-Plan Fresco
In the late sixties, the sculptured look was the new fashion and G-Plan led the market. They introduced their most successful range of teak furniture, Fresco, in 1967. G-Plan Fresco featured deeply sculptured handles and legs, combined with strongly patterned teak veneers. The new G-Plan Fresco dining set for 1967 had an extendible circular table and four dining chairs with padded circular seats and backs. The circle theme was a favourite of mid-sixties' design. The chairs had sculptured legs finishing in a circle at the top and bottom. The sideboard was large at 7 ft in length. It had the distinctive sculptured handles, which on the drawers appeared to imitate a smile. Fresco was for the bedroom as well as the dining room. There were Fresco wardrobes and chests of drawers, as well as a new dressing table. The dressing table had a special hidden drawer for jewellery. At 5 ft wide, it looked very impressive in the right room.
G-Plan in the seventies
Gomme continued with teak designs in the seventies. The Company positioned itself at the top of the popular market. The emphasis was on design and quality, rather than price.
G-Plan on the Golden Shot
ATVs popular game show "The Golden Shot", hosted by Bob Monkhouse, assisted by Anne Aston, offered a G-Plan Fresco dining suite and a G-Plan reclining chair as prizes in 1971.
More on G-Plan
See also The High Wycombe Furniture Archive which contains an extensive collection of images from the history of the furniture trade including a large selection of G-Plan images.
Your comments on G-Plan furniture
"I have a coffee table which I inherited from my late parents, I am almost sure that it is G.Plan. but cannot find a stamp on it. All of their furniture was always G.Plan. It is a typical G .Plan style circular spider base and the glass fits into the teak base. Do you know if all G.Plan furniture was Stamped, or anyone that I can contact who would be able to advise me. Any knowledge of this would be most grateful." Anita Boutle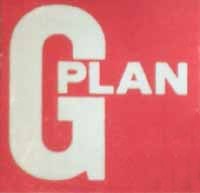 Hi Anita, G-Plan certainly did make glass teak glass topped tables as you described. All G-Plan furniture is marked. However, from the late sixties, red stickers, left, with G-Plan were used instead of the G-Plan stamp used on older G-Plan furniture. It may very well be G-Plan as the label might have come off over the years. However, tables in this style were made by other manufacturers in the late sixties and early seventies. Retrowow
"I have a teak sideboard, I am fairly sure it is by Ib-koford Larsen but I am not totally sure. It's the sideboard on the poster for 'Younger' 746 Fonseca in your retro sideboards page. I am trying to find out if it has any value! It has a younger tag on the back of the top drawer. many thanks." Josh "p.s. what a fantastic website!"
Hi Josh, The sideboard is manufactured by Younger. It is not G-Plan and won't be designed by Ib Kofod-Larsen. He designed for Gomme, i.e. G-Plan. It may have been by John Herbert who was Younger's design director in that period. Younger was more expensive than G-Plan, and was very high quality furniture, not quite in the Gordon Russell, or Archie Shine league.
As far as value is concerned, it all depends on condition. The best way to get an idea of value is to look on eBay completed listings for similar items. I'd guess around 200+ for a good Younger sideboard. Retrowow
"Fascinating article, thanks. I'm a little surprised, having searched completed listings, at how low the prices for G Plan tables are. Specifically, the teak extending dining table with 2 inverted 'T' shaped legs. Is there a tendency for these to be faked? Are there a lot of repro ones about? Hence the low prices for these?" Paddy
I think that there was quite a lot of G-Plan about in the 60s and 70s and demand has not caught up with supply. All depends on condition though. There is a large amount of G-Plan furniture around that would need considerable restoration work. Retrowow
"Hi, My mom and I were just looking at her G-Plan bedroom set that she brought from Scotland that was purchased in 1962. Even though it's been across the sea, and moved many times it's still in great condition. We were just wondering about the value of it. She has a dressing table and mirror, and an armoire. The dressing table has 3 middle drawers and 2 cabinets, and the armoire has 2 bottom drawers and 2 shelves behind double doors. Thanks for any help. " Alison Watters
Hi Alison, I usually find the best way to value G-Plan is to see what similar pieces sell for on eBay. There is a lively market for G-Plan on eBay and it is the best place to buy and sell. At a guess I'd say the dressing table and wardrobe would be worth 50 to 100 each. Retrowow
"I have the original Scroll and Anchor G-Plan settee which was purchased in October 1967 from G-Plan's shop in Kilburn. It has the original dralon covering. I understand there were only 3 settees of this model made, ours was the Bronze dralon, there was also the gold dralon and moquette version. It is roughly 12ft long plus the end corner scroll which is 6ft deep. We also have a G-Plan dressing table and free standing matching 3 door wardrobe, which is flat packed. Because our settee takes up a lot of room we are having to consider selling it as our present living room is too small to take the full length of the settee. If I put it on E-Bay how much do you think our settee would be worth now being as it is 42 years old. Also our dressing table and wardrobe which needs attention to the paintwork. " Mrs J Evans
Hi, It is difficult to tell with sofas. Recently a G-Plan corner unit sold for £90, but another sofa only sold for £10. It all depends on condition. There is also a very good looking G-Plan Saddle suite on a Buy-it-Now for £250. Retrowow
"I have recently per chest two G-Plan brown leather armchairs. The retailer said they were 1950s. They have small wooden stool like feet around 14cm off the ground which point outwards. Were you sit is fabric. There's nine leather buttons on the front of them. I was wondering how much they were worth if i was to sell them at a auction or even EBay. Can u help me?" Nick Parker
Hi, The best way to value furniture is to have a look at completed listings on eBay to find something similar. Do they have a G-Plan label or stamp? Retrowow
"We have a g-plan sideboard, oak wood with splayed legs done in black, purchased 57/58. This sideboard was designed to have a matching hutch place on the top, alas we didn't purchase one at the time. Now retired and would like to make a hutch for our sideboard, but I can't find a picture of one. Can you assist by directing me to a publication which would show a picture of this matching hutch. Many thanks. J. Siner." Jon A. Siner
"my grandfather has a late sixties round extendable table four chairs and i think the seven foot sideboard all in rosewood all are spotless and wants rid of them any idea of value" Simon Shaw
Hi Simon, G-Plan did a Danish style sideboard in rosewood veneer, but I don't think it was 7 feet. These may be by a more expensive maker than G-Plan: either Scandinavian, or by Younger, or Archie Shine. The value will be quite high. From £250 to £2000 for the sideboard depending on the maker. The table and chairs will be worth a similar amount. My recommendation is to look through eBay completed listings to find something similar to get and idea of the price. Retrowow
"We purchased a G-Plan table, six chairs, sideboard and drinks cupboard around 1981. The table and chairs are now with my daughter and we have kept the rest. One of the dining room chairs has a horizontal split in a back leg (near the seat) and all need re-caning and re-seating. Unfortunately I can't remember the range name to try to replace the broken chair - can you help? The sideboard is two tone, lighter wood with a distinctive grain for the most part with dark wood vertical handles. The table is also light with dark legs and the chairs are dark with cane backs. If it helps there is a printed number on the back of the sideboard - large 22 and a smaller 2682. Thanks for any help you can give." Rosemary Stevens
Hi Rosemary, the sideboard sounds like Fresco, which was G-Plan's most popular range. It was finished in teak with distinctively sculptured handles. I'm not sure about the chairs with cane backs, though. Retrowow
"Hi, I am a loss trying to find out the name of my parents G-plan dining suite. It is a large mahogany table -which extends. The chairs are cushioned with a velour dark beige and brown 'zig zag diamond pattern. There are two carvers and four regular chairs. They have a slatted back. They also bought a rectangular coffee table , nest of tables and corner crystal display cabinets and two drinks cabinets. They are all mahogany. My parents are looking to sell some of the suite, so I would be grateful if anyone had any info, or would know anywhere near East Grinstead that may sell/buy retro Gplan?
Many thanks for any help you can give Nicola p.s. I have looked on ebay and cannot find an exact match on the dining table etc" Nicola
"Hi there! I have the same problem as Nicola, we found (can you believe it!) a G-plan 3 piece bentwood suite (Samantha design I do believe it might be called) dumped unceremoniously by the roadside, enquiries led us to understand that the widow to whom they belonged had passed and the new owners had no need for it. It is in the most beautiful style and would imagine it is really comfortable as we have stripped the cushions for cleaning and have the suite bases in storage for the moment. We are keen to restore it fully and pass it on to someone who has the space to fully appreciate incredible curved 3-seater sofa and its perfectly matching armchairs. I have not been able to trace a single listing on the web incl ebay about the possible value of the suite and though it bears the G-plan branding I can't find a reference to the range at all. Are you able to advise at all please?" Lisa
Hi Lisa, The value of these suites depends on condition and how much someone else wants it. I have found that the most reliable way to value furniture is find a similar piece in eBay completed listings. A G-Plan 'Tulip' suite recently sold on eBay for £122 - see G-Plan 'Tulip'
"would like to refinish polish coffee table left it out side it got wet and has now gone grey on top ideas please" cdavid
I don't think the market for G-Plan is sufficiently mature for some pieces to be worth significantly more than others, except perhaps the Ib Kofod-Larsen designs, which 'Samantha' isn't. If you really like the piece, then restore it for your own use and don't worry too much about the value. Retrowow
"Hi there! how do you recognise then an Ib Kofod-Larsen in the G-plan range from the others. Did they have a distinctive stamp? thanks" Raquel
"I have inherited my parents G-plan dining set with 6 chairs, welsh dresser, corner unit with show case and bookcase, continental headboard, dressing table and stool circa 1955-57. Is there anywhere in particular we should be trying to sell these items and have you an estimated price range. Many thanks. Steph" Stephanie Kaufman
Hi Steph, eBay is the best place to sell G-Plan. Look for similar items to get an idea of price, but bear in mind condition is very important. Retrowow
We have a whole bedroom suite of G plan fresco. Do you know an interested collector please??
Charlotte Charlotte Banks
I have a dining suite with 4 chairs. The table is 137cm long and extends to 188cm with the leaf inserted (you pull either side of the top to slide out ti insert the leaf). It is 117cm wide.
It is teak on the top but the underframe and legs are ebonised. There is a brass cup at the end of the tapered leg. Each chair is slat backed and has a "bitter chocolate" velour seat.
Under the table on each section is a stamp impressed 105 with a 1 next to it.

I have searched the web and have not found anything like it.Any ideas to its value please? Carol
I have been unable to sell a late 70's G-plan fresco dressing table with mirror,in good condition, for the past year or more.Valuers/auctioneers in this part of North Norfolk say there is absolutely no demand for retro teak furniture and I may as well dump it.Can this be true as it is, sentiment apart,still to my mind a splendid piece of beautifully styled and rich coloured teak bedroom furniture. Simply too large to fit into our bungalow.
Doug Doug Crane
Hi Doug,

In response to your comment below, there is a strong demand for G-Plan especially teak G-Plan. Have a look on eBay. You will see pieces selling for more than £100. Some conventional auctions will take it, I guess they are more interested in Victoriana, which is comparatively less fashionable now. Retrowow
Hi, have just bought a g plan chest of drawers with handles which are horizontal and oblong but slightly tapered at end end. This matches my Mum's wardrobe with the same handles which are situated vertically on the wardrobe. I think both pieces were bought around 1967. Does anyone know which style they are please? Deborah Wood
We bought G-Plan furniture in the 1950's when we married.
Always very well made,we had a sideboard with a glass front,
a 3-piece suite,then later on the Fresco units,which we still have. They are still as good as new.
Jean Jean Singleton
I have G Plan 3 mirror long dressing table, centre shelf - two sides, one two drawer side, one small cabinet side...has had custom glass top since bought in 1068/9 - at furniture store in Dorchester, Dorset. It has trademark oval one piece 'legs' each end. Immaculate condition.
Also wardrobe...simple, two doors...g-planesque..bought at same time, and chest of drawers, five drawers with five inch
straight legs.
Please advise value. I will be selling. irene freeman
I got a wardrobbe and dressing table of e.bay.It is old but very stylish i am 47, anyway i noticed on the left hand drawer on the dressing table had a g.plan gold stamp,is this of any significance at all on the item age is it valuble are you able to help,thankyou look forwoard to hearing from you.
yours faithfully
H.Denoon Heather
Hi, Sorry it's hard to say from the description. The Gold label was used on G-Plan in the 50s and 60s. Later, from mid to late sixties they used a red label which was stuck onto the furniture. I hope this helps. Retrowow
Hi, what is the best way to remove scratches & marks off my teak G Plan furniture? James
hi i am turning my flat back to the 60s/70s era so far its going well.i wondered if anyone had any items for sale from those eras preferably cheap lol and local to leeds.in return i have for sale 2 seater mustard buttoned vinyl sofa,a 60s vanity unit complete with sink full surround unit with glass sliding doors and shelfs and sink slots into it.cheers.my email addy is lynnsnakekeeper@hotmail.co.uk. lynn
Use steelwool #000 wetted with teak oil, and simply rub very lightly in the direction of the grain until the scratch is gone.
Apply teak oil to a soft cloth and rub the entire piece of furniture to get the same finish all over.
Polish the entire piece with a dry cloth.

hope this helps james good luck. lynn
My son has been left some g-plan furniture.The sideboard is long, with polished brass feet, bi-fold doors at either side,(one needing a small repair to the slider), and drawers in the centre, the top one being a cutlery drawer.They have hinged brass handles.

The dining table, when fully extended on its eight black legs,( with brass feet matching the sideboard), is an attractive ovoid shape.

The wood appears to be teak, and both pieces have the gold G-plan stamp.The sideboard also has a stamp with manufacturers info including a year, possibly 1960.The surfaces are a little faded but otherwise in good condition.

There are four woven-seat dining chairs in excellent condition, but these have no visible maker's mark that we can find, so I'm not certain whether these match the set.

I am trying to identify the range of furniture.I have seen identical items elsewhere on the net, but haven't come across the name.Can you help? M Winfield
I a min Glastonbury at the moment and my aunty just passed away and thinking about taking her bedroom but the only problem is there is no wardrobe ,and i would like to match a 5 door wardrobe if possible,wonder if you can help me.thank you look forward to hearing from you,Regards Mary Mary
I have a re-covered black velour g plan swivel rock chair with rosewood legs. It approx 1960-1965. It is in good condition and |I have tried to sell in local paper but dont get any response. I have checked e bay and there are only 3 for sale currently. I really need the space and I need to get rid of it. Any reasoanable offers would be accepted. brenda mckendrick
I think we may have the g-plan reform 3-pce suite. Is there a picture of this anywhere to check. Also, what would the frame be made from, as we want to decide if it is worth restoring, as it will need new springs, fillings, covers, legs!

Thanks hartley
I have a retro G-Plan Dining Table finished in teak, six chairs and two dressers that are joined by an overhead cupboard, 1960's. Would the black leather actually be real leather on the chairs?
I am having to dispose of the whole suite as I am down-sizing.
Very sad but there is just not enough room in my new bungalow. Jannette
i have a five peice bedroom suite to sell all have a g plan stamp in them but also in a gold emblem what looks like the letters e or l k or b? do you know these initials. the suite consists of large robe with central mirror, mans fitted robe, oblong dressing table with stool and two 6 drawere chest of drawers, these were bought in 1969. infact its 6 peices with the stool, all in good condition and im looking for £300.00 for the lot. to be collected is this a steal. june knott
I have some G-Plan bedroom furniture, do you know how I can get in touch with collectors? Anne Hardinges
Hi
I have some quality peieces of the original G PLAN

My father bought various items from a store in London in 1957

A wardrobe, table and chairs, chest of drawers etc
I have the original receipt for the purchase as well and the cost was £248 7s 6d

A lot of money in those days.

Do you know of any collectors that would be interested in puchasing the items or places that deal in this type of furniture

Regards

Roy Cheesman Roy Cheesman
Where can I get my extensive inherited G plan furniture restored... It's perfectly sound but very stained and very, very smelly. I have a chest of drawers(tollboy), dressing table (with sconces) or should that be distressing table (it's quite spoilt), with stinky felt interior and 2 bedside tables(which look awful), 1 large ladies wardrobe and 2 coffee tables(bought 2nd hand). Any ideas anyone? I'm based in S/East London and have transport... Cheers.

=) Victoria
That sofa is exactly what I am looking for...I live in Northeast Florida. Can you recommend a source for me to find such piece? Chris Hendrix
Hi Chris,

The sofa above is G-Plan Danish. The designer is Ib Kofod-Larsen. I have found that eBay is the best place to buy G-Plan. However, I'm not sure how much of it there is in the US.

You might want to look for Danish furniture, which was popular in the US from the late 50s to the 70s.

regards Retrowow
Am looking for the extending circular dining table and four dining chairs from the teak "fresco" range dating back to 1978. The back of the chairs have a lovely woven-type panel. Would need them to be in REALLY excellent condition. Possible glitch - shipping to Ireland necessary! Margie
I boughgt a G plan coffee table in 1997, square with a glass square in the middle. It used to have a copper inlay between the seams but had been discontinued when I purchased one. Unfortunately it was damaged recently by plaster boared from the ceiling and so I am hopeful that you may be able to help. Jan Goodbody
Ooops, apologies Chris, I bought the coffee table in 1977 (not 1997)

I bought a G plan coffee table in 1997, square with a glass square in the middle. It used to have a copper inlay between the seams but had been discontinued when I purchased one. Unfortunately it was damaged recently by plaster boared from the ceiling and so I am hopeful that you may be able to help. Jan Goodbody Jan Goodbody
Where is the best palce to sell a 1960's 7ft. 3ins G. Plan solid sideboard, we have had no luck on E-bay. It is a classic piece 3 drawers 2 bifold door compartments and a drop down drinks cabinet, it has been owned by us since 1960. We can not understand the lack response we are getting. pam and david
Hi Pam and David,
I would still say eBay. Make sure you have good quality photographs, a good description and a realistic starting price.

Have a look at similar pieces that have sold and compare and follow their layout and pricing. Retrowow
hi,i have a 9piece g plan wall unit,that im looking 2 sell. Do you know of any collectors and how much i should ask for it? fi
I want to research a g-plan sideboard. It is teak 4 doors & 4 drawers. I cant see a g-plan tag on it so does all original gplan furniture have these tags. Ann Reddin
Hi Ann,

All G-Plan would have have had a red G-Plan sticker or a gold emobsed G-Plan brand when it was made. Gomme was very proud of the G-Plan brand. That doesn't mean the stickers might not have come off.

Can you send me a picture of the sideboard? Retrowow
Hello
Enjoyed reading your overview, did g plan make any purpose built office desks as I have a black plastic topped what can only be described as a standard office desk with 2 drawers to the right side. Unlike a lot of the desks which are really dressing tables on ebay this has handles on the drawers which I have seen on a koford larsen ? piece on the net.
Thanks in advance for your help in identifying this g plan piece.
NB. The G plan mark is quite faint not gold and looks like the capital letters E & G are also printed on the inner section of top drawer.
Thank you
Matt Matt Pepper
Hi Matt,
I don't think G-Plan made office furniture. Most of the 'desks' I have seen have seen are the Fresco dressing table with the mirror removed. You can always tell, because the Fresco dressing table had a jewelery drawer which you can see at the top of the desk.

I don't think Ib Kofod-Larsen designed desks for Gomme, but I may be wrong. All G-Plan Danish pieces (i.e. designed by Ib Kofod-Larsen) are marked with his signature and 'G-Plan Danish design' Retrowow
Hi
I have G plan 8 drawer G plan Bedroom Drawers white front drawers teak main casing.
Coffee table
Dark wood corner cupboard and two bookcases 1 with glass front 1 with wood doors.
Where is the best site to sell and what price should I let them go for?
All inm good condition. Eileen Paterson
I have a traditional oval original G Plan glasstopped coffee table plus a nest of 3 tables in G Plan that I want to sell, they need restoration so I am actually happy to give them away. I also have a White and Newton sideboard, this also needs restoration and just needs a new home LINDA WESTON
Hi there, I have a teak G Plan sideboard about 7 feet long with double doors either side four drawers (the top one a cutlery drawer. It is in pretty good nick apart from it has two or three dark rings (which look like/are burn marks or very old red wine marks) on the top and a patch which is lighter (ab out the size of a place mat, this could have been caused by a hot dish). How do I go about restoring this - do I need to strip it, sand the top and put teak oil on? I would be grateful for any help. Cheers, Liz Liz Chidlow

"I need to sell g plan furniture within the next 2 weeks. I have a sideboard, drop leaf table and 4 chairs i think they date from the 1970s. How much should i ask for them?
Is ebay the best place, shoul;d I give a reserve price
Thanks" Linda 16/04/2010
"Hi Linda, I would avoid reserve prices, they put some bidders off." retrowow 19/04/2010
"hello
i am unsure of a GPlan label for IB Kopod Larsen. It has the gold embossed GPlan logo with Danish Design in caps below, his signature (which is under the GPlan logo not the left hand side) but no mention of made by Gomme High Wycombe Bucks.Please advise.
thanks" claire 02/05/2010
"Hi Claire, The key points are that it says G-Plan Danish design and has Ib Kofod-Larsen's signature." retrowow 02/05/2010
"Hi
I have a set of matching bedroom G-Plan furniture that I can't find any matches to online, even on eBay. I have a large four drawer chest of drawers and two door wardrobe with full length mirror. With this I have a large kidney-shaped dressing table with mirror and four side drawers. The table top is wood covered in glass. All drawer fronts and the wardrobe door with the mirror attached are light grey, matching a leather stool. All have black legs and brass fittings, which I believe is late fifties? They were bought around this time from Grange Furniture in Watford by my Grandparents, were given to my parents in the late seventies, and have the early G-Plan stamp, but no one can remember exactly when purchased. We have never seen any other furniture like it and were wondering if you could tell us what range it might be and any other information, please? I love this furniture and don't want to sell, but I don't know anything about them. Any help would be really appreciated, thank you." Jane 03/05/2010
"Hi
I have some G-Plan pieces and the label is G-plan in gold on a deep red background. What about this label?
Thank you" ana 01/06/2010
"I have a lot G-Plan Form Five Wall Furniture which I bought in the late sixties and early seventies. I have recently added some pieces from eBay and these need re-polishing. Form Five appears to be varnished teak veneer, not oiled. Am I correct in this and what varnish did G-Plan originally use?" Philip Bradbury 09/06/2010
"Hi
I have a G-Plan coffee table which my parent bought in the late 60's. It's rectangular, 4 feet long, on wheels, teak sides and a pine (?) body with a storage well in the center and recessed storage areas at both ends and a removable glass top. It has a red label on it . Haven't seen anything like it on ebay. Have you come across this one before
Lorraine" Lorraine 09/06/2010
"Hi Ive just bought a G-Plan bedroom suite. Two wardrobes, two bedside cabinets, dressing table and a headboard. All finished in grey (melamine?) with a painted rose pattern. I cant find any reference to anything like this at all. Please can you advise what its worth how best to look after it.
Jenny Alexander" Jenny Alexander 10/06/2010
"hi,can you help me in the direction of how to tell ,who may be a maker,i have a drinks cabinet, a shelf on one side the other top half is the door goes down ,the other part is like a side board,with 2 draws and under that is 2 sliding doors with 16 cm tapered legs narrow at the bottom thick at top,the handles are round wood with inset,veneer,what site i can go on etc thanks sandra" sandra 14/06/2010
"Hi
I have just seen a G Plan wardrobe that is painted white with lilac doors. This is advertised as having been originally bought from G Plan painted - is this correct?
Thanks
Debbie" Lewis 15/06/2010
"I have some lovly g plan chairs from the 50's or 60's. they are black with curved lamitated wood back and curved seat. Maybe called butterflies

How can I found out what the orginal fabric looks like?
please help.
Mark F." Mark Foxsmith 22/06/2010
"In the 60s/70s Fresco range was there a next of tables? I have found the ones that are still available now but am struggling to track down the older ones. If there was such a thing could you describe them please?" Natalie 26/06/2010
"Hi,
I've recently bought a sideboard on ebay very cheap and have found out it's got the G Plan gold stamp. For the most part it's okay, but one shelf is missing and 2 drawer handles are chipped. I've been searching online for G plan salvaged parts to no avail. Do you know of anywhere I can get replacements for these?
Thanks for any help you can give." Terri 03/07/2010
"I have a coffee table with a red G plan sticker. It is about 4 foot long and 18 inches high. Halfway up at each end is a circular table top that swings out to make the table 6 foot long. It is a sort of white ash or limed oak. I cannot find any reference to this anywhere. I believe it is about 1990 ish. Any ideas? Thanks for yourhelp." Derek Warren 21/07/2010
"Hi
Can you tell me if G plan did furniture in 60's/70's with square brass handle with a circular hole in the middle? Not sure if what we have is G plan or not. It's the right era and quality furniture but can't see anything similar on e-bay for G plan.
Your help would be appreciated.
Thanks" Kathy Wilson 27/07/2010
"I have 4 chairs model 4582s dining chair new season cover 6947 ivory 100% hide with g plan red & gold embosed stamp.They our black with ivory leather seat, back is one piece of flexable shape wood, base u shaped black wood.Can you help me with the age and designer.
Tahnks
Ray" RAY KIRK 28/07/2010
"We are looking for a chest of drawars to match our GPlan Red Label bedroom furniture which was purchased between 1965 - 1968.
One wardrobe has the code number 1195.
Any help appreciated.
Linda Dowley" Linda Dowley 30/07/2010
"We have a lot of G Plan Fresco teak furniture which I would like to spruce up. My first project is the dining table. As it is an extendable round table, the central section looks wonderful and the outer parts not so. Please can you advise the best way to polish this up. Should I use teak oil? Thanks." Anna George 01/08/2010
"I am also interested in how to reclaim the colour of the teak on the old g-plan furniture. Any suggestions anyone?" Russ 04/08/2010
"Hi,
I have a chest of drawers that I believe originally had a mirror attached too. It has 4 drawers and is a pale wood - possibly oak, with a darker veneer casing. It has a gold and black label inside the top drawer on the right hand side - not one of the labels faetured on your web page - it says EG and below says 'Gomme furniture Wycombe'. there is a samll picture of a building and trees at the top of the label. Inside, the top drawer is divided into 3 sections.
There are no legs or feet on the furniture. The handles are rectangular and ridged, but not like others I have seen on G-plan furniture. It is chunky, solid and in good condition.

Is this an early G-plan?
Any info would be great - thanks.

Sam" Sam 24/08/2010
"Derek Warren, don't know if anyone has replied to your query but your coffee table sounds like the white ash one from the 'New Seasons' range. They were made in the eighties and I have a black ash one. I'm looking for a hi fi unit and nest of tables from the same range in black ash" Rosie Dowson 25/08/2010
"I have a G Plan New Seasons white ash extending table (bought 18yrs ago and carefully looked after!)which just recently unfortunately got some scratches on it - though they are not too deep and haven't broken the surface. Has anyone had similar damage to any of the white ash range and can this type of surface be repaired by a French polisher? Any advice would be appreciated." Mags Ferguson 30/08/2010
"so if the red g-plan stickers can come off, how do you tell if a gplan fresco desk-dressing table is the real thing? i realise each drawer is unique to each desk in the sense that you cant just replace the drawers from one desk with another, and there are also written numbers on the back of each drawer that say if they belong to the top right or top left or bottom right or bottom left... and also ive seen a couple of gplan desks and the mirror width also differs... is that just because each piece was made unique?" Emily 02/09/2010
"I would like to know whether veneered wood chip was ever used in G Plan furniture. Can you help?" Michael 03/09/2010
"I have a G Plan sideboard but have no way of knowing its authenticity. Where would any manufacturer's stamp be placed on the article pse? Thanks." mike c 13/09/2010
"Hi I have a G-Plan bedroom suite. Two wardrobes, and one dressing table. All finished in grey (melamine?) with a painted rose pattern. I cant find any reference to anything like this at all. Please can you advise what its worth and what is the name of the design.
thanks pauline 16/06/2010" pauline wilson 16/10/2010
"Hi I have recently acquired a Fresco dressing table and was surprised to find that it does not have the centre drawer and was obviously made without one as the recess is not cut out for it. In one of the other drawers there is a purpose made tray with the usual purple velvet lining that I have not seen in others. Is this an earlier/later model or did G Plan custom make their furniture on request? Regards Stu" Stu 05/11/2010
"Hi, I have an E-Gomme g-plan teak and ebony (black legs on the chairs and table) dining set from the 50s. However, there is no stamp on the dining set. I have been told that not all the tables and chairs would have been stamped. Is this true or is were all the tables and chairs in the 50s from G-plan stamped? Thanks" Jo 06/11/2010
"can you please tell me if the g-plan fresco dressing table came with a glass top ,as i have one on mine it doesnt look as if it was added after.Also is the matching stool round or square ? have got an upholstered square one with mine but have seen a round leather topped stool in a "matching" set .thankyou ." rae bosley 26/11/2010
"Hi there,
I have purchased two G-Plan sideboards in pretty bad condition that I'm going to revamp. I have to remove the handles to do this but they're moulded so I'm a bit stuck. Any clues how I might extract them ?
Cheers
Emma" Emma Wood 03/12/2010
"Hi

I have recently purchased a second G Plan room divider, can anyone tell me where I can purchase the brass adjustable feet that are missing.

Any help will be gratefully received

James" James 15/12/2010
"Hi, we have recently inherited a lovely dining table and 6 chairs. We believe they are G plan but can't find anyhing about them. The table is a teak colour and has a double row or orangie brown tiles running down the length of it. I have searched the table for a sticker or stamp but can't find one.

Is anyone able to tell me what the name of this piece of furniture is at all?

Many thanks, Helen" Helen 28/12/2010
"Looking for any info. on a company called Zim Craft. Very interested in a vintage sofa, coffee table, easy chair set that a friend is selling, but don't know what it's worth. Definitely, late fifties to mid sixties style." Karen 30/12/2010
"Hi, I inherited a lovely dining table, chairs and low sideboard type units from the 'estate' of the vendor of my newly purchased 60's style house. I bought a round G Plan coffee table with a glass top on ebay but I have realise one of the joints of the top has failed and I am paranoid that someone will lean on it and if it collapses they would hurt themselves. I wondered if anyone knows if its possible to get it repaired? I would think it would need to be heat treated to get the wood back together?" kenilworthbargains 05/01/2011
"Does anyone know what the original finish of the G-Plan tola and black range (dark wood with black legs) should be? I recently bought a table, butterfly chairs ( http://hwfurniturearchive.bcuc.ac.uk/asset-bank/action/viewAsset?id=708 ), coffee table & sideboard on ebay. They have a few scratches which need repairing and the current finish is a glossy varnish. Should it be more of a satin Danish oiled finish or did this only become popular in the 70s?" Lindsay 12/01/2011
"Whoops! I recently purchased a wooden upholstered armchair from a junk shop. On closer inspection of the frame I have found a logo like two pacman heads (not like 2 PAC, that would be weird ) embossed into the wood and a gold and black logo with the letters EG and the words Gomme Furniture Wycombe. Can you enlighten me? Thank you." Zoe 25/01/2011
"Hi Zoe,
The two pacman heads are the Utility symbol. This is a piece of Utility furniture made by E Gommme, but not G-Plan. The Utility scheme started in the War, to supply good quality and inexpensive furniture to those that needed it. The scheme continued into the early years of the 50s, but furniture makers were allowed to make their own designs and still use the Utility symbol." Steve 25/01/2011
"Hi, we have some GPlan Fresco dining table chairs purchased mid 1960S. We are refurbishing them and wonder does anyone have any info as to where you can get the shaped foam seat cushions from." Ray Booth 27/01/2011
"Hi Steve. I recently bought a triangular coffee table finished in black leatherette with teak (?) corners. It is beautifully made with very elegant struts underneath in teak and have just noticed it is very similar to the coffee table on the front of your book. Can you tell me anything about it, is it G plan, who is the designer? thanks" geoff 27/01/2011
"Hello. My grandparents have had a sideboard and dining set since around late 60's. We cant find its style anywhere. We believe it is G plan. Its Teak and the dining table and chairs fold up underneath the side board. Do you know what style or anything about it. THe side board has drawers down the middle and like a gold leather inlay on the fronts." jennie king 29/01/2011
"my old g plan 70s dining table has water marks and slight scratches on it. anybody know how i can refurbish it? it's teak." yvonne williamson 02/02/2011
"I've recently purchased what I believe to be the chair that matches the Kofod Larsen G-Plan sofa pictured above. However, I can't find a label on the chair to confirm the make. Does anyone have the same chair and can confirm the label's location?" Nick 15/02/2011
"Hi, I have recently bought a couple of second hand (like new) pieces of Gplan but I am unsure of the collection. The sideboard has a Model number ES0016 and a batch number which looks like 041119. Is there any way of finding out which colletion these are from? Thanks" Trudy 28/02/2011
"Back in the early 70's my mum went to the Ideal Home Exhibition in London and bought, which we believe to be G-Plan, a tall sideboard with 2 sets of drawers down the centre and a sliding door either end. The table folds down and sits underneath with the chairs tucked in. In whole a very neat and space saving piece of furniture. It has a pull out shelf/ledge from under the left hand set of drawers. It is part dark teak and medium teak. It has 6 chairs with it. we cannot find any refernce to it any where as to whether it is of any value and an Antique of the future or a collectable. Any info at all much appreciated.Thank you." Jane Birtwistle 12/03/2011
"Hi Jane,
Did it have the G-Plan red label? I'm not sure it is piece I recognise.

Best regards" Steven 13/03/2011
"Hi Steven. Next time I am at my mums I will endeavour to find out and let you know. Thanks Jane" Jane Birtwistle 13/03/2011
"Hi Steve,

We just purchased the Fresco 1969 5 foot sideboard. It's in excellent shape and bears the red/white sticker inside the middle cabinet door. The seems to be solid wood. I wasn't sure from the website description if it meant this piece was finished in teak veneer or solid teak. I don't see the tell tale signs of veneer. Do you know if it was manufactured in just teak or other woods? Also, it looks like they used pledge on it over the years. Do you know what the pieces were finished with originally? Oil or a laquer? The original owner passed away last year after bringing it over from England many years ago. (We are in Vancouver Canada) We bought it from his daughter. She believes it was never re-finished. Thanks for your help. Great info on your site!" Jody 15/03/2011
"Hi Jody,
The sides, doors and top would have been in teak veneer. It's quite hard to tell with G-Plan as it is so well made. Solid parts such as legs were made from afrormosia, which has a similar colour to teak, but is easier to work.

It should not be cleaned with Pledge, or similar. Just dust and very occasionally refinish with teak oil.
Regards" Steve 17/03/2011
"Hello,

I am looking to buy a g plan Astro coffee table and have found one at a bargain price, however the description whilst it says g plan alos says 'teak finish' - do you know if there were teak wood finishes or fakes made of this table? It looks good but lighter in colour than what I am used to seeing.PS.Good site thank you.
Sylvie 25/3/2011" sylvie 25/03/2011
"All G-Plan furniture was 'teak finish' rather than solid teak. This really meant teak veneer. The solid parts, i.e. the legs would probably have been made in afrormosia, which looks like teak, but is easier to finish.

I hope this helps." Steve 26/03/2011
"hello,
i've bought a 3 door "fresco" wardrobe and just waiting for it too be delivered in a 2 days time.
i am a little worried i may not get it up to my first floor flat,in one piece due to size restrictions.
how easy is it too dismantle?any tips on the best way too proceed to minimize damage?
is there a printable version of the original set up instruction manual you could put me onto?
kind regards
roger
p.s great site/info thankyou" roger hazeldon 27/03/2011
"hi my parents have a g-plan dining set compromising of 4 chairs and a table.A leg snapped recently on one of the chairs which if repaired we were told would have less strength.It was bought in the 60's or 70's.Is there any way of tracing the model to maybe purchase another one.I have looked on ebay but cannot find this model chair.Any help would be much appreciated" dave johnson 29/03/2011
"I have recently purchased 2 Layfayette units secondhand, BUT unfortunately the delivery men scratched the base unit of the drinks cabinet, in a visble area. Their only suggestion so far has been to use a wax crayon, but I am concerned that without an exact match (which is unlikely) it will only highlight the scratch more. Can you advise how to treat these relatively deep scratches/where to buy colour match (its cherry wood veneer)or of any trustworthy restorers and guesstimate for repair in east sussex area? Thank you!" Tara 11/04/2011
"I have a G-plan Circular extendin dining table, $ chairs and a carver.
Table and 4 chairs are water damaged and I am looking to renovate. Carver and extending leaf shows standard I have to achieve.
Any tips for preparing and renovating also for finishing laquer.
Regards.
Barry." Barry Johnson 26/06/2011
"Hi there, I have a G Plan dressing table with a mirror and a matching backless stool. It has the gold G Plan danish logo inside one draw. The mirror is curved at the bottom and the 2 side drawers (at each end) have a square handles that meet in the middle. The middle draw has no handle. it is teak. I cant find one anywhere? do you have any idea about this set? Thanks Julie" julie 06/07/2011
"Hi Julie,

If it's got the label then it's genuine G-Plan Danish by Ib Kofod-Larsen. These pieces are quite rare, so finding a handle will be very difficult. The best bet will be to find a scruffy piece for a cheap price with the handle. Or find a craftsman who can make an exact copy." Steven 07/07/2011
"Thanks Steven, the middle draw is not meant to have a handle sorry, so it is not missing, it is just a bare drawer if you get my drift. It is just lovely. I would like to know an idea of value as I am going to sell it. Thanks" julie 08/07/2011
"Hi Julie,

There hasn't been a Kofod-Larsen dressing table sold on eBay recently. The Fresco ones are more common, but go for £100 to £200 in top condition. I'd expect a Kofod-Larsen one to sell for more. The best bet to value something is to study eBay completed listings." Steven 09/07/2011
"Hey Steven

I have looked a lot online for some hinges for the folding doors on a 3 door fresco wardrobe. I bought one about 8 months ago and love it but it came without 2 of the hinges needed for complete assembly. I don't suppose you would know where to get replacements?

Thanks in advance
Will" will howden 26/07/2011
"Hello Steven, I purchased my Gplan saddle suite settee and his and hers chairs in 1969 and brought them with me to NZ.Originally they were covered in a brown leather type of fabric which cracked over the years and had to be recovered in a velvet fabric.They are still very much in use. I love them dearly. can I get the squares of rubber that support the seat cushions as they are slightly stretched at the edges? Also a loose cover perhaps? Marianne." Marianne Davis 28/08/2011
"My parents had an immacultae set of fitted living room furniture which is GPlan White Ash New Seasons. There are 13 units of furniture. They have been damaged by a flood and we need to put in a claim to the nsurance company. Can anyne confirm if they are solid wood - I am pretty sure they are but want to check before I put in a claim. Its very difficult to establish a value - anyone got any suggestions. I know that my parents paid just under £3000 for them in 1988." Joolz 05/09/2011
"Hi, I have a 50's G Plan drop leaf table with metal a metal think on the legs to levelling the table and four chairs, could you tell me the history of this tables? Thank you Very much..." Ricardo 17/09/2011
"Hey, I live in Australia and have just purchased a vintage drinks cabinet, upon further inspection i found it to have a standard gold G-Plan Stamp and a makers model of #887 The date stamped looks like may 1956 but is a little faded. I wanted to give a sand and re varnish is this a bad idea?" Chris 18/09/2011
"I HAVE A G PLAN ROTODINER TABLE IS THIS A
RARE ITEM AND IF SO DOES IT HAVE ANY COMMERCIAL VALUE." J. WATERS 26/09/2011
"I have inherited a black & white bedroom suite consisting of tall boy, triple wardrobe, dresssing table, chest of drawers & head board with attached 1 drawer cabinets with glass shelf all embosed with the gold EG mark from the 1950's. Is it worth anything?" G GRIEVES 18/10/2011
"my dad had a G Plan tall boy chest of drawers, a hi fi cabinet, tv video unit and a set of 3 nest of tables, some of the items have water/cup stains whats the best way to restore them?" Yvonne Taylor 29/10/2011
"I have a highboy sideboard stamped with the G plan seal which dates it at late 50's early 60's I guess. It has metal handles instead of wood I just wondered if you had any further information on this model in terms of dates?" Les Merde 03/11/2011
"I have a g plan desk, but can't find any information on it. From your article it seems you would be the right person to ask. The desk features a floating top and the right 'cupboard' has a teak bottle holder in it. The legs are molded teak as well (like a square) A link to a picture is here: http://www.brabohag.com/?p=309

Hope you can help and thank you" Charlie 18/12/2011
"Hi Charlie,
G-Plan made very little office furniture. These desks are often converted from dressing tables. Yours does look like one of those.

Have a look at the G-Plan Quadrille bedroom set here http://hwfurniturearchive.bucks.ac.uk/asset-bank/action/viewAsset?id=1437&index=144&total=235&categoryId=455&categoryTypeId=1&collection=1960-1969&sortAttributeId=39&sortDescending=true.

Your desk looks similar to the dressing table without the mirror.

best regards" Steven 26/12/2011
"Hi there
i have 2 g-plan 1960's/70's pieces, one is a large corner unit/bookshelf with a deep cupboard ungerneath the other is a smaller book shelf/glass sliding door display cabinet with 3 drawers underneath. I am wanting to sell them and have no idea how much they are worth and cannot see anything like them for sale. they were inherrited. any advice? many thanks Amy." Amy Farmer 07/01/2012
"I have a G plan style dressing table to sell, but there are no stickers to identify it as genuine G plan. There is a stamped number (189) on the underside of each of the 6 drawers however, any ideas what this would indicate?!" Han 22/01/2012
"Looking for some GPlan bedroom furniture specification help. Have panels back of wardrobe mirrors and drawer fronts painted light grey/mushroom.It will be late 60' or early 70's Gold embossed stamped design Trying to establish if paint is lead free.We are seeking to dispose of late mother-in-laws furniture but no one will take and put to use unless lead free.Other option is to skip which I am very loath to do as there is lots of life left in it etc.

If anyone can help, will be much appreciated" keith milne 18/04/2012
"hi
what a great site you have with loads of informatiom.
i have a g plan late 60's early 70's side board between 7 and 8 ft long its in a dark wood not sure if its teak or rose wood with double cupboard one end single cupboard the other end with 3 drawers one of them a cutlery drawer.very nice piece of furniture .iam unable to find any information on your site and many other sites. if i were to send you some photos would you be able to give me any info on it." natalie davis 23/04/2012
"Hi i have a large display g plan unit not sure of the age, its about 6/7ft high 7ft/8ft long has a glass display on the left hand side cupboards and draws at the bottom shelves in the middle and a pull downwards open cupboard would love to now sell as do not have the room would anyone like this? Or know who i could sell to please" sharna taylor 07/07/2012
"Hi
I have just bought a g-plan secretariat librenza unit off ebay in a pretty bad state, some deep scratches and marks. It is teak and ebonized wood. How do I get the scratches out and bring back the shine to the teak and ebonized wood. Also there is a brass cupboard pull ring missing, where could i get a replacement. Thanks" Mark Stubbs 21/07/2012
"We've recently moved into a new house and have been left some furniture, one piece being a nest of tables with the g-plan sticker underneath and the number 26 in all three, does this relate to the style? There are a couple of cup stains on one and I was wondering how best to clean them and I notice you say the best place to sell them is on e-bay but I've had a quick look and the prices are quite varied and wondered if you could give me a rough idea how much they are worth.
Thank you for your time.
Laura" Laura 22/07/2012
"I am interested in purchasing gplan garrick furniture I require their 5' long 7 drawer chest together with the matching bedside chests, I would like 2 of these, unfortunately when I divorced the ex got custody of these pieces I'd love to replace them and wonder if you could help in my search?" j.timmins1954@btinternet.com 15/08/2012
"Hi, I have a g-plan teak nest of tables I inherited from my grandparents. There is a large rectangular one which folds out to make a big square one and then two square ones that slide underneath side by side. They were given as a retirement gift to my grandfather in the mid 70's but I've never seen anything like this on ebay so wondered if you have any information on them." MandyB 01/09/2012
"Hi, I have just purchased an e gomme dressing table and matching set of drawers. They're exactly like the tola and black range but the drawers are all white, with the earlier 1958 brass handles. I have looked online but cant find any similar pictures. Does anyone know what this range was called and when it came out? Is it just a variation on the usual tola and black?
Thanks, Helen." Helen 24/09/2012
"Hi Helen,

The might be Chinese White - there is a picture here - http://hwfurniturearchive.bucks.ac.uk/asset-bank/action/viewAsset?id=702&index=50&total=133&categoryId=454&categoryTypeId=1&collection=1950-1959&sortAttributeId=0&sortDescending=false

Best regards" Steven 24/09/2012
"hello there..ive just purchased a 7ft g plan sideboard but 1 of the door handles is busted.is there anywhere i can get a replacement one,its a wooden glued on one.many thanks" Terry 29/09/2012
"Hi Terry,
Your best bet is to find a tatty one (you could try eBay or your local paper or charity shop) to salvage for parts. No-one re-manufactures parts for vintage G-Plan.

best regards" Steven 30/09/2012
"I have just brought a bedroom suit and noticed it had gplan lables. I have 2x bedside tables 1x dressing table and 1x 3door all hanging wardrobe the modle of this is garrick mahogany. Could any help with the age and value. Ty" karl delahaye 14/10/2012
"Hi Karl,

G-Plan Garrick dates from the 1980s. For some more designs see http://hwfurniturearchive.bucks.ac.uk/asset-bank/action/quickSearch?keywords=garrick&newSearch=true&quickSearch=true.

As to values, based on eBay sales - bedside tables - £30, wardrobe - £50. I've not seen a dressing table, but I guess £50 to £100.

best regards" Steven 14/10/2012
"My parents had a G Plan sideboard bought late 50s/early 60s (I'm not exactly sure when) - it's about 7 feet long with 3 drawers each side of a central cupboard with 2 shelves and a dropdown door. One drawer has in integral cutlery tray. It has small brass?/metal peg-type door/drawer handles and stores an immense amount of stuff. My brothers and I have inherited it and as none of us has space for it wish to get an idea of value and best place to sell it. Thank you for any advice." Sue 30/10/2012
"Hi Sue,

eBay is the best place to sell. Have a look at completed listings to get an idea of value. Remember condition is very important.

best regards." Steven 30/10/2012
"Hi I have what I presume is a g plan coffee table with a glass insert in pretty mint condition I was wondering if anybody had any ideas of people who may be interested in purchasing and rehoming this item were in cheshire" Claire 04/11/2012
"Hi I was given a lovely set of g plan drawers when I was 21, now 30 yrs later I still have them. The style is teak I think they have 8 drawers , on one side they are a tad smaller adn larger drawers on the left. They did have brass plates on the handles and looped drop handles which I replaced with new brass ones and got rid of the brass plates as they kept falling off. The drawers also have brass feet. The part where the legs are is sort of hovering separately to he base with a nice shape. I restored the top carefully and it is now in very good condition, In your opinion is this worth holding onto,... My hubby wants me to sell it but I do stil love it, We are downsizing and moving into a caravan to travel for a while and he thinks it would be not worth it to put it in storage. Can you help solve the dilemma.
kind regards, mo godbeer" mo Godbeer 04/12/2012
"Hi
I have some fresco stackIng tables with the top one faded by the sun
and scratched. Did G Plan put on a finish such as polyurethane or varnish
on their original pieces?. What's the best way to restore the top and remove the scratches ?, I have Danish oil
Thanks Ron" Ron Hodgson 12/12/2012
"Fresco was teak veneer finished with teak oil. I don't think they used varnish.

best regards

Steven" Steven 13/12/2012
"I got a G-Plan? nest of small tables at an auction. They look like G-plan and i have found identical ones on ebay being sold as G-plan. They dont have any label but a faint G either embossed or stained into the corner of the larger table? Any ideas, Thanks" Camille 14/12/2012
"Hi Camille,
G-Plan used a either a red label or a gold embossed stamp to indicate their brand. G-Plan pieces will have one of these. The red labels do come off. The gold stamps do not. See the collectors' guide for pictures of the stamps (follow the link at the top of this page).
best regards" Steven 14/12/2012
"Hi

I have got the two G-Plan wall dividers as pictured in your home page (with the purple chair).I am looking to sell them so please get in contact for details and offers please.Thanks" john 21/12/2012
"Hi there Steven
I have a sideboard Koford Larsen (4021) in very good condition and a chest of drawers (1316) also koford Larsen. I was wondering how much they are worth and can they be sold at auction?" John Garmeson 03/01/2013
"Hi John, I would say that the sideboard would be worth around £300 to £400. The chest of drawers, probably £200 to £300. Condition is of supreme importance and tatty pieces are worth a lot less.

Bonhams have sold G-Plan in the past you might want to enquire. Alternatively, eBay is the biggest market for G-Plan. Look at recently sold items to get an idea of starting price and take some good photos.

best regards" Steven 06/01/2013
"Hi, I am looking to buy a gplan desk with the floating top. However I am not sure if these were ever actually made or are all the desks for sale actually just a bedroom dressing table without the mirror as they are exactly the same? The style I am looking is the following one on ebay at the moment 150946634661 I am setting up an office for my wife and allready have lots of ladderax shelving and other bits of gplan from the same period. Would love your advice. Ps. If gplan actually made desks like this, are they finished all round or do they have to be put "back to the wall" ? Thank you very much in advance, regards, Mark." Mark 12/01/2013
"Hi Mark, There is no G-Plan office furniture and G-Plan never made desks. What you are looking at on eBay, is exactly what you thought, a dressing table with the mirror removed. It's a Fresco dressing table from 1969 to 1980. The drawer you can see with the mauve lining is for jewellery. I've seen plenty of these sold on eBay as desks. Perhaps they make more money like that. To answer you other question, the back was not meant to be on view. Best regards" Steven 13/01/2013
"I have a ornate gold edged mirror made by Gomme Furniture Wycombe. Is there any information available about them and when they were manufactured? Kind regards, Ross Johnson" Ross Johnson 18/01/2013
"I have i g-plan style side board but it was made japan do you know where the best place i could look to research it. Its a 1963 piece and i am very interested in furniture and the manufactures." Christian Barson 24/01/2013
"Hi Christian, Whoa! That's going to be difficult. There was little if any furniture imported from Japan to the UK in the 60s. I would have thought it was made for the Japanese market. If you know the manufacturer you could try searching for the name on google. Alternatively go to library that has a searchable collection of international news papers.

You cold try searching the archives of the Cabinet Maker for 1963 to see if there was any discussion of Japanese manufacturers.

best regards" Steven 25/01/2013
"Hi, I have a g-plan tv unit which has casters on it. I'd like to replace the casters with legs - do you know where I might be able to find legs to replace it!? Many Thanks, Laura" Laura Heathfield 04/03/2013
"I have a cream G Plan suite consisting of 1 armchair, 1-2 seater settee, and 1-3 seater settee, all bought mid/late 1980s. The units have 6"/8" legs in 'teak' and the fabric covering to arms, frame, and cushions looks like a sort of Dralon.

Can anyone tell me please if this furniture is 'Fire Resistant' in terms of current Fire Safety Regulations?" Andrew Hamilton 11/03/2013
"Hi I have a Teak G-plan sideboard that I wish to sell. Can you put me in touch with any G-plan collectors sights or best place to sell" Ian Dicxon 01/04/2013
"I am looking for the adjustable feet that came on the G-plan butterfly back chairs they are sort of cone shaped swivelling feet with the screw into the bottom of the legs so the chair doesn't rock

Any ideas where I can get them?" Janine 01/05/2013
"Hi Janine,

I think your quest will be difficult. It might be worth looking in Homebase to see if something similar exists. Otherwise try to buy some scruffy chairs with these fittings on eBay. You might find that the cheapest option. If you can get the chairs for virtually nothing, or they didn't sell you might persuade the vendor to send just the fittings so saving on postage.

Otherwise you will need to find someone who can make them." Steven 02/05/2013
"Hi, I have 6 seater G Plan Dinning table, all the chairs and table in excellent condition. I have got the table from one of my good friend who moved out of the country few years back. I want to sell the sams, get in touch with me if anyone is interested." Ratan 30/05/2013
"I have several items of G Plan Forester bedroom furniture bought in store in 1977: A Dressing table & stool, a chest of drawers, a man's fitted wardrobe and two bedside cabinets all made from North American Cherry wood. I am reluctantly downsizing and would be interested to know an idea of their value if anyone out there can tell me." Tilly 11/06/2013
"Hi, I think I have a desk by Ib Kofod Larsen, it has the four drawers and a floating shelf, large rectangle mirror. Where would I look for the stamp ? were fakes made ? I have been offered a good price for it, but not sure of it is an original or how to find out" Susan 13/06/2013
"Hi, I have 4 G Plan period chairs and would like to know what the design is called and an idea of value as I have not seen these for sale anywhere on line. I can send a good photo if you can help.
Deborah" Deborah 28/06/2013
"Hi have recently bought some g plan bedroom furniture and would like some more info on them . I have a 3dr wardrobe with sliding doors and a mirror that is on a grey panel . The other item is a headboard with intergrated sidetables the drawer fronts are also grey and they have a glass shelf on the top . The legs are black with brass feet .They have the gold embossed stamp and in fab condition . Hope someone is able to help . Thanks for reading ali x" Ali 15/07/2013
"Hi, i have an excellent example G Plan Tulip couch and armchair....its in fantastic condition and has all its original upholstery and cushions, of which are nearing on perfect. It is on its original wheels too! Ive been told, its rare to find one in such good condition! :-)" Rachel Harrison 27/08/2013
"Hi, I have a sideboard from the 1960's which my Mum and Dad said was G plan but the only mark I can find on it, is a small metal plate on the inside of one of the doors with a thistle and the word furniture underneath the thistle. I would love to know who the maker is, please can you help? Thank you for any assistance." Tracy 29/08/2013
"Hi I have a rotodiner t4300 coffee/ dining table. Would anyone know what it might be worth?" Karl 24/09/2013
"Hi
I recently bought a bookcase from ebay and I was told it was g plan but I have my doubts.
The bookcase has four spindly legs not carved, it has two glass sliding doors and two drawers underneath. It has handles set in to the wood that your hands go up in but they are not very deep.
I bought my g plan back in the 1970's but this doesn't match
Could you let me know if they made a bookcase like this.
It stands about 3and a half to four foot high
Regards
Carol" carol williams 25/09/2013
"Hi, we have a G PLAN sofa that I bought at a market for 100 quid. I can't seem to find anything similar. It has a red G PLAN sticky label. It is a three seater with curved arms. The back is three separate curved pieces of plywood. Any knowledge of this piece or what it's worth?
Regards Jo" jo 29/09/2013
"I have just purchased a round extendable G-Plan fresco dining table which has been heavily varnished with a dark brown varnish. I would love to restore it to the original honey/teak colour but I don't have any experience. Any advice on a sensitive restoration would be gratefully received." Irene 02/11/2013
"Hi I have teak 'astro' style low coffee table.

It looks like G Plan but has a small bold black capital B with a box around it stamped underneath the table.

Could this be a G Plan mark? Many thanks." Annie 12/12/2013
"Hi
I inherited (read saved from being thrown out) my mums old sideboard when she decorated her dining room and it consists of two side opening doors on the left hand side, a flap in the middle that hides the drinks area and three draws on the left.
One of the 2 oval hinges on the flap section has broken with age, can you recommend anywhere I can get replacements.
Happy to send a photo if it helps" Tim Guest 30/12/2013
"Hi,
this site seems to have becoming the closest thing I can find to a g-plan furniture owners' forum! Perhaps someone should set one up properly! Anyway, I scored a beautiful set of Fresco wall furniture on ebay, including bookshelves and drinks cabinet, all of it with cabinet lighting. Here's where I feel stupid though: I can't for the life of me work out how to remove the old bulbs from their holders in order to change them. You wouldn't have any ideas would you?
Many, many thanks,
-L" Laurence 09/01/2014
"Hi,
I purchased a second hand coffee table last year and have since discovered it is identical to a teak gplan tiled top coffee table. Everything is exactly the same, the tile design, the teak finish and build. So much so I was convinced it was genuine until I couldn't find the gplan mark on the underside. Is it possible that the mark fell off and if so, is there any other way to prove its authenticity?
Many thanks." Debbie Clark 21/01/2014
"Hi Debbie,
G-Plan furniture from the late 60s was marked using a stick on red label. It is quite possible that the label has come off." steven 21/01/2014
"Hi there,

I have recently inherited an old g plan coffee table from the sixties. I think it's teak. The top needed sanded back as it was stained and washed out with age and use over the years. I want to restore it to look as it did originally. Do you know what finish is on the wood? Is it varnish or oil?

Any help would be great. Thanks!" Karen 27/01/2014
"Hi Karen,
You will need to sand it very carefully as sometimes the veneer is quite thin. Most teak furniture would have been finished with teak oil. best regards" steven 29/01/2014
"HI LAURENCE, TO REMOVE THE BULB FROM THE HOLDER . HOLD CENTRE OF BULB AND PUSH IT SIDEWAYS AND THEN HOLD BULB FITMENT AND EASE IT AWAY FROM THE BULB. BOTH ENDS OFFITTING IS SPRING LOADED.ENSURE ELECTRICITY IS TURNED OFF.AS IT WOULD BE EASY TO GET A SHOCK. BULBS CAN BE PURCHASED 30 WATT REQUIRED. EX G PLAN WORKER FOR 30 YEARS." IAN NEWITT 31/01/2014
"HI KAREN, IF YOU SAND THE TOP VENEER FACE USE A FINE SANDPAPER RUBBING GENTLY IN ONE DIRECTION ONLY [WITH THE GRAIN] WE USED A SWABBING STAIN AND FOLLOWED IT WITH A POLYURATHENE LAQUER APPLIED WITH A GOOD PAINT BRUSH. THE STAIN AND LAQUER . YOU COULD BUY FROM B&Q ETC EX G PLAN WORKER FOR 30 YEARS. IAN." IAN NEWITT 31/01/2014
"Hi, I've just acquired a small gplan sideboard. Unfortunately the shelf supports have been lost and the shelf is currently held up by an assortment of screws!
Anyone know where I can get replacement shelf supports?
Thanks." Barbara 18/02/2014
"BARBARA, IT IS I ASSUME A WOODEN SHELF.ANY IDEA OF THE MODEL. I HAVE A FEW PLASTIC PLUGS /SUPPORTS FOR SHELVES. G PLAN ITEMS. SEE MY COMMENTS TO PREVIOUS QUESTIONS. I WOULD WILLINGLY SEEK THEM OUT AND FORWARD TO YOU." IAN NEWITT 24/02/2014
"HI BARBARA, I HAVE FOUND OUT 4 BROWN PLASTIC SHELF SUPPORTS FOR G PLAN CABINET SHELVES. I WILL WILLINGLY FORWARD THESE TO YOU AT NO COST. IF YOU SO DESIRE. IAN NEWITT" IAN NEWITT 25/02/2014
"Hi

I am collecting a set tomorrow that the seller 'believes' to have been made by gplan. Can you tell me, did they make drop leaf tables? The age of the item is commensurate with the style (they reckon about 30/40 yes old)

I have included a link where there is a photo. Any ideas? I'm buying to use not to sell so value unimportant. :)
http://www.ebay.co.uk/itm/111284196679?ssPageName=STRK:MEWAX:IT&_trksid=p3984.m1423.l2649" Sam 01/03/2014
"HI SAM, YES G PLAN MADE DROP LEAF TABLES AND THE LINK PHOTO I BELEIVE TO BE G PLAN.NOT IN THE FEW CATALOUGES I HAVE BUT FOR £20 IT IS A GOOD BUY. UNDER THE TABLE STAMPED ON THE LEAF.AND ALSO ON THE INSIDE OF CHAIR SIDE OR BACK RAIL SHOULD BE 4 NUMBERS STAMPED IN BLACK INK. GOOD LUCK WITH PURCHASE. IAN NEWITT." IAN NEWITT 03/03/2014
"hi I have a gplan reform 3 piece suite in great condition with teak & velvety type material, I think its from the seventies, the label is on there. M wondering how much it can sell for. I couldn't find a similar item on ebay. I sent an earlier message not sure it got through" patricia 25/03/2014
"HiPatricia, you must be referring to the front teak panels. if so it is REFORM made first in 1970 but was still selling in 1975 as i have the g plan 1975 catalouge. IT IS DIFFICULT TO SUGGEST A PRICE AS UNLESS IT HAS THE FIRE PROOF LABEL ON IT YOU WILL HAVE DIFFICULTY IN FINDING A BUYER. IF SO I SUGGEST YOU KEEP IT.THEY DONT MAKE THEM LIKE THAT NOW. I KNOW I MADE THE FRAMES.SOLID BEECH. EX G PLAN WORKER FOR 30 YEARS. IAN." IAN NEWITT 30/03/2014
"Hi, I have a gplan emperor sofa designed by selig. It's on eBay at the moment, I've been told it's quite rare. Have you come across this sofa before and is it rare? Regards mike" Mike Latimer 31/03/2014
"Hi,I have aquiired a koford Larsen ,G-Plan Danish Television Chair 6247
It's condition is ok the frame is perfect and the seat covering is ok but the inner seat padding is soft and the seat webbing has become brittle. what is your view about repair or reupholstery. I am not sure of the chairs value, and how mush it would cost to have the work done. Do you know of any experts in mid century furniture . I would welcome your thoughts.
Many thanks Carol." Carol Parsons 05/04/2014
"Hi Steven,
I am in a dispute at the moment on E-Bay.I asked the person if the coffee table had a gold sticker underneath .. his reply .. Yes, a bright Gold sticker, I asked for a photo, and it is a Red and White sticker, he still says the word G Plan is in gold .. is this possible.
Regards from Australia, Joyce" Joyce Macmillan 12/04/2014
"Hi Joyce,
G-Plan used the Gold stamp (no label) from 1952 to 1965. Then they used the red and white label. From around 1975 a red and gold label was also used. From 1980 to 1992 various different fonts were used, but gold on a red background. Does this help? I am due publish some more G-Plan labels. I hope to do this soon." Steven 12/04/2014
"Shelf supports - Ian Newitt reply of 25/02
Hi Ian, Thank you, that's great news. How can I contact you? I don't really want to post my address etc online." Barbara 14/04/2014
"Hello
In the early 1980s I did all the repair and polishing work for our local Waring and Gillows shop.I once rang G plan and spoke to the manager of their polishing shop, and he told me that they finished their work with 3 coats of matt precatalysed lacquer and wax. I'm sure they wouldn't use teak oil, which is a DIY finish." Brian Cummins 22/04/2014
"I WISH TO FORWARD MY E/MAIL ADDRESS ON TO BARBARA TO ENABLE ME TO FORWARD THE G PLAN SHELF SUPPORTS SHE REQUIRES. IT APPEARS I CANNOT SUBMIT A COMMENT ON THIS SITE WITH MY E/MAIL ADDRESS. PLEASE HELP IF POSSIBLE. REGARDS. IAN NEWITT" IAN NEWITT 25/04/2014
"I have a wardrobe by gomme it seems very old has an engraving mark on the back with a number 179

Also a sticker in side gold with eg and gomme furniture underneath it's seems much older than the g plan furniture I keep fusing when searching could anyone help me find out how old it is
Many thanks x" Emma 27/04/2014
"Hi Emma, Gomme introduced G-Plan in 1952. However, they made furniture before that. EG stands for Ebenezer Gomme who founded Gomme in the nineteenth century. Before G-Plan Gomme made traditional style furniture similar to Harris Lebus." Steven 28/04/2014
"I have a G plan astro round coffee table (glass top). The wood surround is badly marked - water marks and wear and tear. What would be the best way to restore this? Do you think I should do this myself or take it to a furniture restorer? Many thanks. Pauline." Pauline 14/05/2014
"Hi I've got a gplan fresco wardrobe but the castors need replacing any ideas were I can get original ones as modern ones I've seen are of different design, also the folding door gear is broken any ideas were I could get another one, many thanks great website
02/06/2014" Robert 02/06/2014
"I am looking for a wardrobe G Plan 1961/63 painted chinese style to match a dressing table and chest of drawers." rhiannon wyn jones 08/06/2014
"Hi Robert. The castors used are/were made made by FLEXELLO of SLOUGH.YOU CAN BUY THEM ONLINE. I HAVE SOME THAT I WILL PUT ON E BAY AS I SHALL NEVER USE THEM. HOPE THIS INFO IS USEFUL." IAN NEWITT 08/06/2014
"Hi Ian thanks for that I will look out for them on eBay
Robert 11/06/14" Robert 11/06/2014
"I am desperately looking for 2 wardrobes, Chest of drawers and dressing table - must be G. Plan or Mackintosh TEAK - must be in good condition Margaret Bamber - 01482n 876925 - will willingly pay freight" Mrs M Bamber 14/06/2014
"Hi Robert, Further to my suggestion on castors for your g plan wardrobe, I am assuming that only the black plastic wheels are broken and the metal fixing plates are ok...The wheels can be prised off the plate and new wheels tapped on.If you let me know the number you need,,,up to 4. i will gladly send F O C to you. as i have wheels without the plates and would gladly give them to you.01308 459878 Ian Newitt" IAN NEWITT 26/06/2014
"Hi, I've noticed there are two versions of the Kofod Larsen gold stamp. The one shown on the this website, and a simpler one which just says G Plan Danish Design with the Ib Kofod Larsen signature below (you can see many examples of this on Google images). Do you know the difference between the two, is one older than the other?" Michael 22/07/2014
"I have a G.Plan wardrobe , bought in 1968. The track is now broken and the wardrobe will not open or close properly. ANY SUGGESTIONS PLEASE. I would like to get at my clothes." Jean 27/09/2014
"HI JEAN, I AM ASSUMING THE WARDROBE HAS 3 D00RS, R/H END DOOR IS HINGED AND AND THE OTHER 2 SLIDE AND CONCERTINA ALONG THE TRACK ON TOP AND BOTTOM.WITH THE R/H DOOR OPEN IT WILL TAKE QUITE A LOT OF PRESSURE TO FORCE THEM ALONG THE TRACK. IS THIS THE MODEL YOU ARE REFERRING TOO ?" IAN NEWITT 28/09/2014
"I have 2 G Plan New Seasons wall units (one with a drinks cabinet and the other with a display cabinet) in white ash. Both have storage units beneath-one with two drawers and the other with two doors. Having recently downsized, they unfortunately don't suit in our lounge. They are in excellent condition. I can't see any such furniture on eBay. Does anyone know if they are worth selling?" Margaret Ferguson 19/10/2014
"I have recently bought a 60's G-Plan 3 drawer Bureau/Desk. Unfortunately the Drop Flap left Stay is damaged with a broken Plastic Slider which runs on the inside side panel horizontal rail when the Flap is opened. (They appear to be specific to G-Plan as I can't find a replacement anywhere. Does anyone have one or knows where to get one. Appreciate any help. Thanks G Davies Somerset (30/11/2014)" glyn davies 30/11/2014
"Hello. Firstly I'd like to thank you for taking the time to read me e-mail.

I have recently purchase an extending g-plan dining table with matching butterfly dining chairs and coffee table. The Dining table top needs a few scratches and a hot plate mark removing, its a natural teak finish which id like to restore, is this possible and if so what approach would you recommend so as to not devalue the dining table.
The chairs are in good enough condition but needs some TLC. With one the connections joining the legs at the front has broken, I can see that they are wooden plugs connecting the legs. My though was to replace these plugs with the equivalent available today in the UK, but in order to achieve this i have to drill the old ones out as they are firmly wedged in. Will this effect the value of the chair, do you have an alternative method?

Last question, the chairs as mentioned need a little TLC, the black leg paint has flaked off, I would like to rub down the old paint and re-paint with the same black paint they used, please could you let me know what that was and if it is still available and where i could purchase it.

Thank you again. I very much look forward to hearing from you.
Warmest Regards Claire-Estelle" Claire-Estelle 10/01/2015
"Hi Claire, I am a little bemused by your description of the chairs,How old are they? Black chairs were made in late 80s. They were sprayed using CRODA paint. As for the loose leg joint,we used dowels not wooden plugs, seat brace under the seat pad held by 2 screws . Hope this is useful, come back with more info if possible. Ian Newitt" Ian Newitt 14/01/2015
"I have four G plan teak dining chairs with upholstered seats which I wish to dispose of. They were made in 1976 and do not have fire safety labels. It seems that it is illegal to sell them, and charities can't accept them. Can I check if G Plan complied with fire safety tests before 1976 and obtain proof? Can I even give them away without fire safety labels?
Thanks
Paul" Paul Horth 19/01/2015
"Hi Paul, Having looked up the FIRA [furniture industries research association] website of which G PLAN was a member back then. The law for foam to be fire retarded came in in 1980. But i beleive we complied before it came in. Oddly enough though to see any item of furniture for sale on E BAY i can never see upholstered items claiming to be complying with the current law, no matter how old the items are, I would go ahead and sell them but tell the buyer that they may not be fire retarded.Hope this helps you. Ian Newitt,ex G PLAN worker from 1960 to 1990." Ian Newitt 29/01/2015
"Ian, thank you for your trouble. We have today given the chairs to a friend. The upholstery is split and they would really need repairing to sell. I'm pretty sure it is illegal to sell any furniture without fire safety labels. I realise stuff is sold on Ebay, but Ebay would probably say they aren't breaking the law, they are not the sellers of the items. If the chairs are re-upholstered they would be kosher.
Paul" Paul Horth 01/02/2015
"hi nice g plan braden cocktail table on ebay cheers plywoodpaul" plywoodpaul 03/02/2015
"Hi.

I have a lovely G Plan 7ft sideboard with cupboards both ends and a set of central drawers. It is generally in good condition but I need to retreat the top. If I lightly sand what should I finish it with. Teak oil alone doesn't appear to be the correct way to go." Ivan Sams 28/02/2015
"Hi, I have the opportunity to purchase a Kofod Larsen sideboard (number 4022). It's in excellent condition, bears the gold stamp and is available at a very reasonable price. The only issue is that rather than the usual square rosewood handles it has round metal (brass I think) ring handles. The current owner didnt change the handles but bought the piece second hand about 30 years ago. I assume they are not original but I wanted to check if G PLAN ever manufactured them this way? I would like to reinstate handles as close to the original as possible so I wondered if you might know their dimensions? Also if you happen to be able to suggest somewhere who might be able to supply them that would be fantastic.
Thanks
Richard" Richard Bandy 08/03/2015
"HI RICHARD, I MAY BE ABLE TO HELP YOU WITH THE ORIGINAL ROSEWOOD HANDLES. [ I SAY AGAIN ORIGINAL].COULD YOU LET ME KNOW THE QUANTITY YOU NEED.I HAVE A FEW. REGARDS. IAN NEWITT." IAN NEWITT 16/03/2015
"Hi Ian

Thanks so much for getting back to me. That's hugely exciting as I really didn't think there would be any chance of sourcing originals! I have now purchased the sideboard & it's lovely but if you are able to provide the handles I would be enormously grateful. All the handles have been replaced so I would need 8. Is that possible?
Many thanks
Richard" Richard Bandy 16/03/2015
"Hi Richard. Yes i have the handles but sad to say i only have 7. Shame that,as i see a similar model to the 4022 that has 7 of the same handles fitted. I have enough Rosewood veneered faced polished handles in teak [Afromosia] shaped, size 85 x 30mm o/all which may suffice.I could photo and scan to you,I await your comments, Regards. Ian Newitt" Ian Newitt 21/03/2015
"Where can I purchase wardrobe door hinges for my G-plan wardrobe?

Thank you" Malcolm Surman 20/06/2015
"Hi, I have just purchased what was described as a G Plan Fresco 1961 side board and display unit.Our seller is adiment that this is a genuine G Plan item and has been in her parents home since 1961. You have stated that Fresco was only introduced in 1967. We have discovered that the drawer internals are plastic and the hinges are exposed on the doors inside, much the same as the fittings on the doors in my kitchen units. Please can you advise.
Your site is extremely informative.
Thank you
Barry" Barry Swan 05/07/2015
"Hi Barry,
Fresco was not introduced until 1967, so it can't be 1961 and Fresco. The cupboards would not have had modern kitchen unit style hinges. I have come across people who are convinced that some piece of furniture is G-Plan when it isn't. It is sometimes what their parents told them. Probably a genuine mistake. Get in touch with the seller and explain if you are not happy.

best regards" Steven 05/07/2015
"We have a 1975 G plan dining room table, chairs and 7ft sideboard which has been faded by the sun. What is the best way to restore the original teak colour. Thus far Teak oil has made no difference. Thanks" Roger Eade 24/07/2015
"Hi,I have 3 pieces of 'Tola and Black' G plan furniture from the 50,s.
Would anyone know what the black Lacquer is and how to get hold of it?
Also what would be the best way of restoring scratches in the Tola, which I believe is mahogany with a shiny finish which scratches very easily.Thanks Meg" meg 01/08/2015
"I have recently acquired some dining chairs which have the IB Kofod Larsen stamp and a table which I presume is also G plan although no sticker.
The chairs are in fairly good condition but need some tlc, especially the back rests which are quite worn on the top.
I am unsure how to refinish them, I have been reading about using teak oil but am unsure if it is ok to use over the existing finish.
The table needs sanding right back as it is quite faded in parts. It will be for family use so I am wondering if it is ok to varnish or better to stick to oil.
I would be grateful for any tips!" Deb 11/08/2015
"Hi
I recently purchased a g plan fresco bedroom suite at auction.Unfortunately there are some scratches on both the double and triple door robes, the bi fold mechanism is also a little noisy when used.Any suggestions as to how to restore the doors ( would teak oil or briwax work ? ) and make the mechanism smoother?

Many thanks

Alison" Alison 25/09/2015
"I just bought what looks like a fresco dressing table (charity shop) it has the red G plan sticker but doesn't have the 'hidden' draw. it does have a velvet lined sliding 'shelf' that fits over one of the other draws. Is this just a different configuration do you know?" Garry Ashton-Coulton 04/11/2015
"I just acquired a G plan dining room table with extended leaf and I'm unsure how to lock it in place when being used with extension and smaller version. Is there something I can do so its not sliding out?" Carla 24/11/2015
"I have some G Plan Form 5 units that I've had from new. Recently wanted to extend the shelving along the wall and so bought a single base and shelf unit from an on line dealer but when it arrived the shelf unit was 9inches shorter than the ones I have. Trying to work out if it has been cut down or whether they were made in two heights originally. Anyway, don't want to waste it so want to extend the height of the shelf unit at the bottom which should be possible as I will paint it anyway, so no need to match the teak. However the issue will be the beading/trim at the front. Is there a particular name for that sort of profile?" Maggie 02/12/2015
"Have just purchased an E GOMME/plan dressing table with brass drool handles are they genuine" Poppy Palmer 13/12/2015
"Have purchased an e GOMME dressing table with a g plan sticker is it genuine" Poppy Palmer 14/12/2015
"Hi, I have a G Plan Fresco tall drinks cabinet that I acquired, and have been trying to restore (this is the kind that lights up). The adjustable shelves seem to be held by a piece of wire on each side that the shelves slide into. This wire on the top is long gone. Does anyone have any suggestions on where I can get the wire shelf attachment or make?" Lori 15/01/2016
"Lori, I have come on here to ask exactly the same question. This kind of support is ingenious and seems to be unique to G Plan, so very difficult to find. If anyone knows where they could be copied, that would be useful." Maggie 22/01/2016
"I purchased a G Plan table and 6 chairs on ebay advertised as teak but they aren't. The table is a lozenge shape with the t shape legs and it is a brown wood not dark like mahogany, the chairs are upholstered in a pale green velvet/Draylon type fabric and the backs have a wooden surround with a plywood insert covered in the same material. Any idea what the wood in this piece could be and how to restore it as there are some marks and it has been polished so water makes a white mark for a few days. The table top is only about 1" thick not rolled like the Fresco range. regards Anita" Anita Cooper 24/01/2016
"Lori, I have discovered that the wire shelf supports are called 'Swedish-type shelf supports' and there are some currently available made by Hafele. However they are made in three lengths, none of which is right for my shelves. My wires are approx 178mm long, and Hafele's are 160, 224 or 320mm. The two larger ones are too big for my shelf depth so I will have to buy the 160mm and just drill an extra hole in the side of the unit to accommodate it. Not ideal, but better than nothing. If anyone knows where to get the right length ones though, that would be helpful. Thanks." Maggie 26/01/2016
"Hi,
I've used your website many times and found it very helpful(thank you).
However,I have chair that is like the G-Plan Most Comfortable Chair but it more stylized,like a Comma and I have not seen another one like it.
Can you please help and tell me something about this chair?
I've taken some photos and put them on One drive. The chair is leather and I believe it to be from the 1950's or 1960's.
https://onedrive.live.com/redir?resid=22E7B0889DF112A2!1082&authkey=!AEM3PDpW29p_F_A&ithint=folder%2cJPG

Many thanks

Sheila" Sheila 29/01/2016
"Hi Sheila,

Sorry I don't know. Quite a few manufacturers made what were called 'Status' chairs in the second half of the sixties following the G-Plan style. It looks to be vinyl rather than leather.

Are there any marks which could identify the manufacturer?

best regards" Steven 29/01/2016
"I've been giving a 1950-60 dressing table it has four drawes with glass top and under shelf it has a white floral design two draws are thin one has gold e.g. mark on and the other side I lined with son sort of velvet please could u help with the value pls" kelly 11/02/2016
"Collecting g plan white ash furniture. Is there anywhere I can find out all the pieces they made and when?" Bryony 21/02/2016
"I have a G plan sideboard with a drinks cabinet on top, one of the hinges to the dropdown door is broken, I can't find any hinges anywhere that match, any ideas where I can get one from please." Anita Cooper 23/02/2016
"Hi Anita, I am in a similar situation. I am too looking for the drop down door hinge arm things for a GPlan sideboard. The door which is meant to drop down has been changed to horrible side hinges. I want to change it back to its original function. Have you managed to find any similar hinges or the actual g plan ones?? Thanks. Mike" Michael Johns 10/03/2016
"I have g plan dining set six chairs (two having arms) a large very heavy oval table with central extension, wall cupboards glass doors with central glass shelf and drop down door drinks cabinet sitting on floor cabinets with central cabinet having 3 drawers one being for cutlery. Beautiful rosewood which I believe was described as red Chinese when we purchased it. Also have matching set of nest of 3 coffee tables. Would it be a sin to have this cuite stripped and try to lighten the wood?" Janet Hall 24/03/2016
"I have a large (88 cms width, 48 cms height)round G Plan coffee table in teak with teak cross pieces, with the resulting glass quarters having bevelled edges. The label underneath is a square paper with a white background, on which is a large red circle , on which is a large 'G' and a smaller 'Plan', underneath which are the words 'G Plan Cabinets' in red. Is it possible to age this coffee table from the type of label (I can supply a photo)?" Paul Mollatt 30/03/2016
"There are some G-Plan labels in our collectors' guide, see link at the top right of the page. Does it match one of those?" Steven 31/03/2016
"Thank you Steven. It most resembles the Red label of 1965-75 in its shade of red. It's a stick on paper label not a plastic one and the ground colour is white. I can send a photo but can't see how to do it here. If you're interested please send me an e-mail directly and I'll send a photo." Paul Mollatt 31/03/2016
"Hello, we have recently bought a circular extending dining table which has coloured naturally but the central leaf hasn't coloured at the same rate. Is there any way of bringing the two sections back to the same colour?

Thanks for any advice going" Gabi 29/05/2016
"Hi
I have inherited my Grans g-plan sofa, arm chair (matching which are IB Kofod-larsen Danish collection), and 2 TV chairs (also K-larsen, but the stamp has been removed). All bought in 62/63.
They are in need of refurbishing - but i wondered what they should be worth in an imperfect condition.
Any advice would be welcome. Thanks!" Victoria 01/06/2016
"Hi....I have a nest of tables with the red lable under the small one....but in pencil there is what looks like I k L and above them fingerprints in the vanish....on the underside is also stamped 202 then in pen 1206....any help would be apreciated." Sue wickwar 18/06/2016
"I have a nest of tables with fingerprints in vanish on underside and Ikl initials in pencil underneath them...?" Sue wickwar 18/06/2016
"Hello,
I am looiking for a New Seasons white ash dining table and chairs.
Would like to view before buying.
Shelley 19.06.16" Shelley 19/06/2016
"Hi, i have a g plan astro table but the wood is reddish in colour. Did G plan make different shades of wood or use difference wood other than teak from the 1980's. Its not the look of teak. Thanks." Vanessa 11/07/2016
"Hi I have a G plan round extendable dining table and four chairs Al Fresco .My question is....the leaf carries the G plan Red sticker but also has a number stamped on the opposite end -384 what does this mean?

Many Thanks in advance Lindsey" Lindsey Kelly 13/07/2016
"Hi
I have two ceramic top coffee tables the query is iver the tiles which have a single raised abstract motif that runs across each table and signed JB, any clues on the ceramic artist?" Tracey 17/07/2016
"I am looking to get my New Seasons, White Ash oval dining table and chairs restored, and chairs (re-upholstered), can you recommend where I can get this done?" Caroline 18/07/2016
"Hi,

I have come across a very attractive small GPlan cupboard. I think it is from the 1950s, and looks as though it is made of oak. Unfortunately the doors and cupboards have been painted, and the finish on the wood is scratched and damaged. I would like to restore and refinish this as close as possible to the original. I was thinking about paint stripper, followed by a light sand, and then re-oiling. Is this the right approach? What oil should I use?

Thanks!" Ellie Clayton 23/08/2016
"Can you advise on whether the rubber seat pads on a G plan 3 piece settee are available somewhere. If not how can they best be repaired. The metal triangle has pulled through the rubber corner.
Also what tools are needed to stretch the pad to remove and replace it" DAVID STEWART 04/09/2016
"Hello, I recently inherited a G-Plan "Comfort Lover Group" suite which I know was purchased in the summer of 1967. Does anyone know when they stopped producing this line. I have a brochure from 1968 and it was still around, but I know 1969 was a big year for G-Plan and assume it was dropped then. I have not been able to find a 1969 brochure.
Thanks For Any Help,
Kevin Core" Kevin Core 04/09/2016
"Hi i have 2 gold lable bedside units which look like space shipe from a old space raiders game they aer both marked wirh a gold stamp in the drawer they areboth in excellent order what are they worth and is it better to have a gold stamp or a red lable many thanks karl" Karl McCabe 27/09/2016
"Hi
I have a g plan sideboard but one of the doors has split round the hinge pin, can anyone tell me how to remove the doors to make a repair. I can see the pin holes in the base of the unit but cannot work out how. To extract the pin." Mark 14/10/2016
"Hi, I bought what I think is a gplan 6250 chair. But it doesn't have a label on it. I've found one on eBay that has a label under the cushion, mine doesn't. Is there anything else that would tell me it's a gplan? Do you know if copies where made of the 6250 chair?

Thanks" Andrea 17/10/2016
"Hi, Is it possible for a G Plan piece to be designed by Kofod LARSEN, but not have the Danish stamp and signature?We have a set of dining chairs that carry the G Plan red label (1965 onwards) and are identical to a set we have seen but do have the Danish stamp. Thanks.Jon" JON 26/11/2016
"Hi, I have the New Seasons extending oval dining table and six chairs. The paint has worn on the table top. Can you advise me how to restore it or who could restore it. It doesnt seem exactly like a paint so not sure how to treat it. Still love it after original purchase in 1988. Thanks." Luella Keeley-Johnson 26/02/2017
"We purchased what we thought was a G plan dining room suite in 1966. The sideboard is approx 7 foot long and 4 foot high ( maybe higher). The chairs fitted under the sideboard and the table folded in half to fit over the chairs. It all fitted under the sideboard. I read many moons ago that there was a lull in the sale of some G plan furniture and 6 of these dining room suites were made. Is this true please and if so how much would it be worth today. Sadly I no longer have the chairs." Marilyn Hughes 09/03/2017
"I have some G plan wardrobes and need some new castors that fit onto the adjustable protruding shafts. Do anyone have any idea where I could buy some new/old ones?

Thank you
Nigel" Nigel Bull 09/03/2017
"I have a 70s Gplan elm dining table, 4 upholstered ladder back chairs + 2 carvers. All in vgc
Can you tell me please,is this elm version
a) rare &
b) desirable" Gill Ferguson 12/03/2017
"Hi I have got a gplan sideboard. I just wondered the best way to value it? Any help would be much appreciated. Thank you Stacey" Stacey 04/04/2017
"Butterfly back chairs. Can anyone help by explaining the construction method used to attach the curved back to the frame? Just purchased 4 chairs and hope to restore but am struggling to see if they are screwed (no visible screws) or dowel and glued. Any help gratefully received. Thanks. Judith" Juditn 22/04/2017
"I've owned two Mellissa suites - I absolutely loved them! Was the most comfortable settee I've ever had. I don't suppose there'll be a revival of this style will there?" Barbara 20/05/2017
"Hi steven,
It has been awhile since we last spoke. I am still doing research work for my Japanese clients on a two weekly basis. If you remember i sent you some G-Plan labels for your site a few years ago. My query is that they have purchased an Astro style carved top round coffee table made of teak with an inner glass top. The carving is around the teak top. Have you come across this version of Astro style coffee table before? I can send you a photograph. Best regards, Tony." Tony 15/06/2017
"I have recently been given a wooden coffee table, are you able to tell me whether this is g-plan? Thanks, Steve." Steve 18/07/2017
"Hi, I have a Kofod Larsen sideboard but one of the metal stays is broken. Do you know where i can get a spare. Many thanks Clive" clive salt 30/08/2017
"Any tips re repairing dents on g-plan fresco table top" james gibson 07/11/2017
"Hi Steven,
I have g-plan 'fresco' round table that extends to an oval shape. It was here when we bought the house. Now we need to move and our hallways if fairly narrow so I need to take the table apart. But i can't for the life of me figure out how one can do this without braking the wood glue seal in some places.

Where these designed never to be take apart? thank you, Robin" Robin Friend 22/11/2017
"I have a pair of Brandon bedside cabinet's, they both have a wooden flap at the top, front of the drawer, I can only think that this is to prevent whatever is in the drawer pinching when the drawer is closed, but don't really know. Would you have any idea?
Thanks" Paul Butterworth 15/01/2018
"Hi-I have been given a gplan dining table -seats 8when extended.It has a double trestle style leg and 6 feet with brass tips.Both sliding table tops seem to have wooden batons missing-I assume these were to secure the tops when not extended.Can you give any advice on how I could secure underneath so that the two halves stay fixed?Any advice would be much appreciated." Fionnuala Forde 22/03/2018
"I have six original G-plan dining chairs. They need some restoration. Do any wine know who I can donate them too? Otherwise they're going in a skip :(" Kate Curtis 14/05/2018
"Anyone know how to remove the doors on a Gplan sideboard without damaging either the pins or the woodwork?" James 17/05/2018
"Hello - I have just bought a Gplan sideboard, but am missing a brown shelf support. Any ideas on where to get some? The local DIY stores only have shelf supports which are too small for the holes. Any advice welcome. Thank you." Harry 12/08/2018
"Hi, we have just bought a small oak chest of five drawers which I believe is the Brandon range from around the fifty's or sixty's as it has the gold label inside one of the drawers. There are some light scratches on the top and one corner has been rubbed so much that the polish has literally been rubbed right off. my question is really how can I make the furniture look as it should again ?. is the finish a wax polish or a type of oil or something else? any help would be greatly appreciated. many thanks... Jez" Jez preston 29/12/2018
"We have G Plan Ashdown bedroom furniture. How do I go about renovating the top surfaces, the "washed" paint finish has degraded in several places but the furniture is fine otherwise so we do not wish to replace it" Celia Lovegrove 26/01/2019
"Did G Plan ever have plastic drawers in their furniture? I have been sold an item as G Plan but am not convinced it is authentic. Thanks." Sarah 12/03/2019
"Hi iv got a sideboard table 4 chairs dressing table sets of draws all with red sticker on the invoice is dated 1967 and is all fresco would it be easy to sell?" Claudi 13/03/2019
"Hi Claudi,

I would put it on eBay. All the best" Steven 13/03/2019
"Any idea where or if it is indeed possible to get a wire bracket to hold a teak shelf. Teak shelf actually slides onto the wire. Have lost 2 & don't want to resort to a heath robinson solution to fix shelf." Ian 04/05/2019
"Hi, I have a 1960 GPlan Gomme bedroom suite consisting of triple wardrobe, dressing table, chest of drawers and double bed headboard with attached side tables all in excellent condition wood & cream where would you suggest selling or do you know anyone who would be interested" Pat Morphew 16/11/2019
"I have what I think are D-scan dining chairs 4 chairs and two carvers. They have a stamp "B" carved into the wood on the back stretcher bar. What are these - D-scan or G Plan and who is the designer? What decade might they be from?" Kate 27/11/2019
"Hi.

We have various items of furniture from the G Plan New Seasons White Ash range which we purchased new in 1988. We love the style and quality, but some items (mainly the nest of tables and the base units) are now in need of renovation.

I was able to remove the yellowing of the dining table by rubbing it with wet 1500 grit wet-or-dry paper. However, on other items the paint has worn off, so these need stripping back to the bare wood. I would love to restore these to their former glory, but I can't find any information on how the original finish was obtained. It's not a "chalked" look - more a thin eggshell finish paint (possibly water-based?) with the ash grain showing through.

Does anyone have any advice on the best way to remove the existing finish, which paint to use and how best to apply it?

Many thanks." Alan Browse 17/12/2019