Vintage G-Plan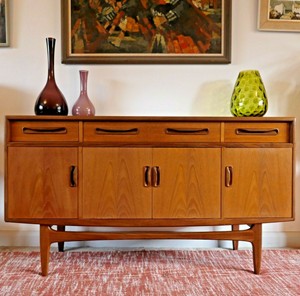 The G-Plan brand was launched in the 50s. It defined modern furniture from the 50s to the 70s. In those days 'G-Plan' was a generic term for modern furniture in the way we still use 'Hoover' for vacuum cleaners. G-Plan was not cheap, but it was the brand most people aspired to own.
After many years of neglect a new generation is discovering G-Plan again. Vintage pieces are commanding high prices. People are finding that furniture from the 50s and 60s and particularly G-Plan, was better made than antique furniture and looks stunning in a modern setting.
G-Plan brand history
G-Plan was the brainchild of Donald Gomme. The family firm, E Gomme, had made traditional style furniture since the Victorian age. In 1952 he brought the firm up-to-date when he launched G-Plan. G-Plan combined modern style, a national brand name and a clever concept - interchangeable furniture.
Before G-Plan, furniture was only available in suites for the bedroom, dining room or living room. G-Plan changed furniture buying forever. Now people could buy as much or as little G-Plan as they wanted. They could buy one coffee table or a complete G-Plan look for the whole house.
Brandon - the first G-Plan range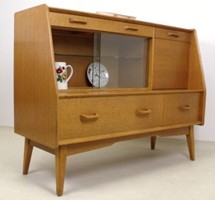 The first G-Plan range was called Brandon. It was finished in light oak and in the contemporary style of the early fifties. It had a light look and feel, tables chairs and even heavy wardrobes and sideboards appeared to float off the floor. This affect was achieved with splayed legs and a simple, uncluttered look; both were key styling points for early fifties contemporary. G-Plan borrowed much from designers such as Robin Day, who pioneered contemporary furniture design. G-Pan was, though, aimed at a much wider audience.
G-Plan mid fifties glamour
Gomme updated the style of G-Plan throughout the fifties, sixties and seventies. The original light look of Brandon gave way to darker tola, or African mahogany. In the mid to late fifties there was a fashion for black ebonised legs and brass fittings. G-Plan followed this trend and upgraded its furniture with a glamorous look.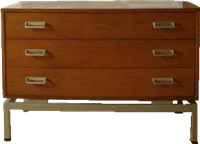 Initially, Gomme's success did not last into the early sixties.  For G-Plan, 1960 was a bad year. The new G-Plan range for 1960 was not inspiring; it was yet another variation on tola, black and brass, which was already old fashioned.
Gomme introduced numerous different designs in an attempt to recapture the magic G-Plan formula. The severe and functional Limba bedroom range, designed by Leslie Dandy, ought to have been a best seller. Limba was veneered in a straight grain wood to make matching easy, but it stood on metal legs and looked a little like office furniture. The trade loved it; the public hated it. Limba was too advanced for its time; retailers soon cursed it as they were stuck with pieces of the unpopular Limba range in their showrooms. "Lumbered with Limba", was a phrase in common currency.
The World's Most Comfortable Chair
Although Limba was a disaster for Gomme, the firm had one notable success in 1962. It introduced a large, rounded swivel armchair with wings. It was available in several fabrics, but the buttoned black vinyl was a sixties style classic. This chair was very much a male thing; it could have come straight out of a James Bond movie. It was the chair that Michael Caine as Jack Carter, knocked Cliff Brumby into in the classis film "Get Carter". The inspiration for the chair was probably Arne Jacobsen's Egg Chair of 1958, which was similar in shape, but plainer. Gomme proudly proclaimed that it was the World's Most Comfortable Chair.
Ib Kofod-Larsen and G-Plan's first teak furniture
G-Plan went Danish in 1962. In an attempt to stop losing sales to Scandinavian imports, they hired their own Danish designer, Ib Kofod-Larsen. He designed a complete new range for Gomme, G-Plan Danish, in 1962. The highlight of the range was a 7 ft 6 inch sideboard in teak, which had unusual square rosewood handles. It was in the latest fashion of the era and looked stunning. The G Plan Danish sideboard sold for 61 10s [897 in todays money], which was rather expensive for a mass-market piece.
G-Plan Fresco
In the late sixties, the sculptured look was the new fashion and G-Plan led the market. They introduced their most successful range of teak furniture, Fresco, in 1967. G-Plan Fresco featured deeply sculptured handles and legs, combined with strongly patterned teak veneers. The new G-Plan Fresco dining set for 1967 had an extendible circular table and four dining chairs with padded circular seats and backs. The circle theme was a favourite of mid-sixties' design. The chairs had sculptured legs finishing in a circle at the top and bottom. The sideboard was large at 7 ft in length. It had the distinctive sculptured handles, which on the drawers appeared to imitate a smile. Fresco was for the bedroom as well as the dining room. There were Fresco wardrobes and chests of drawers, as well as a new dressing table. The dressing table had a special hidden drawer for jewellery. At 5 ft wide, it looked very impressive in the right room.
G-Plan in the seventies
Gomme continued with teak designs in the seventies. The Company positioned itself at the top of the popular market. The emphasis was on design and quality, rather than price.
G-Plan on the Golden Shot
ATVs popular game show "The Golden Shot", hosted by Bob Monkhouse, assisted by Anne Aston, offered a G-Plan Fresco dining suite and a G-Plan reclining chair as prizes in 1971.
Read more
More on G-Plan
See also The High Wycombe Furniture Archive which contains an extensive collection of images from the history of the furniture trade including a large selection of G-Plan images.
Your comments on G-Plan furniture
G-Plan comments - archive
Comments
I have just inherited my mum's G-Plan Limba bedroom suite but at some point in the past, she has 'customised' it. The bedside tables have been detached from the headboard and fitted in the gap between the drawers and the top pf the dressing table. We've found the brackets and the glass shelves but are missing the legs for the bedside tables and the metal supports on the dressing table. Does anyone know of any 'scrap' Limba we might be able to get bits from as I'm keen to recreate it if we can? Thanks
in regard to your question about removal of G Plan doors if you look under the lip which support the bottom of door inset hinge you will see small hole which is inline with spring loaded hinge clear out hole with small drill then you will feel the bottom of the casing to which you feel the pin then push up and release bottom of door (be careful because top pin does not move)when putting back just reverse order regards Adrian