G-Plan Fresco dining room furniture
G-Plan Fresco was a hugely successful design for Gomme. Introduced in 1966, it became G-Plan's most successful ever range. There is a New Fresco range, which draws on the original range for inspiration, still being made today.
V B Wilkins designed Fresco. He combined the pop art motif of the circle, seen on ceramics and other pieces from the 60s, with the newly fashionable sculptured look for furniture which came from Italy, with the Scandinavian style teak to produce the definitive G-Plan style.
Fresco 1966
The Fresco teak dining range was introduced in 1966, and comprised a circular table and four chairs, illustrated right above, and a 7ft sideboard (left above). The set was finished in teak veneer. The legs on the chairs and the legs and handles on the sideboard were made in solid afromosia.
At its launch you could buy the sideboard for £59 and the table for £34. All these pieces were manufactured well into the 70s.
Look for pieces in excellent condition. Expect to pay from £150 to £300 for the sideboard. Scruffier pieces will be worth significantly less. £100 will probably secure a good dining table and four chairs.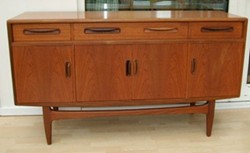 G-Plan Fresco 1969
For 1969, G-Plan added more furniture to the Fresco range. There was a gate-leg table, a new design of chair and this 5ft sideboard pictured left. All were designed by V B Wilkins and finished in teak with similar style.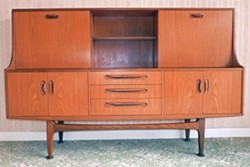 G-Plan Fresco 1970
This taller sideboard came in 1970. It was also designed by V B Wilkins and finished in teak veneer.
At 6ft 2in wide and 4ft high, it is a substantial piece of furniture. It cost £79 10s when new in 1970.
Add your comments on G-Plan Fresco

"How does one dismantle a 3 door (2 slide) G-Plan Fresco range wardrobes for transportation please?" James Evans 02/07/2014
"Very interesting site. Would you be able to help, we are looking for a replacement left hand sliding stay unit for a G Plan Fresco drinks cabinet, bought in '73, the plastic friction stay does not work any more. Be glad of any advise regarding sourcing a pair. The unit is still in very good condition.

Many thanks" Ann Smith 11/07/2014
"I have two Fresco sideboards I'd love to sell - any ideas on best ways of selling for the price they are worth?

Thanks" Cristina 04/08/2015
"Hello, do you know if G-Plan ever made Fresco dressing tables without the hidden centre jewellery drawer? I have recently acquired one and trying ascertain authenticity. Thank you!" Rowan Sanderson 25/11/2015
"Hi,my friend told me that the Fresco series was mainly designed by Kofod Larsen,V B Vilkins was just his assistant or inspired by Kofod Larsen,is that ture?Do you know their relationship or stories between them?" Lynn 06/04/2016
"I have a Fresco corner drinks cabinet wirh working stays and lighting in very good condition, which I should be happy to receive sensible offers for. I live in West Sussex." Emma Cochlin 22/07/2016