60s and 70s Beer Guide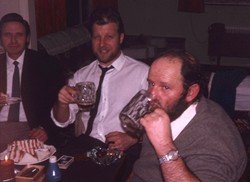 Changing fashions ruled beer drinking in the 50s, 60s and 70s. First bottled pale ale challenged draught mild as the Nation's favourite drink. Then a few years later, everyone was drinking draught keg bitter, with Watneys Red Barrel the best known brand.
There was there was a backlash against the spread of keg bitter. Lovers of traditional beers founded the Society for the Preservation of Beers from the Wood in 1963.
In 1971 CAMRA, the Campaign for Real Ale, was formed. In the latter part of the seventies there was a resurgence of some traditional brews; real ale, though, still remained a minority taste.
Lager was the drink of the 70s. The hot summer of 1976 provided a reason to try the beverage, but tastes were changing.
From mild to bitter
Mild was the working man's drink for the first half of the twentieth century. The only choice was between mild and stout; bitter was a luxury. In 1900 best bitter was almost unknown and in 1929 it was still only a tiny fraction total beer sales.
At the start of the sixties, mild was the dominant beer. Around 40% of the output of Bass Charrington, Britain's largest brewer, was mild. By 1967 this had fallen to 30%. Mild was losing favour, though it was the cheapest beer. It did have strongholds in the Midlands (notably M & B Mild), but the majority chose best bitter.
Best bitter on draught and its bottled equivalent, best pale ale, were the favourite beers of the 60s. Pale ale was sold as a premium beer; it was a popular luxury.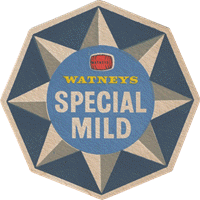 From cask to keg
Keg bitter is pasteurised to stop any fermentation. Carbon dioxide is added to give the beer sparkle. The pressure of carbon dioxide is used to draw the beer up from the cellar. So keg beer does not need a traditional long handled beer pump.
The first keg beer was Watneys Red Barrel, developed in the 30s. The big brewers though, did not heavily promote keg bitter until the late 50s.
The first brewer to use the term keg and to promote sales of keg beer was Flowers (later taken over by Whitbread). Flowers installed the system in their pubs and first marketed 'Flowers Keg Bitter' in 1957.[1]
Many of the others followed suit and each launched their own brand of keg bitter: Worthington 'E', Whitbread Tankard, Ind Coope Double Diamond, Youngers Tartan and Courage Tavern.
Sales of keg beer increased steadily throughout the sixties. In 1960 it was 1% of the total beer market, by 1965 7% and by 1971 18%. Keg beer was most popular with the young. It was the natural choice for the new themed pubs and disco pubs of the 60s. Keg bitter was more expensive than traditional cask conditioned ales and was marketed as a premium brand.
There was a tendency for brewers to reduce the strength and original gravity (a measure of the proportion of ingredients, hops, barley etc to water) of cask beers. The keg beers were the best the brewery had to offer so there was no need to spend as much on the cask conditioned beers. Throughout the sixties people suspected that that beer was getting weaker; they were right.
By the latter part of the sixties, carbon dioxide was often added to cask beers as well; they were drawn up from the cellar under pressure in much the same way as keg beer. For the drinker at the bar, there was little to choose between them. The more discerning opted for keg.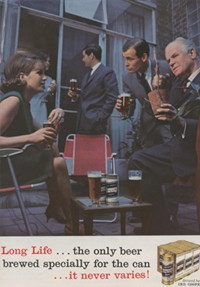 Bottled and canned beer
The rise of keg bitter in the sixties stopped a trend that had begun after the War of increasing sales of bottled beer. It even appeared that sales of bottled beer might overtake draught beer. Reasons for choosing it over traditional ales were consistency, brightness, a clean palette and sparkle. Keg bitter provided all these qualities at a cheaper price.
Canned beer was in its infancy in the late 50s. Ind Coope's Long Life, introduced in 1956, was one of the first. The brewer picked up on concerns about the quality of cask ales and claimed Long Life was brewed for the can and never varied. Canned beer sales increased throughout the sixties, but did not become important until the seventies. Watneys Party Seven was a new take on canned beer.
National brands
Before the 60s, the supply of beer had been regional. There were a few exceptions with bottled Guinness, Bass and Worthington sold throughout the country. In the sixties other national names emerged, namely Double Diamond (bottled), Mackeson Stout (bottled) and draught and bottled Watneys Red Barrel. Watneys Red Barrel was making inroads into the free trade. Double Diamond, Bass Worthington and most notably Guinness, were becoming increasingly available as draught. The success of Guinness encouraged Watneys to compete with Colonel Murphy's Stout. After a test marketing campaign, they abandoned it and stocked draught Guinness in Watneys' houses instead.
By the end of the sixties, lager too was more popular. Draught Carlsberg was available at Watneys' pubs and Whitbread had linked up with Heineken. Sales of lager, though, did not become significant until the 70s.
Strong beers
Strong ales were often sold in nip bottles (one third of a pint). The most famous was Tennant's Gold Label; it was in the Guinness Book of Records as the strongest beer on regular sale in the UK. Later it was brewed as Whitbread Gold Label. 70s advertisements told drinkers that it was "Strong as a double Scotch, less than half the price". It is still available today.
Read more about the strength of beers in the 1960s and 1970s
The 70s keg beer and lager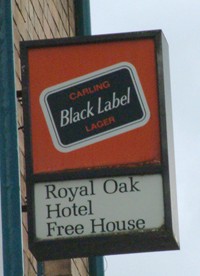 At the beginning of the 70s, the most popular brands of keg bitter dominated British beer drinking. They were more expensive than cask bitters, so people must have liked the taste or bought the advertising.
Advertising of keg bitters made extravagant claims. Whitbread Tankard was supposed to help you excel, how, was not made clear. Beer had long been advertised as a drink to improve heath. The "Guinness is Good for You" and "Guinness for Strength" campaigns are famous. Was a touch of parody intended?
Rivals made equally bold claims. Worthington 'E' was "the taste that satisfies". Courage Tavern was "What your right arm's for". Double Diamond "worked wonders".
Keg bitter's popularity was challenged in the 70s by lager. Sales of lager increased from only 2% of the market in 1965 to 20% in 1975.
Lager had been sold in Britain long before the 60s. It was brewed here as early as the 1890s, but was a very small part of the beer market. It had a reputation as a ladies' drink. When mixed with lime it was considered as an alternative shandy.
Today's well known brands of lager were introduced in Britain from the 50s. The brewery magnate E P Taylor brought Carling Black Label to Britain, from Canada, in 1953. Starting from small beginnings, brewed under licence by the tiny Hope and Anchor Brewery, a series of mergers left Carling Black Label part of the Bass Charrington empire.

The other big brewers introduced their own brands. Guinness launched Harp Irish Lager in 1960. Whitbread signed an agreement to import Heineken in 1961; Watneys linked up with Carlsberg in 1968.
Whitbread brewed Heineken under licence in the UK in 1968. The Whitbread directors thought a weaker version of the Dutch beer would sell better - they were right. Later the Belgian beer, Stella Artois, joined the Whitbread stable as their premium lager.
It was the long hot summer of 1976 that firmly established Britain's taste for lager. Cool and refreshing, it was the beer to beat the drought. By the end of the decade, lager took 29% of beer sales.
There are many reasons for the rise in the popularity of lager. Package holidays in Europe gave people a chance to try lager and they associated it with relaxation and warmer climates. It goes better with more exotic food. Continental dishes - French and Italian - were popular in the 70s, as were Chinese and Indian food and there is no better accompaniment to a curry than a pint of lager.
From keg to cask
Beer lovers fought back against the aggressive promotion of keg bitters. Traditionalists founded the Society for the Preservation of Beers from the Wood (SPBW) in 1963.
Members wore black ties with pictures of wooden barrels. They were mourning the death of traditional beer. The Society's rules forebade members to drink keg if traditional ale was available within half a mile's walk, or five miles' drive.[2]
CAMRA, the Campaign for Real Ale, was founded in 1971.
In 'Ward of Court', a 1971 episode of Public Eye, unglamorous enquiry agent, Frank Marker (Alfred Burke), goes into a Windsor pub and asks for half a bitter. The landlord offers him keg. Marker turns it down and says 'from the wood' please. The landlord pulls him a half with an old fashioned beer pump. Marker remarks that it's good beer. They both agree that the young know nothing about beer.
In 1972 the Daily Mirror's Square Deal Team examined beer. They found it difficult to understand why keg bitter was popular. It was no better in strength or original gravity than any of the standard draught bitters. It was also more expensive. They concluded it was 'fizz appeal'.[3]
In the 1970s, sales of cask beers began to rise as there was growing appreciation of the traditional methods of brewing. In 1975 the leading premium keg beers started to lose ground, both to lager and cheaper in-house bitters. But regional brewers such as Young's and J W Cameron were also gaining ground because of the swing back to real ales. [4] Keg's days were numbered.
It is a testament to the success of CAMRA that the "classic" keg bitters of the sixties are now extinct.
Read more about:
References
[1] 'The triumph of keg beers' by Alex Bennet, published in The Times, 12 March 1970, page 34
[2] 'Pub' edited by Angus McGill, published Longmans 1969, page 32.
[3] 'Is British beer as good as it used to be' by Richard Sear, publised in the Daily Mirror, 10 July 1972, pages 14-15
[4] 'Comparing results from the brewers', published in The Times, 28 Juyl 1975, page 17
Add your comments on 60s and 70s beer
Comments
Just read this article, and will now read everything else on it too, but just wanted to say, it is as perfect a piece of writing as I've read anywhere, you nailed it. My grandad ran a working men's club and i'm a child of the sixties so how am I not going to love this wonderful nostalgic information so succinctly and accurately presented. As an aside, I came to the article after searching Hemmling larger, not even sure it's the right spelling. Who remembers that, and cans of Breaker of Braker.
Thanks for setting up this site. The comments brought back a lot of good memories of those earlier times. I remember most of the beers mentioned being around. I started drinking Tartan Special in the early 70's and 'moved up' to Carling Black Label as lager came in. Discovered real beer in Manchester at University (Boddingtons - real ale then) + others. Moved to Wales in late 70s (not so good for beer where I was), then moved to Scotland around mid 80s (worse) and had to revert to lager
I remember as an eighteen year old in 1970, that in Tetley Walker pubs on Merseyside, the local bitter was 1/8 [about 8p in decimal money] compared with Double Diamond at 1/10 a pint [9p]. Thinking we were cool it was Diamond everytime! In 1993, I encountered Douuble Diamond on tap in a pub in Brixham, Devon. I had to try it and how disppoinet I was left. It was sweet and sickly! Never again!