The breweries
Bass Charrington
Bass Charrington was formed in 1967 when Bass Mitchells and Butler Ltd merged with Charrington Ltd to become Britain's largest brewery. Their leading products in the 60s and earlier were Bass Red Triangle, available bottled or draught, Worthington 'E' draught or bottled keg bitter and Worthington White Shield IPA, bottled. Charrington also produced Toby Ale, which was well known in the 60s and 70s. Another favourite, at least in the Midlands, was Brew XI.
As far as lager was concerned, Bass Charrington distributed Carling Black Label and Tennent's Lager.
Bass Charrington had a chain of restaurant/pubs called Toby Inns. These were rivals for the successful Berni Inn chain which began in the late 50s.
Allied Breweries (Ind Coope, Tetley and Ansells)
Ind Coope's famous Double Diamond was a national brand before the sixties and was available as a bottled pale ale. It was marketed as a draught keg bitter in the 60s. The slogan - "Double Diamond works wonders" is unforgettable. Like most keg bitters there was little to choose between this and the other big brands.
Ansells was popular in the Midlands. Favourites from the era were Ansells Bitter and Mild. Their Brown Ale, "Nut Brown" took the Brewery's squirrel emblem.
Whitbread
Whitbread had a reputation as a "white knight" saving many small breweries from more hostile takeovers in the 60s. However, many of these smaller breweries were subsequently closed and their beers disappeared. One of the most notable acquisitions was Flowers of Luton and Stratford-upon-Avon in 1962. Flowers was the first brewery to use the term keg. Flowers Keg eventually disappeared. Whitbread had their own - Tankard - which was launched in 1957. Tankard, like most keg ales was sold as a premium brand.
Other notable breweries which merged with Whitbread were:
Tennant's in 1961
Fremilins in 1967
Strong & Co of Romney in 1968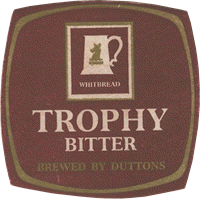 Like most of the big breweries Whitbread had their in-house lager - Heineken. In the 70s Whitbread introduced Trophy Bitter into their houses. Trophy was apparently brewed to take account of regional preferences. It was advertised as "Big Head Trophy Bitter - the pint that thinks it's a quart".
Whitbread's Pale Ale was marketed as a premium product. Links were stressed to aristocratic families in the 60s. After decimalisation it was the only luxury you could buy for 8p. Another premium brand from Whitbread was Gold Label Barley Wine, the strongest beer on regular sale in the UK.
Another trend in the 60s and 70s were brewery branded pubs with restaurants, run by a manager rather than a tenant landlord. Whitbread's were known as Trophy Taverns - presumably after Trophy Bitter. They had a fairly extensive menu and were the forunners of the Beefeater chain.
Watney Mann
Watneys Red Barrel became a national brand in the 60s. For more on Watneys see Watneys Red Barrel and Watneys Pubs.
Scottish and Newcastle (Youngers)
Scottish and Newcastle's keg bitter was Younger's Tartan - "Drink it don't wear it". Also available in the 60s and 70s was Younger's Scotch Ales - a traditional cask conditioned bitter.
Courage, Barclay and Simmonds
Courage launched their own keg bitter - Tavern.
Guinness
Draught Guinness became a national brand in the 60s. The bottled equivalent had sold well throughout the country before the 60s. The Guinness Brewery also produced Harp lager which, like other leading brands of lager, gained in popularity during the sixties and more significantly in the 70s.
Your comments
Comments
Watneys was by no means all bad; excellent Brown Ale (the last can of which that I bought was in 1990 at Gosmore near Hitchin); and Stingo dark barley wine (very enjoyable in Cromer in 1983) and Cream Label Stout (many bottles enjoyed in Addlestone in 1988) were better in my view than some of the competitors' equivalent beers; although I can concur that Starlight (Northrepps c1981) was rubbish.