Beers from the 80s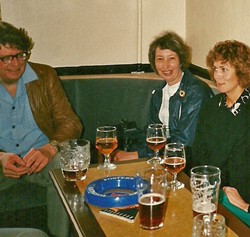 Lager was the beer of the 1980s. By 1989 we Britons drunk more lager than we did ale and stout combined.[1]
There was also a growing appreciation of real ales. The well-known keg bitters of the 1970s, such as Watneys Red, died out. By the end of the 1980s over three quarters of pubs had at least one cask conditioned ale on draught.[1]
But sales of cask conditioned ales were only around 15% of the beer market in the 1980s, similar to when the Campaign for Real Ale (CAMRA) started in 1971.
The big brewers switched their marketing efforts from keg bitter to lager. They spent huge fortunes promoting it.
The growth of lager
Lager was an upmarket drink in the 1960s and it only had a tiny share of the market. That changed in the 1970s. By 1979, 29% of beer sales were lager. In the 1980s this trend continued and by 1989 over half of all beer consumption was lager.
Lager was still an expensive drink compared to bitter. But its premium was getting smaller. In the early 1970s a pint of lager was around 35% more expensive than a pint of best bitter. In the 1970s the expensive price tag helped sell lager to affluent customers. But this price premium would not sustain a mass market. By 1982 lager cost around 15% more than bitter.
The price diffential remained for most of the decade. In 1988 a pint of bitter at the Red Lion in Soho was 112p and a pint of lager 132p. Prices varied more across the country than they did between lager and bitter. In a pub in Bradford, a pint of ordinary bitter was 83p and a pint of lager 97p.[3]
The 1980s' most popular lager brand was Carling Black Label. It was a Canadian lager brewed under licence by Bass Charrington. Carling Black Label first went on sale in the UK in 1959. Today the same beer is sold as 'Carling' in the UK. Bass Charrington's two lager brands, Carling Black Label and Tennent's, took over 20% of the lager market in 1982.[2]
Heineken, which was brewed under licence by Whitbread since 1969, came second and Ind Coope's in-house brand Skol was third.
Take-home sales
Although lager sales were growing, even by the end of the 1980s draught ales were still outselling draught lagers in pubs. The big increase in lager sales came from the take-home sector: supermarkets and off-licences.
The early 1980s' recession prompted a vicious price war between the big brewers for the take-home business. At the same time Tuburg pulled out of a deal with Bass to brew its lager under licence. Instead Tuborg joined forces with the other well-known Danish name, Carlsberg. Bass launched a new lager, Charger, to replace Tuborg.
Carlsberg predictably remained above the price war and continued to sell at premium prices.
Scottish and Newcastle's Kestrel Lager led the price war. It was cheaper than standard lagers such as Heineken and Carlsberg. Kestrel became the best selling take-home brand a year after its launch in 1980.
Australian and American lager
Brits always had visions of the relaxed life-style of Australians. Would they take to the Aussies' favourite beverages?
You had been able to get Foster's in pubs and clubs close to Australia House in London since the 1960s. Foster's was also available in tubes (as Australians called cans) since the 1970s. But in 1981 Watney Mann agreed a deal to brew it in the UK.
An advertising campaign, fronted by Australian comedian, Paul Hogan, helped make Foster's one of Britain's favourite drinks. Perhaps Foster's was the 1980s' equivalent of Watney's Red Barrel.
The success of Foster's encouraged Allied Lyons to introduce Castlemaine XXXX in 1984. It was also hugely successful.
American lagers Budweiser and Miller Lite were also launched in the UK in the 1980s.
The well-known lager brands of the 1980s in the UK were:
Carling Black Label introduced in the UK in 1959 (Bass)
Tennent's (Bass)
Carlsberg brewed in England from 1971 in association with Watney Mann
Heineken - Whitbread
Skol, a UK lager brewed by Ind Coope (Allied Lyons) since 1960
Miller Lite launched in the UK by Courage
Stella Artois, available in Whitbread pubs since 1970
Kestrel launched in 1980 by Scottish and Newcastle
Hemeling introduced by Bass Charrington around 1980
Charger introduced by Bass Charrington around 1980
Kaltenberg brewed by Whitbread as an in-house brand introduced in 1979
Heldenbrau brewed under licence by Whitbread, introduced in 1979 to the UK
Artic Lite brewed by Allied Breweries
Harp brewed by Guinness
Hofmeister introduced by Courage in 1977
Foster's brewed in-house by Watney Mann from 1981
Castlemaine XXXX - launched 1984 - brewed in-house by Allied Lyons
Budweiser - introduced in the UK in 1984 - brewed by Samuel Webster, part of Grand Metropolitan
Labatt's - Canadian lager launched in the UK in 1988 and subsquently brewed by Greenall Whitley
Advertising campaigns
The big brewers had huge pockets and were prepared to spend millions on pushing lager brands. In 1987 Grand Metropolitan spent £4.8m on Foster's, Courage spent £4.8m on Miller Lite, Whitbread spent £4.7m on Heineken and Allied Lyons spent £4.0m on Castlemaine XXXX. The biggest spender was Bass with a whopping £7.5m budget for Tennents and a £6.4m spend on Carling Black Label,
These campaigns resulted in some memorable slogans:
Hofmeister - if you want great lager, follow the bear
Foster's - the Australian for lager
I bet he drinks Carling Black Label
Australians wouldn't give a Castlemaine XXXX for anything else
Stella Atrois was 'Reassuringly expensive' from 1982
But Whitbread continued their long-running campaign from 1974 - "Heineken refreshes the parts other beers cannot reach"
Low alcohol lagers
Stricter enforcement of drink driving laws increased interest in low alcohol and alcohol free lagers.
To qualify as alcohol free the drink had to have less than 0.05% alcohol, or less than l% for the low alcohol label.
The most well-known brand was Barbican, which Bass launched in 1979. By 1985 it had 70% of this market, which was 1% of all lager sales. But there were other brands including, St Christopher, Danish Lite, Gerstrel and Swan Lite. [4] By 1987 a new brand, Kaliber, brewed by Guinness was providing stiff competition.
By the end of the 1980s you could also get the following low alcohol lagers:
Kaliber - 0.05%
Carlton LA - 0.9%
Safeway Dutch Lager - 0.3%
Safeway Swiss Lager - 0.5%
Sainsbury's Low Alcohol Lager - 0.5%
Tesco Danish Lager - 0.5%
Source: 'How strong is that beer?', published in The Times 14 December 1990
My recollection was that none of them were very good. Low alcohol beer has come a long way since the 1980s.
The end of keg?
The high profile keg bitter brands from the 1970s had almost disappeared by the end of the 1980s. You could still get Watneys Red, but you had to go to Spain or France for it. Whitbread Tankard was only supplied to clubs where sales were low and the beer had to keep. Worthington 'E' was still available in a handful of pubs. [1]
Keg beer did not die out completely. Draught lager is usually keg. The well-known keg bitter brands did disappear, but keg bitter did not. As cask conditioned ales only made up 15% of total beer consumption. A large amount of keg bitter was sold in the 1980s.
Cask conditioned ales and micro-breweries
A number of smaller breweries were set up in the 70s and 80s in response to CAMRA's success at promoting new interest in real ales.
Between 1974 and 1989 about two hundred new micro-breweries had been set up. Some were located in pubs supplying direct to the public, others supplying the wholesale trade. However, by 1989 sixty of these businesses had failed.
Overall the consumption of ale, whether cask conditioned or not, was declining. In 1985 cask conditioned ales made up 15% of total production.
Writing in 'The Times' in 1983, David Hewson, commented that cask conditioned ale's share of the beer market was then 16%, the same as in 1970. Since then mild has become almost extinct and most real ale on sale was bitter. Hewson visited the Crown Public House in Cloudesley Road, Islington. They had Fullers London Pride and ESB on tap.
CAMRA enthusiasts were drinking cask conditioned bitter, but mainstream drinkers had gone straight from keg bitter to lager.
Read more
References
[1] 'Real ale campaign opens new front' by Robin Young, published in The Times, 7 August 1991, page 3
[2] 'Budweiser may join lager boom' by Derek Harris, published in The Times, 18 January 1984, page 2
[3] 'Another round of price increases' by Alan Law, published in the Daily Mirror, 12 August 1988, page 6
[4] 'Increase in low alcohol drink sales' by Teresa Poole, published in The Times 23 December 1985, page 3
Add your comments