Beers from the past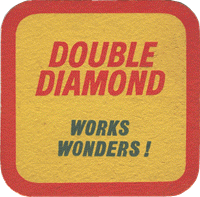 There were more than 4,000 different brews available in the 60s, so we cannot list them all. This is a list of the most important ones.
Keg bitters on draught
Worthington 'E'
Ind Coope Double Diamond Draught (launched 1962)
Whitbread Tankard (launhed 1957)
Watneys Red Barrel
Younger's Tartan Bitter
Courage Tavern
Flowers Keg Bitter
Draught bitters
These are some of the draught bitters available in the 1960s and their regional distribution.
| Beer | Distribution (1960) |
| --- | --- |
| Ind Coope Bitter | National |
| Whitbread Bitter | National |
| Bass Red Triangle | National |
| Mitchells and Butler's Brew XI | Midlands |
| Bristol Brewery Georges Bitter | Bristol & SW England |
| Ushers Bitter | SW England |
| Friary Meux Bitter | London & Home Counties |
| Carlise & District State Management Scheme Bitter | Carlisle & District |
| Vaux Best Bitter | North England |
| Wilson's Best Bitter | Manchester |
| Green King Bitter | East Anglia & East Midlands |
| Hammonds United Best Bitter | N England and Midlands |
| Daniel Thwaites Bitter | E Lancashire |
| John Smith's Best Bitter | N England |
| Truman Hanbury Buxton Bitter | S England |
| Tennants Best Bitter | Yorks, Derby, Notts & Lincs |
| Tennants Queen's Ale | Yorks, Derby, Notts & Lincs |
| Courage Bitter | London and S England |
| Ansells Bitter | Birmingham |
| Younger's Bitter | Scotland, N England and London |
| Charrington India Pale Ale | S England |
| Watneys Special Bitter | London and S England |
| Fremlins Best Bitter | London and SE Home Counties |
| | |
| | |
| | |
Source: Beer published by the Consumers' Association in 'Which?' August 1960
Retrowow reader Nathaneal remembers the TV adverts for Whitbread Trophy:
I have a strong memory of the advert on telly about "Whitbread, Big Head, Trophy Bitter, the pint that thinks its a quart. It's got the body, the body, that satisfies - It can't be modest, no matter how it tries!" Aye, those were the days, lad!
See UK television commercials 19551985 for the full text and some other classic adverts from the 50s to the 80s.
Draught milds
Most breweries in the 50s and 60s offered a mild. There were offerings from Green King, Greenall & Whitley, Charrington, Watneys, Whitbread, Courage, John Smith's, Ind Coope and Ansells amongst many others. One particular favourite for Midlands' drinkers was Mitchells and Butlers (M & B) Mild.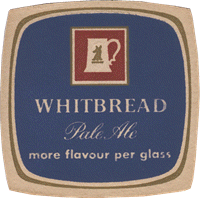 Best pale ales (bottled)
Bottled best pale ales were growing in popularity in the 50s. To a certain extent this growth was brought to an end when keg bitter was introduced. It offered similar characteristics for a cheaper price.
Bass Red Triangle
Ind Coope Double Diamond
Worthington White Shield IPA
Charrington Toby Ale
John Courage IPA
Ind Coope Long Life (canned)
Younger's No. 3 Scotch Ale
Truman Hanbury Buxton - Ben Truman
Watneys Red Barrel Export (bottled or canned)
Whitbread Pale Ale
Whitbread (Flowers) Brewmaster
Vaux Double Maxim
Brown ales (bottled)
Ansells Nut Brown
Carlisle & District State Management Scheme - Nut Brown Ale
Fremlins Double Elephant Brown Ale
Greene King Burton Ale
Strong Rumsey Brown
Truman Hanbury Buxton - Trubrown (bottled or canned)
Ushers Brown Ale
Whitbread Forest Brown
Light ales
Charrington/Hammonds Prize Medal
Fremlins Elephant Light Ale
Greenall & Whitley Champion Pale Ale
Green King Pale Ale
Hope & Anchor Export Golden Mead
Strong Golden Ale
Tollemache & Cobbold - Tolly Export Ale
Younger's Pale Ale
Ushers India Pale Ale
Whitbread Light Ale
Wilson's Wembley Ale (Manchester)
Stouts
Guinness
Mackeson (Whitbread)
Watneys Cream Label
Strong ales
Often sold in nip bottles (one third of a pint), strong ales were gaining a following in the late sixties and early seventies. These are some favourites from the past.
Whitbread Gold Label
Whitbread Final Selection
John Smith's Magnet Old Ale
Younger's King of Ales
Daniel Thwaites Old Dan
Watneys Stingo
Ind Coope Arctic Ale
Daniel Thwaites - Old Dan
Thanks to Mr L Prior for Ind Coope Arctic Ale:
"It was a rival to Gold Label and very similar. I just thought I might mention it. Ind Coope vanished like a lot of our famous breweries. My family used to work for them in Burton on Trent back before World War II. They took over Benskins in Watford in the 60s and I lived there and saw the demise of Benskins. I'm told the old Benskins best bitter recipe lives on in a micro brewery in Devon and it's known as Vale Best Bitter."Mr L. Prior
Lagers
Lager gained in popularity throughout the 60s, but did not challenge draught bitter until the 70s. These are some of the lagers available in Britain in the 60s.
Carling Black Label
Heineken
Carlsberg Danish Pilsner (imported from Denmark)
Skol International/Graham's Skol (Ind Coope)
Harp Irish Lager
Tennent's Lager (canned)
Tuborg Green Label Pilsner (imported from Denmark)
Löwenbräu (imported from West Germany)
Löwenbräu was available in the UK via in importer, Aktienbraueref Zum Löwenbräu based in the Gamage Building in Holborn, London from the early twentieth century. The company was wound up in 1916 as part of a crackdown on 'enemy businesses'[1]
Löwenbräu returned to Britain in 1936 via the small ads in The Times. Supply was again interrupted in 1939, but Löwenbräu was back in 1957 via importers J C MacLauchlin of London. It was still an expensive and specialist beer.
By the 70s you could also get
Carlsberg Special Brew
Stella Artois
Carlsberg '68
Holsten Pilsner
Beck's Bier
Hofmeister (introduced by Courage in 1977)
Kronenbourg 1664 (introduced by Bass Charrington in Scotland in 1969)
Tastes that we think of as belonging to the 1980s began in the 1970s.
Immigrant communities were bringing their local beers with them. Red Stripe, a lager brewed in Jamaica and sampled by James Bond in Dr No, was a favourite in Britain's West Indian clubs. [2]
In the 1960s you could find Foster's or Swan Lager at the Ifield, Ifield Road, Earls Court, the Zambesi Club, also in Earls Court, or the Surrey, Surrey Street WC2 [3]. Frenchmen could find Kronenbourg in the West End and in Chelsea.[2]
In the early 70s, imported continental lager was Britain's trendy drink. In many cases the more expensive the better.
By the 70s Löwenbräu was West Germany's largest beer exporter. They advertised the brew in the UK as 'The World's most exclusive and expensive beer'. Löwenbräu had opened 29 'bierkellers' in London by 1971 and charged 35p for a pint of Löwenbräu (£3.53 in today's money).[2]
Stella Artois was Belgium's biggest selling beer in the UK in 1971. Whitbread introduced draught Stella Artois some of their houses in London as early as 1970. They introduced it in the rest of the country from 1971.[3]
Whitbread added two more lagers to their range in 1979; Heldenbrau and Kaltenberg. Heldenbrau was an in-house brand. Kaltenberg was a genuine Barvarian lager. It was originally brewed by Prince Luitpold van Bayern in his castle. Robin Farrington, the Managing Director of Whitbread International, examined over 2000 Barvarian brewers before settling on Kaltenberg.[4]
The popularity of these latter brews increased substantially in the 80s and in some cases the 90s.
---
Can you buy it today?
Keg bitter
As far as any of the more popular 60s keg's are concerned, the answer is no.
Bottled beer
A good number of the most popular bottled pale ales are still available. Worthington White Shield IPA is available, as is Bass Red Triangle. I have also read that you can buy Double Diamond at Morrisons (although I have yet to find it!).
The one great discovery for me doing this research was Whitbread Gold Label Barley Wine. It is a strong beer sold in small cans (the cans were introduced in 1975). It has quite a sweet taste and is very pleasant - perfect for a night cap. Whitbread Gold Label Barley Wine is available in Sainsburys, Waitrose, Morrisons and some local Co-ops.
Lager
Most of the popular brands from the 60s and 70s are still available in the supermarkets. I have seen Skol, Carlsberg, Carling (without the Black Label) and Harp.
Mild
Mild has continued to decline in popularity and there are few available now. Whitbread still do canned draught mild and you can also get Sainsbury's own brand.
References
[1] 'Enemy firms wound up', published in 'The Times', 24 May 1916, page 3
[2] 'From darkness into light', published in 'The Times', 26 April 1971, page 29
[3] 'The New London Spy', by Hunter Davies, published by Blond, 1966, page 258.
[3] 'Glenfiddich whisky up 3s 1d' published in 'The Times', 7 January 1971 page 16
[4] 'An uncommon brewer - the story of Whitbread' by Berry Richie, published 1992, page 129.
Your comments