Beers from the past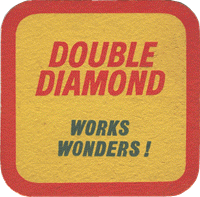 There were more than 4,000 different brews available in the 60s, so we cannot list them all. This is a list of the most important ones.
Keg bitters on draught
Worthington 'E'
Ind Coope Double Diamond
Whitbread Tankard
Watneys Red Barrel
Younger's Tartan Bitter
Courage Tavern
Flowers Keg Bitter
Draught bitters
Some of these were not available for the whole of the period. I have added John Smith's because of its popularity today. It was very much a regional beer in the 60s.
Bass Red Triangle
Worthington IPA
Ind Coope Bitter
Worthington IPA
Whitbread Bitter (60s)
Whitbread Trophy (70s)
Watneys Special
Younger's Scotch Ale
Courage Bitter
Ansells Bitter
Mitchells and Butler's Brew XI
John Smith's (Tadcaster) Bitter
Retrowow reader Nathaneal remembers the TV adverts for Whitbread Trophy:
I have a strong memory of the advert on telly about "Whitbread, Big Head, Trophy Bitter, the pint that thinks its a quart. It's got the body, the body, that satisfies - It can't be modest, no matter how it tries!" Aye, those were the days, lad!
See UK television commercials 19551985 for the full text and some other classic adverts from the 50s to the 80s.
Draught milds
Most breweries in the 50s and 60s offered a mild. There were offerings from Green King, Greenall & Whitley, Charrington, Watneys, Whitbread, Courage, John Smith's, Ind Coope and Ansells amongst many others. One particular favourite for Midlands' drinkers was Mitchells and Butlers (M & B) Mild.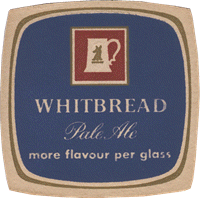 Best pale ales (bottled)
Bottled best pale ales were growing in popularity in the 50s. To a certain extent this growth was brought to an end when keg bitter was introduced. It offered similar characteristics for a cheaper price.
Bass Red Triangle
Ind Coope Double Diamond
Worthington White Shield IPA
Charrington Toby Ale
Younger's No. 3 Scotch Ale
Watneys Red Barrel (Export)
Whitbread Pale Ale
Whitbread (Flowers) Brewmaster
Vaux Double Maxim
Brown ales
Ansells Nut Brown
Fremlins Double Elephant Brown Ale
Greene King Burton Ale
Whitbread Forest Brown
Light ales
Charrington/Hammonds Prize Medal
Fremlins Elephant Light Ale
Younger's Pale Ale
Ushers India Pale Ale
Whitbread Light Ale
Stouts
Guinness
Mackeson (Whitbread)
Watneys Cream Label
Strong ales
Often sold in nip bottles (one third of a pint), strong ales were gaining a following in the late sixties and early seventies. These are some favourites from the past.
Whitbread Gold Label
John Smith's Magnet Old Ale
Younger's King of Ales
Daniel Thwaites Old Dan
Watneys Stingo
Ind Coope Arctic Ale
Thanks to Mr L Prior for Ind Coope Arctic Ale:
"It was a rival to Gold Label and very similar. I just thought I might mention it. Ind Coope vanished like a lot of our famous breweries. My family used to work for them in Burton on Trent back before World War II. They took over Benskins in Watford in the 60s and I lived there and saw the demise of Benskins. I'm told the old Benskins best bitter recipe lives on in a micro brewery in Devon and it's known as Vale Best Bitter."Mr L. Prior
Lagers
Lager gained in popularity throughout the 60s, but did not challenge draught bitter until the 70s. These are some of the lagers available in Britain in the 60s.
Carling Black Label
Heineken
Carlsberg
Skol
Harp Irish Lager
Tennent's Lager (canned)
Tuborg Green Label Pilsner
By the seventies you could also get
Carlsberg Special Brew
Stella Artois
Carlsberg '68
Holsten Pilsner
Beck's Bier
The popularity of these latter brews increased substantially in the 80s and in some cases the 90s.
---
Can you buy it today?
Keg bitter
As far as any of the more popular 60s keg's are concerned, the answer is no.
Bottled beer
A good number of the most popular bottled pale ales are still available. Worthington White Shield IPA is available, as is Bass Red Triangle. I have also read that you can buy Double Diamond at Morrisons (although I have yet to find it!).
The one great discovery for me doing this research was Whitbread Gold Label Barley Wine. It is a strong beer sold in small cans (the cans were introduced in 1975). It has quite a sweet taste and is very pleasant - perfect for a night cap. Whitbread Gold Label Barley Wine is available in Sainsburys, Waitrose, Morrisons and some local Co-ops.
Lager
Most of the popular brands from the 60s and 70s are still available in the supermarkets. I have seen Skol, Carlsberg, Carling (without the Black Label) and Harp.
Mild
Mild has continued to decline in popularity and there are few available now. Whitbread still do canned draught mild and you can also get Sainsbury's own brand.
Your comments
"Sad to see you list Whitbreads (Flowers) brewmaster in the same sentence. We had Flowers Brewmaster delivered to our home once a week. One week we were supplied with Whitbreads Brewmaster, It did not bear any resemblance to the Flowers version, we cancelled our order the next day." Peter Boothroyd 16/11/2017
"Looking for a small keg of whitbread light.. can you help?" Amanda clowes 31/01/2018
"About six years ago I found myself in a pub near Dartmouth, I can't remember the name, but they had Whitbread Trophy on draught. For memories sake I had to try a half. But oh dear, however I used to drink that stuff by the gallon I'll never know." Andrew Hillier 19/02/2018
"could not see stones bitter on the list , quite popular in 70/80s in northwest england , also my drink of choice in a bass house was toby light ." billy holmes 21/07/2018
"Castlemaine XXXX was the lager of choice for many in the mid-80ís. Mine was the heavier Tennants Extra. Loved it. Both were superior in my opinion to a insipid pint of Carling Black Label. -Until they meddled with their alcohol content. Now sadly, they cease to exist. Progression eh??
Nowadays, we are more likely to be Pbooking weekends in Budapest or leasing a new car, than walking from the bookies to bar. Progression eh? -Maybe." Richard Fuller 11/09/2018

Vintage, retro & social history