Watneys Party Seven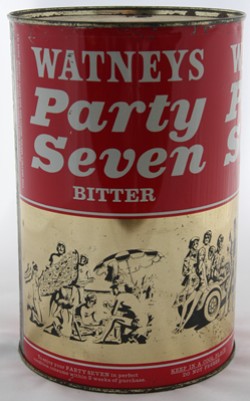 Watneys launched Party Seven on 21 October 1968. [1] It complemented their smaller can, Party Four, which they had been selling since 1964.
In 1968, Party Seven sold for 15 shillings (or 75p). In today's money that would have been about £9.
The way to open it was to punch two holes in the top with a sharp implement. One hole let the beer out, the other let the air in.
At the launch of Party Seven, Watneys offered a Sparklets beer tap designed for Party Seven. You could buy it for 59/9d (59 shillings and 9 pence, see pounds, shillings and pence). For that you also got a voucher entitling you to one free Party Seven. The beer tap was expensive, in today's money it would have been just under £40.
Design of the cans
The Party Four and Party Seven cans set them apart from competitors. They were not just big beer cans. The design evoked the idea of a party. Watneys changed it between 1964 (when Party Four was launched) to the 1980s, when sales dried up, to reflect current fashions and trends.
They used four different styles of can.
Original version
The original Party Four can was black. When Party Seven was launched it was red with gold lettering and illustrations. The designs on both cans were Edwardian scenes.
The original can had the title 'Watneys Party Seven' and 'Draught Bitter' in italics. This design ran at least until 1970.
Early 1970s redesign
In the early 1970s Watneys redesigned the cans. They still had the letters 'Watneys Party Seven' but 'draught bitter' was moved below the illustration and no longer in italics.
The big change though was in the illustrations. The cans now had scenes with young people enjoying life. The 1970s' Party Seven featured:
beach scene
vintage sports car and young people
party with a man playing a guitar
party scene with young people drinking
The men had long hair and beards. They wore flared trousers. The women had long hair and wore flared trousers or mini-skirts. There is a Californian beach party feel to the images. Perhaps Watneys were targeting the American market. They exported to the USA.
The Party Four cans were also red and gold. They had similar, but slighty different, pictures. There was a beach buggy instead of the vintage sports car. There was a new Party Four Mild, in blue and gold, with the same images as the Party Four bitter can.
Mid-1970s minor revision
The lettering on the cans was changed again around 1975. The cans no longer used the word draught, they were just bitter or mild and the designation 'bitter' or 'mild' was moved above the illustration.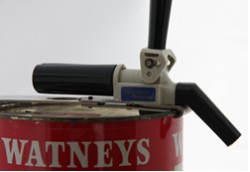 1980s redesign
The cans were redesigned again for the 1980s. They were still red and gold, but the clothes and hair styles reflected the new decade. A narrowboat replaced the vintage sports car and beach buggy from the earlier cans. There was more of an English feel to the new images.
Watneys Party Four was still available as mild in a blue can.
Competitors
Sales of beer in party containers took off in the 1970s. In 1974 the UK Government added 'beer in party containers' to the list of items used to make up a typical shopping basket for the RPI (Retail Price Index) calculation. In 1987 they removed it.
Many other brewers also made beer in similar party containers. As with Long Life canned beer, Watneys Party Seven and Party Four were the most well-known party containers. These are just a few of the competitors:
Seven pint party cans
Worthington's Special Bitter - Large Bumper
Huntsman Homecan '7'
M & B Mild - Large Bumper
Fullers '7' - bitter
Worthington 'E' - draught bitter
Fullers Seven-a-Side - draught bitter
Devenports Drum Bitter
Courage Jackpot 7
Five pint party cans
Whitbread Party King - draught bitter
Ansells Bitter - five pints
Ind Coope Pipkin Bitter - five pints
Co-op Country Pub Bitter
Tetley Bitter - five large glasses
Four pint party cans
Young's Special Bitter
Carlsberg Pilsner Lager
Wadworths Old Timer - traditional strong ale
Banks's Foursome - bitter beer
Banks's Foursome - mild ale
Harp Lager
Gold Eagle Bitter
How much did Watneys Party Seven Cost?
1968 - Recommended price at launch - 15 shillings (75p)
1972 - MacFisheries - 77p
1973 - Peter Dominic - 79p
1974 - Co-op - £1
1975 - Hillards - £1.33
1977 - Asda - £1.49
1979 - Peter Dominic - £1.99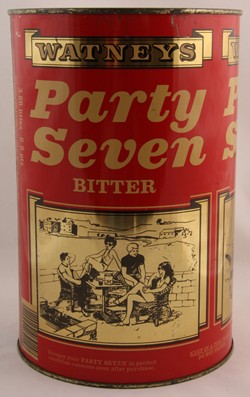 How much did Watneys Party four cost?
1973 - Peter Dominic - 49p
1974 - Co-op bitter or mild - 60p
1977 - Liptons - 85p
How much beer was in a Party Seven can?
Watneys Party Seven cans did not quite hold seven pints of beer. The cans contained 6 pint and 16 fluid ounces. (These are UK fluid ounces so 16 is 0.8 pints).
The Party Four can was not quite four pints. It contained 3 pints and 18 fluid ounces, or 3.9 pints.
References
[1] 'The drinks are on us!' in The Red Barrel (Watneys in-house magazine), December 1968, page 10
By Steven Braggs, June 2020
Add your comments
Comments
As a teenager you went to a party with one of these and opened it by hitting the top of the can with a screwdriver because a bottle opener wouldn't work on the tin.
Result: Lost quite a bit of beer, you were soaked and it tasted awful. Metalic and absolutely dreadful when you reached the bottom of tin. You never saw anyone over the age of 17 turning up with one!
Those were the days.