Watneys Red Barrel
The most well-known beer of the 1960s and 1970s is Watneys Red Barrel. Its reputation as a bland, tasteless, pasteurised, corporate brew represented everything that was wrong with the British brewing industry in the eyes of real ale enthusiasts.
Why did Watneys Red Barrel get this reputation when the other big brewers all made very similar keg bitters? Did Watneys deserve its reputation? It made the brand so toxic that not only has Red Barrel disappeared, so has Watneys itself.
Watneys began experimenting with what they called 'container beer' in 1930. They bought a machine made by Berndorf Maschinen Fabrik for pasteurising beer in bulk. It was installed at their Mortlake brewery.[1]
Red Barrel was developed as an export beer that could be transported for long distances by sea. It was originally aimed at the far corners of the British Empire. Watneys claimed to have made the first Red Barrel in 1931.
Red Barrel, like all keg bitter, was filtered, to remove the yeast. It was then pasteurised and carbon dioxide was added. The "keg" was linked to a tank of carbon dioxide which effectively forced the beer up from the cellar. There was no need for the traditional long-handled beer pump. Keg was usually served chilled. It was fizzy, with froth on the top.
As well as the export trade, Watneys executives thought that Red Barrel could also benefit the home market. Small clubs, that did not use up a barrel of beer quickly enough before it went off, would benefit.
Watneys tentatively trialled Red Barrel in the UK in 1935 at the East Sheen Lawn Tennis Club, where Watneys' Master Brewer, Bert Hussey, was a member. He was convinced that once sampled it would be instantly popular.
Watneys Red Barrel was soon available in pubs. Mr S Llewellyn remembers a good night out with his army chums in 1939. Watneys had a promotion going. You got the first pint of Red Barrel free and a Red Barrel lapel badge. Mr Llewellyn and his mates drank their first free pint, removed their badges and walked to the next Watneys House. It sounds like it was good evening courtesy of the brewer.[2]
By 1959 Watneys claimed Red Barrel was Britain's best-selling keg. That was before they started a national advertising campaign in 1961. Red Barrel was 'No ordinary pint'. The adverts stressed the quality and consistency of Red Barrel. They featured drinkers of all ages. Some showed a young woman drinking Red Barrel from a pint mug. This campaign contrasted with Ind Coope's adverts for Double Diamond which was 'the beer the men drink'.
Watneys' budget also ran to sponsoring the 'Watneys Red Barrel Steeplechase' at Market Rasen.
Watneys Red Barrel sold well in the 1960s. Drinkers liked the consistency, sparkle and quality. Watneys took Red Barrel to new markets in Ireland, France, Belgium and the USA. They started brewing Red Barrel at Murphy's Brewery in Cork in 1966.
In the 1960s Red Barrel was a premium product. Watneys negotiated a contract with BEA (British European Airways) to supply Red Barrel to airline passengers. Air travel, especially on scheduled flights, was the a privilege of a few. This must have been quite an achievement for Watneys and must say something about the quality image that the brand then had. Red Barrel was also to be found on luxury liners, such as the RMS Queen Mary. It was also the natural choice for the new QE2.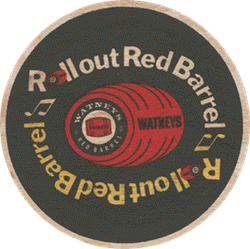 As well as supplying to non-traditional outlets, Watneys also had a fair share of the Free Trade market, selling over one million barrels of beer, mainly Red Barrel and Watneys Pale Ale. So their products must have had some sort of following outside Watney Mann pubs where it might have been the only choice.
Against this, however, "Which" reported on 1972 on keg bitters and their view was that there was little to choose between one keg and another. All were bland tasting and fizzy. There was also little reason for preferring keg over traditional beers such as Watneys own Special Bitter, which was somewhat cheaper. Keg, though, had the image and at the time, people preferred its consistent quality. More traditional brews were considered downmarket.
Part of that image was a strong advertising campaign and Watneys were very astute at linking their products with the pop world. The Liverpool group, The Scaffold, famous for drinking to "Lily the Pink" drank to Watneys Pale Ale. Watneys Red Barrel was promoted with a television campaign and a slogan "Roll out the barrel". The campaign was supposed to suggest that drinking Red Barrel would promote "good fellowship, friendliness and happiness associated with beer drinking".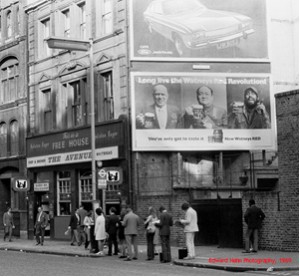 Join Watneys Red Army
Red Barrel had enjoyed considerable success in the 1960s. But at the start of the 1970s it was beginning to lose ground to the other big brewers' keg brands. Watneys stepped up the marketing in an attempt to bring in more sales.
In 1971 they replaced Red Barrel with a new keg bitter called Watneys Red. Watneys Red was a sweeter brew aimed at the younger end of the market. [3]
It was Red, rather then Red Barrel, that made Watneys stand out, for all the wrong reasons. As well as a sweet, fizzy beer, Red was backed by an expensive advertisign campaign.
The advertising was based on the Russian Revolution, with the theme 'Watneys Red Revolution'. This billboard is from London in the summer of 1971. Khrushchev, Mao and Castro all enjoying a pint of Watneys Red!
Does anyone remember "Join Watneys RED army"?!
One group of people not ready to join Watneys Red Revolution was the British Labour Party. Between 1968 and 1971 Watneys donated £60,000 to the Conservatives (£600,000 in today's money).[4]
Another group not happy with Watneys were their own tenant landlords. In a protest against Watneys plans to replace tenants with managers, they staged their own Red Revolution. They refused to serve Watneys Red. In a telling remark, Mr Gerald Richardson, the landlord of the Prince Edward at Hendon, said he doubted one in a hundred customers would complain.[5]
Watneys may not have been that happy with Red themselves. In 1973 they upped the original gravity and the alcohol content in an attempt to stave off a reputation for weak beer.
The Watneys Red Revolution failed. The huge publicity campaign put Watneys head to head with the Campaign for Real Ale (CAMRA). Watneys came of worse. Red was the arch bland tasteless corporate beer. Watneys was 'Grotneys'.
The bad publicity surrounding Watneys impacted their employees. In the 1960s Watneys' brewers were proud of the job they did and the company they worked for. In the 1970s they thought that they were making a shoddy product.[5]
The customers were equally scathing. A survey in 1974 showed Watneys what the public thought of them: a corporate brewer peddling weak beer with scant regard for tradition. In reality Watneys was no worse than their rivals, Allied, Bass Charrington, Whitbread and Scottish & Newcastle. But the damage had been done. Their new Chief Executive, Allan Shepard, realised that the business had to change. But he also realised that in spite of the publicity generated by CAMRA, there was still very little demand for real ale in the UK.[5]
Shepard failed to save Watneys, the brand too toxic to rescue. Watneys Red quietly dissappeared. By the end of the 1980s you could only get in export markets.
How much was a pint of Watneys Red?
A pint of Watney's Red at a pub cost between 14p and 18p in 1972. By contrast Watneys Special, their cask conditioned alternative cost only 12p to 16p.[6]
Watneys' other brews
Red Barrel was by no means Watneys only product. Watneys Special Bitter had been available in London for many years. In 1969 they took the decision to market it nationally in all Watney Mann houses. It was a traditional draught bitter, cheaper than Red Barrel.
The late sixties was a time of rapid change in the brewing industry. New trends seemed to come and go quickly. Draught stout was quickly gaining a following. Watneys tried to compete head to head with Guinness for a time with a trial of Colonel Murphy's Stout. It did not prove successful. They had to accept that Guinness had cornered the market and sell draught Guinness in their houses.
An agreement with Carlsberg Lager in 1969 was, however, more successful. Watneys were surprising latecomers to the lager market. Carling Black Label had been on sale in the UK at Bass Charrington houses for several years and Whitbread linked up with Heineken as long ago as 1961. However, Watneys jumped at the right time and joined the lager market before it really took off in the 70s.
Another feature of drinking in the late sixties and early seventies were strong ales available in small bottles. The most well-known is Whitbread's Gold Label - "Strong as a double scotch, less than half the price". Watneys produced two beers in this category "Export Gold" and "Stingo" barley wine.
Watneys Party Four and Watneys Party Seven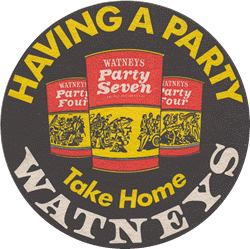 Of course that other well-known name from the 60s was Watneys Party Seven. Its smaller brother Party Four had been available for some time when in 1968 Party Seven was introduced. As a promotion Watneys sold a Sparklets Beertap with a free voucher for a can of Party Seven for 59s 9d. Watneys Party Seven initially sold for 15s. You could have your own bar at home! Read about 70s Party.
Watneys Party Seven became a staple for parties in the seventies and was available until the early eighties. The beer mat (left) was to encourage customers to take home a Party Seven for later!
Read more about Watneys Party Seven and Party Four
How much was a Party Seven?
You could buy Party Seven and Party Four at supermarkets and off-licences. These are some typical prices from the 1970s.
Party Seven
1971 Macfisheries - 77p
1972 Safeway - 70p
1973 Peter Dominic - 79p
1978 Tesco - £1.65
1979 Peter Dominic - £1.99
Party Four
1972 Safeway - 43p
1973 Peter Dominic - 49p
1977 Liptons - 85p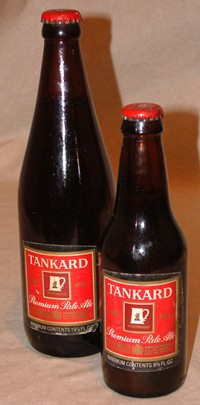 Competitors
Watneys were by no means the only brewer in the sixties and Red Barrel was by no means the only beer. Most of the major breweries had their own keg bitters. Whitbread entered the keg market with Tankard in in 1957. By the early 70s the following keg bitters were on the market.
Watneys Red
Whitbread Tankard
Ind Coope Double Diamond (Allied)
Younger's Tartan (Scottish and Newcastle)
Worthington 'E' (Bass Charrington)
Courage Tavern
As well as keg bitter most of the major players offered a "best" as an alterative. These beers were often cheaper than the kegs. Once again these are few of the most well-known:
Whitbread Trophy
Courage Best
Watneys Special
Younger's Scotch Ale
Postscript
Retrowow reader Nathaneal wrote:
Watneys was known to me mainly because of a skit by Monty Python or their predecessors, about "bleeding Watneys Red Barrel"
I just about remember the sketch now. It was known as the "Travel Agent's Sketch", all about the joys of going abroad and finding fish and chips and Watneys Red Barrel. See Travel Agent/Watneys Red Barrel for the full text.
References
[1] 'The Red Barrel, a history of Watney Mann' by Hurford Janes, published by John Murray 1963, page 163
[2] 'Beer up', published in the Daily Mirror, 20 September 1978
[3] 'New keg beer to replace Red Barrel', published in The Times 2 March 1971 page 18
[4] 'Revolting! Labour blast a red revolution' by John Desborough, published in the Daily Mirror 4 June 1971, page 3
[5] 'Righting wrongs at Watneys', published in the Guardian 29 September 1976, page 18
[6} 'Keg beer' published by the Consumers' Association in Which?, April 1972 page 125.
Add your comments
Comments
I had my first pint of WRB in London as a 20 year old visitor in 1969. I was on my way up to Lancaster University for the year. Gawdawful stuff; gave me an instant headache. But I do remember how excited I was to be in London so I will always cherish it as my first pint in the UK. If I had my druthers now…Tennents please.