Watneys Red Barrel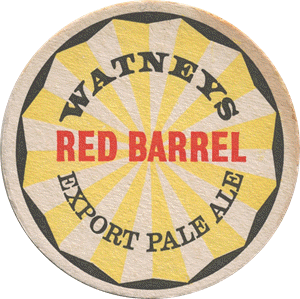 Perhaps the most well known beer of the 60s and 70s, the much maligned Watneys Red Barrel, can trace its origins back to the 30s; in fact Watneys claimed 1931. Red Barrel was originally developed as an export beer that could be transported for long distances by sea.
Red Barrel, like all keg bitter, was filtered, to remove the yeast. It was then pasteurised and carbon dioxide was added. The "keg" was linked to a tank of carbon dioxide which effectively forced the beer up from the cellar. There was no need for the traditional long-handled beer pump. Keg was usually served chilled and was fizzy, with froth on the top.
Red Barrel was tentatively trialled at the East Sheen Lawn Tennis Club where Watneys' Master Brewer, Bert Hussey, was a member. He was convinced that once sampled it would be instantly popular. By the early sixties, Watneys were able to claim that it was the country's most popular keg bitter. It was also the first.
Red Barrel today is regarded with distain; in the 60s it was a premium product. Watneys negotiated a contract with BEA for Red Barrel to be supplied to passengers. Given that air travel, especially on scheduled flights, was still a privilege of the few, this must have been quite an achievement for Watneys and must say something about the quality image that the brand then had. Watneys were also able to sell Red Barrel at all bars on the new luxury liner, the QE2.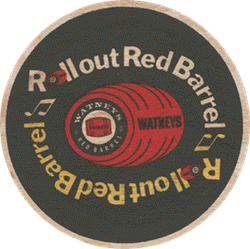 As well as supplying to non-traditional outlets, Watneys also had a fair share of the Free Trade market, selling over one million barrels of beer, mainly Red Barrel and Watneys Pale Ale. So their products must have had some sort of following outside Watney Mann pubs where it might have been the only choice. Against this, however, "Which" reported on 1972 on keg bitters and their view was that there was little to choose between one keg and another. All were bland tasting and fizzy. There was also little reason for preferring keg over traditional beers such as Watneys own Special Bitter, which was somewhat cheaper. Keg, though, had the image and at the time, people preferred its consistent quality. More traditional brews were considered downmarket.
Part of that image was a strong advertising campaign and Watneys were very astute at linking their products with the pop world. The Liverpool group, The Scaffold, famous for drinking to "Lily the Pink" drank to Watneys Pale Ale. Watneys Red Barrel was promoted with a television campaign and a slogan "Roll out the barrel". The campaign was supposed to suggest that drinking Red Barrel would promote "good fellowship, friendliness and happiness associated with beer drinking".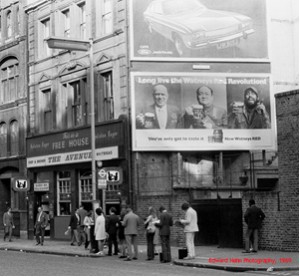 Join Watneys Red Army
For the seventies, Watneys decided to change the name of Red Barrel to just Watneys Red. Advertising was based on the Russian Revolution. This billboard, left, is from London in the summer of 1971. Khrushchev, Mao and Castro all enjoying a pint of Watneys Red!
Does anyone remember "Join Watneys RED army"?!
Watneys' other brews
Red Barrel was by no means Watneys only product. Watneys Special Bitter had been available in London for many years. In 1969 they took the decision to market it nationally in all Watney Mann houses. It was a traditional draught bitter, cheaper than Red Barrel.
The late sixties was a time of rapid change in the brewing industry. New trends seemed to come and go quickly. Draught stout was quickly gaining a following. Watneys tried to compete head to head with Guinness for a time with a trial of Colonel Murphy's Stout. It did not prove successful. They had to accept that Guinness had cornered the market and sell draught Guinness in their houses.
An agreement with Carlsberg Lager in 1969 was, however, more successful. Watneys were surprising latecomers to the lager market. Carling Black Label had been on sale in the UK at Bass Charrington houses for several years and Whitbread linked up with Heineken as long ago as 1961. However, Watneys jumped at the right time and joined the lager market before it really took off in the 70s.
Another feature of drinking in the late sixties and early seventies were strong ales available in small bottles. The most well known is Whitbread's Gold Label - "Strong as a double scotch, less than half the price". Watneys produced two beers in this category "Export Gold" and "Stingo" barley wine.
Watneys Party Four and Watneys Party Seven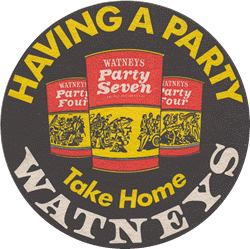 Of course that other well known name from the 60s was Watneys Party Seven. Its smaller brother Party Four had been available for some time when in 1968 Party Seven was introduced. As a promotion Watneys sold a Sparklets Beertap with a free voucher for a can of Party Seven for 59s 9d. Watneys Party Seven initially sold for 15s. You could have your own bar at home! Read about 70s Party.
Watneys Party Seven became a staple for parties in the seventies and was available until the early eighties. The beer mat (left) was to encourage customers to take home a Party Seven for later!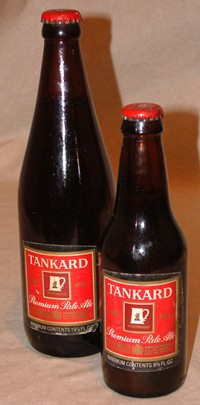 Competitors
Watneys were by no means the only brewer in the sixties and Red Barrel was by no means the only beer. Most of the major breweries had their own keg bitters. Whitbread entered the keg market with Tankard in in 1957. By the early 70s the following keg bitters were on the market.
Watneys Red
Whitbread Tankard
Ind Coope Double Diamond (Allied)
Younger's Tartan (Scottish and Newcastle)
Worthington 'E' (Bass Charrington)
Courage Tavern
As well as keg bitter most of the major players offered a "best" as an alterative. These beers were often cheaper than the kegs. Once again these a few of the most well known:
Whitbread Trophy
Courage Best
Watneys Special
Younger's Scotch Ale
Postscript
Retrowow reader Nathaneal wrote:
Watneys was known to me mainly because of a skit by Monty Python or their predecessors, about "bleeding Watneys Red Barrel"
I just about remember the sketch now. It was known as the "Travel Agent's Sketch", all about the joys of going abroad and finding fish and chips and Watneys Red Barrel. See Travel Agent/Watneys Red Barrel for the full text.
Add your comments
"iremember party seven and party four mainly in 1976 the hot summer, lovely." frank crabtree 08/04/2011
"I found this site because I wanted to know what Watneys Red Barrel was. Geddy Lee mentions it in a live recording of "Working Man" by RUSH. Cool site you have. But I feel compelled to critique the article. You start the article with "much maligned" and then proceed to describe how great it was and how good their sales and marketing were -- so what happened? Why the much maligned? - did it get bought out by Anheuser Busch or suffer some other horrible fate? Cheers." Patrick 20/04/2011
"Hi Patrick, Thanks for the comment. Watneys Red Barrel, along with other keg bitters was not a great product. It was marketed heavily, because these beers suited the breweries, as they kept better. CAMRA (the Campaign for Real Ale) was formed in 1971 to counteract the spread of keg bitter.

Eventually fashions changed and beers such as Red Barrel disappeared. Their passing was not particularly mourned, but nevertheless they were part of our culture in the 60s and 70s.

I hope this helps." Steven 20/04/2011
"I can remember drinking Watney's Red Barrel on tap in Gainesville, Florida starting in about 1986. As bad as you make it sound....I must say I enjoyed it quite regularly.

Is it still produced at all?" Tony Dillon 29/05/2011
"i quite enjoyed watneys red barrel in the 70s. ...i also used to enjoy ''youngers tartan on draught''. i have not seen it for many years now. is it still available in scotland i wonder?." dai arthur 07/06/2011
"By the mid 1960s Wilson's Brewery of Manchester, by then a subsidiary of Watney's, was brewing Red Barrel for sale in their pubs and others in the north of England. I went on a tour of Wilson's during that time and was offered a pint of CASK conditioned Red Barrel in their sample room. Yes! they did cask condition small amounts of that brew for hospitality purposes. It was a fine beer tasting totally different to the kegged stuff. The Watney's Red keg beer introduced in 1971 was a totally different brew, weaker, sweeter and overall far worse than the Red Barrel it replaced. Its introduction only hastened the demise of the Red Barrel image and eventually of Watney's themselves." George Drew 28/06/2011
"While stationed at RAF Alconbury in the very early 70's I used to buy the Party Seven . Enjoyed it, brought one back home while on leave." Bazooka Joe 09/07/2011
"where can I find colour pictures of watney's delivery trucks/dray waggons, especially with the red barrel on the cabroof" john sansome 14/07/2011
"The advertising for Watney's Red Barrel and Watney's Red was great and Watney's owned half the pubs in Southampton when I started drinking in 1968ish. It wouldn't say tasting it was a bitter disappointment, because it wasn't bitter at all compared to rival beers, just insipid and terribly gassy. Never having liked Coca-Cola or Pepsi it wasn't the tipple for me.
Fortunately there were plenty of Marston, Thompson & Evershed boozers in my locality too, so I was able to educate my taste with one some of the best beers in the country." Dave Juson 11/08/2011
"Anything out today (2011) that taste's like Watney's Red...my friends and I loved Watney's...I would kill for an ice cold Watney's Red on tap!" Jeff Michaels 20/09/2011
"Watney's Red was a favorite of mine. 3 pints left you with the same satisfied feeling as a Thanksgiving dinner. The closest thing I found is an authentic Black-n-Tan (not the premixed version). In a previous search for what happened to it, I found many English reviews equating it to the English version of our Milwaukee's Best." Mike Gravell 11/10/2011
"I have a great Watneys Red Barrel Bar Light shape of the barrel in working order, my Gran passed it on too me totally love it." Mark 04/11/2011
"When I lived in UK,in the 60,s Watneys Red Barrel Beers were very popular,and was my favourite beer along with Brickwoods India Pale Ale." Michael J Garrett 03/12/2011
"Red barrel was a passable bitter. Watneys Red, which seemed darker & sweeter was imo the lowest point in brewing history. The launch/ promotion night we called it 'Watneys Dead' The landlord was not impressed! The next week 'Ushers Best Bitter' on handpump appeared on the bar....Heaven..." Clive 12/12/2011
"Used to drink Watney's Red often in the 70's at a pub in Houston, Texas." Garry Patton 06/01/2012
"Back in 1964 when I had just left school I got a job as a laboratory technician with Wilson's Brewery in Manchester. I worked in the Red Barrel Department and part of my job was taste testing the beer. Kegs of Red Barrel would be brought in from various breweries and we 'blind' tasted the various kegs to see if there was any difference in colour or flavour.

I must say that away from work my favourite keg beer was Whitbread's Trophy." Allan Mortimer 10/01/2012
"I used to brew both Watneys Red Barrel and Watneys Red. Red Barrel was a fairly strong (>1045) all malt beer that was probably as good as any other beer around at the time and better than most. Clean, good flavour and where kept properly, much more consistent than most cask beer that was around at the time. It was particularly good in bottle.
Red on the other hand was brewed with a huge proportion of raw barley, plus enzymes etc, head retention agents, higher CO2 than most keg beers, the lot. Disgraceful stuff.

PS. Watneys main brewery at Mortlake is still there, owned by Budweiser and brewing I think all of the Bud for the EU." Pod 09/03/2012
"I realize my story does not carry significance in the end when it comes to eulogizing something as universally joy-giving and memory-making as a particular beer or ale. Nonetheless, as an adult, I still carry a literally lifetime love of the Whatneys Brand, both for the the Red Barrel itself, and more-so The Whatneys Red Nights that happened every Tuesday (or Wednesday?) night at the ACME Bar in Beach Haven LBI (NJ-USA) every summer in the late 70's and early 80's. First, let me try to briefly describe the ACME. I'll start there because trying to describe what has happened there, in the just the short time I would call "back in the day" , would be a fair book idea. The ACME was,... Not pretty. It's location was. Step out the front door and walk 1/4 mile east, and you're knee deep in the Atlantic. Stagger 100 yards west and you're treading water in the Barnegat Bay. Depending on the tides. new Jersey barrier island summer vacation paradise, and Beach Haven is/was the "party center" of that universe. 18 miles of NJ Coastal barrier island. One mile at sea. Almost a different country when you needed to shed the pressures of the week at school, college, work, home. The ACME was more known for what it was not. Not fancy. Not clean. Not expensive. Not pretentious. It WAS, however, a great bar, with a crappy plywood stage, and the stankiest "WOW, you should have been here LAST night!!" vibe, literally imaginable. Think about that. On Whatneys night, if you were "in" you had your numbered Whatneys Only mug hung on the backbar, and gave that good man a thorough rinse with about 40 10 oz. Mugs or brick-red glory. Best damn meat-market I'll ever remember. Wish I DID remember it all, but I DO remember the best parts. Which were ALWAYS the un-tanned parts, if you follow. We had a great, and big, crew of guys back then. All meant well, did well, and did good. Whatneys was a reason to meet, but that happened because it was that good. I don't remember all the names. I do remember the feeling of walking in there, that first pull from MY mug, and that taste that said " uh, yeah. I'll have another nine of those, please." oh, and seeing her back again from last week. She never bought a mug, but thought it was cool I did. Still doesn't, and does. Thanks Whatneys." TD from HC 22/04/2012
"Always pleased to talk about Watneys as all my relatives worked for Watneys either at the Stag Brewery Victoria or The Mortlake Brewery. I was brought up living in a Watneys house in Watney Road Mortlake until the age of 16. My family were coopers and the service years totalled 345, this was the third highest record in the UK for the longest continuous service with one company. My father was captain of the Watneys cricket team for many years so I grew up on the field boundary. The Watneys company was an excellent company to work for and had good welfare services for its workers families. Christmas parties for the children and holidays for mother and children if sickness came around. I could talk forever on Watneys and have many fond memories." Mike Craft 26/04/2012
"In the late '80s in New Jersey (U.S.A), I was gratified to see Watney's Red Barrell being sold in 2 liter soda-style at my local supermarket's liquor dept.
For a U.K. import, the price was beyond reasonable, and I availed myself with scant reserve. "It's cheaper than budwieser" became my statement of purpose and I gulped it down in large, ill-advised quantities.
The malodorous flatulence was BIZZARRE. Not to put to finer point on it, but the beer brought out the evil, death and decay within my young body. Red Barrell is truly one of a kind, and not a beer for the faint of heart." rick 06/05/2012
"There was a bar in Midlothian VA that I used to frequent in the early 90's that had Watneys. I always loved it. I was always curious about what happened to it. Guess I know now. After 20 years in the Air Force and assignments overseas I wonder if it would seem as good if it still existed. Maybe not, but back then it seemed very sophisticated and cultured. Ah to be 21 again." Croaker41 30/05/2012
"I read Pod's contribution with interest. I worked at Mortlake 1969-1971 and was involved, in a laboratory function (mostly taste panels!), in the transformation from Red Barrel to Red (The Revolution!). The 1045-degree beer that he remembers was surely the Export version of Red Barrel RBK 'C'- for Continental? Lovely drink, as was Watney's London Lager, export only. Standard RBK was a more modest 1038 or so, with an ABV to match. It was a good keg beer. "Red" on the other hand was dire; sweet, fizzy, nasty burnt/roasted characteristics, zero or drowned-out hop character. The raw barley thing is a bit of a 'red herring'. I was involved in the barley-enzyme brewing project in Drybrough's, Edinburgh. It was not until these trials were complete that the use of raw barley was extended across the Group, then only where suitable brewing plant was in place. More 'Trad' brewhouses, like at Norwich and the pre-Steinecker plant in Wilson's, Manchester, could not handle useful percentages of raw barley. So the use of barley was not restricted just to the truly dire new beer, 'Red'; several products used it. A bottled version of Red called 'Straight 8' was launched. Same beer, even fizzier, with extra Head Retention agent. Billed as "The beer that doesn't die in the glass", we cynics in the lab would say "No, it died in the brewery". The Red Revolution did not last long. The Marketeers at Watney's were guilty of the "If it ain`t broke, don't fix it" syndrome. But the original Red Barrel was better than OK. By the way, while I was with Watney's (1969-74), the Special Bitter was NOT "trad"; it was a filtered bulk tank or keg product, admittedly less fizzy, but not "Trad"! Cask beers were produced at Wilson's, Manchester, Webster's, Halifax, Tamplin'`s, Brighton, Usher's, Trowbridge and and Norwich Brewery (nee Morgan's). A "cask in keg" version of Ruddles was produced, I think at Mortlake or Norwich. Greene King now own the Ruddle's 'Brand'" john palmer 19/06/2012
"I have very happy memories of my 5 or so years at Watney's, too, Mike Craft. I joined the lab at Mortlake straight from University. My father had worked for Morgan's Brewery, Norwich, in the maltings. When Watney's displaced the local breweries in the 60's, the Morgan's brewhouse in King Street became the Watney Mann (East Anglia) plant, being 'modern', aka just pre-war. Later the company was rebranded `
'The Norwich Brewery Co'" john palmer 19/06/2012
"I used to drink Red Barrel in the 60s and 70s, and I still carry a small red barrel with "Watneys" printed on it, on my keyring. I have had it for many years.
George White." George White 28/08/2012
"I liked Watney's Red Barrel and was disappointed when it no longer appeared in American Package Stores." Diane Robinson 24/09/2012
"In your article you make assumptions that Watneys Red Barrel and Watneys Red were one and the same beer, in fact they were not, Watneys Red was introduced after the bean counters had been involved, make beer cheaper and sell at the old price.......remember Watneys Starlight??? Need I say more? Starlight. so weak it was almost legal to sell to kids" Geoff 06/10/2012
"When I walked into The Green Room pub in Houston, Texas in the early 1970s, Pam, the pretty barmaid would bring me a Watney's Red Barrel without my having to ask. It was a favorite back then and would be now if still available." TL Miller 06/11/2012
"Your narrative is entirely wrong in saying that Red Barrel was invented as a keg beer. It was originally a bottled premium pale ale, and only became sold as a keg beer at the end of the 1950s. The beer Bert Hussey kegged for the East Sheen tennis club probably wasn't Red Barrel, which, I believe, had not been introduced at that time." Martyn Cornell 11/12/2012
"In the late '70s I used to drink Watney's Red Barrel, as well as sampling scores of other imported beers. While I'm a pilsner fan at heart, I loved Watney's, but found that it tasted the best at near room temperature, for me. I can't attest to the history, variations, or other's opinions here... I can only speak my mind on what my tongue appeals to, and Watney's Red Barrel is one I miss very much." Mike McCrackin 20/12/2012
"I drank my fair share of Watney's Red Barrel on tap while living in Oregon in the late 70's/early 80's. Would have kept on drinking it if I could have found it after my move to California. Was hoping to find some on my upcoming visit to Scotland this summer, but it sounds like I'm out of luck. Are there any other brands extant that are similar in taste and texture I might try during my visit? Thanks." Trisha 24/12/2012
"What was Red Barrel keg like in the 50's when first brewed? A writer some years back suggested it was rather dark, almost black with reddish glints and used a porter yeast. Any comments, from Pod or John Palmer in particular?

Gary" Gary Gillman 27/02/2013
"Mike Craft 26/04/2012
Hi Mike Very interested in your entry. Did any of your relatives ever mention a Grandfather Clock in the boardroom at Watneys? I'm trying to find out more about this clock that came into my family in the 1930's or 40's I think. Any boardroom photos would also be fantastic. I look forward to hearing from you. Carol" Carol 02/03/2013
"Hi Carol, sorry cant help on the clock, I am now the oldest surviving family member who has any knowledge of Watney's. Whilst I just about got everywhere in the firm the boardroom has escaped me. Just today Tuesday 5th March 2013 I noticed on the shelves in a supermarket a bottle of Manns Brown Ale, it is supposed to be from the original recipe. Good luck with your research. There is a book on the history of Watney's with a bright red cover, we do have access to it in the family as we are in it. Always available to try and provide any historical facts. Mike" Mike CRaft 05/03/2013
"You may not believe this but I have a bottle in my fridge right at this very moment! I did have two that have been in various temps over the years and I've had it chilled for that past 6 years or so. When I found them in my garage it had been 5 years so I figured what the heck. Well, I went to a friend's house to help with a project and I brought one of the two bottles I had and we popped the top and tried a taste. I swear on everything holy that it tasted almost as I had remembered. There was the amber flavor but the carbonation was a tad off. It was very drinkable. I was totally shocked and amazed. I still have this one bottle that I am saving to have with my other Watney's buddy but we have yet to hook up for a taste test. I thought this would interest some of you. I for one, really liked this beer and I would still be drinking it if it were around. One last tale. I was at a picnic with people from work and one fellow had some home brews. He had one that was spot on for Watney's Red Barrel. I had asked a friend who knew the guy to see if I could find out what the recipe was but the guy had passed by his own hand a year or two earlier. Oh well, I continue my search for a substitute." Al Green 14/03/2013
"I had Watney's Red Barrel from the tap at a deli/bar north of Boston, Mass. in the mid 70's. I remember liking the taste, and making a mental note to find it in the future. It tasted a lot like Bass Ale, which is to say a milder version of something like Kilkenny. Not everyone loves intense flavor!" MattMusician 11/11/2013
"If anyone has a recipe for mAking watneys let me know I have been seeking such for a long time to no avail" Wilfredo rios 06/01/2014
"Read most of the article and disagree with a couple of points, Red Barrel and Watneys Red were NOT the same ale, and party 4s and 7s werent advertised as being filled with Red Barrel. I remember drinking most of Watneys beers as I worked in a pub at that time. Red Barrel was a beautiful drink, Watneys Red was rubbish, and an awful lot of people will agree with me" geoff 03/06/2014
"I remember the Party Sevens; we always seemed not to have a can opener so we`d resort to using a knife to pierce to can with the result that the bear would spray everywhere. At eighteen though we couldn't care less" glenn 02/07/2014
""remember my dad and grandad drinking Watneys Red Barrel in the 70's and the keyrings the landlord gave out to promote it good times." Dean lloyd 01/11/2014
"My dad - Geoff Wright - joined Watneys at its Tamplin's subsidiary in Brighton in the 1950's and by 1967 he was promoted within the Free Trade Department and transferred to Wilson's in Manchester.

I distinctly remember the "Red Revolution" on the change to Red from Red Barrel. he was working all the hours God sent to try and ensure a good launch in all of the Free Trade pubs in North wales and the North West of England. Our house was over run with beer mats, key rings and advertising paraphernalia.

Watneys also boasted some great legacy beers from the breweries they had acquired such as Wilson's Great Northern Bitter and Olympic Bitter (which I think was nicknamed "Old Slugger" in Manchester. Dad would organise coach trips for his best customers to visit the brewery and me and my friends at sixth form in Shrewsbury would always get the spare seats at the back of the coach - happy days.

I too miss Red Barrel, Watneys Special, M&B Mild, Greenall's Wem Bitter and many of the maligned beers of the 70's. I'd love to enjoy a nice clean tasting pint of ale (which wasn't lager) as opposed to some of the caramelised and poorly brewed stuff that masquerades as "real ale" today. To visit Wilson's, taste the malted barley, crush the hops in your fingers and then taste the beer in the guest room so that you could pick out all of those flavours was a grand experience." Peter Wright 05/11/2014
"So sad at the demise of Red Barrel and it's ilk...been a lager drinker ever since the introduction of the warm flat stuff..." Tom Jeacock 23/11/2014
"Watneys Red Barrel was the first real beer I ever had the pleasure to try, all others were over produced american pale, over carbonated, sour tasting lagers that are just as bad today. Watneys RB was served on tap at Elephant and Castle in Portland and was used for several pre- wedding night celebrations from 1975 t 1980, kegs could be had for about twice what a keg of Pud went for. When I heard that Pudwiser bought them out in the 90's, an end of an era had happened. I do not understand what the talk of Watneys being so bad is all about, it may not be as good as some of the micro brews of today, but back then it was king in my book. Full bodied, red in color, not to sweet, not to sour and it went down easy. The bottled version did not hold a candle to the keg version though. Long live Watneys Red Barrel Beer!" Ken W, 23/12/2014
"I live in Reading England near the old courage brewery that was and around here Watneys was very good, the one with a bad reputation was Whitbread" Jon Steward 15/01/2015
"My first Watneys was in Freeport Bahamas when Watneys built "The Pub On The Mall" in 1964. I was 15 at the time. There was no drinking age on the island at the time. Well, I believe it may have been 18 but it was not enforced. I loved it! I could not get it anymore when I left in 1970. I moved to Germany so it did not matter much. Every town in Germany had it's own beer, and they were all outstanding. On the island, we had Watneys, Whitbread, Courage, St Paulie Girl, Amstel and Heineken all in barrels and keg's. It was beer heaven. But, Watneys was my favorite. I found it once again in Houston Texas in the late 70's. Once I moved from there, I could never find it again. Is it still made? Where can I get some? I am old now and need something to help me remember." Doug Smith 19/02/2015
"As an Aussie living in Sussex in 1975, I think that Watneys Red was a terrific beer, or did I drink Watneys Red Barrel ? I thought my first experience with a warm, flat beer was going to be disasterous but that first taste converted me to this lovely rich dark red coloured beer.
40 years later, living in Australia, when i mention Watneys Red, most Poms here in Melbourne say it was rubbish ! Do they mean Watneys Red or Red Barrel, they cant tell me. It seems that its a bit of a saying. Watneys beer being not as good as others. For me, it was the best beer I'd ever tasted.
It was sad when returning t.o England it was unavailable. I've been looking for a similar beer in the UK and the US for years and not found that magic tast again. I'm going into EBay after i write this and find a nice Watneys key ring red barrel or something Watneys to make up for ths great loss.
I'm not sure if it was Watneys Red or Red Barrel but it was kind of still, very dark red and had an amazing taste. I had too many one night and thought id managed to put my pint glass on the fire place shelf in a Forest Row pub. The pint glass did not make the shelf and i let gonof it. I was stunned as a whole pint of Watneys hit the carpet ! I've never recovered ..." Peter Stephenson 25/02/2015
"My memory is not what it was but the event that I remember was in the early 60s and took place at The Royal British Legion Club in Taunton Somerset, my home town.
The night was a darts demo by a man I think was called Hancock and was arranged by Watneys to introduce there new beer, Red Barrel.I have never seen darts thrown with such skill and would put to shame any modern player. This he did after consuming a large amount of Lambs Navy Rum.
Can anyone remember Hancock or see him play

Dave Carpenter 02/03/2015" david carpenter 02/03/2015
"The trouble with Red Barrel was that it was a blend of brewed beer and the filtered and pasteurised returns from pubs which included the contents of the slop trays. Getting red barrel to taste the same was always a challenge because of the percentage and unpredictability of the returns." Glen 06/07/2015
"I discovered Guiness and Watney's RB at the same time in 1968 at a Pub called "Old Mac's" in D.C. Guiness on tap. Mixed with Watney's, it was called a "Half 'n Half". Tasted quite good. Made H&H's at Brit Pub in San Rafael, and of course at home...until Watneys "disappeared" sometime in early 1980s. Now, it's either straight Guiness (yeah, Baby!) or Black 'n Tans." Mike Martin 23/09/2015
"When I visited England in 1971 during my college years, Watney's Red Barrel was on tap everywhere. It was one of my fondest memories. Back in the UK for the first time in 44 years just recently, I asked for it at a couple of pubs and was looked at as if I was from outer space. They hadn't even heard of it. I finally found an older doorman outside of our hotel who remembered it and he told me they hadn't made it for years. Oh well, I didn't see many Morris Minors on this recent trip, either." Rich Hansen 25/09/2015
"Had my first Watneys RB at the Winston Churchill pub in Nassau. Used to have one every afternoon at 4PM at a bar in Manhattan, just down from 633 Third Avenue when we started drinking at lunch and didn't finish until well into the evening. Those were the days, when Wayne Wile, Esq., was usually my drinking buddy. RIP my friend." John Richard 27/09/2015
"Red barrel in the late 60s was a market leader not for its quality but because it had a massive advertising campaign behind it. By the time CAMRA had formed by the early 70s it was referred to by many members as dead barrel." Dave O'Boy 25/10/2015
"Well Dave O'Boy, Watneys Red Barrel was replaced by Watneys Red in the 70's, it was a cheap drink trying to fool the public into thinking it was Red Barrel. No wonder CAMRA called it Dead Barrel. In my opinion Red Barrel was a superb beer and sold in great quantities, it would have sold without any advertising." Geoff 11/11/2015
"Very nostalgic reading, I also got started on Watneys in the Botley area early 70's, but my brew was Special Bitter, I Loved it and compared to the Trophy, Brickwoods and Gales offerings at the time it was streets ahead. wonder if it would stand the test of time? Shame we will never know!" billy 17/11/2015
"Watneys Red Label, Dark - was, is my preferred of stout. As a 1970's college age youngster, I recall numerous ambulations to numerous Irish; Boston, Mass. taverns whence the tavern's choice of draft was a selection of Watneys choice brewed beverages. Think that I'll look 'em up, and maybe pick-up afew pints. 01 DEC 2015" KevinP. 02/12/2015
"we drank our fair share of Watneys back in the early eighties at Kochever's saloon in Crested Butte, Colorado. great time and a great beer, the bar is still there, Watneys is long gone......" Ricky Ambrose 03/01/2016
"Both my dad and uncle were off licensees of Watney Mann premises in the 70s. The brewery was taken over by Grand Metropolitan Hotels in about 72 because of the real estate value of the pubs and offies. The brewery side of the business was shut down about 1979 because of the resurgence of 'real ale' and a big drop in sales due to poor quality issues" Phil Morey 07/03/2016
"After our return from RVN in the early 70's I along with 2 pals needed a place to drink so we opened a bar in little town in IL located not far from the cornfields. After drinking Watney's in Chicago at O'Rourkes we decided to put it on tap. We had it and Beck's as our two draft imports along with a large number for that time in bottles. That was seemingly a couple lifetimes ago. Great memories." Rick 10/03/2016
"Being born in England in the 50's I was privileged to have sampled umpteen gallons of Watneys finest libations . I emigrated to the US. In 1980 and ended up in Texas. I found the occasional bottle of Red label but it was few and far between. I was not satisfied with American beer and am still not. Back in 81 I was lucky enough to find a case of Stingo! Wow cost me an arm and a leg. 20 bottles yum , I went to a friends place for a Bbq and he and I drank about 5 each he pasted out ! I was wasted myself and didn't even eat the delectable ribs he had cooked. My Mrs had to drive me home! Watneys Stingo is not for the light weights. I have to this day never been as sloshed as I was that quick! My good friend Chuck agrees too, he gave 1 bottle to his boss who was drunk off of it! I know it has been discountined but what a beer what an experience." Steve 29/03/2016
"I remember Watneys Red Barrel very well back in the 60's and enjoyed many pints. When we felt flushed we would order a pint mug with a nip (third of a pint) of Barley Wine then topped up with Red Barrel. Two of those a night was enough. On a business trip to Denver back in the mid 90's I did find a six pack of Red Barrel in a liquor store. It was brewed under licence from a brewer in Guelph Ontario but I can't recall the name.
Pleasant memories indeed. I have now moved on and drink Fullers London Pride whenever I can find it." Richard T 31/03/2016
"Traveled to England in late 60's and early 70's for the first time. I was introduced to Watneys by the huge advertising posters of Che and Mao for Watneys red. Never saw anything like that in the states p" Jerry goldman 11/04/2016
"Youngers tartan was a fine drink I remember drinking this at the wakefield club in East Ham. also Double Diamond, another great keg beer." Paul Whiting 14/04/2016
"I have a Watneys party four that has never opened. I notice there is a bar code on the side of the can but my "bar code reader " won't read it... can anyone tell me when it's likely to have been brewed?" Cliff 13/05/2016
"Hi Cliff,
It must have been brewed after 1979 as that's when bar codes were first introduced in the UK. I would say probably 1980s." Steven 15/05/2016
"Is Whatney's still in production? If so, who is the distributer?" B Hanna 26/05/2016
"I've just happened to have bought a Vintage Watneys Red Barrel Pint Tankard on eBay, and l'd like to know if there are any bottled bitters or ales in the UK today that happen to be near similar to Watneys Red Barrel." Martyn Williams 20/06/2016
"I have a cloth Watneys and Stingo umbrella that I do not remember where I got it but liked the beer and talked an establishment into giving me the umbrella, red, white, and black. It is a classic. Since it has not been out in the weather it is like new and I love it!" Shannon Jones 02/07/2016
"I have shattered my barrel that I have had on my key ring these 45 years, Is there a way of acquiring a replacement?" mannersis@shaw.ca 14/07/2016
"They do come up on eBay. Best regards" Steven 15/07/2016
"WELL I HAVE GONE THOUGH THE WEBSITE HERE TRYING TO RESEARCH MY "PRAESIDIUM MELAMINE" WATNEYS RED BARREL ASHTRAY..PROBALY STOLEN FROM A PUB IN THE UK IN THE 1970s I'M GOING TO LIST ON E-BAY THIS WEEK.IF ANYBODY IS INTEREST IT IS LISTED THERE,SELLER Lives in Canada" PETER GEORGE 05/08/2016
"Red barrel was the first beer I ever bought for myself in a Central London pub when I 16(school outing to watch King Lear). I did not like it at all.I quickly realised that it was real ale for so thank heavens for Young's and Fullers in the 1970s. In the early eighties CAMRA inspired real ale revival Watneys offered their London bitter and also Stag.I loved them both but both had disappeared by the nineties." Paul Carney 10/08/2016
"The absolute nadir of english beer but apart from that, did you know that the red barrel keyring, if you removed the metal ring, had neutral buoyancy in Watney's red barrel so you could use it to ensure that your pint had not been watered down?" Pete Smith 10/09/2016
"Hi,
I have just aquire a huge brass bell that was presented to my uncle Owen Morris (chief brewer I believe ) on his retirement from the brewery in 1977. I would love to find some history about the bell if any one knows anything." Jeanne Howe 11/09/2016
"I too was brought here via Python. Twenty-odd years I've wondered about it but never looked it up til today. What a fun surprise this page has turned out to be." matt 07/10/2016
"I can remember back in the late 70s going into a pub called the Admiral Nelson in Bridlington to find red barrel on tap, you couldn't get me out of there for the entire week, ah many a pint glass was sunk back then" Ian 08/11/2016
"Ended up here after googling Watneys etc.
My father, Donald Kirby, started with Watney, Coombe and Reid after national service in the early 50s. Worked his way from the floor to brewery manager for Drybroughs in Edinburgh then back to London as Sales Director in the late 60s, it was taken over by Grand Met in the 70s, He was made redundant and we moved from London back to Edinburgh.
Always remember the sales stuff he kept in the garage, all of it scrapped by now it would probably be worth something." Simon 13/11/2016
"Doe's anyone remember a bottled beer by Watneys. Rustic Ale?U" N. McGinty 28/11/2016
"I live in the states. I used to buy Red Barrel in a plastic 2 liter bottle. The only beer I ever drank from a plastic bottle. It was good piss warm like they served it in a nearby pub. I liked the bitter and dark brown color. My choice of drink if I didn't want to get shitface. Miss it. Strange how you can get attached to something that awful, maybe I liked the 7 bottle it seems to have been marketed as in the UK" Tom Neuenhoff 01/02/2017
"I've come to this very late on .... and not sure why I hadn't picked up on it before now. I remember having had one of those Red Barrel keyrings around about the early '70s, while still at school, but where that went to I've no idea. I came across a photo of a Watneys tanker with the Red Barrel on the cab roof https://uk.pinterest.com/pin/524387950343749533/

I don't really recall drinking Red Barrel but recall Norwich Bitter - Norwich and surrounding area - after Watneys had taken it over and closed it, I believe what we got was essentially Red Barrel. Stag Bitter I think I remember at the eponymous pub in Victoria, so that was probably in the '70s or possibly early '80s. ......" Dominic Pinto 08/04/2017
"I was wondering what this stuff was, after hearing an old Monty Python sketch ("Travel Agent Office") where, Eric Idle keeps referring to "Bleeding Watney's Red Barrell!" lol.." James Parker 15/04/2017
" WAS IN LONDON WITH U.S.N 1965 - 1968.THE "BARLEY MOW" WAS OUR LOCAL. WE HAD LOTS OF GOOD TIMES AND DRANK A LOT OF RED BARREL. WHEN I RETURNED TO THE U.S. IN 1968 I BROUGHT A COUPLE OF THE LITTLE RED BARREL WITH ME. FIRST PET AFTER DISCHARGE WAS A DOG NAMED WATNEY AND HER COLLAR HAD ONE OF THE BARRELS ON IT. REMEMBERING THE DAYS AT #7 N. AUDLEY STREET AND THE BARLEY MOW. IS THE PUB STILL THERE?" LARRY B. 21/05/2017
"I worked at the Stag Brewery from the age of sixteen until National Service called me up in November 1952, during that time I worked mainly in the cellars rolling up empty barrels to the men who filled them.
I was lucky enough to be taught to play billiards in the wonderful billiard match room, I managed to win the Boys Billiard competion and my photo appeared in "The Red Barrel" the Watneys house magazine.
Now aged 82, and still playing snooker regularly I wonder if there are copies of the magazine somewhere in the archives that would allow me to copy the photo for my snooker pals to see.
Any comments would be appreciated, asap obviously !" Gordon Wall 19/07/2017
"To Gordon Wall I did find this link for you. http://discovery.nationalarchives.gov.uk/details/r/57cceec6-fca8-44b6-aace-75b0754e89ec" Timothy Rickards 06/01/2018
"In 1968 I worked next door for Brown and Pank at St Johns Road Isleworth, which was, at one time, an arm of Watneys" Peter 04/03/2018
"I am utterly astonished by all the Americans who have raved in the comments above about how good Watneys was. Compared to mainstream American beers perhaps it was (!) I can only comment that Watneys were probably the only brewery that was ever closed due to ridicule. Their beer was truly horrible. Please Americans, try some PROPER British beer instead!" David Flett 28/05/2018
"Stationed at RAF Chelveston in early '60. Is there any Watneys left?c I thought I drank it all. Loved it. Still have a really nice Watneys ashtray from one of the pubs!" Wayne Kemp 21/06/2018
"Due to the design of the can it was not possible to successfully open the party seven by applying the standard sized claw shaped opener or standard sized church key type opener,which were usually present in 1970s. kitchens. You needed a bespoke long nose type church key opener,but this had usually 'mislaid'. The over enthusiastic usually resorted to placing the can in the bath and making the first single penetration with the contemporary bone handled carving fork.. However, as the operative was generally already'inflamed' reaction time was compromised and the all important second penetration was too slow,hence at least 50 percent went on the polystyrene tiled ceiling..It is not a drink for which I recall any affection, but most of the beverage offerings at a1970's party were pretty desperate(cinnzano anyone!)" M j hunter 06/07/2018
"I have a Watneys red barrel, taken from the top of the bar circa 1950/60s. The only ones I can find on the internet have a forward pull lever. Mine goes side to side. Any more info would be appreciated." Lesley Northcote 06/10/2018
"Steven 20/04/2011 mentions that keg beers suited the breweries because they kept better. This is true as there was/is nothing worse for a brewer than the customer being served a pint which is oxidised or infected." Don Steen 16/12/2018
"John Palmer 19/06/2012 has pretty much got it spot on. My recollection of Watneys Red is that it was 10 percent stronger than Red Barrel although is was declared to HMCE at a lower OG.The problem with Red Barrel was that it was very bitter and certainly gave me a headache. It was broke and needed fixing! Customer tastes were changing, lager was coming on to the scene and sales of Red Barrel were reducing at the rate of 30% p.a. Red was the replacement for Red Barrel and only suffered from one one minor defect, namely, it lacked drinkability. A colleague and myself were actually given a verbal warning for being so disparaging about it. By the way, Ruddles was always brewed at Oakham but racked in London for the local trade." Don Steen 16/12/2018
"Regarding Jeanne Howe and the bell. I've been racking my brains on this one as I attended Owen Morris' retirement do which was held at Watney's Sports Club. Owen was actually Production Director when he retired in charge of the Mortlake Brewery and the Isleworth Bottling and Canning Plant. Owen and his wife lived in the Directors' House which was situated very near the finishing line of the Oxford and Cambridge boat race. On a Sunday he would walk up to Sheen Lane and buy a Sunday newspaper. He would then drop into the brewery to check up on what was going on. He would then return down Ship Lane, stopping off at The Ship for refreshment prior to reporting home on time for Sunday lunch. I believe that this well known routine was the reason that he received the ship's bell on his retirement. He was very well respected." Don Steen 03/02/2019
"I'm from Ottawa Canada. In 1976 an ersatz "British Pub" called Alfie's Pub opened. It had Watney's Red Barrel and Watney's Lager on draught. I had read beer writer Michael Jackson's Beer Book which crucified keg bitters especially a Red Barrel. I found the beer to be caramely sweet and uninspiring but since it was the only British import we had, I drank it from time to time. We eventually got Whitbread Tankard, Double Diamond, John Smith's and other keg beers as well. The coming of the craft beer industry killed of the demand for the keg product." Perry R Mason 08/04/2019
"I had my first Watney's Red Barrel beer at a pub in Hong Kong in 1975. My submarine had pulled into Hong Kong for a port call it tasted great but then again we had been at sea for number of months. All the negative comments aside it was a far sight better than the Number 33 beer that I had in Vietnam in the late 1960's and better than the Hawaiian Primo beer I had in Hawaii in the 1970's. I've given up on beer and gone to Scotch." M. Keays 28/05/2019
"Often wondered about Watneys Red Barrel and found this site. Like many others here, I remember it as a smooth tasting, enjoyable keg beer, that was easily my favourite when I lived in England. Premium-priced, as I recall, but wonderfully consistent. So, I'm surprised to hear it was regarded so poorly. Moved to Toronto in the early sixties so have no recollection of Watneys Red or any of the others from that brewery. Perhaps my leaving spurred their decline?" John Lynch 29/07/2019
"Another favourite of that time was Double Diamond, also, I believe, a keg beer. Same smoothness and taste. Beers could vary a lot and depended on the water, recipe and so forth but these two, being made in one location each (I assume)were very dependable.
Keg beers cost about 2 shillings in the very early 60s, whereas local bitters were about 1 shilling and change, if memory serves." John Lynch 29/07/2019
"Hi John, Thank you for your insight. Very interesting." Steven 30/07/2019
"@ Don Steen, I'm Owen Morris' other niece (Jeanne is my sister). Owen and his wife Beryl did indeed live in a house right next to Chiswick Bridge. Me, my sister and to a lesser extent our younger brother often visited them and stayed there, watching the Boat Race finish from the front bedroom window. Beryl got very irate when BBC cameramen trampled on her spring flowers! Their large back garden backed onto the brewery paddock. A couple of times we were given a tour of the brewery and a ride through London on a horse-drawn dray." Karen Green 07/08/2019
"Worked at Watney's one summer in Norwich in about 1971. Several remembrances: (1) my main job was to clean out the yeast presses - no-one wanted to sit next to me on the bus; (2) a perk was to drink a pint during the breaks at noon and in the afternoon; and (3) the place was unionized - I almost caused a strike when it was revealed that, after a stint cleaning out a grain silo, I had not been offered the (statutory) glass of milk.GAICH" Geoff Dickinson 15/09/2019