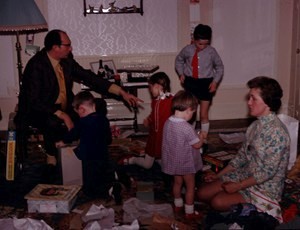 Retro Christmas toys
It is chaos on Christmas morning as the children discard wrapping paper in a an attempt to uncover what Santa has left for them. In this picture, right, there is a Matchbox Motorway 'M2' set.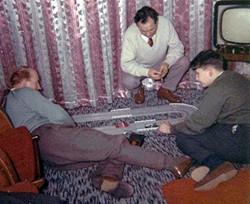 Model racing cars were always a favourite Christmas present for boys. Here, in the photograph on the left, father, son and uncle get down to some serious racing with a Scalectrix set from the 60s. I wonder how much the popularity of these Scalectrix and other slot car racing games were boosted by the adults wishing to play with them. It was much less acceptable for grown men to play with toy racing cars in the 60s, than it is today. However, there were already slot car racing clubs for adults in the early 60s.
Other favourites from the sixties and seventies included Mecano, Spirograph, Sindy, Action Man, Etch-a-Sketch and the Space Hopper.
You may remember some of these favourites from the past:
Toys from the 50s
Meccano
Sooty Songster Xylophone
Muffin the Mule puppet
Dinky cars
Dan Dare style ray gun
Driving test game
Hula Hoop
Scalectrix from 1958
Scrabble
Austin J40
Toys from the 60s
Sindy doll
Barbie doll
Dalek toys, based on Dr Who and the Daleks
James Bond 007 Aston Martin
Matchbox cars with 'Hot Wheels'
Diana for Girls Annual
Triang pedal car - 'Royal Prince'
Toys from the 70s
Stylophone promoted by Rolph Harris
Space Hopper
Katie Kopycat (Toy of the Year 1971)
Plasticraft (Toy of the Year 1972)
Dads' Army board game
Lego
Simon electronic game
Pong computer game
Othello
Connect 4
Toys from the 80s
Rubik's Cube
Star Wars based toys
My Little Pony
Cabbage Patch Kids
Transformers
Pound Puppies
Pictionary
Trivial Pursuit
Sylvanian Families
BMX bikes
Nintendo Game Boy
Toys from the 90s
Teenage Mutant Ninja Turtles
Thunderbirds Tracy Island
Power Rangers
Buzz Lightyear
Teletubbies
Furby
Christmas gifts for grown-ups
Christmas gifts say much about the giver and receiver, but what do gifts from the past for adults say about how we lived?
Your memories of Christmas past
"trying with no success to find 1950's toy iron approx 4 inches long with cream base and black handle - all in one - more shape of gas heated/early electric iron - as opposed to flat iron. Would have been 1952 /53 approx'. Can you help- purchased in uk." margaret pattison
"One Christmas in the late sixties, I got a Wizz Fizz Soda Fountain and a Betty Beauty Parlor. I already had a Susie Smart and Chatty Cathy. I still have my orginal Barbies." Debra Sparks

"Race game steel balls to advance cars around track consist of four plastic cars on plastic rings being advanced by steel ball being hit in hole repeatedly" Bill 11/06/2019
"In the early 60s I got a US Cavalry outfit and a Winchester rifle. Western stuff was always popular. My sister got a Sindy. We were so excited every Christmas Eve, mum lit a coal fire in the bedroom and it was magical. Creeping down the stairs at 0430 and greeted by a yell of "he hasn't been yet, get back up the stairs". Oh happy days, gone with regret. I would go back tomorrow, no pesky mobile phones." Jim Sinclair 11/02/2021