70s toy - Klackers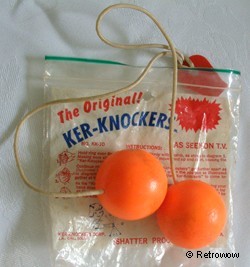 Klackers comprised two acrylic balls, often brightly coloured, on a string with a small handle in the middle. It was a playground craze that swept Britain and America in the early 70s. The idea was to move the handle up and down to make the balls click together. The really skilled could make the Klackers meet at the top and bottom of a circle; it required practice. They made a noise when they clacked together, hence the name.
Klackers were also marketed as Ker-knockers, Clackers and Klickies.
Whilst children loved the Klackers, or Ker-knock-ers, parents and teachers were concerned about the safety aspects. They could cause bruised hands and arms and the balls could shatter into dangerously sharp shards of plastic. Some schools banned them from the playground. Like most crazes, Klackers disappeared as quickly as they appeared.
More on Klackers
Your comments on Klackers
"I loved my yellow klackers. Eventually they were banned from my Junior school as they were deemed dangerous!!! What utter rubbish, they were fab!! Bring back all the toys from the late 60's early 70's!" Nina Ilsley
"nou ik zag ze op tv en het is echt dikke onzin dat ze gevaarlijk zijn als je er maar gewoon mee doet" Romano
Translation from Dutch courtesy of Google: Well I saw them (Klackers) on TV and it is really thick nonsense that they are dangerous when you just do it
"I had several sets they all shattered and I always had bruises on the insides of my arms they were a real craze at our school we would play with them for hours trying to see who could keep them clacking the longest this would have been around 1972" Howard Bewley
"wher can i buy Klackers!! i need to know!" megz
"The best ones I had were bought on holiday in Clacton on Sea. They were made of what appeared to be solid glass & were quite heavy. Instead of the little 'handle', there was a metal ring that was slipped over your middle finger. The clackers would then lie, either side of your sideways turned palm. Clackers were 'clacked' above & below your palm, taking care to keep your thumb out of the way." alison powell
"where can i buy these from" melvyn
Hi Melvyn, All I can say is that they come up on eBay from time to time, but you have be patient. Otherwise try charity shops, boot sales etc and be prepared for a long search. Retrowow
"I just loved my Klackers. I have tried for many years to find sum for my children to learn. I cannot find them anywhere. I read the articles on why they were withdrawn from the shelves, due to eye injuries.All I can say is HOW THE DEVIL DID THEY GET THEM IN THEIR EYES??? Mine lasted till I was in my twenties & were stolen when I had a party one year. Please return my beloved Klackers!!" Fiona
Comments
We had more fun with these klackers mine were blue and I ended up with many a sore hand but harmless..I loved them the 70s a time when you were still able to be a fkn kid to have fun what kind of ***** now??cell phones to fry your brain to stop your communication from anyone that means anything to you..these. Present ***** of today some of us are wise to your crap and turning every one mindless..from me to u kiss my klackers