Vintage Action Man 1966-84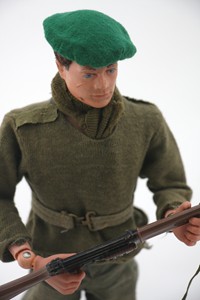 Action Man was a toy soldier doll popular in the 1960s and 1970s. He had a range of clothing and accessories. Although based on the American toy GI Joe, Action Man developed a British identity. He was most popular in the late 1960s and the first half of the 1970s. His popularity waned in the 1980s, in spite of updated uniforms and sci-fi-style figures and outfits.
Action Man is very collectable today with some selling for hundreds of pounds on eBay.
History
Hasbro in America launched GI Joe in 1964. In spite of misgivings about dolls for boys, GI Joe was a huge success. When Hasbro wanted to expand the concept they helped their associated business, Palitoy, launch a similar doll in the UK in 1966.
'Doll' was a word the marketers on both sides of the Atlantic were scared of. Since they too were convinced that boys would not play with dolls. They were right. I remember being quite put out when a relative said my Action Man was a doll. Boys did not play with dolls, so the word doll was banished from all the literature about GI Joe and Action Man.
Doll or not, GI Joe was not a suitable name for the UK. The name Action Man came from the popular TV series, Danger Man, which stared Patrick McGoohan as secret agent, John Drake.[1]
Palitoy launched Action Man early in 1966 at the Brighton Toy Fair. [2]
Action Man soon had competition. Pedigree, the makers of Sindy, launched Tommy Gunn later in 1966. [3] He was a very similar concept, but had British Army uniforms from the start. Tommy Gunn is collectable today and sells for £50 to £100 for a figure in reasonable condition.
Tommy's Britishness did not help him much. Action Man soon saw him off and Tommy surrendered without a fight. Pedigree withdrew the toy in 1968.
Action Man was an overnight success. By 1968 some children had twenty to thirty Action Man dolls. [4] Presumably the children had wealthy parents?
Although Action Man was immediately popular with boys, the concept was not fully accepted by adults. He was criticised on two counts. Some thought that boys would not play with dolls, but GI Joe had already proved this wrong. Others disliked the militaristic nature of the toy. In the US this proved to be the undoing of GI Joe. The unpopular Vietnam War diminished the appeal of toy soldiers.
The original Action Man had solid plastic hands and painted hair. He came in three guises: Action Soldier, Action Sailor and Action Pilot. They were all similar to the GI Joe equivalent. The range of accessories was also similar to the GI Joe range. The American-style uniforms were unfamiliar to British children.
The Action Soldier came with green combat fatigues, a plastic cap and boots. The Action Sailor had navy blue flares, a denim shirt and a white cap. The Action Pilot came with an orange jumpsuit and a navy blue cap.
Action Man won the Toy of the Year Award in 1966. Palitoy sold over one million Action Men by February 1967. By then you could already buy seventy-five different outfits and accessories. [5]
New uniforms
Around 1966, Hasbro launched a new range of figures complete with outfits for the American GI Joe range called 'Action Soldiers of the World'. They were not based on contemporary uniforms, but World War II uniforms. [6] The range comprised:
34111 - German Soldier
34116 - Japanese Imperial Soldier
34112 - Russian Infantryman
34113 - French Resistance Fighter
34114 - British Commando
34115 - Australian Jungle Fighter
Palitoy adapted the range for the UK market and renamed it 'Soldiers of the Century'. The range was just supplied as uniforms and equipment, not complete boxed figures. Palitoy deleted the Japanese Imperial Soldier and replaced him with the American Green Beret. Accoring to Frances Baird, in 'Action Man - The Gold Medal Doll for Boys', you could buy the Japanese Imperial Soldier uniform in the UK from the Action Man Quartermaster Stores uniform cards. The Green Beret outfit was available separately in the GI Joe range. It was based on contemporary American combat clothing, not World War II style.
The German Soldier was inaccurately renamed 'German Stormtrooper'. Stormtropper was a World War I term in the German military. The British Commando became the British Infantryman.
Hasbro dropped the GI Joe 'Action Soldiers of the World' in 1969. Palitoy pruned their range that year. The Russian Infantryman, American Green Beret and Australian Jungle Fighter were deleted. The Jungle Fighter came back in 1972 and the others continued for some years. The German Stormtrooper and British Infantryman until 1980.
Improvements
Palitoy upgraded the basic Action Man figure several times. In 1970 he got realistic (flocked) hair and in 1973 he was fitted with gripping hands. The figure was completely overhauled in 1979 with a new body.
The outfits were well made and the accessories were accurate reproductions of the real thing. The problem with Action Man was that many of the accessories were not designed for play. The rifles and machine guns were easy to break. Some plastic parts did not stand up to any kind of wear. This means that it is quite difficult to get complete sets today.
The Action Man range was relaunched in the 1980s with a smaller collection of figures. Action Man was withdrawn in 1984 when, according to Frances Baird in 'Action Man - The Gold Medal Doll for Boys', collectors were already snapping up the remaining boxed original items.
There was a reissue in 2006 to mark to mark the 40th Anniversary. Many of these sets have remained in their original packaging and are now very collectable.
Action Man figures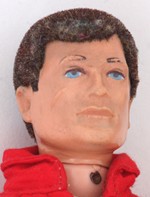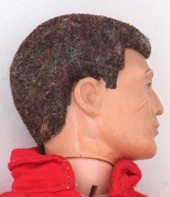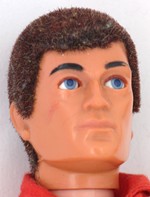 Initially the soldier, sailor and pilot dolls were identical apart from the clothing. There was a choice of blond, brown or auburn hair.
The figures had several changes over the years:
1970 - 'Realistic' (flocked hair) and beards for the Sailor and Adventurer (see below)
1973 - gripping hands
1977 - 'Eagle Eyes' (moveable eyes)
1979 - completely redesigned body with no metal rivets, and blue underpants
The gripping hands deteriorated rapidly. I remember sending off to Palitoy for new ones after only a couple of years for my 1973 Action Man. Today you can upgrade them with replacements.
When Palitoy introduced Eagle Eyes, they sent Action Man to a trendy salon to get a 1970s haircut. His original look was more sober.
Soldier 1966-84
The soldier figure, originally 'Action Soldier', was a key part of the Action Man range.
The original outfit had green combat fatigues and a plastic cap. In 1970 he had realistic hair, known as 'flocked hair', but with the original solid hands. He also got a new uniform and a Sten gun.
1973 brought gripping hands and another new uniform with a pullover and cloth beret. He got a rifle instead of the Sten gun. This was much closer to a UK soldier's uniform for the early 1970s.
The soldier had a hard plastic beret from 1975.
He continued until 1984, benefitting from improvements such as 'Eagle Eyes' (1977) and a dynamic physique (1979).
95350000/34001 Action Soldier 1966-69
34014 Action Soldier (flocked hair, new style uniform) 1970-2
34052 Action Soldier (gripping hands, beret, pullover) 1973-76
34071 Soldier (Eagle Eyes) 1977-78
34091 Soldier (dynamic physique) 1979-84
Sailor 1966-78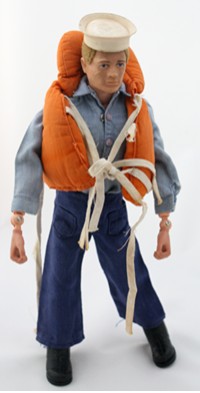 The sailor was part of the original Action Man line-up. He had his own accessories, such as a dinghy and a frogman's suit. He started out as a US-style sailor with a blue denim shirt and a white hat. Like other Action Man figures he got realistic hair in 1970. In 1971 he had a new British-style uniform and grew a beard.
94132220/34003 Action Sailor (new UK-style uniform from 1971) 1966-69
34011 Action Sailor (flocked hair) 1970
34019 Action Sailor (flocked hair and beard, UK-style uniform) 1971-2
34054 Action Sailor (gripping hands, flocked hair and beard, UK-style uiform) 1970
34073 Sailor (Eagle Eyes) 1977-78
Pilot 1966-70
The Action Pilot had an orange jumpsuit and a navy blue cap. Like the sailor, he had a distinctive range of accessories.
He survived as far as 1970 to get realistic hair, but was dropped from the range in 1971.
93831110/34002 Action Pilot 1966-69
34011 Action Pilot (flocked hair) 1970 only
Commander 1969-84
Palitoy introduced the 'Commander' in 1969. He had a new smarter green uniform and a hard plastic beret. The original version gave eight different commands and was operated by pulling a string. The technology was also used in contemporary Barbie dolls, although the words were different!
In 1973 the Talking Commander was also upgraded to gripping hands. He got the same jersey as the soldier, but with the officer's cap from the 1972 British Army Officer's uniform. Instead of the rifle the Commander had a pistol and holster.
In 1974 the Talking Commander became the Field Commander. His voice now came from a separate field radio pack which took different discs.
The Commander disappeared from the range in 1977. He got his voice back in 1978 and became the new 'Talking Commander'.
34009 Talking Commander 1970-72
34015 Talking Commander (gripping hands, new uniform with officer cap) 1973 (1)
34058 Field Commander (non-talking, officer cap, pullover) 1974-6
34078 Commander (talking, officer cap, pullover) 1978
34096 Commander (dynamic physique, talking, officer cap, pullover) 1979-84
Sportsman 1970-1
Criticism of the militaristic nature of Action Man led to two new figures in 1970, the Sportsman and the Adventurer. The Sportsman did not survive long as a separate figure. However, football strips and accessories continued in the range until 1973.
34012 Sportsman (flocked hair) 1970-71
Adventurer 1970-80
The Adventurer was a modern-day explorer. He had jeans and a beard.
The Adventurer stayed in the range until 1980.
34012 Adventurer (flocked hair and beard) 1970-71
34017 Adventurer (flocked hair and beard) 1972
34053 Adventurer (gripping hands, flocked hair and beard) 1973-6
34072 Adventurer (Eagle Eyes) 1977-78
34092 Adventurer (dynamic physique) 1979 to c1980
Values
Boxed original Adventurer - £80-£200
Boxed original Action Sailor - £100-£400
40th Repro Adventurer (boxed) - £40 - £60
Helicopter Pilot 1977-80
A late edition to the range in 1977. The Helicopter Pilot had a blue jumpsuit and a white crash helmet.
34074 Helicopter Pilot (Eagle Eyes) 1977-8
34094 Helicopter Pilot (dynamic physique) 1979 to c1980
Other figures
Palitoy tried to widen the appeal of Action Man in the late 1970s and early 1980s. They introduced some Sci-Fi-inspired characters. There was also a black soldier called 'Tom Stone' who was new in 1977. In 1978 Palitoy introduced the budget-priced 'Desert Fighter' - he could not afford a shirt!
34079 Desert Fighter (just a hat, shorts and a machine gun) 1978
34097 Desert Fighter (dynamic physique) 1979
34070 Atomic Man (Signalling Eye, Atomic Heart etc) 1976
34060 Atomic Man (Eagle Eyes) 1977-8
34070 Tom Stone (Eagle Eyes) 1977-8
34081 Bullet Man 1977-8
34080 The Intruder 1977- c1980
34095 Space Rangers - Captain 1979-84
34329 Space Patroller - 1979-84
Values - Action Man figures
Boxed
Figures with their original boxes are the most valuable for collectors. Condition of outfit, accessories, box and figure are key to high values.
Boxed original Action Soldier - £65-£300
Boxed original Adventurer - £80-£200
Boxed original Action Sailor - £100-£400
Boxed original Action Pilot - £300
Boxed original Talking Commander 1969-76 - £300 - £400
Tom Stone (boxed) - £200 - £300
40th Repro Adventurer (boxed) - £40 - £60
Unboxed
Unclothed figures can be bought for upwards of £20. The 1960s' version with painted hair and solid hands is worth £30 upwards. Figures with an outfit sell for more depending on the condition of the figure and the clothes.
Action Man figure, painted hair, solid hands - £30-£40
Action Man figure, flocked hair, gripping hands - £20 - £30
How much did Action Man cost?
1969 - Action Man Soldier, Sailor or Pilot - £1 17s 6d [7]
1969 - Action Man Commander - £2 14s 11d [7]
1969 - Complete outfits - 22s 6d to 42s 6d [7]
1969 - Part outfits and accessories - 7s 6d to 17s 6d [7]
1969 - Space capsule -52s 6d [7]
1970 - Action Man Soldier - 27s 6d
1973 - Action Man Soldier with basic fatigues and Sten gun - £2.15 (Boots)
1973 - Action Man helicopter - £4.25 (Boots)
1973 - Action Man Scorpion tank - £4.30 (Argos)
1973 - Action Man Commander - £2.95 (Argos)
1973 - Action Man Red Devil outfit - £1.65 (Argos)
1973 - Action Man armoured car - £2.55 (Argos)
1975 - Action Man Soldier with army pullover, beret and rifle - £2.25 (Argos)
1975 - Red Devil parachute outfit - £2.49 (Argos)
1981 - Action Man Helicopter Pilot - £5.49 (Argos)
1981 - Action Man Talking Commander - £7.49 (Argos)
1981 - Action Man Rom Space Knight - £14.99 (Argos)
To understand old money prices see - Introduction to pounds, shillings and pence
More on Action Man
References
[1] 'Toys were us' by Nicholas Whittaker, published by Orion, 2001, page 142
[2] 'Dolls for boys - with accessories' by Betty Jerman, published in The Guardian, 12 July 1967, page 6
[3] 'Spotlight on marketing - Keiller runs gift scheme for the trade', published in The Times 18 October 1966, page 14
[4] 'Tinned fragrance at the toy show' published in The Observer, 23 April 1968 page 23
[5] 'Monday merry-go-round - dolls for boys' published in The Times, 6 February 1967 page 13
[6] 'The end of Victory Culture', by Tom Engelhardt, published by University of Massachusetts Press (revised edition 2007), page 175
[7] 'Dolls with outfits' published in Which? November 1969, page 361
By Steven Braggs, January 2021, updated April 2021 and May 2021
Add your comments
Comments
Hi Tony,
I'm not an expert on the more recent stuff. Some boxes have 'Made in China' and others 'Hasbro 2006'. Overall I'd say it was difficult. Look out for 40th Anniversary. Look very carefully at the copyright information.
Try to get a feel for what the original figures and kit are like. My impression is that the repro figures at least do look to be newer. Original boxes that have survived will be rare. Few children kept the boxes. Even if they did they will show signs of wear and use.
As far as the kit is concerned some of it is almost impossible to tell apart. Try looking at labels. Look for signs of wear. Be suspicious of mint condition items. Few will exist, although some do.
Handle genuine and repro figures and kit. You will get a feel for what is original and what is not. Don't spend a lot of money until you are confident that you know what to look for.