Vintage Action Man 1966-84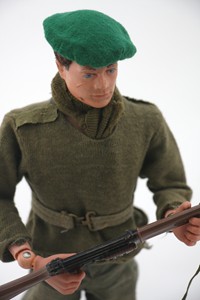 Action Man was a toy soldier doll popular in the 1960s and 1970s. He had a range of clothing and accessories. Although based on the American toy GI Joe, Action Man developed a British identity. He was most popular in the late 1960s and the first half of the 1970s. His popularity waned in the 1980s, in spite of updated uniforms and sci-fi-style figures and outfits.
History
Hasbro in America launched GI Joe in 1964. In spite of misgivings about dolls for boys, GI Joe was a huge success. When Hasbro wanted to expand the concept they helped their associated business, Palitoy, launch a similar doll in the UK in 1966.
GI Joe was not a suitable name for the UK market. The name Action Man came from the popular TV series, Danger Man, which stared Patrick McGoohan as secret agent, John Drake.[1]
Action Man had competition in the UK. Pedigree, the makers of Sindy, launched Tommy Gunn the previous year. He was a very similar concept, but had British Army uniforms from the start. Tommy Gunn is collectable today and sells for £50 to £100 for a figure in reasonable condition.
In spite of being first and being more British, Tommy Gunn was quickly surpassed by Action Man. The range of outfits may have helped. Tommy Gunn surrendered without a fight; Pedigree withdrew the toy in 1968.
Action Man was an overnight success. By 1968 some children had twenty to thirty Action Man dolls. [2] Presumably the children had wealthy parents?
Although Action Man was immediately popular with boys, the concept was not fully accepted by adults. He was criticised on two counts. Some thought that boys would not play with dolls, but GI Joe had already proved this wrong. Others disliked the militaristic nature of the toy. In the US this proved to be the undoing of GI Joe. The unpopular Vietnam War diminished the appeal of toy soldiers.
The original Action Man had solid plastic hands and painted hair. He came in three guises: Action Soldier, Action Sailor and Action Pilot. They were all similar to the GI Joe equivalent. The range of accessories was also similar to the GI Joe range. The American-style uniforms were unfamiliar to British children.
The Action Soldier came with green combat fatigues, a plastic cap and boots. The Action Sailor had navy blue flares, a denim shirt and a white cap. The Action Pilot came with an orange jumpsuit and a navy blue cap.
Action Man won the Toy of the Year Award in 1966. Palitoy sold over one million Action Men by February 1967. By then you could already buy seventy-five different outfits and accessories. [3]
Palitoy developed Action Man separately for the UK market from 1968. The first major departure was the 'Soldiers of the Century' series, which started with a collection of six World War II outfits.
34111 - German Stormtrooper
34112 - Russian Infantryman
34113 - French Resistance Fighter
34114 - British Infantryman
34115 - Australian Jungle Fighter
34116 - American Green Beret
The Russian Infantryman and American Green Beret were short-lived. The German Stormtrooper and British Infantryman continued until 1980.
Palitoy upgraded the basic Action Man figure several times. In 1970 he got realistic (flocked) hair and in 1973 he was fitted with gripping hands. The figure was completely overhauled in 1979 with a new body.
The outfits were well made and the accessories were accurate reproductions of the real thing. The problem with Action Man was that many of the accessories were not designed for play. The rifles and machine guns were easy to break. Some plastic parts did not stand up to any kind of wear. This means that it is quite difficult to get complete sets today.
The Action Man range was relaunched in the 1980s with a smaller collection of figures. Action Man was withdrawn in 1984 when, according to Frances Baird in 'Action Man - The Gold Medal Doll for Boys', collectors were already snapping up the remaining boxed original items.
There was a reissue in 2006 to mark to mark the 40th Anniversary. Many of these sets have remained in their original packaging and are now very collectable.
Action Man figures
Initially the soldier, sailor and pilot dolls were identical apart from the clothing. There was a choice of blond, brown or auburn hair.
The figures had several changes over the years:
1970 - 'Realistic' (flocked hair) and beards for the Sailor and Adventurer (see below)
1973 - gripping hands
1977 - 'Eagle' (moveable eyes)
1979 - completely redesigned body with no metal rivets, and blue underpants
The gripping hands deteriorated rapidly. I remember sending off to Palitoy for new ones after only a couple of years for my 1973 Action Man. Today you can upgrade them with replacements.
Soldier 1966-84
The soldier figure, originally 'Action Soldier', was a key part of the Action Man range.
The original outfit had green combat fatigues and a plastic cap. In 1970 he had realistic hair, known as 'flocked hair', but with the original solid hands. He also got a new uniform and a Sten gun.
1973 brought gripping hands and another new uniform with a pullover and cloth beret. He got a rifle instead of the Sten gun. This was much closer to a UK soldier's uniform for the early 1970s.
The soldier had a hard plastic beret from 1975.
He continued until 1984, benefitting from improvements such as 'Eagle Eyes' (1977) and a dynamic physique (1979).
95350000/34001 Action Soldier 1966-69
34014 Action Soldier (flocked hair, new style uniform) 1970-2
34052 Action Soldier (gripping hands, beret, pullover) 1973-76
34071 Soldier (Eagle Eyes) 1977-78
34091 Soldier (dynamic physique) 1979-84
Sailor 1966-78
The sailor was part of the original Action Man line-up. He had his own accessories, such as a dinghy and a frogman's suit. He started out as a US-style sailor with a blue denim shirt and a white hat. Like other Action Man figures he got realistic hair in 1970. In 1971 he had a new British-style uniform and grew a beard.
94132220/34003 Action Sailor (new UK-style uniform from 1971) 1966-69
34011 Action Sailor (flocked hair) 1970
34019 Action Sailor (flocked hair and beard, UK-style uniform) 1971-2
34054 Action Sailor (gripping hands, flocked hair and beard, UK-style uiform) 1970
34073 Sailor (Eagle Eyes) 1977-78
Pilot 1966-70
The Action Pilot had an orange jumpsuit and a navy blue cap. Like the sailor, he had a distinctive range of accessories.
He survived as far as 1970 to get realistic hair, but was dropped from the range in 1971.
93831110/34002 Action Pilot 1966-69
34011 Action Pilot (flocked hair) 1970 only
Commander 1969-84
Palitoy introduced the 'Commander' in 1969. He had a new smarter green uniform and a hard plastic beret. The original version gave eight different commands and was operated by pulling a string. The technology was also used in contemporary Barbie dolls, although the words were different!
In 1973 the Talking Commander was also upgraded to gripping hands. He got the same jersey as the soldier, but with the officer's cap from the 1972 British Army Officer's uniform. Instead of the rifle the Commander had a pistol and holster.
In 1974 the Talking Commander became the Field Commander. His voice now came from a separate field radio pack which took different discs.
The Commander disappeared from the range in 1977. He got his voice back in 1978 and became the new 'Talking Commander'.
34009 Talking Commander 1970-72
34015 Talking Commander (gripping hands, new uniform with officer cap) 1973 (1)
34058 Field Commander (non-talking, officer cap, pullover) 1974-6
34078 Commander (talking, officer cap, pullover) 1978
34096 Commander (dynamic physique, talking, officer cap, pullover) 1979-84
Sportsman 1970-1
Criticism of the militaristic nature of Action Man led to two new figures in 1970, the Sportsman and the Adventurer. The Sportsman did not survive long as a separate figure. However, football strips and accessories continued in the range until 1973.
34012 Sportsman (flocked hair) 1970-71
Adventurer 1970-80
The Adventurer was a modern-day explorer. He had jeans and a beard.
The Adventurer stayed in the range until 1980.
34012 Adventurer (flocked hair and beard) 1970-71
34017 Adventurer (flocked hair and beard) 1972
34053 Adventurer (gripping hands, flocked hair and beard) 1973-6
34072 Adventurer (Eagle Eyes) 1977-78
34092 Adventurer (dynamic physique) 1979 to c1980
Values
Boxed original Adventurer - £80-£200
Boxed original Action Sailor - £100-£400
40th Repro Adventurer (boxed) - £40 - £60
Helicopter Pilot 1977-80
A late edition to the range in 1977. The Helicopter Pilot had a blue jumpsuit and a white crash helmet.
34074 Helicopter Pilot (Eagle Eyes) 1977-8
34094 Helicopter Pilot (dynamic physique) 1979 to c1980
Other figures
Palitoy tried to widen the appeal of Action Man in the late 1970s and early 1980s. They introduced some Sci-Fi-inspired characters. There was also a black soldier called 'Tom Stone' who was new in 1977. In 1978 Palitoy introduced the budget-priced 'Desert Fighter' - he could not afford a shirt!
34079 Desert Fighter (just a hat, shorts and a machine gun) 1978
34097 Desert Fighter (dynamic physique) 1979
34070 Atomic Man (Signalling Eye, Atomic Heart etc) 1976
34060 Atomic Man (Eagle Eyes) 1977-8
34070 Tom Stone (Eagle Eyes) 1977-8
34081 Bullet Man 1977-8
34080 The Intruder 1977- c1980
34095 Space Rangers - Captain 1979-84
34329 Space Patroller - 1979-84
Values - Action Man figures
Boxed
Figures with their original boxes are the most valuable for collectors. Condition of outfit, accessories, box and figure are key to high values.
Boxed original Action Soldier - £65-£300
Boxed original Adventurer - £80-£200
Boxed original Action Sailor - £100-£400
Boxed original Action Pilot - £300
Boxed original Talking Commander 1969-76 - £300 - £400
Tom Stone (boxed) - £200 - £300
40th Repro Adventurer (boxed) - £40 - £60
Unboxed
Unclothed figures can be bought for upwards of £20. The 1960s' version with painted hair and solid hands is worth £30 upwards. Figures with an outfit sell for more depending on the condition of the figure and the clothes.
Action Man figure, painted hair, solid hands - £30-£40
Action Man figure, flocked hair, gripping hands - £20 - £30
Clothing and accessories
Each of the three original action figures had a range of additional clothing and equipment specific to the figure.
In the original range, the Action Soldier could have a field jacket similar to the US Army's M65 jacket, a Military Police (MP) outfit and a white sky patrol outfit with skis or snow shoes. He could also have backpacks, mess tins, sleeping bags, radios, machine guns, a parachute and a stretcher.
The Action Sailor could have a frogman's outfit, a life jacket and a dinghy. The Action Pilot could also have a dinghy, a different jumpsuit, a radio, a parachute and crash helmet.
You could buy complete sets with uniform and equipment and part sets.
Original range
The original range of clothing and accessories was very similar to the GI Joe range in the USA. It was largely based on contemporary US military uniform and equipment.
93635060/34106 Military Policeman (first version) 1966-68
93635010/34101 Combat field jacket 1966-68
93735670/93735680 Beachhead assault jungle tunic & trousers 1966-7
93635100/34110 Ski patrol 1966-68
94239020/34502 Navy frogman (black frog suit, red from 1974) 1966-75
34507 Navy frogman (black) 1976
93937020/34302 Pilot's scramble outfit 1966-68
34505 Breeches buoy (yellow oilskins) 1969-70
34504 Deep sea diver 1968-74
34506 Deep sea diver 1975-76 (the outfit returned to the range in the 1980s)
34218/34709 Basic army fatigues (Action Soldier outfit) 1968-
34611/34709 Basic navy fatigues (Action Sailor outfit) 1968-
34406/34709 Pilot fatigues (Action Pilot outfit) 1968-
34119 Armoured Car Commander (leather jacket) 1969-73
34303 Crash Crew (firefighter's protective clothing) 1968-70
34701 Astronaut 1968-70
34503 Landing Signal Officer 1968 only
The deep sea diver and frogman outfits were waterproof. So your Action Man could have underwater adventures in the bath. It must have done wonders for the metal joints though!
Soldiers of the Century 1968-72
In 1968 Palitoy launched a series of new outfits based on Second World War Uniforms from Germany, America, Australia, Britain, Russia and France.
The original range was called 'Soldiers of the Century'. It was Palitoy's first departure from the GI Joe-style outfits.
The original line-up was:
34111 German Stormtrooper 1968-72
34112 Russian Infantryman 1968 only
34113 French Resistance Fighter 1968-72
34114 British Infantryman 1968-72
34115 Australian Jungle Fighter 1968 only
34116 American Green Beret 1968 only
Each outfit had appropriate firearms and accessories to go with it. You could buy the uniform and the accessories separately or as one set.
Palitoy changed the collection over the years. Two uniforms, those of the Russian Infantryman and the American Green Beret, were dropped after just one year. The Australian Jungle Fighter was also quickly dropped, but it was brought back in 1972.
Soldiers of the World 1973-6
Palitoy rebranded 'Soldiers of the Century' as 'Soldiers of the World' in 1973. Three uniforms continued from the original series: German Stormtrooper, French Resistance Fighter and British Infantryman. They added the French Foreign Legion and re-introduced the Australian Jungle Fighter.
In 1974 the German Staff Officer joined the line-up.
34140 German Stormtrooper 1973-5
34167 German Stormtrooper 1976-7
34315 German Stormtrooper 1978-9
34141 French Resistance Fighter 1973-5
34168 French Resistance Fighter 1976
34142 British Infantryman 1973-5
34254 British Infantryman 1976-7
34317 British Infantryman 1978-9
34143 French Foreign Legion 1973-7
34144 Australian Jungle Fighter 1973-7
34307 Australian Jungle Fighter 1978-9
34153 German Staff Officer 1974-7
The range continued until 1977 in this form. The German Stormtropper and the British Infantryman continued as part of the Action Man range until the 1979.
Escape from Colditz 1974-5
Inspired by the BBC TV series Colditz, which broadcast between 1972 and 1974, Palitoy did a short run of Colditz outfits. They had a lot in common with the German Stormtrooper, German Staff Officer and British Army Officer outfits.
34150 Escape Officer Outfit 1974-75
34151 Camp Kommandant Outfit 1974-75
34150 Complete set with Escape Officer, Camp Kommandant and German Guard with sentry box 1974-75
Values
Some of the Soldiers of the Century/Soldiers of the World are more collectable than others. German uniforms are worth more. They were also more popular at the time. Although the Russian Infantryman only ran for a year or so, you can pick up a complete set for around £20. A complete German Stormtrooper or German Staff Officer will cost twice that price.
Sets affixed to the original card packaging will be £100+.
Red Devil Parachutist/Sky Diver 1969-
The Red Devils formed in 1964 as the British Parachute Regiment's display team. Palitoy introduced the Red Devil jumpsuit and white helmet into the Action Man range in 1969. The kit contained a working parachute. You could throw your Action Man out of the bedroom window and watch him parachute safely to the ground.
34121 Red Devil parachutist 1969-75
34166 Red Devil parachutist 1976-7
34175 Sky Diver (similar red overalls) 1978-9
Palitoy rebranded the kit 'Sky Diver' in 1978. It was dropped in 1979.
Values
The Red Devil suit was quite common at the time and it is not the most collectable today. You should be able to get a complete set for £20.
Famous British Uniforms 1970-84
This series started in 1970. The original line-up was:
Argyll & Sutherland Highlander
Parachute Regiment
Grenadier Guard
The range changed over the years. New uniforms were added in 1971 and 1972. Only the Parachute Regiment uniform remained until the 1980s.
34123 Argyll & Sutherland Highlander 1970-2
34124 Parachute Regiment 1970-7
34301 Parachute Regiment 1978-84
34125 Grenadier Guard 1970-6
34302 Grenadier Guard 1977-9
34128 Royal Marines (Dress Uniform No 3) 1971-2
34127 Life Guards (Household Cavalry) 1971
34135 Life Guards (Household Cavalry) 1972
34055 Life Guards (Household Cavalry) 1973
34149 Life Guards (Household Cavalry) 1974-6
34127 Blues & Royals 1971
34134 Blues & Royals 1972
34148 Blues & Royals 1973
34136 17/21st Lancers 1972
34056 17/21st Lancers 1973
34138 Royal Military Police 1972-6
34137 British Army Officer 1972-6
34304 British Army Officer 1977-
34129 Royal Marines (combat uniform) 1971-3
34130 Royal Marines (mountain/Artic uniform) 1971-7
34305 Royal Marines (mountain/Artic uniform) 1978-
Values
The Parachute Regiment uniform was in the range from 1970 to 1984. It is popular with collectors and complete sets in good condition can sell for up to £80. Unwrapped and affixed to the original card packaging they can fetch between £100 and £200.
In 1973 Palitoy sold some special packs containing the outfit and the figure. These are very collectable today. Values are between £500 and £1000.
Explorers
In 1969 Palitoy introduced some non-military outfits for Action Man. In 1970 there were two new figures, Sportsman and Adventurer.
There was a range of outfits for Jungle Explorers, Polar Explorers and Mountaineers.
35011 Space Explorer 1971-3 (formerly Astronaut)
34156 Complete Space outfit 1974-5
35005 Jungle Explorer (tropical jacket, trousers & hat) 1969-73
35016 Jungle Explorer (tropical jacket, trousers & hat) 1974-6
35021 Jungle Explorer (tropical jacket, trousers & hat) 1977
35001 Polar Explorer (anorak and over-trousers) 1969-73
35015 Polar Explorer (anorak and over-trousers) 1974-6
35020 Polar Explorer (anorak and over-trousers) 1977
35003 Mountaineer (anorak and knee breeches) 1969-73
35017 Mountain Rescue 1974-6
35022 Mountain Rescue 1977
35013 RNLI Sea Rescue 1974-6
35007 Underwater Explorer 1970-3
35018 Underwater Explorer 1974
35023 Underwater Explorer 1977
Sportsmen 1969-73
Sportsman outfits started in 1969 with the Cricketer and the Footballer.
There was a complete range of football strips for some of the more popular clubs from 1971. Football fans could dress their Action Man figure in their team's kit.
34802 Cricketer 1969 only
34801 Footballer (additional strips from 1970) 1969-73
34807 Football strips 1970-73
34806 Football strips 1972-73
34811 Football strip - Manchester United 1971-73
34812 Football strip - Chelsea 1971-73
34813 Football strip - Liverpool 1971-73
34814 Football strip - Everton 1971-73
34815 Football strip - West Ham United 1971-73
34815 Football strip - Newcastle United 1971-73
34816 Football strip - Rangers 1971-73
34817 Football strip - Leeds United 1971-73
34818 Football strip - Arsenal 1971-73
34820 Football strip - Celtic 1971-73
34803 Olympic Champion 1969 only
Olympic Sportsman 1972
34805 Judo 1970
34807 Tracksuit 1970
Other military outfits
34154 Tank Commander (double-breasted leather jacket) 1974-6
34309 Tank Commander (double-breasted leather jacket) 1977-9
34162 Commando 1976-7
34312 Commando 1978-9
34165 (Army) Medic 1976
34314 (Army) Medic 1977-8
34170 Dispatch Rider 1976
34138 Dispatch Rider 1977-9
34171 Royal Air Force 1976
34319 Royal Air Force 1977
34059 Helicopter Pilot 1975-6
34059 Helicopter Pilot (after 1978 becomes an Action Figure) 1977
34326 Battle of Britain Pilot 1979
34325 Royal Hussar 1979
34238 American Paratrooper 1979
The Internationals
In 1979 Palitoy introduced a range of outfits called 'The Internationals'. They were a budget range, possibly with a look back to the 'Soldiers of the Century' range.
Jet Pilot
Africa Corps (WW2 German)
UN Peace Keeping Force
German Paratrooper
US Marine
Russian Infantryman
Other outfits
34323 Pursuit Craft Pilot 1978
34059 Helicopter Pilot 1975-6
34059 Helicopter Pilot (after 1978 becomes an Action Figure) 1977
Wild West
34402 Scout 1977-8
34404 7th Cavalry 1977-8
344012 Indian Brave 1977-8
34403 Indian Chief 1977-8
Emergency Outfits
34511/2 Highway Hazard 1978-9
34525/6/7 Underground Rescue 1978-9
34518/9 High Rescue 1978-9
34322 Police Patrol 1978-9
34520/1 Medic 1978-9
34324 Fireman 1978-9
34515 Fire Fighter 1979
34522/3/4 Crash Crew 1978-9
New range 1980-4
From around 1980 Palitoy rationalised their range.
The Soldiers
Soldier (with figure)
Royal Engineers
Parachute Regiment
US Machine Gunner
The Officers
Talking Commander figure
Battle of Britain Pilot
Panzer Captain
British Major
The Experts
Frogman figure
Mountain Rescue
Underwater Explorer
Deep Sea Driver
As well as these figures, Palitoy also continued the Space Ranger series.
Space Ranger Captain
Captain Zargon
How much did Action Man cost?
1969 - Action Man Soldier, Sailor or Pilot - £1 17s 6d [4]
1969 - Action Man Commander - £2 14s 11d [4]
1969 - Complete outfits - 22s 6d to 42s 6d [4]
1969 - Part outfits and accessories - 7s 6d to 17s 6d [4]
1969 - Space capsule -52s 6d [4]
1970 - Action Man Soldier - 27s 6d
1973 - Action Man Soldier with basic fatigues and Sten gun - £2.15 (Boots)
1973 - Action Man helicopter - £4.25 (Boots)
1973 - Action Man Scorpion tank - £4.30 (Argos)
1973 - Action Man Commander - £2.95 (Argos)
1973 - Action Man Red Devil outfit - £1.65 (Argos)
1973 - Action Man armoured car - £2.55 (Argos)
1975 - Action Man Soldier with army pullover, beret and rifle - £2.25 (Argos)
1975 - Red Devil parachute outfit - £2.49 (Argos)
1981 - Action Man Helicopter Pilot - £5.49 (Argos)
1981 - Action Man Talking Commander - £7.49 (Argos)
1981 - Action Man Rom Space Knight - £14.99 (Argos)
To understand old money prices see - Introduction to pounds, shillings and pence
References
[1] 'Toys were us' by Nicholas Whittaker, published by Orion, 2001, page 142
[2] 'Tinned fragrance at the toy show' published in The Observer, 23 April 1968 page 23
[3] 'Monday merry-go-round - dolls for boys' published in The Times, 6 February 1967 page 13
[4] 'Dolls with outfits' published in Which? November 1969, page 361
By Steven Braggs, January 2021
Add your comments