Spirograph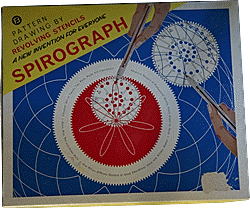 Spirograph was invented by Denys Fisher in the early sixties. Spirograph's geometric patterns were beautifully in tune with the swinging sixties. Like the Lava Lamp, the timing of its launch in 1965 was perfect. Spirograph won Toy of the Year and was the top selling toy in America in 1967. It is still available today, as MB Spirograph in the UK and Hasbro Spirograph in the US.
Denys Fisher was an engineer who supplied precision components to NATO in the early sixties. His passion though, was a Victorian idea for creating patterns using cogs and wheels. He tried to improve on what the Victorians did using Meccano gears during the Christmas break of 1962. However, his first attempt was unsuccessful. His original idea came whilst he listening to Beethovens Ninth Symphony. His inspiration was to use a series of perforated cogs and racks, into which a pencil could be inserted. Denys Fisher's original intention was to market Spirograph as draftsman's tool, but he later decided it would sell better as a toy.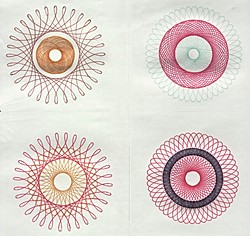 Spirograph first went on sale in 1965. Its geometric and swirling patterns chimed perfectly with the Op Art and geometric designs that were popular in the 60s. It also fitted in fantastically with the psychedelic patterns of the later swinging sixties.
Spirograph was featured on the BBC children's programme, Blue Peter, and very soon was selling in large numbers. In the first four years Spirograph took the turnover of Denys Fisher's company from 30,000 to 3 million.
The original Spirograph had a series of large and small cogs, wheels and racks. It was supplied with four coloured pens in black, red, blue and green. You could buy special Spirograph paper for drawing on.
You placed the special paper onto a corrugated cardboard base. Then pinned one of the large wheels or racks to the paper, using drawing pins supplied with the Spirograph. Then one of the smaller geared cogs was lined up against the larger cog or rack and a coloured pen was inserted into one of the smaller cog's holes. You then turned the smaller cog, using the pen, which then drew the Spirograph pattern. A huge variety of different patterns were possible. The instructions gave you some examples, but many more combinations could be produced with experimentation.
Spirograph was a very creative toy. Denys Fisher's creation was loved by adults and children alike. Newspapers and magazines recommended it as an marvellous toy for older children. Spirograph won the Educational Toy of the Year three years running from 1965 to 1967 and became Toy of the Year in 1967. The original version cost 1 15s 6d [about 23 in today's money] from Hamley's in 1966.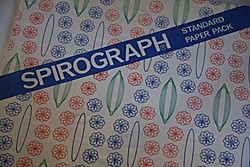 Spirograph was a top selling toy in Britain and America. It became the number one selling toy in the US for Christmas in 1967, beating another British company, Lesney, whose Matchbox cars, were previously America's top selling toy. (Now I know why Lesney made so many American cars).
Spirograph was so successful that it started to influence the world of fashion. Op Art and geometric prints were already popular, but Spirograph patterns appeared on evening dresses in black and white printed crepe by John Cavanagh in 1966.
Denys Fisher sold his company in 1970. It was eventually bought by Hasbro. Spirograph is now manufactured by MB Games for the UK market and Hasbro for the US market.
Vintage Spirograph
The best place to buy old versions of Spirograph is eBay. There is a lively trade in Spirograph sets from the 60s, 70s and 80s.
See also .
Super Spirograph
I loved spirograph in 1970 I had the standard box the in 1972 the super spirograph they kept me busy for hours.Andy
There was a deluxe version called Super Spirograph available in the 70s. According to the box it 'Does everything Spirograph does - and a whole lot more!'. These are a bit rarer, but you can find
New Spirograph
A new generation can still enjoy Spirograph. The new version has some new gears in different shapes. It is manufactured by MB Creative as MB Spirograph for the UK market.
In the US there are two versions available: Hasbro Deluxe Spirograph and Hasbro Travel Spirograph.
Some reviews on Amazon of the 'Spirograph Classic' modern version of Spirograph suggest it is not as easy to use as the original. However, the MB Spirograph looks a different product. Please let us know if you have used any of these new versions using the comment form below.
Can you buy Spirograph new?
The new version of Spirograph seems to be quite difficult to get these days. There are several alternatives, but the Hypotrochoid Art Set, right, is closest to the original concept.
More on Spirograph
There is a Wikipedia article see - Spirograph on Wikipedia.
There are two Facebook groups about Spirograph, Spirograph and DUDE...I love spirograph.
See also Spirograph on eBay
Your comments on Spirograph
"I am not convinced Denys Fisher was the original inventor of the toy known as Spirograph. His plastic templates were original and he probably did invent the name Spirograph."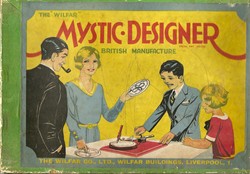 "However, in the thirties there was a toy called 'Mystic Designer' which produced virtually the same results. It was made by a company called Wilfar based at that time at Wilfar Buildings, Liverpool 1. The original box it was in had on it a British Provisional Patent Number of 36158."
"Unfortunately no more information has come to hand but I would be interested to hear about any updates." Michael Cox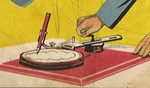 Hi Michael, The Wilfar Mystic Designer certainly looks to do much the same thing as Spirograph, although you do do not need the device with the handle. Retrowow
"Hi I loved spirograph in 1970 I had the standard box the in 1972 the super spirograph they kept me busy for hours. I would like to get hold of then again is it possible to purchase them again. Love it!!! Best Regards Andy." andrew
Hi Andy, You can get new versions of Spirograph. Look for MB Spirograph or Hasbro Deluxe Spirograph. They are different from the original. If you are looking for an original Spirograph, eBay is probably the best bet. Retrowow
"I also had a toy in the 1930s that did the same as the spirograph, but the wheels were tin. My shaky memory says the name was 'hootenanny' sp.? I used colored pencils to great effect. in the 60s we bought a Spirograph for out daughter." harriet roeder
"I loved this as a kid and am trying to get it for my grandson. This is so great for the one who can not draw and it makes you feel like you can draw. thank you so much" gloria
"hello sir, I am fond of spirographic creations. The information provided by you is inspiring but lacking enough pictorial presentation about tools used which are new for me. kindly tell me some thing about metellic spirographs which must be durable more then then the plastic once. thanks." pradeep
Hi Pradeep, Sorry I'm not familiar with the metal spirograph. The original spirograph had plastic cogs. Perhaps you are thinking about a professional drawing tool. Retrowow
"Mr. Retrowow or stephan There was a metal hootenanny or spirograph. I can't remember exactly when I used it - if as a kid or when my kids were young. It was very sturdy, the base was green and you inserted various pencils for all kinds of colored spiral effects. I would buy one now if I could find one. Maybe some of your readers still have one. Thanks for your time. " Frank Glick
" I have one of those called hootenanny. We had great fun in my childhood making all kinds of designs. There is nothing like a grand old metal toy made in the 20's." Carolyn
"I recently bought an old 1980's set in a charity shop for the princely sum of £2.50. It is unopened with the original plastic wrapping still on it, is it worth anything?"
"Hi everyone I am an avid collector of vintage art design devices. First of all before the spirograph was invented other devices which were used to create the same designs were used and came in a variety of titles, first was the 'WONDER-GRAPH' created in 1907,then the 'HOOT-NANNY' in 1929 later known as the Magic-Designer, then the DIZZY-DOODLER in 1949 made in Dallas Texas, Then the Japanese made 'MAGIC PATTERN' in the 1950s, Other devices which were motorized were also created before the Spirograph, such as The Design-o-graph in 1967, and Marx Co. made the Design-o-marx & Design-All which was much like the spirograph, there where also others created such as the Spiral-o-graph made in Germany, The Super-Circle-Designer was created by Lizbeth Whiting in 1967. The scientific name for the patterns these devices create are know as HYPOTROCOID PATTERNS, set can be purchased on Amazon.com" A.Jorden
"Very enlightening and beneficial to someone whose been out of the circuit for a long time." Kris
Add your comments on Spirograph

"Hi there,

I got 2 different sets as a child. One I think was a copy, it was called "Create-a-graph" and contained 15 wheels, 4 odd shaped gears, 2 rings, 1 rack and 1 swing bar. I've tried to find the manufacturer but there isn't a clue to be found. Later I got a Parker Spirograph set with 18 wheels, a frame and a ruler. The parts of these two were interchangeable, same teeth size. Thankfully I kept both and they are nearly complete still.

I just got inspired to get them out and try them again. Then I decided to see what was still available these days. In the Netherlands, there's a set from MB that uses magnets. It includes a metal base board, 3 templates you can keep in place using the 3 included magnets, and 7 gears. I was a bit disappointed when I first saw it, but decided to give it a try. When I unpacked it the disappointment grew because the gears had bigger teeth so I couldn't use the old parts with the new set, which is what I'd hoped. I did give the new set a try and I have to say I was pleasantly surprised, it does give nice results and it is easier to use than the old set for 2 reasons, one is the magnets which do work very well to keep the sheet in place under the template, and two is that they've added an edge above the teeth on the templates, which means the gears don't slip out as easily (if you'd like I could send some pictures to explain). The bottom line is that it's not as great as the original in possibilities (less gears, bigger teeth which means less detailed spirographs, and the ring template is much smaller) but for children especially it is easier and it still gives some nice results. But I wouldn't trade it for my old sets." Karin van den Berg 23/11/2010
"When I grew up in the 1950's - 1960's I played with a "Hootenanny" that had belonged to my much-older sisters - a heavy red metal base about 9 inches square with a crank at the corner that turned a turntable about 7 inches in diameter.

There were two other mini-turntables about 1.5 inches in diameter on a side opposite the crank that were also geared to the turntable. The mini-turntables had half-inch tall posts that could be positioned at any of 8 different points on the mini-turntables.

One of the mini-turntables could be relocated; there was a lever that reached across underneath that allowed you to move it to vary the distance between the 2 mini-turntables.

Finally, there was a two-armed pencil holder. Each arm was about 6 or 7 inches long had 15 or twenty holes along its length. You'd put each arm on one of the posts of the mini-turntables, and a pre-cut round piece of paper on the center large turntable. The paper had 3 notches to align with tiny arms at the edge of the turntable, so the paper would turn with the turntable instead of sliding.

With the pencil sitting on the paper, you began turning the crank, and all the turntables would turn, pushing the pencil's arms across the paper in all kinds of loops and swirls, etc. that varied depending on all these components -- which holes along the pencil arms were chosen to set down over the posts, which positions the posts were set at on the mini-turntables, how far apart the mini-turntables were separated.

Hours and hours of fun!!!

Thanks for the memory trip!" b delong 03/01/2011
"I guess that was HOOT-NANNY, The Magic Designer -- see http://www.orangebeautiful.com/blog/post.php?post_id=1196" b delong 03/01/2011
"I was involved, with Denys at the start of the spirograph project. Also since he sold his company and sort of retired he developed a simpler easier to use device called 'Cyclex'.I have an early set plus original drawings and letter signed by Denys about the project." Derek Jackson 22/02/2011
"I recently acquired an old toy called a "Design-A-Graph". Very colorful box, looks to be from the 30's or 40's. Had a spirograph as a kid, and loved it to death. I bought this for my collection of odd & strange stuff, but know very little about it.It has one metal plate with various perforations and designs, and sits on a board with a tack pointing up that you position the metal plate over to achieve the different patterns.It is "patent pending", and has no manufacturer info anywhere on the box. Can anyone tell me a little about this toy ? Thanks" Tony 11/07/2011
"I remeber being enthralled with my Spirograph set. I think I must have had one of the fist sets as I was very young at the time; maybe seven or eight years old. I use to spend hours and hours engrossed inmaking the designs appear as if by magic.Any hopes I had of developing an artistic bent from ny Spirograph experiences were very short-lived: I cannot draw or paint to save my life!

I have no idea after all this time ehat happened to my original set; it has been lost in the mists of time. yesterday, though, I was transported back to my childhood when I was lucky enough to purchase at a local auction an ORIGINAL SPIROGRAPH SET just like the one I had as a kid! Excited? You bet I am!

The set I have is complete apart from the coloured leaflets, which is a shame. It also lacks the pack of papar, which is to be expected. If anyone has either of these items to spare or can point me in the direction where I can get hold of them I would be very appreciative." DARMOR 14/07/2011
"After reading memories of peoples enjoyment of Spirograph, I uncovered my set from the cupboard and started re-creating some patterns. I was given my set when I was about 8 or 9 years old, and as I grew older, my interests changed. A few years ago, I saw that Spirograph was still available (albeit in a new presentation box) and I bought a set to see what the changes were. I noticed that the rings are no longer fixed to the baseboard with pins, but are held in place with an orange plastic clip placed under the paper, making a hole in the paper and putting the ring (or rack) over the top.The style of pens has been changed.I must admit I prefered the style of pens in my original set.(The new set was bought in the late '80's or early '90's)" Gordon Taylor 01/09/2011
"I got mine in 1970,in Southern California, the day before we moved to Australia ....boy the kids there were sure amazed! wow...how time flies gang!" Brett 16/04/2012
"Does anyone know if Denys Fisher is still alive and has there been a Biograpy done on him?

Madonna W" Madonna Weaver 08/08/2012
"Sadly Denys Fisher passed away on 12 September 2002. There is a short Wiki article on him: http://en.wikipedia.org/wiki/Denys_Fisher" Martin BISHOP 13/09/2012
"I had a hootnanny as a child too! My two sisters and I spent a lot of time with it. I wish I could find one now for my granddaughter (I'd like to play with it too.)" jane 10/11/2012
"My daughter recently bought a used Spirograph set, which seemed complete but is missing the holder. I wish I had an image of this holder, or some idea on how to improvise one. Any suggestions?
Thank you so much for this interesting page. June-Etta" June-Etta 19/01/2013
"I have an original Japanese Magic Pattern from the 1950s. I am wondering if this is a collectible toy and what the value might be. Any information would be appreciated." Linda 06/04/2013
"Just out of curiosity, has anyone done a software version of Spirograph? I loved this toy as a kid, but many a beautiful piece was ruined as the teeth slipped and skipped. In software, you could have "gears" that could not be done physically, such as moving back and forth over the main ring, or changing size as they rotated. Of course, for a kid, there's something to be said for the tactile experience of actually manipulating physical objects..." Phil 07/05/2013
"I Need a pencil arm for a Magic Designer, any ideas on where to find one or a replacement part?" Joyce 21/01/2014
"There seems to be some misunderstanding regarding the history of spirograph, so I'd like to explain it briefly. Denys Fisher was indeed the inventor of "Spirograph" marketed as a toy for children. Years before him, however, Bruno Abakanowicz had already patented the spirograph as a mathematical device (1881). And yet, before him, Peter Hubert Desvignes created Speiragraph (1827), a similar machine built to hamper money forgery." Lucy 17/07/2018