Spirograph history and collectors' guide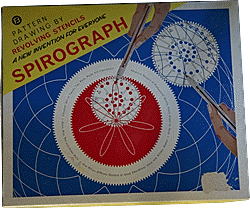 Spirograph is a children's drawing toy. It uses cogs and racks to create elaborate circular patterns. The Spirograph toy was first sold in the UK in 1965 and in the US in 1967.
You can still buy Spirograph today, as the Original Spirograph. Vintage Spirograph sets are also plentiful on eBay.
Invention of Spirograph
Although the origins of Spirograph go back to Victorian England, the familiar drawing toy dates from the 60s.
Denys Fisher developed a marketable version of Spirograph in the early 60s.
He was an engineer and businessman who supplied precision components to NATO. In the early 60s he explored the Victorian idea of making patterns with cogs and wheels. He tried to improve on what the Victorians did using Meccano gears during his Christmas break of 1962. But his first attempt was unsuccessful. [1]
Fisher's moment of inspiration came when he was listening to Beethoven's Ninth Symphony. He used a series of perforated cogs and racks into which a pencil could be inserted. Denys Fisher originally intented to market Spirograph as draftsman's tool, but he later decided it would sell better as a toy.[1]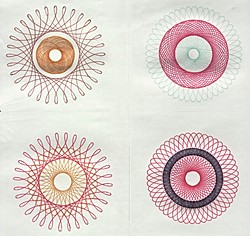 Spirograph goes on sale
Fisher used his own business to make and distribute Spirograph.
Spirograph went on sale in 1965 in the UK. Denys Fisher may have thought Spirograph might still appeal as an adult drawing tool. The box said "Pattern drawing by revolving stencils - a new invention for everyone". There was no mention of an age limit.
An early appearance on Blue Peter also helped bring Spirograph to national attention and it was soon selling well as a toy.
Very soon it was selling in large numbers. In the first four years Spirograph took the turnover of Denys Fisher's company from £30,000 to £3 million.
Toy of the year
Denys Fisher's creation was loved by adults and children. Newspapers and magazines recommended it as an marvellous toy for older children. Older children meant children over the age of seven.
Spirograph won the Educational Toy of the Year three years running from 1965 to 1967 and became Toy of the Year in 1967. The original version cost £1 15s 6d [about £24 in today's money] from Hamley's in 1966.
Was Spirograph for boys or girls? Claire Rayner, writing in the Daily Mail in 1965, thought Spirograph's mathematical and engineering background meant it was for older children and their fathers. [2]
One of the first children to get their hands on a Spirograph was a four year old Carol Vorderman. The former Countdown presenter said it was her favourite toy. [3]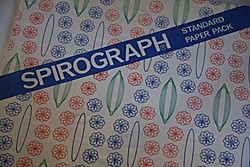 Spirograph was sold in America by Kenner Products, an offshoot of General Motors. It became the number one selling toy in the US for Christmas in 1967. It beat another British company, Lesney, whose Matchbox cars were previously America's top selling toy. (Now I know why Lesney made so many American cars).
Spirograph's geometric and swirling patterns chimed well with the Op Art and geometric designs that were popular in the 60s. They also fitted in fantastically with the psychedelic patterns of the later swinging 60s.
Spirograph was so successful that it started to influence the world of fashion. Op Art and geometric prints were already popular, but Spirograph patterns appeared on evening dresses in black and white printed crepe by John Cavanagh in 1966.[4]
Denys Fisher sold his company in 1970 to General Mills, an American food corporation. General Mills also owned the UK toy maker, Palitoy. The company continued as 'Denys Fisher Limited' in the 70s and Denys Fisher himself stayed on as a consultant.
Spirotot
Spirotot was the first spin-off of Spirograph by Denys Fisher. It was a simpler drawing toy for children aged three to seven. Spirotot launched in 1967 and cost 14/6 (14 shilling and 6 pence) from W H Smith.
The story was that Bob Fieldhouse, who worked for Denys Fisher, took home a gadget he found in his office drawer. His son Martin, aged 4, played with it and found he could draw patterns with it. Fieldhouse then took the gadget back to work and he and Fisher turned it into Spirotot. Denys Fisher may have designed the device and forgot about it.[5]
Or was a it just a great marketing story?
Spirograph variations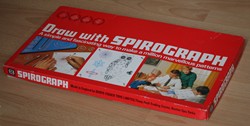 Spirograph is one of the most long-lived classic children's toys. Denys Fisher and successive companies developed the product. These are some of the main variations to look out for:
When Spirograph won the 'Educational Toy of the Year Award' the logo was added to the box in a big yellow rosette
From around 1968 Spirograph was packaged in a larger box, with a new red colour scheme
Super Spirograph (1971) - mauve packaging, more shapes and cogs
New Spirograph (Denys Fisher) - new retractable pens and new packaging
New Super Spirograph (Denys Fisher)
Chad Valley Spirograph -(c1970s)
Palitoy Spirograph (1981)
Parker Spirograph (1986) - coloured cogs, new shapes and blue box
Kenner Parker Spirograph Plus (1986) - blue cogs and new shapes
Travel Spirograph by Kenner (1989)
Get Set Spirograph
MB Creation Spirograph (2004)
Hasbro - 'The Original Spirograph' - purple box, yellow, green and purple shapes and cogs
Super Spirograph
Super Spirograph was a deluxe version with extra cogs and shapes. Denys Fisher introduced Super Spirograph in 1971. According to the box it 'Does everything Spirograph does - and a whole lot more!'.
I loved Spirograph in the 1970s, I had the standard box in 1972. The Super Spirograph kept me busy for hours. Andy
How to use Spirograph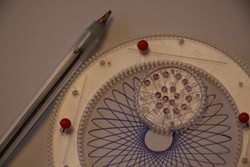 The original Spirograph had a range of small cogs, two toothed rings and two racks. It was supplied with four coloured pens in black, red, blue and green. The original pens were supplied by Tallon. They were similar to the Bic Crystal pens. You could buy special Spirograph paper for drawing on.
To use Spirograph place a plain sheet of A4 paper onto a thick corrugated cardboard base. Then pin one of the large wheels or racks to the paper using four drawing pins.
Then line up one of the smaller geared cogs against the ring or rack and put a coloured pen into one of the cog's holes. You can use the inside or outside of the ring. Then turn the smaller cog, using the pen. This will draw a pattern if you keep a steady hand.
I found it also helped to hold the ring as they can move and spoil the pattern.
With just one cog and one ring and the pen in position 1, the patterns varied between just two points in an elipse to 105 points.
The instructions gave you some examples, but many more combinations could be produced with experimentation and imagination.
Where to buy vintage Spirograph
The best place to buy old versions of Spirograph is eBay. There is a lively trade in Spirograph sets from the 60s, 70s and 80s.
See also
Can you buy Spirograph new?
Yes, you can get a modern version of Spirograph made by Flair Leisure Products. It looks to have a fewer cogs then the original, but the concept looks the same - see the Original Spirograph
More on Spirograph
There is a Wikipedia article see - Spirograph on Wikipedia
There is a Facebook group about Spirograph
See also Spirograph on eBay
What other toys did Denys Fisher make?
Denys Fisher developed a building toy called Stickle Bricks in 1969 before the take over by General Mills. Denys Fisher Limited continued to make creative toys. The company marketed Etch-a-Sketch in 1970 and also produced another drawing toy called Roter Riter as well as Potter's Wheel. The company also made Sketch-a-Tune, a musical toy, around 1970.
Denys Fisher Limited produced a number of board games, some based on popular TV programmes of the 70s, such as 'On the Buses' and 'Dad's Army'. Denys Fisher Limited also made action figures from popular shows, including Dr Who and The Six Million Dollar Man.
In 1971 Denys Fisher Limited employed prisoners at Thorp Arch Open Prison, near Boston Spa in Yorkshire to pack its toys ready for Christmas. The prison was very close to the Denys Fisher factory on the Thorp Arch Trading Estate. The prisoners put the toys and games into brightly coloured sleeves ready to be sent to mail order firms. The prisoners complained that they worked seven days a week, plus two nights' overtime for just 45p (that's just £4.50 in today's money) and four extra cups of tea.[6]
Cyclex
In 1981 Denys Fisher himself developed another drawing toy called Cyclex. Cyclex was based on advanced trigonometry. On the box Fisher explained that he used a computer called Triggy to help him design the toy.
A similar toy called Cyclograph was also sold in the 1980s by Kenner Parker.
References
[1] 'Denys Fisher - obituary' published in The Times 26 October 2002
[2] 'Toys that children really want' by Claire Rayner, published in the Daily Mail 11 November 1965 page 12
[3]'Drop the dolly, boys' toys help girls to succeed' by Charles Oulton, published in the Daily Express, 12 December 1997
[4] 'Second day of the London collections', published in The Times 20 January 1966, page 24
[5] 'Little Martin has them all going round in circles' by William Greaves, pubished in The Times 4 December 1967, page 10
[6] 'Santa's Slaves' by Rupert Morters, published in the Daily Mirror 25 November 1971, page 13.
Your comments on Spirograph
"I am not convinced Denys Fisher was the original inventor of the toy known as Spirograph. His plastic templates were original and he probably did invent the name Spirograph."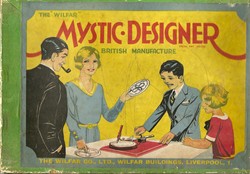 "However, in the thirties there was a toy called 'Mystic Designer' which produced virtually the same results. It was made by a company called Wilfar based at that time at Wilfar Buildings, Liverpool 1. The original box it was in had on it a British Provisional Patent Number of 36158."
"Unfortunately no more information has come to hand but I would be interested to hear about any updates." Michael Cox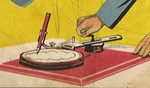 Hi Michael, The Wilfar Mystic Designer certainly looks to do much the same thing as Spirograph, although you do do not need the device with the handle. Retrowow
"Hi I loved spirograph in 1970 I had the standard box the in 1972 the super spirograph they kept me busy for hours. I would like to get hold of then again is it possible to purchase them again. Love it!!! Best Regards Andy." andrew
Hi Andy, You can get new versions of Spirograph. Look for MB Spirograph or Hasbro Deluxe Spirograph. They are different from the original. If you are looking for an original Spirograph, eBay is probably the best bet. Retrowow
"I also had a toy in the 1930s that did the same as the spirograph, but the wheels were tin. My shaky memory says the name was 'hootenanny' sp.? I used colored pencils to great effect. in the 60s we bought a Spirograph for out daughter." harriet roeder
"I loved this as a kid and am trying to get it for my grandson. This is so great for the one who can not draw and it makes you feel like you can draw. thank you so much" gloria
"hello sir, I am fond of spirographic creations. The information provided by you is inspiring but lacking enough pictorial presentation about tools used which are new for me. kindly tell me some thing about metellic spirographs which must be durable more then then the plastic once. thanks." pradeep
Hi Pradeep, Sorry I'm not familiar with the metal spirograph. The original spirograph had plastic cogs. Perhaps you are thinking about a professional drawing tool. Retrowow
"Mr. Retrowow or stephan There was a metal hootenanny or spirograph. I can't remember exactly when I used it - if as a kid or when my kids were young. It was very sturdy, the base was green and you inserted various pencils for all kinds of colored spiral effects. I would buy one now if I could find one. Maybe some of your readers still have one. Thanks for your time. " Frank Glick
" I have one of those called hootenanny. We had great fun in my childhood making all kinds of designs. There is nothing like a grand old metal toy made in the 20's." Carolyn
"I recently bought an old 1980's set in a charity shop for the princely sum of £2.50. It is unopened with the original plastic wrapping still on it, is it worth anything?"
"Hi everyone I am an avid collector of vintage art design devices. First of all before the spirograph was invented other devices which were used to create the same designs were used and came in a variety of titles, first was the 'WONDER-GRAPH' created in 1907,then the 'HOOT-NANNY' in 1929 later known as the Magic-Designer, then the DIZZY-DOODLER in 1949 made in Dallas Texas, Then the Japanese made 'MAGIC PATTERN' in the 1950s, Other devices which were motorized were also created before the Spirograph, such as The Design-o-graph in 1967, and Marx Co. made the Design-o-marx & Design-All which was much like the spirograph, there where also others created such as the Spiral-o-graph made in Germany, The Super-Circle-Designer was created by Lizbeth Whiting in 1967. The scientific name for the patterns these devices create are know as HYPOTROCOID PATTERNS, set can be purchased on Amazon.com" A.Jorden
"Very enlightening and beneficial to someone whose been out of the circuit for a long time." Kris
Add your comments on Spirograph
Comments
Hello y'all.
Someone mentioned Spirograph this Christmas and my memory immediately went to a toy my brother had in the 70's that I'm sure was called by that name, but it was like a long red plastic tray with a hand wind wheel on the left (I think) and a long plastic arm with a pencil holder on the end. You stuck a pencil vertically into the holder, inserted a piece of paper somehow on a rotating deck then proceeded to wind the small wheel, whereupon the arm would move geometrically and the deck with the paper on would rotate and you'd get the classic geometric patterns. If you upturned the tray you'd could see the mechanism underneath. When I google it all I get is the circle things that you push round and round with a pencil in them, Does anyone remember the 'mechanised' toy I have tried to describe? Sure it was called Spirograph but confused at results on the web.
There seems to be some misunderstanding regarding the history of spirograph, so I'd like to explain it briefly. Denys Fisher was indeed the inventor of "Spirograph" marketed as a toy for children. Years before him, however, Bruno Abakanowicz had already patented the spirograph as a mathematical device (1881). And yet, before him, Peter Hubert Desvignes created Speiragraph (1827), a similar machine built to hamper money forgery.
Just out of curiosity, has anyone done a software version of Spirograph? I loved this toy as a kid, but many a beautiful piece was ruined as the teeth slipped and skipped. In software, you could have "gears" that could not be done physically, such as moving back and forth over the main ring, or changing size as they rotated. Of course, for a kid, there's something to be said for the tactile experience of actually manipulating physical objects...