Christmas gifts from the past
Christmas is a time for children, but there was always likely to be something under the tree for mum and dad as well. Christmas gifts reveal much about society and how men and women saw themselves. Traditional roles were re-enforced. Men's presents were either about festive indulgence or practicality. Women's presents expressed the glamour of the Mad Men era, but also echoed the role of the domestic goddess.
Gifts for her
Husbands searched out glamorous jewellery to impress their wives on Christmas Day. Jewellery boxes were also a favourite stocking filler.
Perfume was another favourite staple. Channel No 5 is a timeless classic and was just as desirable in the 60s as it is today. A few other classics fragrances were: Estée Lauder Youth Dew (1953), Aqua Manda (1970), Yves Saint Laurent Rive Gauche (1970) and Anais Anais (1978).
Smoking was increasingly popular with women in the 50s, 60s and 70s. It still had an image of glamour and femininity, as well as a new sense of freedom. A small gift such as a mother of pearl lighter by Field (illustrated right) might have made a stocking filler. Like a lipstick or powder compact, it fitted neatly into an evening bag.
For indulgence women looked forward to a box of chocolates, Milk Tray or Black Magic, for example.
Women usually took responsibility for everything in the kitchen and a favourite gift from him to her was often a cookery book. Marguerite Patten's 'Cookery in Colour' was a popular general cook book.
At the expensive end of the scale, many 60s' wives would have loved to find a Kenwood Chef under the Christmas tree.
If women wanted to get their man into the kitchen, then the Esquire Cook Book (1956) or Len Deighton's French Cook Book (1965), probably would not have persuaded them to take a leaf out of fictional spy and amateur gourmet, Harry Palmer's book.
Gifts for him
Gifts for men were often about indulgence in the form of whisky or cigars. A box or tin of cigars (below Wills' Castella, Henri Wintermans and Embassy) were a popular gift.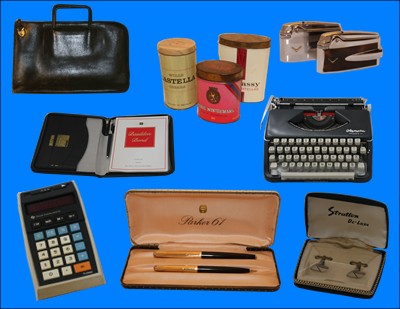 A favourite tipple was always a good stocking filler. In the 50s and 60s, Haig Whisky was Britain's best selling brand. The Christmas treat was Haig's 'Dimple' in a specially shaped bottle, the design of which dated from 1893. You can still get Haig and Dimple today, but it was eclipsed by Bell's in the 70s and has all but disappeared.
Small personal accessories such as cigarette lighters, cufflinks or items of clothing such as shirts, socks or ties were also frequently given.
Gifts for men reinforced the model of the man as the provider, and particularly the business man. The 50s and 60s office worker could look forward to leather brief cases or document carriers, pens, desk sets, slide rules and portable typewriters. In the 70s the list included pocket calculators too.
If the man was more practically minded, he might have unwrapped an electric drill or a set of new spanners for the car.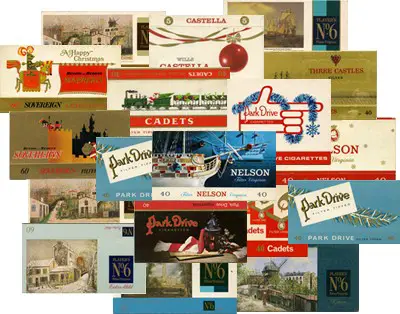 Cigarettes
In spite of an increasing body of evidence blaming smoking for cancer and other diseases, cigarettes were high on the Christmas shopping list for both men and women in the 60s and 70s.
Manufacturerspackaged 40 or 50 cigarettes in sleeve holding a couple of regular packs. There were new designs each year and you could write "to and from" on the back, so at least you knew who was shortening your life.
Smokers at Christmas often took the opportunity for a longer, more luxurious smoke and looked forward to king sized versions of their favourite brand, such as Player's No6 Kings.
Your commments
Retrowow

Established 2002
Vintage, retro & social history