How much did things cost in 1981?
How much did things cost in 1981?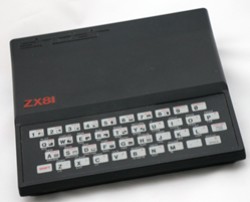 So how much did things cost in 1981? Technology was more expensive, but cars and petrol were much cheaper.
Technology
The big technology news of 1981 was the ZX81. Sir Clive Sinclair produced a small computer that used your TV as a monitor for just seventy quid. It was an update from the ZX80 a year earlier, but this ZX81 was the computer the public took to. It started the 1980s' home computer boom.
Scientific calculators had become standard equipment for older school children, but were still not permitted in exams.
Teenagers were into stereo cassette recorders instead of record players. They would grow in the ghetto blasters associated with the 1980s.
Colour televisions were expensive in comparison to today. A 20" colour TV was standard in 1981. It would have cost £700 in today's (2021) money. Today you can buy a 24" TV for £150.
1981
price
Inflation
adjusted
20" Grundig colour TV (Dixons)
£239.95
£770
12" Hitachi portable black & white TV (Currys)
£79.95
£260
Prinztronic scientific calculator (Dixons)
£9.90
£32
Bush stereo cassette recorder (Dixons)
£69.95
£220
Sinclair ZX81 personal computer
£69.95
£220
Motoring
Petrol prices had crashed through the psychological £1 per gallon price a year ago. They showed no signs of stopping their upward rise in 1981. Nevertheless petrol was still cheaper than today. We were only paying 35p a litre in 1981. In 2021 money that would be £1.04 per litre.
The same was true of the average car. The Ford Cortina was still the rep's favourite in 1981. A basic model would have set you back just £12,400 in today's money. It makes you wonder why manufacturers couldn't stick to making a basic car for a basic price. A brand new Cortina would still be a great car today. Who needs cup holders and electric windows if they could save £10,000+ on the new price!
1981
price
Inflation
adjusted
Gallon of petrol
£1.60
£5.10
Ford Cortina car
£4,200
£13,000
Cigarettes and alcohol (booze and fags)
I was struggling to find any Watneys Party Seven for sale in the national press in 1981. It was rapidly dropping out of favour. Lager was growing in popularity. Bitter was still Britain's favourite pint in a pub.
In the 1980s whisky was still the drink for real men. Sherry was still popular at Chistmas. Aspirational drinkers may have preferred Bailey's Irish Cream.
1981
price
Inflation
adjusted
Bottle of whisky (Teacher's) (Tesco)
£6.09
£19
Bottle of sherry (Harvey's Bristol Cream) (Tesco)
£2.89
£9.20
Bailey's Irish Cream (International)
£4.89
£16
Harp lager - four cans (Tesco)
£1.19
£3.80
Pint of beer
51p
£1.60
20 cigarettes
78p
£2.50
Groceries
1981
price
Inflation
adjusted
Pint of milk
18½p
59p
Large loaf of bread
35½p
£1.10
250g Sainsbury's English butter
43½p
£1.40
100g Nescafé coffee (Fine Fare)
87p
£2.80
Can of Pepsi Cola (Tesco)
17p
54p
Half dozen size 4 brown eggs (Sainsbury's)
30½p
98p
Mild English Cheddar cheese (1lb) (Sainsbury's)
99p
£3.20
Stork SB 500g margarine
32½p
£1
Home appliances
Microwave ovens were still the latest thing in 1981. Most homes were getting freezers for the first time. Many people were opting for automatic washing machines instead of twin tubs.
1981
price
Inflation
adjusted
Carlton fridge-freezer (Currys)
£169.95
£540
Servis twin tub washing machine (Currys)
£189.95
£610
Hoover automatic washing machine (Currys)
£194.95
£620
Newspapers
Newspapers still cost a few pence in 1981.
1981
price
Inflation
adjusted
Daily Mirror newspaper
12-14p
38-45p
Housing
The Thatcher boom had yet to take place in 1981. Although prices were on the up, you could still get an average semi for £70k in today's money. Imagine that.
1981
price
Inflation
adjusted
Average house price
£24,000
£77,000
Notes:
The inflation adjusted prices are based on the Consumer Price Index (CPI).
For a comparison of prices in 1981 adjusted for incomes see Income adjusted prices for 1981
By Steven Braggs, February 2021, updated May 2022
Add your comments
Comments
No comments yet. Be the first!