What happened in 1971? - UK
What happened in 1971? - UK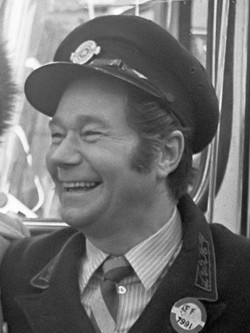 We look at events, new products, films, music and fashion from 1971.
In the news
20 January - Four Red Arrows pilots died after a mid-air crash at RAF Kemble.
15 February - Britain introduced decimal currency on D-Day or Decimal Day.
Education Secretary, Margaret Thatcher, stopped the supply of school milk to children aged seven to eleven, earning her the title 'Thatcher Milk Snatcher'.
On 25 April BOAC (the forerunner to British Airways) 747 jumbo jets flew for the first time. Industrial disputes had kept them on the ground since the beginning of the year.
Violence continued to escalate in Northern Ireland. In 1971, 170 people died. The most notorious incident, known as 'Bloody Sunday', was in January of the following year.
On 31 October the IRA detonated a bomb in the Post Office Tower, London.
In London work began on the Fleet Underground Line. It was finally opened in 1979 as the Jubilee Line.
The minimum age to ride a motorcycle in the UK was raised from sixteen to seventeen.
The trial of Oz Magazine for obscenity began in 1971. Editors Richard Neville, Felix Dennis and Jim Anderson were charged with conspiracy to corrupt public morals. They were found guilty to lesser charges and sentenced to imprisonment. All three later successfully appealed.
The experiment with British Standard Time - BST (British Summer Time all year round) was dropped. Britain returned to GMT and BST as we have today.
Watneys launched Watneys Red. In the same year, CAMRA, the Campaign for Real Ale was founded.
The Open University first broadcast in January 1971.
Radio-only licences were abolished on 1 February 1971. They cost £1 5s. In the previous year two million were issued. [1]
The last new Morris Minor was sold. The last model rolled off the production line in 1970.
In October 1971 Malcolm McLaren (later founder of Punk Rock) opened his first shop, 'Let it Rock' at 430, Kings Road in London. It sold secondhand and new Teddy Boy gear and was a tribute the the 1950s era.
Facts
1971 Census showed that the population of the UK was 55,346,551.
Average pay for male manual worker: £30.98.
The best-selling car of 1971 was the Austin/Morris 1100/1300
Smoking: 68% of men and 44% of women smoked in the UK in 1971.
The best-selling cigarette was Players No 6.
Most popular foreign holiday destination was Spain.
BBC Sports Personality of the Year: Princess Anne
For more information see How much did things cost in 1971?
Films
The films that made the most money in the UK in 1971 were:
The AristoCats (released 1970) (Disney animation)
On the Buses (1971) (TV spin-off)
Soldier Blue (1971) (Western)
Carry on Loving (Carry on about a marriage bureau) (1970)
Dad's Army (1971) (TV spin-off)
Get Carter (1971) (gangster movie starring Michael Caine)
There's a Girl in My Soup (1970) (Peter Sellers and Goldie Hawn star)
Percy (1971) (Comedy)
The Railway Children (1970)
Up Pompeii (TV spin-off starring Frankie Howard)
When Eight Bells Toll (1971) (Thriller starring Anthony Hopkins and Jack Hawkins)
Song of Norway (1970) (Musical about composer Edvard Grieg)
Love Story (1970) (Romantic drama)
Ryan's Daughter (1970) (Drama set in Ireland c1918)
Paint Your Wagon (1969) (Musical western)
Waterloo (1970) (Film about the battle)
Source: 'Richard Burton top draw in British cinemas' by Peter Waymark, published in The Times 30 December 1971 page 2
In the same year Glenda Jackson won the Oscar for the Best Actress for playing Gundrun Brangwen in D H Lawrence's 'Women in Love'.
The James Bond movie, 'Diamonds are Forever' was released in December 1971. It was a very successful film, but was released too late to make it onto the 1971 list.
Television
In 1971 TV critics named the police drama 'Softly, Softly' as the best television drama of 1971. 'The Comedians' which featured some lesser-known stand-up acts from the working men's club circuit was named as the best comedy series. Another comedy show, 'The Two Ronnies' debuted in April 1971.
The best television play was 'Edna the Inebriate Woman' by Jeremy Sandford. It told the story of an alcoholic homeless woman. The play was shown as part of the BBC's 'Play for the Day' series.
The best documentary was 'The Sorrow and the Pity'. It described the collaborative Vichy French Government in World War II. The programme included interviews with Germans, French collaborators and French resistance fighters. The best current affairs series was 'World in Action'.
Peter Cook's show 'Where Do I sit' was named the worst programme of the year.
Source: 'Richard Burton top draw in British cinemas' by Peter Waymark, published in The Times 30 December 1971 page 2.
Children's TV
Children's TV programmes starting in 1971 included:
Fingerbobs
Follyfoot
Help! It's the Hair Bear Bunch
Funky Phantom
Mary, Mungo and Midge
Mr Benn
Picturebox
Play Away
Source: The Encyclopaedia of Cult Children's TV by Richard Lewis
Music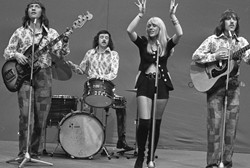 The best-selling pop records of 1971 were:
Hot Love - T Rex
Maggie May - Rod Stewart
Knock Three Times - Dawn
Chirpy Chirpy Cheep Cheep - Middle Of The Road
My Sweet Lord - George Harrison
I'm Still Waiting - Diana Ross
Coz I Luv You - Slade
Get It On - T Rex
Hey Girl Don't Bother Me - Tams
Grandad - Clive Dunn
Source: UK Top 100 Singles by Paul Gambaccini, Tim Rice and Jonathan Rice, published by Guinness in 1993
World records
Chay Blyth became the first person to sail single-handedly east to west around the world. He took 293 days. His yacht was called 'British Steel'. The Duke of Edinburgh and Prince Charles welcomed him home at Hamble, near Southampton. [2]
Royal news
Prince Charles joined the Royal Navy. He had already earned his wings as a pilot at RAF Cranwell. He parachuted into the English Channel as part of his training.
Emperor Hirohito of Japan visited Britain in 1971. It was a controversial visit and the first one the Emperor had made to Britain since Japan's defeat in World War II.
Princess Anne rode her horse, Doublet, to victory in the European Three-Day Event Horse Trials.
'The Country Life Book of Britain in the Seventies' by Ronald Allison, published by Book Club Associates in 1980
Sport
Arsenal beat Liverpool to win the FA Cup. In 1971 Arsenal achieved the Cup and League double by also finishing top of the First Division. (There was no Premier League in 1971).
Chelsea won the European Cup-Winners' Cup.
Specify won the Grand National at Aintree ridden by John Cook. It was a close race and a fast finish. The owner was Fred Pontin, famous for Pontins Holiday Camps.
Mill Reef, ridden by Geoff Lewis, won the Derby at Epsom.
Stan Mellor became the first National Hunt (jump racing) jockey to ride one thousand winners.
The British Lions Rugby Team defeated the New Zealand All Blacks in New Zealand. They were the first British team to win a series against the All Blacks in New Zealand.
British Prime Minister, Ted Heath, captained Britain's yachtsmen to victory in the Admiral's Cup at Cowes, Isle of Wight.
Joe Bugner defeated Henry Cooper to become British, European and Commonwealth heavyweight boxing champion.
Jackie Stewart won the Formula 1 drivers' championship.
Fashion news
The big fashion hit of 1971 was hot pants. They were short shorts for women. According to Sarah Drummond of the Daily Express, they made mini-skirts look prudish.[3] In the summer they were banned from the Royal Enclosure at Ascot. By October 1971 the fashion was over, according to the Daily Mirror's Felicity Green. [4]
Read more: Fashion in the 1970s - UK.
Toys
The Toy of the Year in 1971 was the Katie Kopykat writing doll.
Other toys and games launched in 1971 included:
Crossfire - ball-bearing firing game
Mastermind - code breaking game, not to be confused with the TV series
Shaker Maker - mould-making kit
Stay Alive - Chinese chequers game
VertiBird - spinning indoor helicopter toy
Products
In 1971 around 90% of households had a television set, but only 69% had a 'fridge and 64% had a washing machine.
To get an idea of what new products people were interested in I had a look at the Consumers' Association (Which?) reports for 1971.
In 1971 Which? reviewed:
Cassette tape recorders and cassette tapes
Coffee grinders - real coffee was staging a comeback after instant dominated sales in the 1960s
Continental quilts
Electric coffee makers
Toasters
Spin dryers
Washing machines
Venetian blinds
Cookers
Electric kettles
Fibre tip pens
Compact stereo systems
Hand-held food mixers
Refrigerators
Vacuum cleaners
Automatic cameras
Choppers, beaters, mashers and peelers
Electric storage heaters
Dishwashers
Electric blankets
Continental quilts were new in the early 1970s. Most people in the UK used sheets and blankets.
Cassette tape recorders had been around since the 1960s, but were more popular in the 1970s.
Cars
New models launched for the UK market in 1971 were:
Alfa-Romeo 2000
BMW 3.0 S and CS
Chrysler 180
Citroen GS
Fiat 127
Jenson SP
Lancia Fulvia 1600
Mazda 1300
Mazda 616
Mazda RX-2
Morris Marina
Toyota Carina/Celica
Vauxhall Firenza
The Morris Marina was the car that was meant to save British Leyland.
References
[1] BBC Handbook 1973, published by the BBC in 1972, page 225
[2]'The Country Life Book of Britain in the Seventies' by Ronald Allison, published by Book Club Associates in 1980, page 42
[3]'Hot Pants!' by Sarah Drummond, published in the Daily Express 11 December 1970, page 7
[4]'Where have all the hot pants gone?' by Felicity Green, published in the Daily Mirror 13 October 1971, page 17
More on 1971
More on the 1970s
By Steven Braggs, May 2021
Add your comments
Comments
I'm here with thinking a lot about my vintage coffee grinder over this past few days on account of my having to replace a blown fuse in the motor unit, which I could do since I have another two of them, so took one out of one of them. It's actually made in a country that no longer exists - the German Democratic Republic and it's a Komet RG 25, the other (completely compatible) RG 25 motor units being under the AKA brand. I use it in tandem with a percolator made in a factory that no longer exists, too - Sona in Stratford-upon-Avon. I thought that there was an article somewhere on the Web mentioning the ground coffee revival of the early 1970s and here it is...and I'm still in the midst of that revival! To see about my interest in especially the early 1970s and the former Soviet Bloc please see my 'Gravatar'https://en.gravatar.com/girlsofthegoldeneast.