Morris Marina
The Morris Marina, launched by British Leyland in 1971, was meant to be BL's answer to the Ford Cortina. Leyland had been losing sales to the Cortina in the latter part of the sixties and came up with a new look for the seventies that was meant to appeal young, trendy couples setting up home together.
The Morris Marina was part of an overall grand plan which split the company into two divisions - Morris for conventional cars and Austin for innovative designs. Originally the innovation was based around Alec Issigonis's masterpiece, the Mini and the best selling Austin 1100. However, this reorganisation lead to the disastrous Austin Allegro.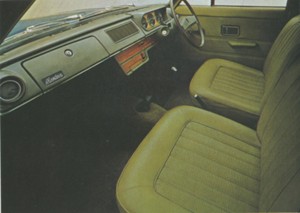 The Morris Marina was available in a range of models to suit varying tastes and pockets, just like the Cortina. In 1971 the customer could choose from 1.3 and 1.8 litre engines and 2-door coupe and 4-door saloon body styles. There were De-luxe and Super De-luxe variants. Super De-luxe gave you these lovely knit backed expanded vinyl seats (left), together with cut pile carpeting and a rev counter. The range was topped by a fast and powerful twin carburettor version available in both body styles. The "TC" had the 1.8 litre engine from the MGB. By all accounts though, it did not have the sports car's handling.
The Morris Marina embodied, to a certain extent, the style of the early seventies. The boxy, minimalist look of cars such as the Ford Cortina Mk 2 had been modified and given a new more colourful, even more fun feel. I love the style of the Marina's front grill, it is so typically seventies. The car suits bold bright colours - reds and oranges - even lime flower green.
Why is it rare now?
Most cars from the 60s and earlier were generally regarded as classics quite quickly. In some cases before they were even ten years old. Cars from the 70s, aside from obvious classics such as MGs, although those with the rubber bumpers faired less well, were preserved. However, bread and butter saloons from the 70s raised eyebrows at classic car clubs. It took some time before the naff image of the decade finally turned into retro chic. This means that some of the ultimate naff classics, such as the Austin Allegro with its quadric steering wheel, were preserved just before it was too late. This left more ordinary cars such as the Morris Marina out in the cold - often quite literally. I would not be surprised, however, for a new retro craze to start for these now rare beasts!
Morris Marina - details
Distinctive features on the Morris Marina included this 70s style grill (Super De-luxe only) and these safety door handles. Both added to the modern feel of the car.
Morris Marina prices
These prices are from 1971:
| | |
| --- | --- |
| 1.3 litre Coupe De-luxe | £922.71 |
| 1.8 litre Coupe De-luxe | £994.51 |
| 1.3 litre Saloon De-luxe | £961.88 |
| 1.8 litre Saloon De-luxe | £1033.68 |
| 1.8 litre TC Saloon | £1177.29 |
Morris Marina on the web:
Your comments on the Morris Marina
"i bought a second hand marina from a mate in the 80s it was on the road for approx 5 minuets i drove it round a sharp bend and the steering rack broke and i crashed into a garage wall. the car was a right off the wall did not look to good either. the car cost me £85-00 the wall cost me £25-00 happy days" paul beasley

"Purchased my first marina just a few days ago, a fantastic looking car from my point of view. Though driving it could be compared to driving a home-built go-kart... That's all part of the fun of driving a car like this. Perhaps a car once called "The worst car of all time" could one-day become loved again..." Joe.F 18/12/2010
"My time spent driving a Marina in the early 80's.....Happy, Happy days, fuel was cheap, cars had individuality, 0-60mph took all day and you could service it on a saturday morning. I now drive a Honda same car for ten years....never spent a penny on it other than servicing,its never let me down not half as much fun as a Marina, and the back seat.....well thats another story!!!" BOC 20/03/2011
"I had an L reg 1.8 estate. It could pull away in 4th gear in a field. However top speed was stubbornly 69mph and when I drove over puddles we lifted our feet as water splashed through the rusted holey floor. So much space in the engine compartment a whole family of asyllum seekers could hide in there. But it had character. Just don't sit bare-legged on those vinyl seats in summer!" Steve 11/06/2011
"Owned a string of 4dr Morris Marinas in 1970s as follows:
1st) 1972 1.8 Super (PEY259K)
2nd) 1973 1.3 DeLuxe (GOE363L)
3rd) 1977 1.8 Special (MLV524R0
4th 1979 1700HL (UKA249V)
Best ones were the 1.8s and worst was the 1700 which was purchased new! Problem starter. All others S/H and started fine!
Never owned a Coupe - which I always liked the shape of. Never needed an estate which was again a nice looking vehicle. Happy Days" Rob Owen 24/08/2011
"I worked for a BL dealership in 1972 when the Marina sold well. It was spacious & comfortable, but not a patch on the rival Cortina or Avenger. The handling was pretty poor especially in the wet and the bigger engined cars were the worst. The 1.3 was reasonably well balanced, but the 1.8 was nose heavy and the extra power of the TC enough to slew the rear end round quite dramatically, despite the standard radial tyres. The 1.3s came on standard crossplies - dunlop D75 groundhogs and this meant you could have a lot of fun at the low speed limit of adhesion - provided you were tall enough! Small drivers couldn't take left hand turns fast because the car's bonnet got in the way of sight as the car tilted quite dramatically.
But the worst problem of the cars was undoubtedly the abysmal build quality. It was rumoured they were named Marina after the water leaks. Being mechanically simple & using well proven parts, they should have been reliable, but rarely so. The same problems were repeated over & over in many cars.
Obviously, being a large dealership we had a number of accidents to repair. Owners repeatedly told us that the cars we rebuilt after accidents handled & performed better and were more reliable & had less squeaks & rattles than when they were new. Such a pity that a history of accidental damage devalued them.
The car that could have saved BL undoubtedly contributed to its demise. These were the days of poor industrial relations, factory workers sleeping their shifts, cars often being damage repaired before they even left the factory. Had they been well made, Marinas could have been a good car. Certainly I liked them despite the design flaws. I even owned one for a month as an emergency stopgap after a much loved motor caravan died. My kids took one look at it & refused to be seen in it - except when we went round local garages looking for a new car.
Would I own another? Sorry, no. They were tremendous fun but nowadays I need something reliable and a lot less lethal." dzerjb 17/02/2012
"The marina was the car that was destroyed by management. They wanted a car with a wheelbase of 96 inches, so they raised the parts cupboard, the trouble was they opened all the wrong cupboards. BL already had the Dolomite - wheelbase.....96 inches. Allegro, yes you guessed it 96 inches.
All they needed to do to produce a good car was to import the Dolomite floor plan and build the Marina on that.

That would be, and certainly was far too simple.

From 1973 onwards, BL were producing 3 96 inch cars all in completion with each other. The term economies of scale hadn't arrived at Cowley or Longbridge." mike price-james 07/07/2015
"I owned a 1972 1.8 Deluxe Coupe with what appeared to be Triumph 'pepper-pot' steel wheels. it handled like a pig on roller-skates!
Every year for the MOT, I replaced at least one leaf spring at the rear (one snapped on the way to work) and most of the front set-up, trunnions, lever-arm shocks.
One time the near-side trunnion fell off into the wheel rim, steering went really light, good job I could summon help with a jack and a piece of fencing wire (sorry Morrisons)to complete a roadside repair.
A cousin of mine had the 1.3 Super Deluxe, miles away from mine in terms of equipment, reclining seats, nice door cards and cappings, carpet and a rev counter to name but a few.
Mine had fixed seats, full-size rubber mat, no door capping, I went to the scrapyard and got the rears off a super, no fronts to be had so I made timber ones, dead classy out of Iroko!
There was a horrible smell emanating from the floor and on stripping out the rubber carpet, found the floor pan to sopping wet and rusty all over. I cleaned and treated it, got a pattern carpet in a sort of tan colour and pushed all the grommets out, it never leaked again, but my lady had to be careful where she put her heels!
I was sure that it had been clocked as at 49k I drove to to Perranporth Cornwall,a distance of 360 miles. On just over half-way back it needed a very large glug of oil.
I say 'clocked' because when I finally got the previous MOT cert. it said 53k. I had serviced it before we set off and the engine ran fairly sweetly. It always had a lumpy tick-over, cured by fitting a replacement off-side new engine mounting. acquired from the scrapyard.
I replaced the water-pump in Summer 1981 and didn't replace the Bluecol coolant I'd lost. Winter came and the core plugs blew out of the engine block. I had to have the car towed to a warm garage (this was the '81 -'82 cold winter)to have it fixed.
On its return I drove over a snow-filled deep pothole and smashed the near-side torsion bar.
I had the car taken away having owned it for six years, paying £850 in May 1976. I'd borrowed the cash from Mum after Dad died and looking back I paid too much, what a dope!
During it's time it was welded, undersealed, welded, undersealed and had a new off-side front wing after a spill with a learner-biker who was 'plastered' and who turned in front of me.
The cars colour was bronze yellow, but the new paint job was brighter, not a good match.
A year or so after mine was put to sleep, my brother bought a red TC, a beauty which was written off by thieving S*******!
That was a really nice car and if I could go back, it would be to one like that.
I nearly forgot the petrol tank became porous so I fitted on from a Mini in the boot of the Marina, that was funny!
All in all it was my first car and on reflection, I wish that Mother had let me buy that Mk2 Cortina 1600E from Ian at work. She wouldn't because she only trusted the dealer selling the Marina, nuff said.
Thanks for taking the time to read my tale and happy motoring." Davey 04/05/2016
"My first car, after passing my test, was a TC Coupé - red-lined at 120, and taught me a lot about double-declutching as the clutch master cylinder is too close to the twin outlet and the seal was subject to heat-exhaustion!! We'd intended to keep it and do it up, but life got in the way - still miss it!" Clare 05/02/2018
"I had a 1975 1.8 Special, metallic green with a brown vinyl roof and sort of beige interior. I bought it in 1981. One morning soon after I went out to take it off the sloping drive to find the footwells full of water. There were leaks at both lower corners of the screen, and over time the pads under the carpets had soaked up all they could so the water rose over carpet level. It was never 100% fixed and the car always had a slightly odd smell.

It actually served me pretty well. I can recall replacing the battery, dynamo, silencer and petrol tank. There must have been tyres too. The fuel gauge ceased to work but I used to calculate 15 miles to the £1 and set the trip meter to zero when I filled up. The differential was noisy, but I knew that when I bought it.

I drove it into a gate post and crunched the front nearside wing quite badly. I repaired it myself. Also quite badly.

I threw it about as much as I could. The handling probably wasn't great but that was the way in those days. It all added to the fun.

At an MOT the tester asked me one time what was "special" about it. Good question. Essentially cosmetic but a big engine so, by the standards of the time, a relatively unstressed ride.

In the autumn of 1985, by which time it was somewhat battered, I saw a Y plate 1.3 Ital advertised in the local paper. My dad and I went to see it and he persuaded the owner to let us take it for an instant MOT. We did go back and bought it. The owner said he couldn't belive what he'd done when he saw his rather nice car disappear and then looked at the wreck we'd arrived in." Steve 08/02/2018
"My parents had an eight year old 1.8 Marina Super in 1982 while we saved up for a better car. It had some rust and the interior was rattly, but otherwise it was completely reliable, never failed to start, and was OK on long journeys, even if the handling was a bit wayward. Also it had a two band radio that you had to tune in yourself and sounded like a pocket radio through its single speaker.
Mind you, when we changed it for a Talbot Alpine, again a car with a less than thrilling reputaton, it was like moving out of the dark ages as this had a radio/cassette, thick velour seats and no bare metal in the cabin." Glenn Aylett 29/04/2018