Trophy Taverns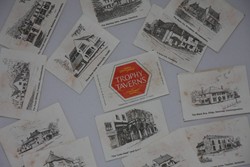 Whitbead started Trophy Taverns around 1971. It was their answer to the Berni Inn. Trophy Taverns originally operated two hundred and thirty pubs, restaurants and hotels in the West Midlands, South Wales, Devon and Somerset.
Trophy Taverns offered similar food to Bernis. There was a selection of mains, mostly served with thin-cut chips. Their plaice and chips were particularly tasty.
There were also the classic 1970s' floater coffees on offer.
Like Berni, the predominant colour in the branding was red.
In 1974 the first Beefeater opened. Whitbread eventually converted some former Trophy Taverns to Beefeaters. By 1979 Beefeaters were operating in the South East, Trophy Taverns in the South West and Duttons Grill Rooms in the North. [1]
Trophy Taverns from the 1970s
These pubs and hotels were Trophy Taverns in the 1970s:
Three Elms Hotel, Whitchurch, Cardiff
The Aubrey Arms, Bonvilston, Glamorganshire
The Black Boy, Killay, Swansea, Glamorganshire
The George Hotel, Mumbles, Swansea, Glamorganshire
The Royal William, Cranham, Gloucestershire
The Andoversford Hotel, Andoversford, Gloucestershire
The Sherborne Arms, Northleach, Gloucestershire
The Royal George, Birdlip, Gloucestershire
King's Arms Inn, Presbury, Gloucestershire
The Red Lion Hotel, Avebury, Wiltshire
The Swan Inn, Broadway, Worcestershire
The Winchester Arms, Taunton, Somerset
The Starting Gate, Holmer Hereford
The Turk's Head and Guildhall, Exeter, Devon
The City Arms, Earlsdon, Coventry, West Midlands
The Hobb's Boat Inn, Lympsham, Avon (today Somerset)
The Three Witches, Stratford-upon-Avon, Warwickshire
The Encore, Stratford-upon-Avon, Warwickshire
Read more:
References
[1] 'A good year's progress' published in The Guardian, 8 July 1979, page 25.
By Steven Braggs, March 2021
Add your comments
Comments
No comments yet. Be the first!