60s party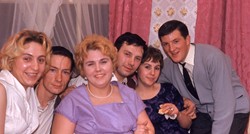 Go back to the 60s for a great party. Give your party a hippy, flower power theme or perhaps go for something more sophisticated. How about a 007 style fantasy? Our guide shows you how to create an authentic 60s party, choosing music, food and drink as it would have been in the sixties.
Food
Party food in the sixties was basic by today's standards. This spread, left, shows some firm party favourites from the 60s: gammon joint, pork pies, tomatoes, radishes, liver sausage, frankfurters, ox tongue, various luncheon meats and piccalilli.
Buffet or cocktail party
A buffet party is a great way to entertain a large number of guests. They were popular in the 1960s and 1970s.
Bite-sized food on cocktail sticks are key to getting a sixties theme. Here are a few suggestions:
cheese and pineapple on sticks
cheese and olives on sticks
cocktail sausages on sticks (you can use vegetarian/Quorn cocktail sausages)
cheese and walnuts on sticks
shrimps on sticks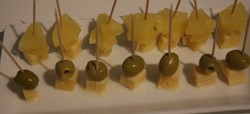 In the 1960s people usually used Cheddar. But Britons did have a taste for Dutch cheese. We found that Gouda had a great flavour and tasted particularly good with olives.
Create a 60s' centre piece by halving a grapefruit, covering one half with silver foil and sticking cheese and pineapples sticks into it.
Crisps were popular in the sixties. Alongside ready salted and salt and vinegar flavours, Golden Wonder launched cheese and onion in 1962, smoky bacon in 1964, roast chicken in 1967 and beef and onion in 1969.
Nuts were also a favourite, brazils particularly, as they were a challenge to crack.
You could also serve cheese straws. We found these to be a real favourite with our party guests.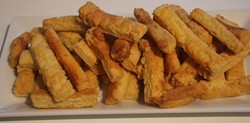 Other favourites:
Angels and Devils on horseback (bacon wrapped around seasoned oysters and prunes)
Sausage rolls
Scotch eggs
Quiche and pizza were both known in the sixties, but would have been adventurous. Go for a very basic Quiche Lorraine (cheese and bacon) or cheese and tomato pizza.
Dinner party menus
Asking friends around for dinner was gaining popularity in the sixties. Before the War it would have been an activity limited to the better off, but with the end of rationing in the fifties and a DIY boom, people were keen to show off their smart homes. A dinner party was a good way to do it.
Home cooking was popularised by Fanny and Johnny Craddock in the sixties.
Here are a few suggestions for dinner party menus:
Starters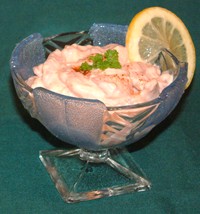 Potted shrimps
Melon and ginger
Grapefruit and cherry
Salmon mousse
French onion soup
Fish main courses
Scampi
Salmon
Sole
Smoked haddock
Meat main courses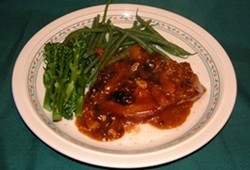 Peppered steak [plain steak and chips were popular too]
Coq au Vin
Chicken curry
Duck and orange
Beef goulash
Spaghetti Bolognese
Roast crown of lamb
Weiner Schnitzel (veal cutlets)
Vegetarian
Macaroni cheese
Nut roast
Stuffed aubergines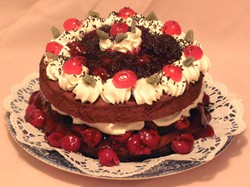 Desserts
Fruit salad
Cheesecake
Fruit flan
Sherry trifle
Pineapple upside-down cake
Soufflé [various hot or cold]
Black Forest Gateau
Lemon Meringue Pie
Drink
Beer
Beer was by far the most popular alcoholic drink in the 60s. People generally preferred bitter and increasingly one of the popular keg brands: Watneys Red Barrel, Double Diamond, Whitbread Tankard or Younger's Tartan. At home canned beer was in its infancy. Long Life by Ind Coope being a pioneer of canned ale. Bottled beer was generally preferred. For a big party you could always get in a barrel of ale.
At a party in 'Up the Junction' (1963), by Nell Dunn, there were crates of brown ale and bottles of Babycham. Both women and men drank brown ale. Babycham, a sparkling perry, was exclusively a ladies' drink.
Bitter, or best pale ale was something of a working class luxury. Bottled pale ale could be keg or cask in the sixties.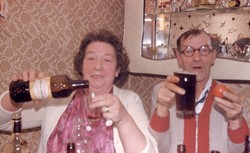 If you wanted to choose drinks that were available in the 60s, avoid choosing most of today's modern real ales. They look like they've been brewed that way for centuries, but most are a new invention. Bass Red Triangle had a strong following in the 60s. Worthington White Shield IPA was also around then. There are also rumours that you can still get Double Diamond.
Lager was gaining popularity in the sixties. The well-known brands were Carlsberg, Heineken, Skol or Harp. Light ale was also popular. In the fifties it was considered a ladies' drink, but it became acceptable for men as well in the sixties.
For more on beer in the 60s, see 60s and 70s beer guide.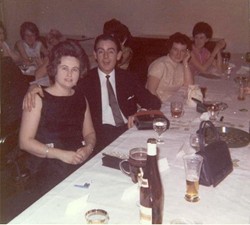 Wine
Wine drinking was a minority activity in the sixties. For the posher, more formal parties, the order was to start with a sherry then move onto white wine, then red wine and finally a Cognac or a port.
A good selection of wines for a sixties' party might be:
Dry sherry - Tio Pepe
Sweet sherry - Harvey's Bristol Cream
French white wines - Chablis, Poully-Fuissé, Macon, White Graves, Sauternes (sweet wine)
German wines - Moselle, Hock
Rosé - Rosé D'Anjou, Mateus
Red wines - Bordeaux (Clarets - Médoc or St Emilion)
A favourite with the ladies was Babycham, which is still available.
If you want something stronger, Haig Whisky was extremely popular, especially Dimple Haig. For a classic Cognac choose the original Remy Martin, not the XO. It is fantastically smooth.
Decoarations
If you want authenticity for your 1906s' party, you should stick to simple decorations. Few 1960s' households went further than putting up a few balloons. Get packs of different colours and hang them up around the house.
People spent much more time on decorations at Christmas. Check out our guide to having a great retro Christmas.
Another option to give your party that 1960s' feel is to put up a few posters. They were a great way to decorate a student room in the 1960s. You can pick up some great posters for only a few pounds.
If you are more into fun than authenticity, there is a huge range of colourful 1960s style party decorations that will give your house a 60s party vibe.
If you want a hippy theme, look for 'Peace and love' decorations and CND symbols. We found this groovy banner, right. It will make a great backdrop for your party.
Tie-dye was huge at the end of the 1960s for t-shirts. Now you can buy tie-dye inspired party decorations which will add a far out touch to your sixties decor.
You could also consider a Lava Lamp. Alternatively change some of your lamp shades for 1960s style ones. You can get these easily on eBay
What to wear
For a 60s party you could go for a hippy style - long hair, beads, beards and kaftans. Choose paisley patterns and flowing organic designs. Think bright colours and psychedelic or geometric prints. Op art was also popular, as were two-tone black and white combinations. In the mid to late sixties most women wore mini skirts or mini dresses.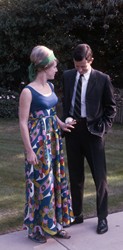 For a more formal theme, long evening dresses were still popular in the sixties, in spite of the rising hemlines. For men, suits had slim fitting trousers and thin lapels. They were combined with slim ties.
For more on what to wear to a sixties party see 60s fashion
Music
There is no doubt that the sixties was the decade for the best music. There is something about music from the sixties that it puts you in a mood for a party straight away. Any party music should include a selection of Beatles' tracks. Then perhaps choose from:
The Rolling Stones
Dusty Springfield
The Who
The Kinks
Cilla Black
Cliff Richard
Elvis Presley
The Seekers
Gerry and the Pacemakers
Herman's Hermits
...and many, many more.
You could finish with some psychedelic classics such as Procol Harum's Whiter Shade of Pale. For more ideas see 60s music.