Sweet and sour pork chops
60s Recipes - Sweet and sour pork chops
Chinese, as well as Indian, restaurants were becoming much more popular in the sixties. Some people were adventurous enough to want to cook these meals at home. This recipe is adapted from an original from the sixties.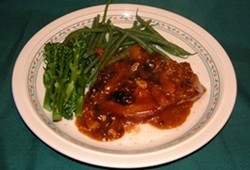 4 pork chops with excess fat removed
1 tablespoon of olive oil
1 clove of garlic - crushed
1½ oz/40g plain flour
¾ pint/450ml chicken stock (made with a chicken stock cube)
1 tablespoon of brown sugar
2 tablespoons of balsamic vinegar
1 dessertspoon of grainy mustard
Dash of Worcester sauce
2oz/50g of dried fruit
Convert:
Pre-heat the oven to gas mark 4, 180C, 350F.
Brown the pork chops in the olive oil. Remove and place them in a casserole dish. Fry the garlic and add the flour, stirring well. Gradually add the chicken stock and stir well. The sauce should slowly thicken. Add the brown sugar, vinegar, grainy mustard and a dash of Worcester sauce. Finally add the dried fruit. Stir well.
Pour over the pork chops, cover the casserole dish with a lid (or foil) and place in the oven to cook for approximately 1 hour and 15 minutes or until the pork is cooked.
Serves 4