60s fashion and style
Topics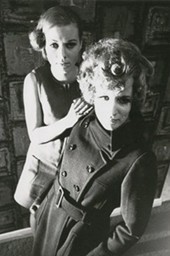 Introduction
Fashion went through a revolution in the 60s. Mary Quant decided that young women needed their own style. She opened her first store, Bazaar, on the King's Road in 1955. Quant popularised the mini skirt and shift dress. Together with Vidal Sassoon's geometric hair style, they were the 'the look' of the mid 60s
The 60s had a new type of store, the boutique. Boutiques were colourful and trendy with pop music filling the air. They were the place to buy the new clothes.
Men's fashion also changed. John Stephen opened his first shop in the environs of Carnaby Street in the late 50s. He catered to the growing Mod movement. Groups such as the Who, the Small Faces and the Kinks popularised the style.
In the second half of the 60s, young people discovered the past. They looked for Victorian and Edwardian military uniforms in 'I Was Lord Kitchener's Valet' in Portobello Road.
Change came at the end of the decade. The hippy style - beads, kaftans and long hair - replaced 'the look'. The style reached its peak in the Summer of 1967, but continued to influence fashion in the 70s.
Young people tried unisex clothes in the late 60s. The older generation complained that it was difficult to tell the sexes apart. The universal legacy of the 60s was the jeans and T-shirt combo, worn by both men and women.
This fast pace of change was only for the young. Teenagers leaving school at fifteen had money to spend on music and clothes. They often married by their early twenties. This period of freedom was short lived.
Television programmes, Ready, Steady Go and Top of the Pops, spread the new style throughout the country. But different regions and different generations moved at different speeds. Some did not adopt the same styles. Working class youths in the late 60s saw nothing for them in the hippy style and went to the opposite extreme. The Skinhead movement derived from the Mod style of the mid sixties. It added ultra short haircuts. Rather than a constant changing look it was a uniform.
Older people also tended to be slower to adopt new styles and there was a marked generation gap in the 60s.
Early 60s fashion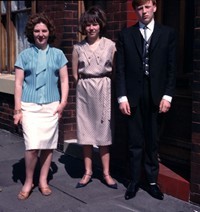 For women's fashion in the first half of the 60s the look of the late 50s remained. It was still about the glamour of American movies. In 1963, the wide skirts of the 50s had all but disappeared, but the style was still formal, adult and glamorous (right). There was no attempt to look that different from the older generation. You can see this style in films such as 'Saturday Night and Sunday Morning' (1960).
The young man in this picture is in Mod gear: a smart suit with narrow lapels and tapered trousers. He has a slim tie and winklepickers.
Fashion was still regional in the 60s. Styles from London took time to reach the whole country. The film 'Kes' (1969) is about Billy, a boy growing up in Barnsley in Yorkshire. His older brother, Jud, still wears this style right down to the winklepickers. In the early 60s, the Teddy Boy style was still in vogue in some towns. In London the Mod movement was starting.

Detail: Winklepickers
Winklepickers were sharp shoes. They had a pointed toe. They were popular mainstream fashion for young men in the early 60s. The pointed toe was also fashionable for young women's shoes.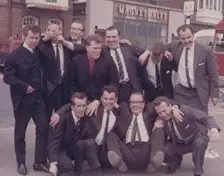 For most men over thirty the smart suit remained the only way to dress for going out. Many went to tailors, such as Burton or John Collier to at least once a year. Burton's suits were good value for money and lasted well.
Mid 60s fashion
The Chanel suit, designed by Coco Chanel in the 1920s, was still popular with many women in the 60s. Jackie Kennedy was a role model for older women in the 60s. She is pictured right with John F Kennedy in the pink Chanel suit she wore on the day of his assassination. Later stained with JFK's blood it became one of the most famous pieces of clothing in history.
The Chanel suit remained a classic fashion item throughout the 60s.
A more casual look crept into fashion for younger women. Calf length boots were popular. This long leather jacket (left) is unusual, but in the spirit of the more fashionable art school types.
The young woman with short hair, pictured right, looks like she might have had a part in 'The Avengers'. Diana Rigg's clothes showed the latest styles to a mainstream audience.
The mini skirt
The mini skirt was the fashion phenomenon of the 60s. Hemlines rose to seven to eight inches above the knee. There is some debate over who invented the mini. Mary Quant's boutique, Bazaar, on the King's Road, Chelsea was one of the first places to sell them in 1965. French fashion designer, André Courréges, also added mini skirts to his fashion collection in 1965.
The mini skirt caught on throughout the country in the years following 1965. Most women took a couple of years to accept the new look. For the mini to work, the old fashioned underwear and stockings of the 50s had to go. Women now wore tights or panty-hose.
Mary Quant opened a second Bazaar in Knightsbridge and Sally Tuffin and Marion Foale opened Tuffin and Foale in Carnaby Street. Tuffin and Foale's clothes, like Quant's, had a huge influence on the style of the decade. Carnaby Street became a centre for men's and women's fashion in 60s.
London was awash with boutiques. A few from the mid 60s were Countdown, Blast Off, Top Gear, Change Down, Glad Rags, Clobber, Quorum, Ad Hoc, Palisades and Barricades.
Most boutiques were expensive. A simple shift dress cost around £10 (read at least £100 in today's money). For those with smaller pockets there were Wallis, Neatawear and Top Shop. Top Shop's range in the 60s included designs by Mary Quant.
If Swinging London was not to your taste, Jaeger made sweaters, suits and coats that lasted forever. Marks and Spencer still meant quality and value. But some of their dresses and suits were a little too classic. M&S was also the best place for underwear.
This shift dress, above left, is typical of the Swinging London style of the mid sixties. The bright colours and geometric patterns epitomise this period. This look lasted into the latter years of the 60s for those not ready to join the hippy revolution.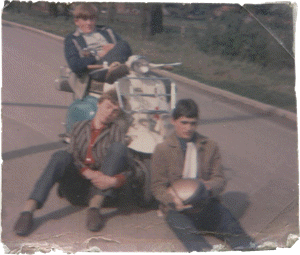 The Mod style
The Mods of the early 60s took the suit to new levels of style. The tapered trousers and thin lapels of the Italian style, became a new youth cult in the early to mid 60s. To this look they added striped blazers, Fred Perry shirts and the Mod scooter, a Lambretta if possible.
Carnaby Street was their fashion centre. John Stephen had several shops there. His male boutiques became the equivalent of Mary Quant's Bazaar.
In the mid 60s, the London Mods congregated in Carnaby Street for a regular fashion parade. Pop music poured from the boutiques and men's shops along the small, narrow street. The Mods brought their girlfriends with them.
Shops on Carnaby Street often came and went. Shops that were on Carnaby Street in the 60s included:
Men's shops/male boutiques:
John Stephen
Lord John
Adam W1
Tre Camp
Carna B Hive
Paul's Male Boutique
Domino Male
Carnaby Street also had a junk shop called Gear. It sold furniture from the Victorian past and reminders of the then fashionable Art Nouveaux era.
Also on Carnaby Street in 1967 were a couple of old fashioned pubs, a health food shop, a toyshop and Button Queen, which sold old buttons.
For more on Mods see Mods and Rockers and 60s Mods
Hippy style
Mod fashions were mainstream youth culture by 1965. In 1966 the scene changed. In January 1966, Nigel Waymouth opened Granny Takes A Trip opened at 488 King's Road, London. It was at the wrong end of the street, known as the World's End.
He ran the shop with his girlfriend, Sheila Cohen, a fan of vintage clothes, and former tailor, John Pearse. They decorated the shop with red Art Nouveaux lettering on a black background. It looked very dark and mysterious. Inside were Aubrey Beardsley prints and blow-ups of French postcards from the naughty nineties (the 1890s that is).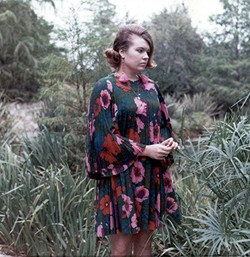 They sold clothes for both men and women.
Granny Takes A Trip marked the end of Mod and the beginning of Hippy style. It sold floral shirts, jackets with wide lapels, velvet and brocade flares and skirts and dresses in velvet and lace.
Granny's became a Mecca for the pop world. The Beatles, the Rolling Stones, the Animals and Pink Floyd were all customers.
Following on from Granny's, Hung On You had a shop front painted by pop artist, Michael English. He choose bold Art Deco inspired lettering in red over bright yellow sun rays on a black background. His timing was perfect for the late 60s Art Deco rival which inspired Biba and films such as 'Bonnie and Clyde'.

Also in 1966, Michael Fish, opened his first shop 'Mr Fish' in Clifford Street. Michael Fish invented the kipper tie. He labelled his clothes 'Peculiar to Mr Fish'.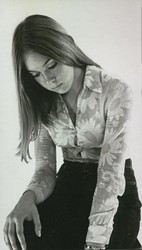 Bridging Mod and Hippy style was this smart, double-breasted style, right. This was the way for a fashionable young man to look hip without being scruffy. Many of the Mod bands in the late 60s took up this style. They often combined it with elements of the Hippy style.
For mainstream youth fashion, everything changed again in the Summer of 1967. The smart look of the Mods gave way to long hair, beads, beards and kaftans. Flower power was in the air. The look was psychedelic swirls and paisley patterns. Full on Flower Power was short lived, but its influence was long lasting.
1969 and after
As the decade ended, hemlines started to drop. The maxi and midi lengths offered women an alternative to the mini.
Working class youths who disliked the hippy style opted for short cropped hair and Dr Marten boots. The Skinhead was born.
60s fashion: Reference and further reading
60s fashion on the web
There is quite lot about 60s fashion on the internet. I would highly recommend www.fashion-era.com. This site has a huge amount of information about fashion from the 60s and other decades. The Wikipedia article about mini skirts, http://en.wikipedia.org/wiki/Miniskirt is also very good.
For hairstyles have a look at www.hairarchives.com. There are number of 60s styles, including the bouffant, the beehive and some very strange looking unisex haircuts.
Your comments
"The 60s were great times for mods I was living in peckham and used to dress in tonic mohair suits camel coats long leather coats. Also hush puppy shoes then raul shoes very italian.
Used to have my hair cut in a college boy cut or french crew cut.
Used to wear brut after shave.
Go to brighton or margate for bank holidays on scooters. Also used to go to hastings all the girls loved you if you were from london and a mod. Used to go to the triangle at the end of peckham high street to meet all the other mods on scooters.
Great times anyone from peckham remember them there"
j holden
"I loved it. I still have my Mr. Fish shirt & my jacket from Harrads Way In. Very switched on." Jeffrey Beuglet
"This has been such a help. We are putting on a show and doing 'Da doo ron ron' by the Crystals. Now I have some idea how we should look. Thanks" Marilyn Mead
"this is really helpfull as im doing a project for enlish and i need 50's 60's 70's 80's and 90's so thanks for the help xxxxxxxxxxxxxxxxxxxxxxxxxxxxxxxxxxxxxxxxxxxxxxxxxxxxxxxxxxxx" alicexx
"thanxs so much this really helped me on my homework about the 50's and 60's XxXxxXxXxXxXxXxX" Nadia Boatswain
"I Really Think Dat Da 60z Itz All Wired" justina Smith
"doing a progect for school this really helps" charlotte lock
"Randi T! it can't be the same mr. becker...?" sarah e
"i wish i was there in the 60s y dont we bring the fashion back...i know i wud be the 1st to actually want to wear it.XD" sami
"i'm doing a project at school so it's great. thanks for the website." millie
"this website was the best becaue me and my friends needed it for a DT project and it had all the best info. x" lizzy
"love your website" lucie
"I am also doing a project for school BUT I am not a loud to copy and paste anything so i dont know what to do that much cos if i put anything it will be basically like copying so i dont htink this helps me much and i want to know about what they actually wore more not about the history and stuff :( i dont like it i'm afraid :(:(:(:(:(:(:" Mollie
"you should have more pictures" claire
Check out 60s fashion pictures
"I WAS DOIN A SKL PROJECT AND THIS WESITE HELPED ME OUT SOOOOOO MUCH SO THANKS :)" Aisha
"i think that all the 60's fashion was really stupid and if i were in the 60's i would be so inbarised because their hairstyles looked so stupid and ugly so whatever u weirdo's bye" sam
"the fashions in the 60's is really groovy! i just wish this generation could wear stuff like those mini skirts to school without getting in trouble! peace love happiness... " stephanee
"This gave me alot of info!! Thankss (y) In Drama right now... :D" Kirstaayy
"These fashions were very interesting. But some of them are really cute. They are not like what we wear now." Megan Dale
"it doesnt give enough detail or deffinition thats what im looking for :L but it is god really helpful :)" clodaaagh
Comments
Fashion was fabulous then - and most young people were slim. It made it possible to look good in minis, tight pants etc. Then the big food manufacturers brought out their mass market junk and such a majority of young people are so overweight today. I grew up in the sixties, I did a bit of modelling, and I'm the same weight today 52kilos. Plus still got my shoulder length hair! The 60s were the most exciting time to grow up. I even went to a Beatles concert - 12 seats from the front!
I now live in Australia but I was born in 1950 and lived through the sixties as a teenager in the Montpelier area of Bristol. Thanks to sites like this I can look back and realise what a wonderful time it was - for me everything was a first: First secondary school, first shave, first drink (Rum and black), first transport (Lambretta - what else?), first dance club (Locarno - what else?), first girlfriend, first love, first heartbreak, first job, etc - plus music and fashion changing around you. During the decade I went from Lonnie Donegan and Joe Brown and the Bruvvers to Cliff Richard, to The Beatles, to John Mayalls Bluesbreakers (with Eric Clapton), to The Incredible String Band (my hippie stage - the Hedgehog Song still haunts me!), to The Four Tops and The Temptations and everything Motown, to Prince Buster and Desmond Dekker and everything reggae. What an absolute blast - 10 years of total sensory and emotional overload!