60s Recipes - Mandarin Cream Pie
This was based on a recipe my Mum used to make for a Sunday teatime treat back in the early 1970s. Evaporated milk was a favourite cream substitute in the sixties and early seventies. The taste will bring back memories for many.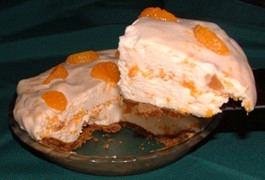 6oz/150g ginger nut biscuits
3oz/75g butter or margarine
½ pack of orange jelly cubes or 1 sachet of Hartleys orange jelly crystals
11oz/300g can of mandarin oranges
5½floz/150ml of evaporated milk
Convert:
Crush the biscuits, either between two sheets of greaseproof paper or in a liquidiser. Melt the butter or margarine in a saucepan and add the biscuit crumbs. Press the crumbs into the base and sides of an 8 inch /20cm loose bottom sandwich tin or Pyrex pie dish.
Dissolve the jelly cubes or crystals in a little boiling water and make up to ¼ pint/150ml with the juice from the tin of the mandarin oranges. Leave to cool. In the meantime, chop up half the mandarin oranges. Whisk the evaporated milk until it is thick and creamy. Whisk in the cooled jelly and continue whisking until it is almost set. Add the chopped fruit. Fold gently on top of the biscuit case and decorate with the remaining fruit.
Serves 6
You can vary this recipe by using other biscuits like digestives or Hob Nobs and different fruit and jelly flavours.