Berni Inns in the 1980s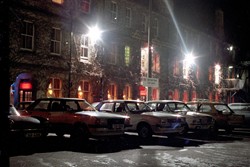 The Berni Inn chain was struggling as the 1970s ended. By 1983 sales had dropped 30% from their 1979 level. Owners Grand Metropolitan (famous for Watneys Red Barrel) decided it was time for a change and the Berni chain got a facelift.[1]
The Berni chain's refurbishment got into the news for all the wrong reasons in 1984. The Royal Hotel at Long Eaton refused to re-engage waitresses who could not fit into a size 14 uniforms. The catering workers' union got involved, regular customers threatened a boycott, so Berni dropped the size 14 rule. [2]
As well as new uniforms for waiting staff, Berni changed the decor. The plush red style, inspired by a 1950s American steak house, was out and a fresh green palette was in. There was a more extensive menu with more choice.
The best day of the year for Berni was Mothering Sunday. Joyce MacDonald, writing for The Times, reviewed the Coach & Horses, 19 Chiswick High Road, London. She concluded that Berni Inns were a safe place to take your mother.[3]
Berni menu - 1984
These are some highlights from Berni's 1984 menu.
Drinks
There was no mention of the range of different sherry choices as on the 1973 menu. The wine list was surprisingly more limited. However, a new addition, Muscadet, reflected a new taste for dry white wines.
Starters
The new Berni menu featured starters for the first time. Although they still considered fruit juice an acceptable starter.
Fruit juice - 33p
Soup - 55p
Farmer's choice - a chunky vegetable and tomato soup in an earthenware bowl with crutons and cheese - 85p
Paté - £1.75
Seafood Creole - smoked salmon and prawns with tortilla corn chips - £1.75
Taramasalata - 95p
Prawn cocktail - £1.15
There is a mixture of classics that would not have been out of place in the 1970s. But Berni was also catering to more adventurous tastes with Taramasalata. Perhaps some customers wanted to relive memories of holidays in Greece.
Mains
10oz rump steak - £6.25
8oz sirloin steak - £4.80
8oz fillet steak - £7.20
12oz T-bone steak - £6.10
Mixed grill - £5.85
Chicken Cordon Bleu - chicken in breadcrumbs stuffed with Gruyère cheese and ham - £4.20
Half a roasted chicken - £3.90
Half a roasted duck - £4.99
Fillet of plaice in batter - £2.99
Whole Dover sole - £6.80
Scampi - £4.90
Mushrooms - a side serving for 50p
All of the mains included chips or jacket potato, and peas or beans.
Berni in 1983 was still a meat fest. There was no vegarian option. Most of these dishes are Berni favourites, the rump steak, plaice and half roast chicken were on their menu in 1970. There is nothing particularly new in the menu, just more choice.
Desserts
Desserts were an after thought on older Berni menus. The basic price included cheese and biscuits or ice cream. In 1984 there is a reasonable choice.
Lemon and sultana cheesecake - 75p
Old English apple pie - 75p
Sorbet sensation - raspberry and blackcurrent sorbet - 90p
Ice cream sundae - vanilla and strawberry ice cream with straberry sauce - 90p
Meringue fountain - meringue topped with ice cream and blackberries - 90p
Ice cream - 50p
Cheese and biscuits - 50p
Berni also offered their classic range of liquer coffees and a glass of port to finish.
Beyond Berni
Grand Metropolitan expanded their restaurant chain beyond Berni In the early 1980s they introduced three new restaurant brands:
Burgundy Room - a restaurant for a romantic night out
Eleven 11 - a cocktail bar style restaurant
Pastifico - an Italian style chain specialising in pasta
Read more:
References
[1] 'Berni Inn for £60m facelift' by Vivien Goldsmith - published in The Times 9 December 1983
[2] 'Waitresses win fight over weight' - published in The Times 4 October 1984
[3] '...and mothers to be spoilt' by Joyce MacDonald - published in The Times 12 March 1983.