Golden Egg restaurants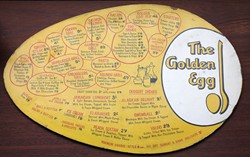 This giant egg-shaped menu is from a Golden Egg restaurant from the mid-1960s. Mains varied from egg and chips at 3/6 to sirloin steak with chips and grilled tomato or baked beans for 8/9.
Was there anything without chips? Yes, you could get macaroni au gratin or ravioli au gratin, both at 4/3. There were also omelettes: ham, cheese plain and scrambled eggs on toast.
The desserts featured a 'Jamaican Longboat'. It was a banana split filled with ice cream and topped with fruit and whipped cream for 3 shillings.
Samuel Kaye started the Golden Egg chain in 1958 at the age of 62. He opened his first restaurant in Duke Street in London's West End with his two sons Philip and Reginald.
The first restaurant cost £7500 to furnish. A significant sum in those days. Others quickly followed. By 1965 there were thirty-six and Philip Kaye was the chairman. The Golden Egg chain bought Angus Steak Houses in 1965.
In that year Golden Egg opened new cafés in Oxford Street, Park Lane, Fleet Street, Earls Court Road and Southend. A branch opened in Edinburgh in 1970.
The Golden Egg restaurants were about a fun eating experience. The restaurants were extravagantly furnished with different themes.
One of the ealier ones in Swiss Cottage was finished in a fantasy movie theme, perhaps inspired by some of the Hollywood Roman epics of the 1950s. Later Golden Eggs were more modern in design. The designers still tried to create a fun environment. Light was a feature of the look. At Leicester Square there was a giant stained glass window inside the restaurant. At Victoria there was a wall of red and orange rectangles arranged like bricks. It was all illuminated.
Golden Egg restaurants had a broad appeal. They were popular with Mod office workers on their lunch break. But they also attracted middle- aged businessmen.
What happened to Golden Egg?
In 1970 Golden Egg sold the franchise for its restaurants to J Lyons, which also owned Wimpy.
The chain was still going in 1976 when Lyons sold it to United Biscuits.
What happened after that is not clear. I can remember there being one in Boscombe in the 1990s.
The Golden Egg in Gloucester was pulled down in 2014 - see Demolition of Gloucester's eyesore Golden Egg begins apparently it was one of Gloucester's ugliest buildings - shame.
Read more:
Add your comments
Comments
I worked as a waiter (my first job ever) in my holidays in Leicester Square in 1973 when I was doing A levels. Then when they opened a branch in Victoria, some of us were moved there. Great time, always busy, we were paid 35p/hour for 8 hours, Sundays was time and a half, on a good day tips were about 1 pound 50p (I exchanged the pennies for larger denominations with the bus conductor at the end of the day), lunch on the house (but no steaks and other expensive items).