Berni Inn Menu 1973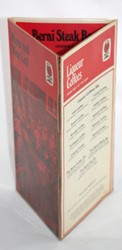 I came across this 1973 menu from the Berni Steak Bar in Liverpool. The restaurant was a modernist building near the Liver Building. It opened in 1967.
Inside the menu is a picture of a smartly dressed family who have got out of a Truimph Herald car. The car would have been at least two years' old in 1973. Bernie was targeting Mr and Mrs average with two children and a modest car.
The menu choices are basic.
There are no starters, but a choice of Fino or cream sherry as an aperitif. Soft drinks are also limited: chilled fruit juice or tomato juice.
There is a choice of three mains: rump steak for £1.04, gammon and egg for 90p or plaice and chips for 75p. All are served with chips.
Desserts are ice cream or cheese and biscuits and are included in the price. In today's money these prices are £8.95, £7.75 and £6.50. So very good value for money.
There was wine with the meal and liqueur coffees to follow. You may have preferred not to drive as the breathalyzer came in 1967.
The wines give a good idea of popular taste:
Reds
Spanish - full red - £1.04
Bordeaux - Medoc - £1.26
Beaujolais - £1.37
Chateauneuf de Pape - £1.43
Chianti (large flask) - £1.76
There are some classics here. The Chianti would have come in flask half covered in wicker.
Rosé
Anjou Rosé (Loire) - £1.21
Mateus Rosé - £1.54
White
Spanish - sweet white - £1.04
Yugoslav Riesling - £1.20
Sauternes - £1.49 [a dessert wine today]
Liebfraumilch- £1.43
Champagne (non-vintage) - £2.95
There was a taste for sweet whites. Not a dry one amongst the whites apart from the Champagne and that might have been sweet. The Champagne wasn't expesnive either. It works out at £25 in today's money. Try finding one at that price today in a restaurant.
The liqueur coffees were a 70s classic. They were made with sugar and served in a large wine glass with the cream floating on the top.
Liqueurs coffees cost 30p and there was a choice of:
Irish - with Irish whiskey
French - with brandy
Scotch - with scotch
Italian - with strega
Russian - with vodka
Caribbean - with rum
Aquavit -with aquavit (*)
Mexican - with Kahlua (**)
Calypso - with Tia Maria
Special - with Cointreau
(*) I'd never heard of this one. It's a distilled spirit from Norway. The word means 'water of life', the same meaning as whisky.
(**) Kahlua is a Mexican coffee flavoured liqueur made with rum
The Berni Inn chain started in 1955 when Aldo and Frank Berni opend the first Berni Steakhouse, Rummers in Bristol.
The brothers weren't new to the catering trade. They opened their first restaurant, Hort's in Bristol in 1943.
The Berni concept was based on the American steakhouse. It offered limited, but value for money menus and plush red decor. The idea took off. Berni Inns became a public company in 1962.
In 1970 the brothers sold out to Grand Metropolitan, owners of Watneys. This menu is from that era.
The chain prospered in the 1970s, but ran out of steam in the 1980s. Berni's became Beefeaters when Grand Met, sold the chain to Whitbread in 1995.
Read more: Berni inns in the 1980s
Berni Inns around the country
This is a complete list of Berni Inns from 1973
Bath
Bedford
Birmingham
The Plough, Solihull
Wagon & Horses, Sheldon
White Swan, Edmund Street
The Exchange, New Street Shopping Centre
Bolton
Boston
Bracknall
Bradford
Braintree
Brighton
Bristol
Berni Tavern
Hawthorne Hotel
Hole in the Wall
Hort's Restaurant - the Berni brothers' first restaurant
Llandoger Trow
Marco's Tavern
Marco's Trattoria
The Posada
The Rummer - the first Berni Steakhouse
Bromley
Burton-on-Trent
Cambridge
Berni Steak Bar
Turk's Head
Canterbury
Cardiff
Borough Arms
The Criterion
Newmarket Tavern
Cheltenham
Montpellier Grill
The Star
Chester
Chesterfield
Chingford
Coventry
Darlington
Derby
Doncaster
Dublin
Epsom
Exeter
Hole in the Wall
White Lion
Eynsham, Oxfordshire
Gatwick
Berni Steak Bar
Gatwick Alanor
Gatwick Manor Motel
Glasgow
Gloucester
Gravesend
Grimsby
Guildford
Halifax
Harrow Weald
Henley-on-Thames
Hereford
Hull
New York Hotel
White House Hotel
Ipswich
Iver
Kidderminster
King's Lynn
Kingston upon Thames
Leeds
The Albion
Athenaeum Tavern
Jacomelli's
Leicester
Berni Steak Bar
Fish and Quart
Wolsey Tavern
Leamington Spa
Lincoln
Liverpool
The Albany
Berni Steak Bar
Mersey Tavern
River Inn

London

Berni Steak Bar, 185 Oxford Street, W1
Berni Steak Bar, Upper Richmond Road, Putney
Berni Steak Bar, Wimbledon, SW19
The Feathers, Ealing Broadway
The Oxford, 79 Oxford Street, Wl
Long Eaton
Loughborough
Luton
Maidenhead
Manchester
Cafe Royal
Hole in the Wall
The Kingsway
Mansfield
Meriden
Neath
New Brighton
Newcastle-under-Lyme
Newport, Monmouthshire
Royal Albert
Tredegar Arms
Northampton
Norwich
Berni Steak Bar
Norfolk Tavern
Nottingham
Black Boy Inn
The Britannia
The Chateau
The Grosvenor
Old Cricket Players
Sawyer's Arms
The New Welbeck
Oldham
Oxford
Plymouth
Port Talbot
Rochdale
St. Albans
Salisbury
County Hotel
Milford Arms
Scarborough
Shefield
Berni Steak Bar
The Norton
Old No 12
Shrewsbury
Southampton
Southport
Fox & Goose
Thorps Tavern
Stockton-on-Tees
Stroud
Sutton
Swansea
The Bush
Grand Hotel
Three Lamps
Swindon
Tamworth
Taunton
Market House
Tudor Tavern
Trowbridge
Wigan
Windsor
Wokingham
Wolverhampton
Worcester
Yeovil
York
Source: 'Come again value!' an advert for Berni Inn published in the Daily Mirror, 14 August 1973
Read more:
Add your comments

"Love this. Such nostalgia.Used to take the two children as a treat.The Kingsway Manchester.Best tasting steak I have had." Joan Buckley. 29/03/2020
"I was one of the 12 Training Management teams that was sent to the Catherine Wheel at Henley on Thames - We lived there for six months - Each month we learnt a department trade. We then were sent out as Assistant Managers to a branch - I went to Leefe Robinson at Stanmore and then to the Tudor Tavern at St Albans." Hedy Quirk 18/05/2020
"I joined Berni Inns in August 1970 at the Berni Steak Bar Rose Crescent Cambridge. I went on to work at the Tudor Tavern Canterbury, The Globe at Kings Lynn, The Leif Robinson Harrow Weald, The Bull and Crown Chingford,The Turks Head Cambridge, The White Hart Boston, The Silver Tavern Bedford. A brilliant firm to work for they taught me a lot about stock control and liquor management. Shame they have passed into history !!!" Alan Spencer 10/08/2020
"I think the Hutt is missing from the Nottingham list." Michael John Sheriston 18/10/2020
"Hi Michael,
It looks like Berni listed the Hutt as being in Mansfield (see above). It is half way between Nottingham and Mansfield. Located at Ravenshead. Is this the one you mean?" Steven 19/10/2020
"Thank you for including this interesting piece of history, I seem to recollect they included hotels at a later date. B&b for £15!" Geoff Welburn 17/12/2020
"I joined berni's as a porter at the new Inn,Gloucester, and was upgraded to commi chef not long after, and at 15 had the time of my life. Under Irishman John we served up 400 covers regularly on a Saturday night." Mark 18/12/2020
"My first Berni was the New Inn assistant manager live in. Lady Jane Grey queen of England for nine days was at the New Inn when she heard the news that she had become the queen. Six months later moved to Sheldon Birmingham the Wagon and horses. Three months their then to the Montpellier Grill Cheltenham for about a year.Hard work but rewarding in many ways. Whilst at the New Inn one Saturday night the chef didn't turn up yours truly did the honours 200+ a record I never broke. Gold cup day a Thursday it snowed and the racing was cancelled. The manager told me not to smile when helping out with the breakfasts as the punters were not happy. Good days and always loved changing the sherry casks !!" Gaz Dronfield 24/02/2021
"Thank you for a great comment. They year the Gold Cup was postponed must have been 1978. Best regards" Steven 24/02/2021
"I trained at The Bull's Head Meriden, after leaving North Staffs Poly. in 1972. There were 6 Trainee Managers:2 of them called 'Bob' plus Tony, Paul (Mr Berry) and Steve. Ironic that I ended my working life teaching squaddies how to run pubs." Alan Herron 23/03/2021
"I joined Berni in 1974. Trainee Management at The Globe Hotel Kings Lynn. Transferred to The Peel Arms Tamworth then Irongates Tavern Derby under Nello Giretto. Fantastic times" Bob Chambers 07/04/2021
"Ah, the nostalgia of those heady days when we tasted our first joghurt and people asked for your spaghetti bolognese recipe having eaten it for the first time in their lives. Garlic was still a rarity and you bought your olive oil from the chemist's! Ha! Ha! Seriously, I landed here looking for Toby Inns. Does anyone remember them? Cheers." Janet Kaiser 09/07/2021