Kenwood Chef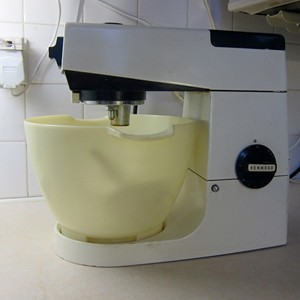 The Kenwood Chef is a classic piece of kitchen equipment that generations of cooks have used. It is a supremely competent mixer, but it is even much more than that. Its strength and enduring appeal come from its bullet proof ruggedness and its incredible versatility. The variety of attachments can do anything from making sausages to mixing cocktails.
The original Kenwood Chef was an industrial looking mixer. This design was reasonably successful in the fifties. However, a new product was needed for the 1960s. Ken Wood, the Managing Director of Kenwood, asked another Ken, Kenneth Grange, to restyle the Kenwood Chef.
Kenneth Grange took the basic mechanicals of the Kenwood Chef and gave it a sleek, new skin for the 1960s. Gone were the rounded curves of the fifties' design, and in their place was a modern, squared off look that gave the Kenwood Chef a high-tech desirability. The classic Kenwood Chef has stayed true to this original concept.
Initially the new design did not go smoothly. Late delivery of a new machine needed to manufacture the restyled Kenwood Chef resulted in a profits warning for Kenwood in 1960. However, sales picked up quickly once the new Kenwood Chef was in the shops.
The Kenwood Chef's styling set it apart from other domestic appliances. It was an aspirational object for 60s housewives. It was one of those rare objects that captured the mood of the times. In spite of the liberation of women, in the 60s cooking was still trendy. Top TV chef of the time, Fanny Craddock, emphasised the glamour of dinner parties and cooking at home. The Kenwood Chef gained the status of a luxury piece of kitchen equipment. The advertisements claimed: 'Is there anything the Kenwood Chef can't do?'.
The Kenwood Chef mixer introduced a revolutionary action. Its beaters moved in an elliptical orbit whilst rotating at the same time, as the planets go around the sun. The marketing men loved the high tech sounding 'planetary action'. The Kenwood Chef came with several mixing attachments, the K-beater, with the company's famous 'K' logo, a whisk and a dough hook for making bread.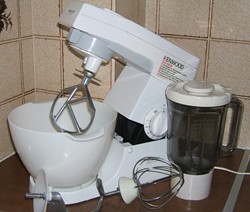 The Kenwood Chef was capable of doing many tasks in the kitchen, including liquidising, peeling, mincing, slicing, shelling and extracting juice. Extra attachments could be purchased for these many tasks.
The original Kenwood Chef was not cheap. It cost 30 guineas in 1966 (around £400 in today's money). You could also get the original Kenwood Chef by saving Green Shield Stamps. The Green Shield Stamp Catalogue gave the Kenwood Chef the ultimate accolade, when they added it to their exclusive group of products called 'the finest in the land'.
Kenwood Chef Classic
The Kenwood Chef was such a ground breaking design in the sixties that it has not been bettered by anything more modern.
Nothing makes a sponge cake like a Kenwood. You can walk away and leave it to take care of the cake mixture whilst you get on with something else. The Kenwood makes light of Christmas, wedding and birthday cakes. It also makes fantastically light meringues.
The liquidiser can make great breadcrumbs, purees, soups and mayonnaise. The attachments are easy to fit and simple to use. The Kenwood is easy to clean and maintain.
The new Kenwood Chef Classic is a lightly restyled version of the original sixties version.
This Kenwood Chef Classic, right, from Amazon, includes the K beater, balloon whisk and dough hook, just like the original from the sixties. It also includes the liquidiser, which would have been bought separately with the original Kenwood Chef.
Kenwood Chef attachments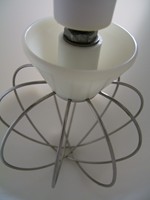 Kenwood Chef balloon whisk
The Kenwood Chef balloon whisk is used for whisking egg whites for meringues, omelettes, whipping cream and mousses and fatless sponge mixtures, like Swiss rolls. Its balloon shape allows the user to maximise the air incorporated into the mixture, thus making the texture light.
Kenwood Chef balloon whisk for A701/A901 on eBay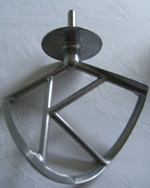 Kenwood Chef K beater
The Kenwood Chef K beater has the Company's distinct 'K' logo. It is used for mixing cakes and pastry. It is particularly good for rubbing the fat into the flour when making shortcrust pastry.
The K beater is also handy for mixing rich fruit cakes, like wedding cakes and Christmas cakes, as it takes the arm work out of stirring the heavy mixture.
Kenwood Chef K beater for A701/A901 on eBay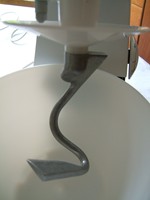 Kenwood Chef dough hook
The dough hook is used for kneading dough for bread, pizza bases and pasta. It is a lot easier to use the dough hook than to knead the dough by hand and cuts the time taken on the task in half.
Kenwood Chef dough hook for A701/A901 on eBay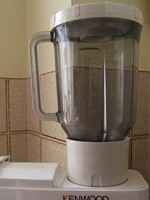 Kenwood Chef liquidiser
The liquidiser has a variety of uses including pureeing vegetables and fruit for soups and smoothies. It can also be used make bread crumbs and chop nuts.
Kenwood Chef liquidiser on eBay
Other attachments for the Kenwood Chef
The Kenwood Chef can support a remarkable array of attachments. The following have been available, or are still available today:
High speed slicer and shredder
Slow speed slicer and shredder
Mincer
Pasta maker
Coffee grinder
Can opener
Multi mill
Juice centrifuge
Sausage adapter for use with the mincer
Kebbe maker - for making the Middle Eastern dish, Kebbe
Grain mill
Bean and peel slicer
Cream maker
Citrus press
Colander and sieve
Kenlyte bowl (the standard Kenwood Chef bowl)
'D' shaped bowl
Stainless steel bowl
Kenwood Chef attachments on eBay
Kenwood Chefette
The Kenwood Chefette was a smaller hand-held mixer. Kenwood launched the Chefette in 1959.
The original design was called the A320. It was a cylindrical mixer with a detachable stand. There was also a liquidiser attachment.
Colours were grey and white or turquoise and white.
This was a more affordable way to get some of the Kenwood Chef magic into your kitchen. The Kenwood Chefette cost £11 16s in 1966, but a stand and bowl were £3 19s extra (still £150 for the Chefette without the bowl in today's money - compare this with the prices of today's hand held mixers). The Chefette had some of the features of the Kenwood Chef, such as several speeds of operation. The Chefette did not have the build quality of the Chef though and it did not last as well either.
Kenneth Grange redesigned the Chefette in 1967 to bring it more in line with the Chef. The new model, the A340, has a much smoother integrated feel to it. The colour scheme of navy and white matched the Chef A701.
Boots also produced their own version of the Kenwood Chefette in the 1970s. From 1975 the Kenwood Chefette gained an orange and white colour scheme.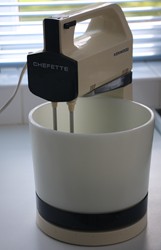 Kenwood Chefette models
A320 - from 1959, the original one, cylindrical, grey/white or turquoise/white
A340 - 1967, family resemblance to the Chef - navy/white
A350 - revised model, similar to A340 - navy/white
A355/A360 - new model from 1975 - orange/white
A375 - later model in various colours - black/navy/white, burgundy/white, grey/white
A380 - from 1979 - black/blue/white - smoke effect bowl
Chefette 2000 - restyled model by Kenneth Grange - curved handle
Vintage Kenwood Chefettes on eBay
Kenwood Mini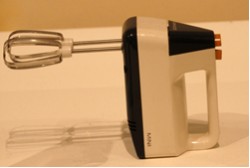 Kenwood launched a smaller hand-held mixer in 1970, the Kenwood Mini. The Kenwood Mini cost £6 17s 6d. It was also designed by Kenneth Grange.
The Mini also had three speeds. It originally came with a wall bracket, but no stand. By 1971 you could get it with stand and bowl from Timothy Whites for £9.95.
By 1975 there was also a slicer/shredder attachment.
Kenwood Chef spares
You can get spares for the Kenwood Chef on eBay, whether you have a classic A701 or an A901 from the sixties or seventies or a more updated model.
David and Lana Hallas have emailed us to say:
We often look at the posts dealing with Kenwood Chef's. 99.9% of the people who post are asking about help with parts that they cannot find or repairs they need. We are the largest supplier on eBay of Kenwood used and re-manufactured parts and new motor repair kits.
Visit David and Lana's eBay store:
Your comments on the Kenwood Chef
"I've just been reading your website (which is great by the way - really interesting) and I wonder if you can help. I've just purchased an orange retro Kenwood Chef (A701 model) and have no instruction booklet. There is a note with it saying that the gearbox on top needs oil added, however, when examining it , it looks as if grease has been added instead of oil. Would you happen to know whether we add oil or grease?" Helen
Hi Helen. We do not have a manual for the Kenwood Chef A701. However, there is a manual for a Kenwood Chef A701 available for download see instructions-A701.pdf. There is also some discussion on Martin Lewis' Money Saving Expert Forum see moneysavingexpert.com, about instructions for the Kenwood Chef. I hope this is of some help to you. Retrowow
"I have an orange Kenwood Chef which, to my great sadness, became very ill yesterday and I am looking for a specialist to repair him - and I do still have his booklet and it says 'the gearbox of your Chef us permanently packed with grease and no additional lubrication is necessary during its normal life'. Does anyone know of a good repair man in the south east? " Taff
"I have an oldie Kenwood Chef A700. I am looking for a Mixing Bowl, but I see only a Mixing Bowl for the A701. Is the Mixing Bowl for the A701 compatible and identical with the Mixing Bowl of the A700. Thank you for your answer." Jan
"I have an original 1950's Kenwood chef - in working order, with attachments. Anyone interested in buying this?" Cynthia Harris email: cynthiaharris2005 @yahoo.co.uk [remove the space]
"I have Kenwood Chef KM200, but I have lost my instruction manual book. pls send me if u can. thanks" Amjad
Hi Amjad. There is a manual for the Kenwood Chef KM200, KM400, KM600, KM800 on this site.
See instructions-km200-km2800.pdf
Retrowow
"I have just inherited a Kenwood Chefette Model No. A340, but do not have a Manual. Are you able to advise me how to secure one?" Bill Wood
I've had a quick look on the internet for a manual for a Kenwood Chefette A340, but I can't see one.
"I have just been given one of these and found a manual here to download...FREE ... bonus km400.html" Wing
"I have a Kenwood Chef KM 200 and wish to purchase a steel mixing bowl for same. Please advise which bowl is suitable, its cost and source of supply." billybo
"I have one orange Kenwood Chef A901D-main control knob is not working (goes round and round). I have the info.that new knob is not avalable anymore -but can you fix the faulty one?..or do you have a any solution for me ? rgds.Gunnar" Gunnar Bodvarsson
"I have a Kenwood Chefette A340 inherited from my mother and still working fine. However, The fitting at the base which connects the blades of the mixer to the main motor housing always wears and eventually becomes unusable. Over the years I have managed to acquire spares from a local shop, which is not there any more. I'm not sure if these fittings are made now, or is there a modern equivalent which would fit my machine?" Jackie White
"hi, just bought a 2nd hand kenwood chef titanium km001.but was not given the manual.Could u help me??" kay
"help!!!!! I am looking for a Blade Hub Assy and base for kenwood chef liquidiser model a701a 1960 serial no. a538845 it is a fantastic bit of kit and is worth its weight in gold so far i have been met with glazed looks when asking for this part" baynes
"Hi, could anyone tell me the difference between the 901a and 901e kenwood mixers. Thank you. Jackie." jackie smith
"Hi there, Repair kits for the A701, A901 ans A901E can now be found on Ebay. These allow you to fix faults with the motor speed controller an problems like a smoking mixer. Kevin" Kevin Meneely
"I have an old Kenwood cheffete the 1966 model 340 it is still in it's original box and still works fine exept the plastic drive on the liquidiser has crumbled up and perished. I cannot seem to find one anywhere and I like to keep this machine,is it possible that you might have one of these parts still in your spare parts list. I appreciate it if you can help me.I also have the larger version kenwood with all attachments but the small is more handy for smaller jobs around the kithen. Regards and thank you." Joseph Debono
"I have just inherited out of my mother in laws loft a new boxed large blue and white original Kenwood Chef boxed a Goblin teasmade never used and a a Bush Bakelite radio that works any idea what i should ask for them at all grateful of your advice thanks" Sally Elmes
"I live in British Columbia. I have an old Kenwood Chef Mixer, and I need a new SPLASH COVER LID. Do you have any distributors in B.C. or in Canada? I am looking forward to a resply from you." Dwyla Beglaw
"I have had my Kenwood Chefette since it was introduced in the 1960s. I also had the larger Kenwood with all attachments but gave it away six months ago as it was too big for everyday use and had spent the last 45 years in a cupboard. Just this morning the Chefette gave up the ghost whilst making American frosting - it still works but light duties only. How is that for value!! My husband thinks its only the brushes and he can fix it - I do hope so as this little Chefette has churned out thousands of cakes over the years." Deirdre
"j'ai le kenwood A 927 cream maker et je ne sais pas comment l'utiliser pour faire de la crme il n'y a aucune indicxation sur les ingrdients merci de me rpondre" linda
Translation: I have the Kenwood A927 cream maker and I do not know how to use it to make cream. There is no indication of the ingredients - thank you for your response.
"Do you have available a mincer model A720 for a Kenwood Chef Model A701A, or could you advise where I might obtain one. Thank you." Carolyn Pemberton
"HI, I HAVE JUST PURCHASED A KENWOOD CHEF 901E AND WOULD LIKE TO KNOW WHICH ATTACHMENTS WILL SUIT. I WOULD LIKE TO PURCHASE A LIQUIDISER, MINCER AND SLICER, AND WOULD BE GRATEFUL FOR ANY INFORMATION AS TO WHICH MODELS WOULD BE SUITABLE. THANK YOU ELIZABRTH" Elizabeth Downs
"I am searching for a manual and info as to what accessories (blender, mincer etc) will be compatible with my 901E food processor, and would be grateful for any assistance. Thanks" diseymoon
"hi-i am a proud owner of a kenwood chef mod.A700.D inherited with many memories of my mum using it, making butter once- turning away for a bit at a critical moment just when the whey seperated and splatterd all round the kitchen!we had to laugh. that was in early 60's-now i'm 61 and its still going,the only thing is the bowl has got broken,can i replace it with a modern stainless steel type? yours cliff." cliff franklin
"My father bought me a Kenwood Chefette in 1968 because I was a keen cook. It is still working but has developed a squeal as the speed is increased. If I go down the speeds again it usually stops but I fear that one day it will stop working. I would really like to get it fixed if at all possible especially considering the sentimental reasons. Any ideas? I think the model number looks as though it is an A340. Many thanks in anticipation." Anne Redfern
"Attention Sally Elmes. Have just been browsing. Saw your mention of an unused blue and white kenwood mixer. Is it available ? Is it a chef from the 50s ? Would love to buy. Hope this is not too late. Do not know when you posted your comment. Thanks David" David Rice
"Hi, I need a bowl for my Kenwood Chefette A375 please, any ideas? This model has the plastic bowl with a cog like structure on the base, so that it can turn automatically when the which is on. I've tried Kenwood Spares and ebay but the part is discontinued. Thanks Cheryl B" Cheryl Butler
"I am trying to find a sausage filler for my mincer A720" Debbie
"Jeg har mistet min manual, hber i kan hjlpe mig, p forhnd tak !" INGE GLSTORFF
According google translation from Danish: I lost my manual, hope you can help me thank you in advance!
Hi Inge, You can download a manual in English from www.britishexplorers.com Retrowow
"I just acquired a Kenwoood Chef KM200 but there is no manual. Can anyone advise me where I can get one? The link further up this page does not work." Anne
Try www.kenwoodworld.com Retrowow
"I've acquired a KM200 without any accessories. Which current series of accessories are compatible with the KM200? Thanks Eileen" Eileen Ryan
"We bought our KENWOOD CHEF 9th Jan 1982. Model A901. We think the motor may be faulty, it has started smelling of burning when in use. Is there somewhere near Leeds area where I can get it serviced or repaired? Do you think it is the motor or probably the brushes that are faulty? We are reluctant to dispose of it and would miss it if it was unrepairable. SUE DUCKWORTH 25th November 2009" SUE DUCKWORTH
"Hi Everyone! I am currently selling repair kits for the speed controller in the A901 and A901E Chefs, on Ebay. These fix the 'smell of burning' and 'smoking' problems. " Kevin Meneely
"It has been a very sad day, my Dear old kenwood has just died, went to use it and it was dead, shock this machine slaved away at making cakes and much more for my family. My kenwood is an A9O1P modle is there any where that i can get it tested and brought back to life after this terriable malfuntion. also would there be any spare parts avalible for this maching, it was a wedding presant to us from one of my brothers in 1981" Diane Moysey
"I have used a Kenwood Chef since my marriage in 1969. I have recently acquired a slow speed shreader and slicer A728. I have managed to locate the connection hole at the front of the Chef but cannot manage to get the thing to rotate. I need an instruction leaflet to go with this attachment. I have tried the links in this article to no avail. Help please, Love the Chef" Sandra
"The Kenwood Chef is a very good machine BUT unfortuately ours went wrong just outside the warranty period and need new parts in the gearbox/drive mechanism on the top.
We got in touch with a company named Battle Electronics in Westham, East Sussex and they had the mixer for some 3 months and failed to fix it and the owner was abusive when I called to collect the unrepaired machine." Robin Winter
"Hi, I have Kenwood Chef A901. My mincer attachment needs replacing and I was wondering if the new attachments currently on the market would fit my chef and what would be the number of the mincer which would fit my Kenwood Chef. I live in Spain so I would like to buy one I can get locally." Kamila
Hi Kamila, Sorry I don't know for sure. I'd guess the modern attachment would not fit the A901. I have a manual for a Kenwood Chef A701 which suggests an A720 mincer attachment as being correct for this model. I also have a manual for KM200, KM201, KM210, KM211, KM220 and KM250, which suggests the A920 attachment for these models. I've seen an eBay listing for an A920 mincer attachment and the seller described it as suitable for the A901. Retrowow
Hi Kamila, More on this... I spotted this compatibility chart on another site Kenwood Chef attachment compatibility. I hope this helps.
"I have an A701A K.Chef witha poor elec. connection inside. If I wiggle the lerad and flick the on/off switch it will often work long enough for the job in hand. Sometimes, however, it is a ruddy pain. Can anyone tell me how to get inside to repair the connection as, being a pensioner, I cannot afford 2 wseeks income for a professional repair, Thanks, " Ted
" i have a kenwood chefette A320 in exccelent condition and working order, could anybody tell me how old this model is please and is it worth much." peter bird
Hi Peter, Kenwood Chefettes are not worth as much as Kenwood Chefs. I would say it would fetch from £10 to £15 on eBay. Retrowow
"Trying to find instructions on using attachment A927 cream maker. Cheers" Rebecca
"Just got an ancient Kenwood Chef A700D without bowl. Am hoping for any spare fittings too. Anyone got anything for my old baby? Only problem, I'm in South Africa, but if you coming for the world cup I can do a trade of sorts!!! " Kitty (kittschn@gmail.com)
"I have just been given the most beautifully maintained Kenwood 'electronic' mixer,(chef) the instruction booklet says it is for models km200 to km 250. Could you kindly tell me where this fine appliance was made and the approx year of manufacture, thank you. Ken madigan Australia" ken madigan
"Hi i have a Kenwood Chef A901 if you are looking for spare parts i just bought a liquidiser from a lady on the Preloved web site she has other parts also and sends fast i got mine in 2 days." Carole
"where can i get parts for my kenwood a707a mixer thanks" john hartwell