Aqua Manda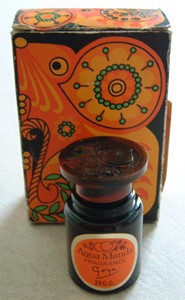 Aqua Manda is the perfume most associated with the early 70s. It has a orange blossom scent.
Aqua Manda was introduced by suave, sophisticated man about town, Christopher Collins. He took over perfume manufacturer, Goya, from his father in the late sixties and personally developed Aqua Manda. Christopher Collins was a successful amateur horse rider as well as a businessman. He finished third in the Grand National in 1965 and also tried his hand at Three Day Eventing.
Aqua Manda was a new perfume for a new age. It was a lighter fragrance compared to other Goya products, such as Black Rose, Gardenia and Great Expectations, all introduced by Collins' father. Aqua Manda was a fresh, herbal based scent, which reminded people of being outdoors.
Aqua Manda was timed perfectly to capture the spirit of the early 70s. Its packaging suggesting oranges and flowers and the stylish Art Nouveau lid chimed in perfectly with the end of the sixties and the beginning of the seventies.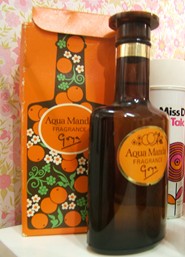 Aqua Manda is remembered by many as a perfume associated with parties from the early 70s. It was the definitive scent of the flower power generation and as much a part of the backdrop to that early 70s era as the music and the fashion.
Buy Aqua Manda
Although there is a new version of Aqua Manda available. Many fans do not think it is the same as the original.
There is a regular supply original Aqua Manda it on eBay. Look out for full bottles and undamaged packaging. You will need to pay from £30 to £80 for a full bottle in good condition.
Yardley Sea Jade
Many of our readers also rememember Yardley Sea Jade, another classic perfume from the 70s.
Also look out for Yardley Sea Jade on eBay
See also
There is a group on Facebook Aqua Manda
See also Aqua Manda on Flickr
Your comments on Aqua Manda
"why don't you bring back aqamanda it would be so popular once again" suzy mobley
"I remember the Aqua Manda from the early seventies. It was the first perfume that I ever bought for myself. It would be lovely if you could reissue it again. Perhaps as a limited edition, just to see how it would sell. I'm sure you wouldn't be disappointed, especially as at the moment everything seventies is considered very fashionable. I for one would be first in the queue to buy it. " Helen Allsop
Hi Helen, Thank you for your comments about Aqua Manda. It was manufactured by Goya which now appears to be defunct. Unfortunately we don't know who owns the Goya or Aqua Manda brands now.
"I remember either aqua manda bath oil or bubble bath. I think it was oil but can't remember. I loved it. I'd be about 15 at the time. Thanks for the memory. " Anne from Manchester
"Even the name Aqua Manda takes me right back to my college halls bedroom and splashing it on before going out for the evening. It makes my memory jump back to Euthymol paste toothpaste in a round jar, which I was also using around that time, and must be the fastest way to recover youth and the feeling of being a student at the start of a great adventure. Putting it on made me feel happy. On the tube in London, just the other day, my attention was caught by something in the air. Someone standing by the door had started peeling a mandarin, or perhaps it was a tangerine. I have been peeling my own tangerines and thinking of Aqua Manda since then." Avril
"I've been wracking my brains for ages over the perfume and bubble bath I used and loved in the 70's, when I was in my mid to late teens!. I have Dawn French to thank for jogging my memory - I am reading 'Dear Fatty' at present and she reminisces about the use of it in there - Aqua Manda, of course!! How could I forget the name of one of the most popular aromas of the 70's. Oestrogen in a bottle, One dab and you felt so glamorous and irresistible. Yes, bring it back, bring back my youth in a bottle!"
Karen from Rayne, Essex
"Just the photo of the bottle nearly brings tears to my eyes! In my imagination I can still smell the heady, delicious scent of oranges and the feeling of being young and carefree. If only we could have this fragrance back to take it out on dark days and take a deep sniff of the teen spirit of the 70's." Lorraine Cridge
"Comments: I absolutely loved Aqua Manda - it has transported me right back to my teenage years. I remember getting the large bottle for Christmas from my Mum and Dad and would love to see it again - if only for a season.
p.s. I also have Dawn French to thank for jogging my memory." Yvonne
"Oh my, I have been trying to remember this for such a long, long time. I have tried to explain the bottle to friends who said they could not remember it at all.
I knew I was not going mad, I remember the packaging more than anything and always knew that as soon as I saw the box that would be the 'smell' of my childhood.
My mum had this all the time and my nan had 4711.
Thank you and please, please, please bring it back" Carol Richards - Stevenage
"I used Aqua Manda in the 70's and loved it. It would be nice to see it back in the shops, there is nothing that comes close to its lovely fragrance." Janice
"this perfume has been in my memories since a small child. its the smell of my much loved grandma. Where a bottle of talc and oil always sat on the bathroom shelf. That was thirty two years ago and yet still so vivid. Gran has gone and aint coming back but it would and could be nice to smell the memory again" jane
"Be really nice to smell and use again, so many fond memories" Linda Hall
"Used Aqua Manda as a day scent then I used to use Kiku (spelling) by Faberge for the evening. Happy memories, lovely scents both of them." Ex Wren Catherine
"I remember when my mother Estelle received some bottles of Aqua manda from her brother Douglas Collin. She was so pleased with her parcel especially the oatmeal soap. Our family would love to hear from our cousins." Rose Windley
"Please bring back Aqua Manda, My sister and I would definitely buy it again!Memories of the 70s and no wrinkles!" Sally Barnes
"Bring back Aqua Citrus too" Liz
"I received a bottle of Aqua Manda from a friend who bought it in England. I had never traveled out of the US and this scent meant everything worldly and exotic to me! All of my British longings from the Beatles days came back. The bottle was beautiful and I would love to be able to buy it again!" Catmaid
"I would love to see aqua manda on sale again. I particularly loved the glass bottles that it came in. They started using plastic bottles and they weren't the same although the product was the same." Chris
"I always loved the Aqua Manda bath oils, orange and lemon, which I used in the 70's. I have often wished I could buy them now. Please, someone, bring them back!" Mrs P Lloyd-Jones
"I loved Aqua Manda! The packaging was so beautiful!!! I also had Aqua Citra which was the lemon version. Bring it back!!!! Please!!!" Carolyn
"Oh, wonderful memories of my teen years, flowery clothes, mini skirts, hotpants, white platform shoes, black patent socks that you could wear with shoes that looked like boots??? AND the makeup/perfume. Aqua manda was my fav along with Kiku and Pretty peach stuff from Avon!! Bright blue, green or purple sparkly cream eyeshadows!!! Loved it all!!" joyce bell
"Loved the hand and body lotion, use to get it sentback from England as i couldn't find it in Australia. Would love to be able to buy it again as well as the perfume,one can only hope that one day it will return,one of the best perfumes around with out being over powering." SuePass
"I loved that perfume, it was so popular, my sister liked the lemon one Aqua citra, it was quite a cheap perefume for teenagers to buy as well, please bring it back..." SHARON SHERWOOD
"I remember Aqua Manda so well from my childhood. My best friend who lived next door even bought me a bottle. Looking at the pictures of the bottle brought all the memories flooding back. It had a very recognisable scent, and at the time I absolutely loved it. Those were the days!!!" Nicola
"I used to love Aqua Manda in the 70's and would love to get hold of some again. I've just bid for some soaps on Ebay and there is some perfume but very expensive. Please bring it back again" CHERYL HART
"I used to use Aqua Manda and loved the bath oil, the smell was beautiful and it made your skin feel really soft, oh to smell it once again!" Elaine Fisher
"news from goya aqua manda made by christopher collins does anyone not remenber? those commercial spots on the screen? i got in touch with it in Folkestone/Kent in 1969 unforgetable........ Ralph from Germany" redferkel
"...went to Whitstable car boot sale this morning and came across Rose selling lots of interesting 'bits' - including an almost used bottle of Aqua Manda Body Rub! Hadn't seen any for 30+ years, since my teenage years. After I exclaimed in wonder at the beautiful packaging and glorious scent, Rose gave me the bottle. I'd forgotten all about it...what joy! Thanks Rose" Clare
"There was a men's version as well, in dark brown, but otherwise the packaging was identical. The smell was peppery/spicy with the same herbal undertones. I used both versions, and would love them to be available again. Especially the mens, and the bath oil." David
"I can't believe that nobody has ever copied this beautiful scent." Anne
"I loved Meadowsong and have spent years looking for anything that comes close. If Aqua Manda, Aqua Citra and Meadowsong were all by Christopher Collins, made by Goya, who no longer exist, who owns the legal title to these perfumes?" June Poole
I believe the Aqua Manda brand is owned by Coty. Retrowow
"The beautiful artwork, the classic bottles, the fresh herbal tang....all this is so evocative of the early-mid seventies and tll that went with it, The very essence of my mum. Please, if you have the formula for this, bring it back in all it's glory, I will be right there waiting for both men and women's versions." Nemesis
"i have been desperately trying to get hold of some aqua manda for about 2yrs now, but alas, with no luck. please,please bring it back." susan
"please bring aqua manda back to us, somebody." lilian
"I would love to be able to buy this again please, bring this lovely perfume back" alex schindler
"In the early 70's I used to buy a bottle of this every Christmas for my nana,(along with a packet of polo mints!!) I remember buying it in Boots. She used to say that she loved it. Maybe she was just trying to making a little girl happy! She died over 20yrs ago. I would love to have a bottle of this scent just to smell it and bring back memories of my nana." Cathy
"Oh finally I have found out what it was called, my friends and I have been racking our brains for months. Just looking at the bottle brings back memories, as mentioned in one of the above comments I remember 4711 and we also used to wear Brut (yes the mens aftershave) which we could buy in those dinky bottles!!! Youth Dew was very popular as well Such memories, such a shame it is no longer available" Gina Leach
"I loved everything about this perfume - the smell, the bottles, the boxes, how it made me feel. It soooo needs to be brought back." Mandy
"Oh my, I just ADORED Aqua Manda and it's grassy cousin, Meadowsong. I have both scents imprinted firmly in my memory banks - one whiff and I would be instantly transported back to those wonderful times in the early 70s. I have actually bought two samples on eBay, but they never smell quite right (after all, they ARE 40 years old!) I see so many people on the internet who would kill for a smell of these perfumes, I just can't imagine why some enterprising company (presumably Coty?) doesn't do a retro limited edition, as already suggested. And quick, before us women of a certain age are too old to remember!
Other evocative aromas from that era would have to include Mary Quant lippies (such a distinctive smell!). I also lovingly remember Cutex (I think) Cheeky Chops, a cream blusher that we slapped on with abandon, and their lipstick in shot-silk colours. Ahh, happy days! " Dee
"Does anyone remember another Goya perfume of the 70s called 'Sea Jade'? I absolutely loved those products when I was a teenager." Julia
"I remember Aqua Manda Bath Oil and Bubble Bath. It was absolutely awesome to soak in before I went out on the town in the seventies. If there is anybody out there who knows how to get some, please let me know. If they brought it back it would definitely be a best seller! What a product!" Brian Mulholland
Hi Brian, The only place I know to buy Aqua Manda is ebay. Aquamanda is no longer made so eBay is the only place. Check out Original Aqua Manda on eBay Retrowow
"I bought some Aqua Manda in the 70s and have missed it ever since! It is the one perfume that I still associate with whenever someone peels an orange. I did get an orange perfume recently made by another company but it is not a patch on Aqua Manda!" Susan Limb
"I too loved Aqua Manda in the 70's and have been desperately trying to remember the name for days. It suddenly came to me this morning. I saw the packaging vividly and could almost taste the orangey scent and feel the 'lift' it always gave. So glad I'm not alone with my memories and ardent wish to see it back on the shelves again. Anyone know whatever happened to Kiku? Yellow packaging from around the same time?" Maggie
" I used Aqua Manda in the early 70's in London and I still have some left in a large bottle. I was lucky enough in the early 80's to find the small bottle in a swap meet. I have treasured these bottles over the years and use it as if it were gold. I would give anything to be able to find a source of it again! I LOVE LOVE LOVE it!!!" Pamela Holl Hunt
Hi Pamela, Check out eBay. You can usually find Aqua Manda for sale. Quite often bottles are full. It's not available to buy new, as far as I know eBay is the only place you will find it. Retrowow
"I bought some v expensive orange bath stuff from L'Occitane, called something d'orange and kept thinking what does this remind me of? Then a memory of a brown and orange bottle came floating back from childhood, and it took me weeks trying to remember before I found this on the net!!! Hurrah! BTW - the Occitane one is absolutely fantastic, tho pricey, and has some of the same smell - and better lather! Enjoy! L x" Lynne
"My daughter gave me Molton Brown's "travel reviving cempaka" bath and shower gel for Christmas, and I've spent the last few days wracking my brains trying to identify which scent from the past it reminded me of - and it's Aqua Manda - I think!! I don't quite trust my memory and would love it if someone else could take a sniff of this at a counter and let me know if they agree.......... although I the name only came back to me when I was actually using it." Kate Harrison
"Please, please please will somebody start making Meadowsong again, just the thought of it takes me back to my teens. I have the leaflet which came with the bottle of perfume in a scrap book which I made in the 70's showing all the products they made and it is so pretty, just wish I'd kept the bottle to have a sniff at now and again! Is there anything out there that smells anything like it?" Janet Lane
"Aqua Manda was also my first perfume and you are so right it conjours up the whole 70s feel. The other day I smelled something similar and got all nostalgic. Thats why I looked it up on the net just now. Bring it back" Marie
"It has been so wonderful reading all the fantastic, nostalgic views on Aqua Manda. I loved it! It reminds me of the days of being 15, getting ready to go out and dance the night away to Tamla Motown. My hair would have smelt of Linco-Beer shampoo squeezed out of a plastic beer barrel, and I would probably have been lying in a hot bath full of Aqua Manda oil, oh! what great memories....." Trish Craxton
"I loved Aqua Manda, but Meadowsong even more, and thanks to Julia for the reminder of Sea Jade. I used to buy Sea Jade for my mum for Xmas but had totally forgotten about it till now. Anyway, for Meadowsong fans, I have just come across Molton Brown White Mulberry handcream, which is very similar. Off to join the Facebook group now for Bring Back Aqua Manda - what a 'fab' idea." Jean
"Oh how i would love them to bring back Aqua Manda it was my first real perfume and holds so many happy memories. Im sure it would sell well today." maggie
"Aqua Manda was THE teenage fragrance in the early 70's, with its distinctive fragrance and evocative packaging - yet pocket-money affordable. It's great to see it again on here, to bring all those great memories flooding back. There would undoubtedly be a market for a limited edition - perhaps for Christmas? - so let's hope the powers-that-be read this and take note!" Holly Fogg
"Please bring back Aqua Manda." Mary
"Yes yes!!! I loved Aqua Manda and Meadowsong, also Sea Jade which was done by Yardley. I would love to see them back and would pay a lot more for them today then I did as a teenager in the 70s!! Will some enterprising perfumier not do a trial run please??" Mags
"so fantastic so many people remembering aqua manda. and thanx for reminding me of sea jade, meadow song and kiku. would love to be able to buy them again!" gill
"Ah, the heady days of youth! I loved the fragrance of Aqua Manda. It's great to read all these nostalgic comments." Marie