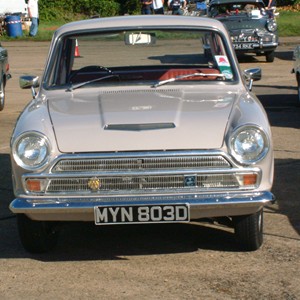 Ford cars of the 1960s
In 1960 Ford in the UK sold small cars and big cars, with nothing in between. The small cars were the elderly Prefect and Popular and the brand new Anglia. The big cars were Consuls, Zephyrs and Zodiacs. There were no medium-sized Fords. Ford was to plug the gap with one of the best-selling cars of all time, the Cortina.
The Cortina was one of three successful new models that helped Ford overtake BMC as Britain's number one car maker.
The other two were the Escort and the Capri.
The Escort, launched in 1968, redefined the small car. The Escort could be anything from a budget motor for a small family to a capable sports saloon with an appeal to the boy racer.
The Capri defined a new type of car. A sports coup´ that was able to carry a family of four. The revolutionary feature of the Capri was a price tag which made it affordable to the average motorist.
A complete list of Ford cars from the 1960s is:
Ford Popular 100E 1959-1962
Ford Prefect 107E 1959-1961
Ford Escort Estate car 1957-1961
Ford Anglia 105E/123E 1959-1968
Ford Escort MkI 1968-1974
Ford Corsair 1963-1970
Ford Classic 315 1961-1973
Ford Capri 1961-1964
Ford Capri MkI 1969-1974
Ford Consul MkII 1957-1962
Ford Zephyr MkII 1957-1962
Ford Zephyr MkIII 1962-1966
Ford Zephyr MkIV 1966-1972
Ford Zodiac MkII 1957-1962
Ford Zodiac MkIII 1962-1966
Ford Zodiac MkIV 1966-1972
Read more:
By Steven Braggs, November 2021
Add your comments
Comments
No comments yet. Be the first!