Ford cars of the 1970s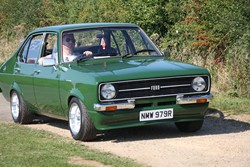 Looking at the range of Ford cars in the 1970s and their policy of launching new models, it is easy to see how Ford did much better than British Leyland.
Two new models, the Escort and Capri, both launched in 1970s were huge sellers. Both redefined the marke, the Escord for small cars and the Capri creating a completely new market for a stylish coupé capable of transporting a family of four in comfort at a price average car buyers could afford.
The Ford Fiesta, lauched in 1976, was a completely new model that became an instant success in the super-mini class.
The Cortina remained Britain's top seller for most of the 1970s. The range was gradually improved through small revisions and new models. The Cortina Mk V of 1979 was a completely different car to the outgoing MkII model from 1970. BL by contrast struggled to keep the Marina in contention.
A complete list of Ford cars from the 1970s is:
Ford Fiesta Mk1 1976-1984
Ford Escort Mk1 1968-1974
Ford Escort Mk2 1974-1980
Ford Cortina Mk2 1966-1970
Ford Cortina Mk3 1970-1976
Ford Cortina Mk4 1976-1979
Ford Cortina Mk5 1979-1982
Ford Capri Mk 1 1969-1974
Ford Capri Mk 2 1974-1978
Ford Capri Mk 2 1978-1987
Ford Zephyr Mk IV 1966-1972
Ford Consul 1972-1975
Ford Granada Mk 1 1972-1977
Ford Granada Mk 2 1977-1985
Ford Transit Mk 1 1965-1977
Ford Transit Mk 2 1977-1986
Add your comments