When did people in Britain first wear jeans?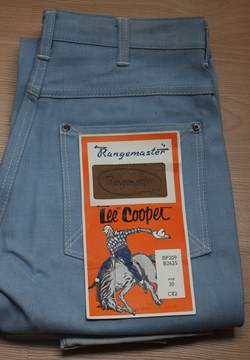 Although cowboys, gold miners and railroad workers wore jeans in America in the 1800s. The UK was much slower to start wearing denim.
We had heard of jeans in 1900, but they were exotic and foreign. The Daily Express reported on the American Republican Party Convention in June 1900. Among the delegates was a black man from the south. He caused a stir by wearing a planters straw hat, a stylish frock coat, a calico shirt and blue jeans.
In the 1930s workmen wore denim overalls. Mechanics wore denim boiler suits. Carpenters, plumbers, builders and electricians wore bib and brace style overalls in blue denim. The emphasis was on hard wearing material rather than style. Lybro claimed their denim overalls lasted three times as long as their competitors' products.
Foreigners wore denim trousers, without the bib and brace. In 1935 the Daily Mirror reported that South Sea Islanders had denim trousers and radio sets. Like Britons in the 1930s, they went to church on Sunday and spent their leisure time at the cinema.
Denim was not a well-known fabric in the UK. In 1938, the Army issued new uniforms in khaki denim. The Times told readers that denim was a new material, stronger and heavier than existing fabrics. Perhaps Times' readers were unfamiliar with overalls worn by workmen.
Denim was familiar to middle class Americans. New Yorkers loved to rediscover the Old West. A couple of weeks learning western riding and lassooing at a dude ranch was the way to do it. A pair of jeans was part of the dress code.
By the end of the 1930s glamorous American women also discovered trousers, or slacks as they were more likely to be called. Ginger Rogers wore slacks at home and Lucille Ball wore denim. In 1939 the Daily Express' fashion pages recommended denim suits for UK housewives. Few took up this advice.
The earliest example I could find of a UK person wearing denim trousers was in August 1944. Douglas Warth was a war correspondent for the Daily Express. He wore a pair of denim trousers for a parachute jump into occupied France.
Denim's path from overalls to fashion began during the war. In 1944, Country Life's fashion writer, P Joyce Reynolds, wrote that adults and children were wearing dungarees in blue denim. In 1948 she suggested that women could wear jeans with 'Sloppy Joe' sweaters. 'Sloppy Joe' sweaters were big baggy sweaters. They were a huge fashion hit in 1948.
After the war, British workmen could also get denim trousers as well as overalls. You bought them through small ads in the national press. For instance, Federated Supplies Limited advertised working trousers in 1949. They were battle dress style and made from grey denim.
In 1951 Scotsman Sales of Queensway (London), promised American style jeans with triple stitching. The price was 25 shillings plus postage for men and women.
There was a brief craze for everthing American at the beginning of the 50s. At the youth end of the market the trend influenced the drape coats and bootlace ties worn by the Teddy Boys. But a craze for square dancing in the early 50s persuaded men of all ages to buy jeans and checked shirts.
People saw the benefit of hard-wearing jeans for leisure wear. Some found them great for hiking and cycling, others found them useful for gardening and for household chores.
Jeans sold in the early 50s were very different from today. Men's jeans fitted high on the waist like contemporary trousers. The legs were wide, but not flared. They came in one length, so the bottoms were rolled up.
Women's jeans were also high-waisted, but the zip was on the side, not at the front. Women also wore jeans with the legs rolled up. You can get this style today from specialised online retailers such as deadlyisthefemale.com/shop/1950s-classic-jeans. Women's jeans were not always made of denim. Linen and poplin slacks were also called jeans.
Jeans were not a common sight on UK high streets. In April 1954 Colonel G F McGuire, Deputy Commander of the American Third Force in the UK, ordered his men not to wear jeans or brightly coloured open-necked shirts when off duty. Instead they were instructed to wear clothing to fit in with the locals.
Jeans worn for household chores also aroused comment. In 1955 Mrs Marjorie Fairey was dressed in jeans when she was helping her husband to paint their house. She saw an accident on a trainline from her kitchen window and rushed out to stop the following train. In the Daily Mirror she was described as the 'woman in blue jeans'.
At the same time more sophisticated adults were starting to wear jeans. Jeans were the favourite choice for jazz musicians. As early as 1951 male model Jean Vincent de Paul wore blue jeans with a jersey and light blue silk scarf.
Another male model was young actor Sean Connery. He did modelling work for Vince Man's Shop, close to the 1960s' fashion centre, Carnaby Street, London. Vince sold cutting edge fashion to sophisticated men and possibly the gay community, which was underground in the 1950s. Vince advertised jeans and matelot tops in 1956. They sold genuine French Breton tops for 29 shillings and sixpence each and 'washed out' denim jeans for 42 shillings. Vince targeted more mature young men. It was not a teenager's shop.
However, teenagers did take to wearing jeans. Princess Alexandra aged 17 in 1954, wore jeans for tennis and gardening.
Jeans also appealed to working class teenagers. Teddy Boys did not wear them with their Edwardian style suits, but their girlfriends did. Teddy Girls had less money to spend and invented their own style. Notting Hill Teddy Girls wore a combination rolled up jeans and flat shoes. They bought vintage jackets on the Portobello Road and completed the outfit with a scarf.
Up to this point the British press approved of jeans and denim worn in the proper context. Once working class teenagers saw them as fashionable, adults disapproved. A 1955 article in the Daily Mail complained that female stage stars wore duffle coats and jeans when off-duty. Heather Dennis, a 22 year old student at Bristol University, told the Daily Mail that jeans should be reserved for rag days and decorating jobs. In 1956 Peggy Briggs wrote in the Daily Mirror that girls wore scruffy vintage skirts and crumpled denim jeans on Sundays. These complaints only helped to make denim more popular.
1957 was the first year that Lee Cooper, Britain's home grown denim label, took out full page ads in the national press. Wescot, their UK rival, followed a couple of years later. Both stressed the American heritage of jeans.
Jeans in the latter years of the 50s were more stylish. Legs were tapered and more figure hugging. Lee Cooper moved the zip in women's jeans to the front.
By the end of the decade jeans were part of the teenage wardrobe. In Absolute Beginners, Colin MacInnes described the full teenage uniform - grey pointed alligator casuals, pink neon socks, Cambridge blue 'glove-fit' jeans, vertical striped shirt, Roman cut short arse jacket. Cambridge blue was one of the Lee Cooper's colours. The full range for men was black, slate grey, indigo blue, royal blue and Cambridge blue. Women could choose from Lido blue, fern green, sunshine yellow, cherry red, Breton red, as well as black, grey and indigo blue.
In the 1960s jeans became more popular with teenagers and students. British brand names had rivals from America. Levi and Wrangler started to sell here in the mid-sixties.
Your comments