How military surplus influenced fashion in the 50s, 60s and 70s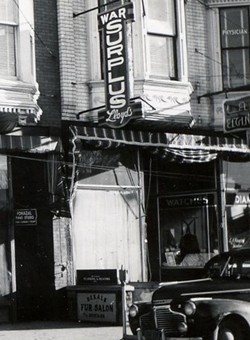 Army and navy surplus was a source of cheap clothing and equipment for most of the twentieth century. After the Second World War it became big business in the UK and the USA. People from all walks of life supplemented their wardrobes with good quality and practical clothes. In the UK new clothing was rationed after the War and army and navy surplus could be used for anything from gardening gear to a formal suit.
In the 1950s jeans went from cheap practical clothing to fashionable wear. Some items from the army and navy surplus stores also made the switch. British Army coats from the days of the thin red line were worn by mods and pop stars in the 1960s. A few years earlier beatniks took up ex-navy duffle coats and mods adopted the parka. Hippies and students took to olive green combat jackets and great coats in the late 1960s.
One of the strangest fashions was ex-army string vests, which were popular with young women from the late 1960s to the mid-1970s.
In the 1970s high inflation made army surplus prices make sense to everyone once again. Fashion retailers did not want to be left out and stocked their own versions of army shirts and combat trousers.
After the War
After the Second World War, army and navy surplus clothing, blankets, tents, stoves and other equipment went on sale. The UK and the USA had a lot of gear to dispose of. Surplus was cheap. In the UK clothing rationing did not end until 1949 and army and navy surplus clothes were not rationed.
Stores sprang up selling military clothing and equipment. The favourite bargains were naval duffle coats in the original fawn colour, naval officers' white shirts and Merchant Navy officers' dark blue uniforms. The latter made a passable lounge suit.
Many people replaced worn out clothes without clothing coupons. Some military uniforms were quickly used up for gardening and household chores. [1]
In June 1945 Millets (Victoria) Limited, a forerunner of Millets, the outdoor goods store, offered the following government surplus for sale:
Reconditioned army waterproof cape coats (full size with sleeves) - 14s 6d
Part-worn army waterproof motorcycle coats - 8s 11d
Part-worn oilskin police capes - 12s
Part-worn police tunics - 18s 6d
As well as the clothing there were canvas cycle bags, army haversacks, canvas kit bags, oilskin ground sheets, and tarpaulins.
In 1948 you could buy ex-US Air Force sheepskin-lined leather flying jackets and RAF leather gauntlets. They were ideal for motorcyclists or sports car drivers. Though the item to have the most influence on fashion in the 1950s was the ex-navy duffle coat.
Duffle coats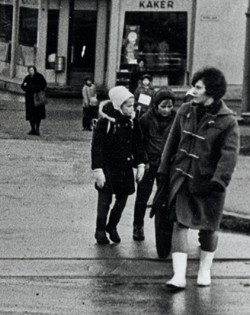 The first item to cross the line from cheap and practical to cool was the duffle coat.
The name comes from the thick coarse cloth made at Duffel near Antwerp. The coat is fastened with toggles made from wood or bone. It usually has a hood.
In the late 1940s and early 1950s people bought surplus navy duffle coats from the small ads in national newspapers.
For example, in 1947 Millets (Victoria) Limited sold ex-navy duffle coats for 59 shillings and 6 pence each at their store at 419 Oxford Street, London.
In 1948, J A Davis & Co of Denmark Hill, London offered coupon-free 'Ministry of Supply Special Purchase' duffle coats in off-white or navy blue. Their advert said that men or women could wear duffle coats. They stressed the practical nature of the coats which would suit 'outdoor workers, motorists and travellers'. The off-white coats could be dyed 'many fashionable colours', according to the advert.
The following year the United Services Supply Co was also selling duffle coats which could be worn by men or women.
They were still selling them in 1950, but this time there were also brand new grey duffle coats for 55s. By 1951 you could buy new duffle coats made for the civilian market. They were sometimes advertised as 'naval style'. People recognised the quality of the ex-navy coats.
By the mid-1950s duffle coats had become a family uniform. The same coats were worn by men, women and children. Unlike jeans, which were also growing in popularity, duffle coats were a genuine unisex item.
Duffle coats may have had a boost when Trevor Howard wore one as Major Calloway in The Third Man (1949). Although in this film he wore it as part of his army uniform.
Duffle coats also found favour with Royalty. The Duke of Kent wore one whilst at Sandhurst Military Acadamy.[2]
Like jeans, duffle coats were often worn by youths and students. Young actresses sometimes wore jeans and duffle coats to rehearsals. A young Shani Wallis (who played Nancy in the 1968 film, Oliver!) liked to dress down for rehearsals and wore jeans and a duffle coat. Younger girls too combined them with drainpipe trousers for a casual look.
Like jeans, duffle coats were considered inappropriate clothing by people in authority. In 1956 Mr Wyndham Johnes sent home five boys from Whitchurch Grammar School, Cardiff for wearing duffle coats. They were allowed overcoats or raincoats, but not duffles. The boys' parents, who bought the duffle coats for their sons, were unimpressed.[3]
In 1956, twenty-three youths dressed in black duffle coats invaded a dance at Orpington Civic Hall. They dragged women away from partners and knocked off the MC's hat. The newspaper report commented on their 'Teddy boy' style of dress. Duffle coats were not part of the 'Ted' uniform. The reporter may have mistaken drape coats for duffle coats.[4]
The beat generation in the USA and in the UK adopted the duffle coat. In the US it was worn by girls, along with black stockings, short bottom-hugging skirts and long hair.[5]
That other beatnik staple, the black roll-neck pullover, may have been inspired by the black sweaters worn by commandos in the Second World War.
The duffle coat also became a symbol of earnest intellectual protest. They were worn by CND supporters on the Aldermaston marches in the 1950s and 1960s.
In April 1962 over two hundred people turned out to present written protests to the United States Embassy in Grosvenor Square, London. The protestors sat in the roadway and refused to disperse. Amongst their number was a 25 year old woman known only as Mary. She wore a red cardigan and a grey duffle coat. For her part in the disturbance and for refusing to pay a fine she went to Holloway Prison for fourteen days. [6]
The duffle coat continued to be a favourite choice for students in the 1960s. When I grew up in the 1970s it was standard wear for school children and not considered controversial.
Duffle or Duffel
Both 'duffle' and 'duffel' are correct. These days the spelling 'Duffel' is more common. I used the alternative spelling 'duffle' because it was almost exclusively used in the UK in the 1950s and 1960s in reference to 'duffle coats'.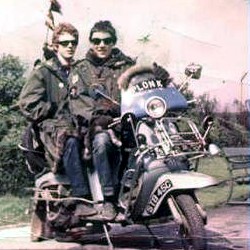 Fishtail parka
The next youth cult to take up army surplus were the mods. They owned expensive tailored suits and wanted to keep them in tip-top condition. As mods travelled by scooter they needed a coat to keep themselves warm and their clothes clean and dry.
The ex-US Army parka was a practical solution. The fishtail parka was introduced by the American Army in 1948. Soldiers wore them to keep warm in the Korean War.
The 'Fishtail' is the extension at the back of the coat which can be folded up between the legs for extra warmth, or folded away at the back when not needed.
The original parka was the M-48 (Military 1948). The later version M-51 was more common.
US Army surplus parkas were on sale in Britain in the 1960s. In 1962 Western Warehouse Limited of 27 Camden Passage, London advertised 'genuine ex-US Govt Marine Parkas, proven in the Korean winter' for 79 shillings and 6 pence. [7] They also stocked fur-lined British parkas from 59 shillings and 6 pence.
The parka's association with the mods made it cool. At the same time it meant the older generation avoided them.
The success of the parka meant that as supplies were running out imitations were being made. In 1970 Sander & Kay, another surplus specialist, sold parkas made for the civilian market. They were complete with a fishtail and ideal for scooter riders. The mods had settled down by then.
I was Lord Kitchener's Valet
The parkas were originally made in the early 1950s and were on the surplus market ten years later. The time from issue to sale as surplus was ten years. On the other hand it could be more than fifty years.
Ian Fisk and John Paul opened a store with the aim of selling second-hand clothes as fashion.
Their shop 'I was Lord Kitchener's Valet' opened at 293 Portobello Road Notting Hill, London around 1964-5. They started selling second-hand fur coats to men and women. The store got noticed when they bought up stocks of pre-1914 red British Army jackets. They sold these for 30 shillings. [8]
One of their customers got noticed too. In 1967, Frank Perry was a bakery worker from Drew Road, Silvertown East London. He bought a Royal Marine's bandsman's jacket from 'I was Lord Kitchener's Valet'. A police sergeant and ex-marine spotted him with the jacket, a pink shirt, blue jeans, an orange belt and casual shoes. Perry ended up in court and was fined £1 for wearing a service uniform in a manner likely to bring it into disrepute. Perry said hundreds of his friends also wore similar jackets.[9]
Mr Davy Reeder, who was by then the manager of the store, said that he was monitoring the case. If there were others he would sponsor the appeal. It is was a bit rough that the UK military sold off the uniforms, then the courts fined people for wearing them. It was a case of having your cake and eating it.
The ex-army clothes from 'I was Lord Kitchener's Valet' appealed to women as well as men. In 1966, Cindy Maye, a twenty-two year old film extra, bought a maroon jacket with black piping and a pair of white breeches to go with it. She was planning to wear it to parties. [10]
The look of the ex-military jackets harking back to the days of the British Empire was part of the Swinging London scene. It went well with union jack mugs, knickers and carrier bags.
The look of the ex-military jackets also inspired the Beatles' Sgt Pepper Album cover and a fashion for similar military gear in the United States. [11]
The fashion for the pre-1914 look lasted no longer than the stocks of gear. By 1967 the military look was out and the gangster look was in.
One part of 'I was Lord Kitchener's Valet's' stock had a more lasting effect on fashion. They also sold ex-army drab olive green combat jackets.
Combat and field jackets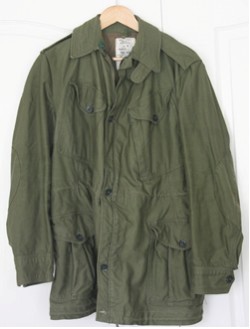 In 1968 the British Army issued a new combat jacket, the 1968 pattern combat smock. It had a camouflage pattern. Soldiers wore these in Northern Ireland in the 1970s and in the Falklands War in 1982. It replaced olive green combat jackets which the army had used since the Korean War. There were two types of similar design, the 1950 and 1960 pattern. They were known as combat smocks. They came onto the surplus market in the 1970s.
US Army combat jackets were also available in the UK. They would most likely have been M-1951 field jackets or M-1965 jackets by the end of the 1970s. You could also buy German and Italian surplus jackets.
A selection of the army and navy surplus items available in the UK in the 1970s were:
British Army combat jacket (1975 from Millglade Ltd) - £4.25
Combat trousers to go with above - £2.25
US Army surplus parka (fully lined with wool) (1975 from Millglade Ltd) - £7.50
British Forces combat pullover in olive green with reinforced patches on shoulders and elbows (1976) - £7.45
American Artic parker (snorkel style) in olive green or navy (1976) - £24.95
NATO parka in olive green (1976) - £6.95
German Navy reefer jacket ¾-length, dark blue (1976) - £6.95
Italian Police leather coats (1976) - £27.50
German Luftwaffe great coats, double breasted (1976) - £5.95
US Army pattern combat jacket (1975) - £3.99
Student scene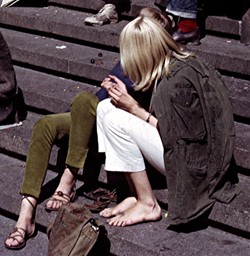 For the practically-minded army surplus stores were still a source of cheap, good quality and warm clothing. Army surplus naturally appealed to students eeking out a grant cheque.
Students on both sides of the Atlantic bought army surplus. In the USA in 1965 there was a campus fashion of wearing ex-navy pea coats and chief petty officer jackets.
Combat jackets from the UK and the US were combined with jeans, T-shirts and long hair to create the classic late 60s to early 1970s student look. Ironically it was often worn by anti-Vietnam War protestors in the US.
The most famous anti-war protestor, John Lennon, wore a US Army shirt in the early 1970s. In doing so he helped turn army surplus into fashion.
Army surplus becomes fashion
In May 1967 fashion journalist, Felicity Green, reported that girls were wearing ex-army khaki string vests. A friend of hers teamed the vest with a pink satin skirt for formal occasions. At surplus store, Laurence Corner 62-64, Hampstead Road, London young women were buying Second World War tropical uniforms and bell bottoms in blue serge or white drill.[12]
Laurence Corner was still doing good business with the string vests six years later in 1974. They were still seen as trendy by young women.
According to Christopher Ward's tongue in cheek guide to the fashions of 1971, hippies and skinheads were out, long hair was out, kaftans were out, but army surplus was in.[13]
Army surplus remained a fashion item in the 1970s. The motivation was keeping warm within a budget as inflation started to bite. From around 1977, the fashion houses wanted to get in on the act and sold imitation surplus gear at inflated prices.
Imitation might be the sincerest form of flattery, but in the fashion world it often spells the end of a trend. By the time Nicholas Lyndhurst was wearing an ex-Vietnam War US Army shirt in Butterflies (1978) the fashion was on its way out.
Army surplus though remained a source of cheap and good quality clothing and it still is today.
Army surplus clothing in film and TV
Contemporary film and TV reflected the popularity of army surplus clothing in the 1970s.
Carry on Camping (1969, filmed in 1968)
Plumber, Bernie Lugg (Bernard Bresslaw) wears a British Army 1960 pattern combat smock in an early scene in the film. He wears this jacket as his working coat. This is the first example I have seen of this jacket being worn, other than by the military.
Take a Girl Like You (1969)
In a film version of the 1960 novel by Kingsley Amis, Patrick Standish, played by Oliver Reed, also wears a British Army 1960 pattern combat smock.
Shadows of Fear (1971)
In Shadows of Fear:, 'At Occupier's Risk' broadcast on ITV, 19 January 1971, Tom Chadbon plays a hitchhiker. He has the classic student look of army surplus pants and combat jacket. It looks like an American M51 combat jacket.
The Sweeney (1975)
You can see ex-army clothing in several episodes of The Sweeney. Some of the crooks wore army surplus gear on jobs. The most commonly seen item is the British Army 1960 pattern combat smock.
In the second episode of the first series 'Jackpot' (1975), Harry Biggleswade played by Ed Devereaux, wears one. Also in 'Faces' Keith Buckley as Jake Jenkins wears the same type of jacket.
Army surplus appealed to the paramilitaries as well. Combat jackets and berets were worn by the IRA and sympathisers in the late 1960s and 1970s.
The Good Life (1975)
In an episode of The Good Life 'The Guru of Surbiton', a couple of students, Guy (Bruce Bould) and Ruth (Irene Richard) stay with Tom and Barbara. Guy is a very intense and serious young man. He is looking for an experience of self-sufficiency. Guy has a typical 1970s' student look of long hair, flared jeans and army surplus. He wears both a British Army combat smock (1960 pattern) and an ex-army pullover.
Last of the Summer Wine (from 1976)
In Last of the Summer Wine Walter 'Foggy' Dewhurst joins Compo and Clegg in 1976. 'Foggy' played by Brian Wilde is an ex-corporal. He also wears the 1960 pattern combat smock for most of the episodes. In this case 'Foggy' is an old man hanging onto memories of his army days.
Van der Valk (1977)
The third series of Van der Valk, which was broadcast in 1977, shows both students wearing combat fatigues in 'The Professor'.
In 'Gold Plated Delinquents' we see one of the main characters, Treesje (Phoebe Nicholls), wearing a fashion house version of a Vietnam War-style US Army shirt.
Butterflies (1978)
In the first series of Butterflies, Nicholas Lyndhurst as Adam Parkinson wears a genuine US Army shirt in most of the episodes.
The Black Stuff (1978)
The Black Stuff was a play by Alan Bleasdale which pre-dated 'The Boys from the Black Stuff (1980-82). A group of Liverpudlian tarmac workers travel to Middlesbrough to work on a new housing development. One of the crew, Loggo Logmond, played by Alan Igbon, wore a 1960 pattern combat smock as a work jacket.
Rumpole of the Bailey - Rumpole and the Case of Identity (1979)
In this episode there is a new secretary 'Angela' played by Caroline Holdaway. She is a bit of a lefty. She wears a US Military shirt. There is a comment about the irony of wearing a military jacket to establish your 'peace credentials'. By 1979 this was a few year out of date.
References
[1] Everyday Fashions of the 20th Century by Avril Lansdell, published Shire 1999, page 71
[2] 'It's the end of a holiday' published in The Daily Mail 28 February 1955, page 3.
[3] 'Duffle-coated boys sent home', published in The Daily Telegraph, 16 February 1956, page 12
[4] 'Gang in black duffle-coats raid dance hall', published in The Daily Mail, 3 June 1956.
[5] Year by Year in the Rock Era by Herb Hendler, published by Greenwood, 1983, pages 11 to 12.
[6] '71 are fined after nuclear protest', published in The Times 28 April 1962, page 5.
[7] Advert in the Daily Express, 24 November 1962 page 4.
[8] 'I was Lord Kitchener's Valet', published in 'Men Only', February 1967 pages 6 and 7.
[9] 'Tell that to the Marines' published in The Daily Mail 25 January 1967 page 7.
[10] 'Looks even better on a woman' published in Daily Mail 3 October 1966 page 3.
[11] 'Year by Year in the Rock Era' by Herb Hendler, published by Greenwood, 1983, page 83.
[12] 'Swing Govt surplus' by Felicity Green, published in the Daily Mirror, 7 May 1967, page 7.
[13] 'Christopher Ward's guide to the new snobbery' published in the Daily Mirror, 2 September 1971.
Add your comments
Comments
No comments yet. Be the first!