Ross Solaross binoculars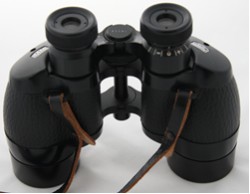 Production run: 1957 to 1974
Manufacturer: Ross Ensign Limited, Clapham Common North Side, London
Special features: light weight aluminium and plastic case
Cost new: £19 9s 9d (9x35 model 1960 price)
Value today: £20 to £50
The Ross Solaross was an innovative lightweight binocular from the 1950s. Ross was a longstanding manufacturer of binoculars and other optical equipment. Its binoculars were priced out of the reach of most people, but the Solaross brought down the cost of the entry level Ross binocular and helped the firm stay in business for a few more years.
The Ross company could trace its history back to a business founded by Andrew Ross in 1830. Ross supplied high quality binoculars and optical equipment. The firm was well respected and supplied binoculars to the British armed forces. However, in the 1950s the company was making losses.
The Solaross was a final throw of the dice. Ross targeted the new lightweight binocular, in the popular 9x35 size, at the horse racing enthusiast market.
The simpler construction of the binoculars, use of plastic parts and glue to locate the lenses, brought the price down to less than £20 (£390 in today's money), still expensive, but good value for money. Ross's other 9x35 binocular, the Stepruva, sold for £38 4s 3d (around £750 in today's money).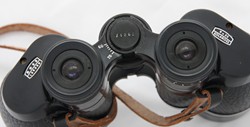 The design used plastic and aluminium parts and brought down the weight of the popular 9x35 binocular to just 21oz (590 grams). Although these binoculars feel very light for their size, they were not remarkable for the time. Binoculars of other manufacturers, including British rival Wray, were at least as light.
The design brought more curves to the traditional binocular and it was accepted for the Council of Industrial Design (COID) index. Only one other binocular was in the index, the Barr & Stroud CF18.
Ross returned to profitability after the Solaross range was launched. However, this period did not last long. Opposition from Germany and latterly Japan pushed Ross into the red and the receiver was called into Ross' parent company, Whitefriars, in 1964. Ross continued under new ownership until 1975 when the factory closed.
Today you still cannot fault the optics of the Solaross. If you are happy with a good quality binocular for a remarkably cheap price, they are pretty usable if you can find a good one.
Models
Ross' Solaross was available in a wide range of magnifications and sizes. These are the binoculars in the Solaross range with approximate dates of manufacture:
Solaross 7x42 - 1957 to 1962
Solaross 8x40 - 1962 to 1974
Solaross 9x35 - 1957 to 1974
Solaross 10x40 - 1963 to 1974
Solaross 12x40 - 1957 to 1974
Solaross 15x40 - 1957 to to 1964
Solaross 16x60- 1962 to 1974
Spectacle Solaross 8x35 (model for spectacle wearers) - 1957 to 1974
Sources: Ross Catalogue, November 1962 and information compiled by Terence Wayland
Towards the end of the company's life Ross made binoculars for Dixons under the Prinz label. They were essentially a rebranded Solaross 12x40.
Ross also marketed the Solorass 9x35 as a Ross Lancaster and the 8x40 as a Ross Norfolk.
How old are my Solaross Binoculars?
Ross marked all their products with a serial number. The numbers ran consecutively across all the product range. When Ross was taken over by British Photographic Industries in 1954 the serial numbers were restarted.
When the Solaross was introduced in 1957 the serial numbers were around 11,000.
This is a rough guide to the serial numbers.
11000 to 32800 - 1957 to 1959
32800 to 42000 - 1960 to 1964
42000 to 72500- 1965 to 1970
>72500 - 1970 to 1974
Sources: based on information compiled by Terrance Wayland
Alternatives
British manufacturer Wray also made a binocular for this market, the Wray Wrayvu 9x40, also introduced in 1957, was a direct competitor to the Solaross in the 1950s and 1960s.
Shop on eBay for:
By Steven Braggs, May 2014
Add your comments
Comments
Finally secured employment in Devon away fom city life and dusted off my Father-in-laws Solaross 9x35 s/n 80497 from the 7o's (that i can determine from the information above). Sadly he is no longer with us today but I would have loved him to know that they were being put to good use as the bird life around Dartmoor is wonderful to see. I just need to find someone able to service them (mainly clean the internal sides of the lenses) and hopefully give them many more years of use.
I also came across a pair of 40x70 "cross channel" Solaross binoculars branded for a catalogue company, either Universal stores or Headquarters and General. Their optical performance was pretty dire, even when cleaned they were dull and resolution was poor. I believe there was also a 10x60, again branded for a catalogue company but I have never seen one. Eddy Mayhew.
Re my previous comment I have a feeling th 11x model I mentioned may have had an objective of 63mm not 60. Anyway I have never seen or heard of another. Solaross bins are generally easy to strip, clean and reassemble and successful recollimation is easy to achieve once the objective rim has been unscrewed and the objective lens separated from its mount ( usually fixed by three spots of a kind of fibreglass cement). On reassembly leave out the glue, screw back the ring just tight enough to grip the lens and whilst holding with one hand and viewing a distant object the objective lens can moved in its mount using the other hand. Believe me it's a lot easier than it sounds and works every time as long as the prisms are correctly fixed in place,although there is a fair bit of margin of error here. Once you have alignment carefully tighten the rings fully..If they are tight enough glue is not necessary. If you want to make it permenant simply invert the bins and with the objectives uppermost carefully unscrew the rings then mark the position of the objectives and using a slow setting glue fix them with three small spots. Rescrew rims and check alignment before finally tightening and leaving to set. Sorted!!!