Ross binoculars - model guide
Ross made a range of high quality binoculars. They varied from small and convenient binoculars for tourists and horse racing enthusiasts, to military-style binoculars for specialists, such as sailors or big game hunters.
They did not change the range greatly in the 1960s. That policy, together with tough competition from the Far East, saw Ross disappear in 1975.
Stepnada 7x30 - wide angle, withdrawn c1948
Steplux 7x50 - classic night vision binocular (*)
Stepvue 8x30 - introduced 1947, withdrawn 1962(*)
Steptron 8x30 - introduced 1947 (*)
Spectaross 8x40 - introduced 1953, withdrawn 1966, spectacle wearer's binoculars (*)
Stepruva 9x35 (*) - introduced 1933
Specnorm 9x50 - spectacle wearer's model, introduced 1965, withdrawn 1969
Stepmur 10x50 (*) - introduced c1935, withdrawn 1965
Stepeleven 11x50 - introduced 1965
Stepsun 12x50 (*) - introduced c1935, withdrawn 1965
Tropical 7x40 (*)
Tropical 10x40 (*)
Enbeeco 13x60 - introduced 1960
Sources: based on information compiled by Terrance Wayland (see home.europa.com/~telscope/Ross/Ross.model.names.by.T.Wayland.pdf, Ross catalogue, 1962 and contemporary advertisements.
(*) In 1962 catalogue.
For the Solaross range (1957 to 1975) see Ross Solaross.
Ross Steptron 8x30
The Steptron was a small, general purpose binocular. It was Zeiss-style shape. The Steptron was marketed as a binocular to take on holiday.
It was relatively light weight at 20oz.
Price (1953): £31 5s (in today's money: £600)
Ross Stepruva 9x35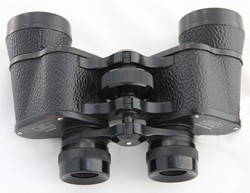 The Ross Stepruva was a Zeiss style binocular. It was aimed at race goers who wanted a little extra power. The slightly increased objective lens sized at 35mm offered brighter vision on dull days.
It was also relatively light at 21oz.
The Stepruva was introduced by Ross in 1933.
Price (1953): £32 10s (in today's money: £640)
Ross Stepvue 8x30
These had the familiar shape of Ross military binoculars with their distinctive circular prism cases. The Stepvue was a lightweight binocular, only 15oz.
Price (1953): £33 (in today's money: £650)
Ross Steplux 7x50
These were the classic military derived binoculars. 7 x 50 was ideal for low light. They were designed for sailors who appreciated low magnification for a steady image and large objective lens for good vision at night.
These were quite heavy at 36oz.
Price (1953): £42 10 (in today's money: £840)
Ross Stepsun 12x50
These had high power and large objective lenses. They were designed for big game hunters (it was the 1950s remember). You needed a steady hand get a stable image with these.
Weight: 36oz.
Price (1953): £48 10 (in today's money: £960)
Ross Stepmur 10x50
Very similar to the Stepsun, with slightly less power. The Stepmur was aimed at bird watchers.
Weight: 36oz.
Price (1953): £48 10 (in today's money: £960)
Ross Enbeeco 13x60
These were lightweight, high magnification binoculars introduced by Ross in 1960.
The Ross Enbeeco was a collaboration between Ross and Newbold and Bulford, wholesalers of binoculars, in 1960. They sold for £33 17s 6d.
How old are my Ross binoculars?
Ross binoculars are all marked with a serial number. There were two runs of serial numbers. One from 1899 to 1954 and another from 1954 to 1974. To establish how old your binoculars are, you need to make a guess based on the model and then work it out from the serial number.
For post-war binoculars the following guide will help:
125000 to 133000 - 1945 to 1950
133000 to 270000 - 1950 to 1954
0 to 11000 - 1954 to 1957
11000 to 32800 - 1957 to 1959
32800 to 42000 - 1960 to 1964
42000 to 72500 - 1965 to 1970
>72500 - 1970 to 1974
This guide was compiled from information in the guide produced by Terence Wayland which is available here Ross serial numbers by T Wayland
Shop on eBay for:
Add your comments