Ross binoculars - model guide
Stepnada 7x30 - wide angle, withdrawn c1948
Steplux 7x50 - classic night vision binocular (*)
Stepvue 8x30 - introduced 1947, withdrawn 1962(*)
Steptron 8x30 - introduced 1947 (*)
Spectaross 8x40 - introduced 1953, withdrawn 1966, spectacle wearer's binoculars (*)
Stepruva 9x35 (*) - introduced 1933
Specnorm 9x50 - spectacle wearer's model, introduced 1965, withdrawn 1969
Stepmur 10x50 (*) - introduced c1935, withdrawn 1965
Stepeleven 11x50 - introduced 1965
Stepsun 12x50 (*) - introduced c1935, withdrawn 1965
Tropical 7x40 (*)
Tropical 10x40 (*)
Enbeeco 13x60 - introduced 1960 (**)
Sources: based on information compiled by Terrance Wayland (see home.europa.com/~telscope/Ross/Ross.model.names.by.T.Wayland.pdf, Ross catalogue, 1962 and contemporary advertisements.
(*) In 1962 catalogue.
(**) The Ross Enbeeco was a collaboration between Ross and Newbold and Bulford, wholesalers of binoculars, in 1960. It sold for £33 17s 6d.
For the Solaross range (1957 to 1975) see Ross Solaross.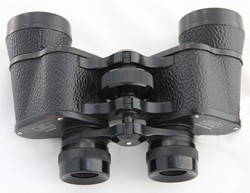 How old are my Ross binoculars?
Ross binoculars are all marked with a serial number. There were two runs of serial numbers. One from 1899 to 1954, and one from 1954 to 1974. To establish how old your binoculars are, you need to make a guess based on the model and then work it out from the serial number.
For post-war binoculars the following guide will help:
125000 to 133000 - 1945 to 1950
133000 to 270000 - 1950 to 1954
0 to 11000 - 1954 to 1957
11000 to 32800 - 1957 to 1959
32800 to 42000 - 1960 to 1964
42000 to 72500 - 1965 to 1970
>72500 - 1970 to 1974
This guide was compiled from information in the guide produced by Terence Wayland which is available here Ross serial numbers by T Wayland
Shop on eBay for:
Add your comments

"Excellent article ,have about a dozen Ross,Barr & Stroud and Kershaw models ,B &S certainly made the most elegant Porro 11 glasses ever produced,as stated inthe article the Ross Stepruva is a great glass as good as any Zeiss or Leica from the same period.The much underated Kershaw Vanguard ,in particular he very rare 12x50 compares well with the Zeiss 12x50 Nobilem of two decades later." john tate 24/11/2015
"Missing on your list are the rare 7x70 navy Ross Binos,Navy Issue,Tropicalised,and coated from the late 40s!I owned a pair which i sold to a Binocular collector a number of years past!" Clive Howes 22/01/2016
"Thank you, being a collector this is valuable information and esp. Mr. Wayland's detailed lists. Sad though that you don't cover the intire production, the first and second serie that from mr. Waylands lists count round 3000 pieces from first serie and it seem 30000 pieces from second serie. I'm particularly looking for information of the Ross "Deatron" 1910, 3X13, Opera prism glasses. Found a mint pair on Ebay, but they seem so rare that it is almost impossible to find information, except a line in Mr. Wayland's list. Without that details about this lovely little Gem could be forgotten, it is hard enough to find detail information of first series, even it is described "the first english prism binocular", -- (The model with Barton Patent arms). Bad when you think of, what you can find about early german binoculars." Per Corell 23/03/2016
"Any information aboutTHESE BINOCULARS.

Enbeeco TRENTOR coated optics 8 x 30 Field 75 SERIAL NO 18746" Bernie Maguire 22/04/2016
"Hi
I'm trying to find more about my Dad's Ross binoculars. I've checked all of the websites but don't know anything about how he was given them and when. They are RegP No 55480 /O.S. 735 G.A. Bin Prism No 5. Mk 1V and still live in their original leather case. The serial number doesn't appear on the T. Wayland list.
Dad, Viv Squibbs was an officer in the Royal Navy Reserve and survived the Atlantic Crossings through WW2; only being ship wrecked once. I think that may be when his binoculars may have received a bang. They still work but focusing isn't as good as it should be. So I'm also interested in finding out how It can be fixed and the cost of it.
I do hope you can advise me.
Regards Pam" Pam 25/07/2016
"Hi Team
I have just been handed a set of oldish Binoculars.
ROSS, London no 54364
Stereo Prism Binocular
Power =10
In a brown leather case
Any ideas on age, value, are they very sort after ??
Any infoo on these would be good
Regards Harry" Harry Pankhurst 14/06/2017
"Hi could you tell me the date of my binoculars please They are Ross of London 10x50 stepmur serial no 7371 thankyou." Chris 29/06/2017
"I have a pair of Ross 9x35 Stepruva binoculars serial number 8317. I would like to know how old they are, and any information pertaining to them. Thank you." Mark Smith 09/08/2017
"Interesting but alas too short article on a very fine English manufacturer, whose binoculars ranked with the worlds best .Optical and Build quality were second to none and form the basis of many superb private collections" Rob 28/08/2017
"I have a pair of old army binoculars with Ross prismatic No.5 Mk 4 "Ross" (Aust)/1 , and the serial No 47679 on them , is there any way of dating them please , thanks for any help given .
Regards,
Andy C." andy crawford 19/02/2018
"Also on the binoculars besides as having Binoculars prismatic No5 MK4 " Ross" ( Aust)/1 ,on a small metal plate on each side of the eye pieces they have another plate with reticle mils 10 apart 5.10.20 high on them , these are Army issue binoculars, but as I stated on my first email ( I forgot to put what was on the second small tag , so if they can be dated that would be appreciated for any help given.
Best Regards,
Andy C. Australia." andy crawford 19/02/2018
"This site you never get a reply to your question!!!" Chris 29/04/2018
"The Stepmur binoculars you mention were made between 1954 and 1957. There is a table just above these comments where you can match approximate serial numbers to dates. I hope this answers your question. Best regards" Steven 29/04/2018
"I bought a pair of binoculars the old leather case is marked ROSS.Ltd 111 NEW BOND St and 31 COCKSPUR St LONDON The binoculars are quite small and fit the case perfectly but there are no markings at all on them could they have been made by ROSS ? or will I never know who made them .JIM" JIM WALKER 02/06/2018
"The case dates the binoculars to between 1897 and 1912. I'm not really an expert on the early models. I have seen a pair marked Ross, London, but only visible when the binoculars were fully extended." Steven 02/06/2018
"I have a pair of Ross binoculars marked
'Stereo Prism Binoculars'
'Power = 8'
marked with serial no. 93648
Can anyone tell me how old these are?" Mike 06/10/2018
"Hi Mike,
From the description and the number I'd say 1920s. Best regards" Steven 07/10/2018
"have stereo prism power 6 binoculars no 8 no 85970 need value they have bakelite cups with blacked out brass for battle" Ben 17/04/2019
"We have a good size binocular collection among those, both first and second serie. Just found a first serie, that carry "Barton arms" and center focus we now store four If. and Cf. first serie and a number of second serie these are the first english prism binoculars. Compared what the price of the first series of Zeiss, Ross are seriously underestimated. Search Google about "Ross first serie"" Ross binoculars 19/07/2019
"How old Ross print binoculars 13x40 serial no 92234 many thanks my email Dunne.paul@hotmail.com" Paul dunne 06/10/2019
"I have a pair of Ross Lancaster binoculars that I inherited from my Dad. Do you have info about the possible years of manufacture of these?" Nick 15/03/2020
"I have a pair of Ross Prismatic No3 Mk1 Number 2785.
I notice on the web pages that this serial number showes Missing. Any thoughts please?.
Thank you" Joseph Shackell 29/06/2020
"i have a superb pair of 1916 8x30 binoculars in my collection with a case by a company called Garstin
Superb optics but only marks on the binoculars is a M#
They look like Kershaw make but cant be sure
Any ideas please" m hearn 06/07/2020
"I have a pair of Ross binoculars see. No. 94832 stereo prism power 8 could you tell me how old they are. Regards John Stoddart" John Stoddart 25/07/2020