Parker Knoll Penshurst wing chair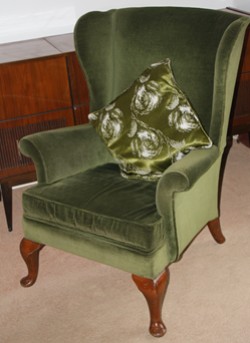 The Parker Knoll Penshurst wing chair is a design classic. It was based on an eighteenth century chair, but brought modern standards of comfort. It was popular from the 1950s right up to the present day.
Parker Knoll introduced the Penshurst wing chair in 1951. It was a simplified version of the classic wing chair.
In the eighteenth century wing chair, the wings were designed to protect from draughts and to trap heat from an open fire. Parker Knoll played on this in the adverts with the phrase 'Wings for the Winter'.
The Penshurst incorporated Willi Knoll's patented spring system. So whilst it was a traditional looking chair, it was very comfortable. I can testify that these chairs are extremely comfortable. So if you are after a classic look without sacrificing comfort, then the Penshurst wing chair is a great choice.
Parker Knoll also made a matching two-seater sofa called the Hawkhurst.
In Parker Knoll's numbering system the Penshurst was PK720. There were several revisions of the basic design up to PK720 Mk 4.
Penshurst is a historic village in Kent which is home to Penshurst Place, a manor house built in 1341 and a former property of Henry VIII.
The Penshurst remained a best seller for Parker Knoll in the 1950s, 1960s, 1970s and 1980s. It was often featured in their adverts.
As tastes changed in the late 1960s from modern to historical styles, the Parker Knoll wing chair found its way into young peoples' homes. Parker Knoll continued the historical theme in 1964 when they introduced the Bosworth. It was closer to a historical reproduction of an eighteenth century wing chair.
The Penshurst had a wide choice of fabrics. Penshursts were often shown in medieval-looking floral prints. Today they can be re-covered in a variety of funky colours and patterns. The combination of the antique style and a modern fabric works well.
Wood finish
The Penshurst was usually supplied with an antique walnut wood finish to the legs. It was possible to specify other finishes, such as beech, teak or mahogony.
How much is my Parker Knoll Penshurst chair worth?
With such a long production run these chairs are not rare. But they are still popular today and sell for reasonable money on eBay.
On eBay the chairs fall into three groups.
Upcycled chair - £300 to £500
Good quality restoration - £200
Good original chair - £100 to £200
Restoration project - £50 or less
Upcycled chairs should be a quality restoration. They should have a stylish new look, such as a bright print in a modern style and bold colours.The upcycled chair should also conform to current fire safety regulations for furniture and furnishings.
For restored chairs also check the quality of the workmanship. The restored chair should also conform to curent fire safety regulations for furniture and furnishings.
Good original chairs should be free from major wear or damage. They should be near-new condition, although some patina is acceptable, eg a few knocks on the legs to show age.
Other chairs which have worn covers will need re-upholstering (any new upholstery should confirm to current fire safety regulations for furniture and furnishings). Since this is expensive, the chair itself should be cheap.
Look for Parker Knoll wing chairs on eBay
How much did the Parker Knoll Penshurst cost back in the day?
1952 - £23 10s [£480 in today's money]
1956 - £28 15s [£450 in today's money]
1960 - £25 15s [£420 in today's money]
1965 - £32 10s to £48 10s depending on fabric [£440 to £660 in today's money]
1988 - £279 [£600 in today's money]
For more on prices in pounds, shillings and pence see - 'Old money'.
For more on Parker Knoll see Parker Knoll.
See also Parker Knoll Froxfield
By Steven Braggs, February 2021
Add your comments