Parker Knoll Froxfield chair
Parker Knoll Froxfield chair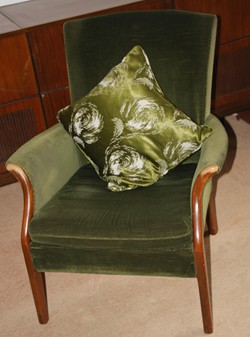 The Parker Knoll Froxfield was introduced in 1955. It was designed to be a small but comfortable chair ideal for small rooms.
The design was elegant rather than contemporary. The personality of the chair depended on the fabric. Medieval-style floral prints went well with it, as did contemporary fabrics.
The Froxfield was part of a group of three: the Froxfield, the Frith wing chair and by 1967, a matching 2-seater sofa.
The Froxfield continued in production until the 1980s.
How much is my Parker Knoll Froxfield chair worth?
The Froxfield is not rare as it had a strong following in the 1960s and 1970s. Unlike the Penshurst, the top end of the market for the Froxfield prefers traditional prints such as William Morris designs.
Good Froxfields are still sought after today:
Good quality restoration - £400 to £900
Good original chair - £80 to £200
Restoration project - £50 or less
Tired-looking examples should be cheap. Reupholstering is expensive.
Look for Parker Knoll Froxfield chairs on eBay
How much did the Parker Knoll Froxfield cost 1950s and 1960s?
1955 - £14 17s 6d [£280 in today's money]
1962 - £16 19s 6d to £22 18s 6d depending on fabric [£250 to £350 in today's money]
1965 - £22 15s to £34 15s depending on fabric [£310 to £475 in today's money]
For more on prices in pounds, shillings and pence see - 'Old money'.
For more on Parker Knoll see Parker Knoll.
See also Parker Knoll Penshurst
By Steven Braggs, February 2021
Add your comments
Comments
No comments yet. Be the first!