60s trousers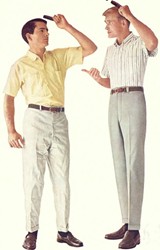 Trousers were slim and tapered for most of the decade. Casual trousers, not part of a suit, were called slacks.
One detail that has changed is that casual trousers in the 60s had smart creases down the leg.
Most men had dispensed with pleats, except for formal tailoring. James Bond, who had his suits tailored in Savile Row, wore pleated trousers in Dr No (1963) and Goldfinger (1966). In the 60s pleats were folded from the outside in, the opposite way round from today. You might call them reverse pleats today.
Trouser bottoms looked slightly half-mast by today's standards. There wasn't much of a break in the fabric as it meets the shoe or boot.
For the first half of the 60s turn-ups were still popular on men's trousers, but were not universal.
Colours and patterns
At the beginning of the 60s trousers were plain. Popular colours were grey, blue or beige. Cream or white chinos were also worn.
At the end of the decade bolder patterns came in. Checks or stripes became popular with more extravert younger men.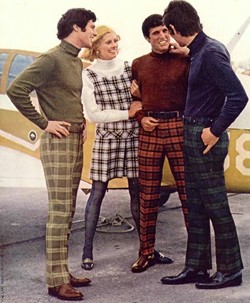 Flares
Flares came in at the end of the 60s and were slow to catch on. But wider trouser bottoms called 'stove pipes' were gaining ground. Today we would call them straights. Flares were not common until around 1973-4.
At this time belts were also getting wider.
Getting the look with modern clothes
The most important part is looking for slim but not skinny trousers. This will give you the right silhouette.
Creases are essential. Modern casual trousers today do not have creases. However, some clever googling can yield the right style.
I would recommend looking for 'Sta Prest' trousers. 'Sta Prest' was a Levi's brand in the 60s, but today it is a generic term for slacks with sharp creases. They will have the right look for the 60s and look good in casual and smart settings.
I also found that Dockers do some excellent 'creased chinos' which look perfect.
Braces were old hat in the 60s and belt loops were fitted to most trousers. But some were held up by an adjustable band around the waist, not an elasticated waist. You might see this today on a formal evening suit. If you want this look you will need to find vintage trousers.
Another brand today which produces some good looking 60s style slacks is Farah. Look for frogmouth pockets, these are particulary cool and a favourite detail amongst the mods.
Your comments
Comments
No comments yet. Be the first!