How to dress like the 1960s - men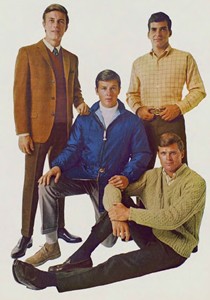 So how do you look like you just stepped out of the 60s? To start with don't worry about flares or kaftans, these were from the 70s for most people. The predominant look of the 60s was slim and trim.
In the 60s people were more formal than today. If you were going out to a restaurant, you wore a suit. You might still wear a suit for a night out with the lads. Informal for many men was a sports jacket, trousers and a tie, although polo neck sweaters were gaining ground.
More men worked in manual jobs than today and wanted to dress up rather than down in their free time.
This group of young American men from 1967 (above/right) shows a selection of informal styles. The man on the left has a 3-button sports jacket. He has teamed it with a tie and a v-neck sweater. Next to him the man standing up is wearing a button down shirt with a check pattern. The man seated on the floor is wearing a cable knit sweater. Shoes are either loafers or desert boots. Some of them have turn-ups on their trouser bottoms.
These are college students so represent a particular look. But some general themes are common to most men from the 60s:
Trousers (pants) rather then jeans, slim, but not skinny, flat front with or without turn-ups;
Smart shoes, traditional brogues or loafers were still popular;
In the 60s shirts were conservative, bright floral and paisley patterns came in at the end of the decade;
Plain colours or classic patterns, such a stripes or checks.
Students and the young increasingly wore jeans. For older men and women jeans were for leisure activities like gardening, walking, boating etc. For a significant chunk of the population jeans were merely work clothes. Watch Michael Caine in Alfie (1965). He wears jeans and a denim jacket for a job at a garage. But out of work he is impeccably dressed in a blazer or sports jacket and tie or suit and tie.
Whether you want to wear casual or formal clothes depends on the situation. In the 60s men were much more likely to wear ties than today. I suggest choosing a look that suits your environment, but nevertheless could have been worn in the 60s.
Read our guides to:
Your comments
Comments
No comments yet. Be the first!