Vintage travel alarm clocks
Vintage travel alarm clocks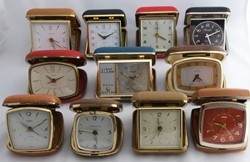 I have a bit of an obsession with 1960s and 1970s travel alarm clocks. They are a little piece of mass consumer culture which has disappeared. The clocks were wind-up and cheap, but their stylish modern design makes them worth collecting.
The small folding travel alarm clock was a favourite gift and accessory in the 1960s and 1970s. People bought millions of them in the 1960s and 1970s. They died out in the 1980s as quartz alarm clocks became cheaper.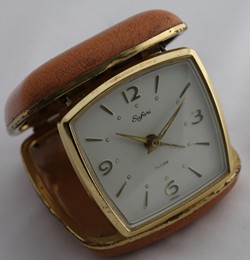 Originally travel alarm clocks were expensive. In 1957, the London jeweller, Garrard, sold a folding alarm clock in a leather case for £7 19s 6d. [£125 in today's money]. The Garrard clock had an 8-day movement. You only needed to wind it up once per week. It lasted an extra day in case you forgot. [1]
The Smiths De Luxe travel alarm clock was also expensive.
A cheaper British alternative was a Smiths folding clock with a 30-hour movement. Other makes, such as Safari, were imported from Hong Kong in the early 1950s. However, it was the German and Japanese manufacturers which dominated this market in the 1960s and 1970s. By 1968 you could order one from Gamages for 37/6 [or £22, in today's money] or get one free with Green Shield Stamps or cigarette coupons.
By 1972 travel alarm clocks cost between £2 and £4. [or between £17 and £34 in today's money. ]
The most common makers were were:
Europa - West Germany
Coral - Japan
Estyma - West Germany
Smiths - UK
Westclox - Scotland (although they often had foreign made movements)
Safari - Foreign (probably Hong Kong)
Peter - West Germany
Tempora - West Germany
Timemaster - West Germany
Salvest - West Germany
Safari -UK or foreign made (most likely Hong Kong)
Source: Which? November 1972 page 327
The quality Japanese watchmaker, Seiko, also made a travel alarm clock for a very reasonable £2.65 in 1972.
Quartz clocks and watches were an expensive novelty in the early seventies, but by the end of the decade quartz clocks were common place. Mechanical alarm clocks still competed if they were inexpensive, but cheap quartz movements in the 1980s meant that the mechanical folding clock had had its day.
How old is my travel alarm clock?
The basic design and mechanics of these clocks changed very little, but fashion altered their look. So it easy to get an approximate date.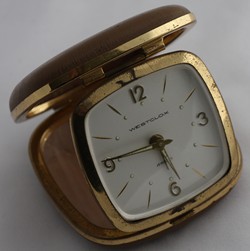 1960s
1960s clocks usually had few numbers on the dial, they looked like contemporary watch faces with dashes instead of digits. They were also more likely to have leather cases.
Since they were more expensive they were often better finished.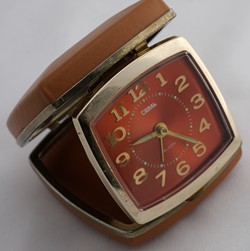 1970s
Travel alarm clocks from the 1970s were more likely to have numbers and no dashes. Roman numerals were also used, but were not that common. Look out for more stylish 1970s designs such as this Japanese-made Coral design.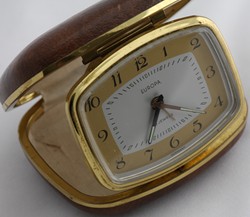 1980s
Argos was still selling the Europa alarm in 1985. As watch and clock styles changed, manufacturers updated their range. Numbers were more likely to be italic and Roman numerals were more common
Argos sold this clock for £6.99 in 1985 [£16 in today's money]. You could buy a plastic quartz clock made by rival, Estyma, for only £4.99.
How much is my vintage travel alarm clock worth?
Most of these clocks are not worth very much. The cheaper German or Japense clocks will sell for only a few pounds on eBay.
But expect to pay £100+ for good qualilty Swiss made clocks from the 1960s.
See:
Vintage travel alarm clocks on eBay
References
[1]The Times 26 November 1957, Garrard advertisment
Read more: