Green Shield Stamps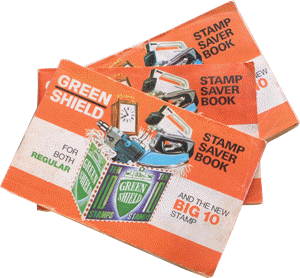 Green Shield Stamps were almost everywhere in the Britain of the 60s and 70s. If you bought your groceries at certain shops the retailer gave you stamps to stick in a book. Once you had collected enough you exchanged the books for gifts. Most people can remember Green Shield Stamps, but there were other schemes. Does anyone remember Blue Star, Gift Coupon, Happy Clubs, Thrift Stamp, Uneedus Bonus, Universal Sales Promotions or Yellow Stamps?
What do you get for living in a climate like this, Green Stamps? (American guest at Fawlty Towers)
Green Shield Stamp collectables on eBay
Green Shield Stamps and other trading stamps, as they were known, were more often found in smaller shops in the early sixties. Local grocers, butchers, greengrocers, fishmongers, chemists, bakers, tobacconists, confectioners, drapers, ironmongers and petrol stations all gave stamps. Later in the sixties, big stores such as Tesco signed up the scheme. For the retailer it was a way of encouraging customer loyalty. For the customer it meant free gifts. The gifts though, had to be paid for. It was the retailer who paid the stamp company. He may have passed on those costs to the customer, but Which? in 1965 found prices no higher in stores that gave away stamps.
Stamp War
A "Stamp War" broke out in 1963/4. Fine Fare starting giving away the American S & H Pink Stamps. Green Shield Stamps were being given away by Tesco and Priceright and other stamp companies competed aggressively for outlets.
Lord Sainsbury opposed trading stamps. He formed the Distributive Trades Alliance comprising Boots, John Lewis, Marks and Spencer, W H Smith and other leading retailers. This challenge lead to an Act of Parliament to regulate the stamp companies. Fine Fare dropped stamps, but Green Shield Stamps remained popular for many years after this.
Green Shield Stamps: the gifts
So what could you get with Green Shield Stamps? Answer: almost anything. The Green Shield Stamp Company produced a glossy catalogue that left consumers drooling over the latest gadgets to enhance their homes. The Green Shield Stamp Catalogue offered every luxury imaginable for nothing. Or so it seemed.
In the 60s the emphasis was on glamour and style. The illustration, left, is from the 1965 catalogue. In this catalogue some of the top gifts were:
Regentone 19" television - 88 books
Longines 9ct Gold watch - 39½ books
Kodak Brownie 8 Movie Camera - 13¼ books
Kenwood Chef - 33¼ books
Silver Cloud motor boat (outboard motor not included!) - 170 books
You could fly with Green Shield Stamps; they could be used as whole or part payment for a flight with BOAC.
You could dream with Green Shield Stamps, but how much did you have to spend? Each book contained 1,280 stamps. You got 1 stamp for each 6d spent. For the motor boat you would need 217,600 stamps; meaning an outlay of £5440, or the price of a large detached house, on groceries and petrol.
So most people had to settle for something more modest. You would need to spend £2,816 to get the television; £1064 for the Kenwood Chef and £424 for the movie camera. For these sums you would have got a modest house, a large family car or a mini respectively. So you would have to have spent a lot at your local grocers or garage. The average person had to go for something even more modest. You would have to spend £32 to get just one book. In 1965 that would give you:
A set of six mugs in pastel colours
Finlandia imported stainless steel tableware (8 pieces)
A record rack
A mouth organ
A set of six lager glasses with gold rims
A set of three pictures
A cigarette box with a paisley pattern lid
Stainless steel salad servers
A gent's brush and comb set
Green Shield Stamps in the 70s
In the 70s the Green Shield Stamp Catalogue sold a dream of a more relaxed, informal lifestyle. Gone was the glitz and glamour of the 60s. In 1976 top gifts were:
Philips Colour TV - 375 books
Lec Chest Freezer - 140 books
Creda Starlight cooker - 115 books
Hotpoint Automatic washing machine - 185 books
Car - any British make or model - ask for a quotation
Richard Tompkins, who brought Green Shield Stamps to the UK, launched the Argos Catalogue Showroom as a spin-off in 1973.
Green Shield Stamps were less popular in the later 70s. Competition from the new supermarket, Kwik Save, made Tesco stop giving away stamps and concentrate on value. Customers realised that they were ultimately paying for the gifts and chose cheaper prices.
How much are my Green Shield Stamps worth?
Each stamp had a value printed on it. The Green Shield Stamp Company never redeemed them for cash, but the value was for legal reasons. The original stamps had the value of 0.075d making each stamp worth 0.03p today. Not much then.
This value bears little relation to how much someone might pay on eBay, for example. Green Shield Stamps are not rare. You might think you haven't seen any for years, but there are thousands squirreled away in drawers and never cashed.
Based on eBay prices these are approximate values:
50 stamps in a sheet - £1 to £3
1 stamp - 10p (if you can get someone to buy one stamp!)
1 book - £1 to £3
1 stamp in a keyring - £3
Stamps usually sell in strips or sheets.
More on Green Shield Stamps
If you fancy reliving your memories of Green Shield Stamps in the 60s and 70s you can buy them on eBay. Look for Green Shield Stamp collectables on eBay
Add your comments on Green Shield Stamps
Comments
Charlie Levine. You only 'vaguely' remember me when we used to review the day, and chew the cud, every night at 5.30 in Sean's office over a glass or 3 of whisky! I remember your wife (was she Ava) and your daughter Elizabeth. You retired to the South coast before I was made redundant in Dec '74. Hope all is well with you and yours. Enjoyed those days xx