Vintage alarm clocks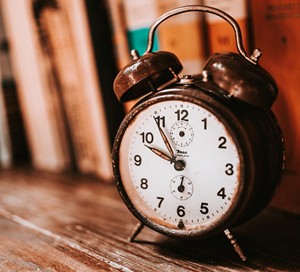 Retro-style alarm clocks are very popular right now. I thought it might be fun to look at real vintage alarm clocks.
Alarm clocks or 'alarum clocks' were common in the late nineteenth and early twentieth centuries. But some preferred a 'knocker up' to wake them. The 'knocker up' banged on their bedroom window, at an agreed wake-up time, with a long pole. The tradition continued in some industrial towns until the early 1970s.
Twin-bell or single bell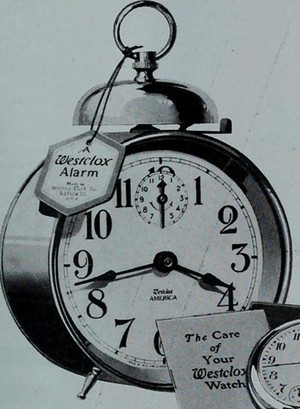 When most people think of an alarm clock they think of the classic twin-bell design. In the nineteenth and early twentieth century this type of clock was rare. Most alarm clocks had a single bell.
There were twin-bell designs in the 1910s. However, this style was most popular when nostalgia for the 'good old days' was reignited in the late 1960s. Like the classic cafetière our idea of what folk used in the past dates from the 1960s.
1960s and 1970s 'classic' alarm clock
In the mid-sixties manufacturers revived the so-called 'classic' double-bell alarm. In 1964 Sears offered a German-made 'Petite' double-bell alarm clock finished in brass with blue, pink or clear rhinestone decoration for $5.97.
By 1971 Sears was selling a large number of different designs. Some were of the classic design. Children's alarm clocks featured 'Snoopy', 'Mickey Mouse' and a host of other characters.
In 1970, J C Penney offered 'Mod Style' clocks in purple, green or red with a flower-power inspired daisy design.
By 1975 Sears was selling double-bell alarms featuring your favourite NFL (football) team.
In the UK they were available in a Woolworth's, Timothy White's, Boots, Argos and many other stores.
Two popular clocks in this style sold in the UK in the 1970s to early 1980s were:
Eurastyle 7/0334 (Yugoslavia)
Peter 20-181C (Germany)
In the 1980s battery-powered quartz clocks became cheaper, so the popularity of the traditional double-bell alarm clock waned.
Concealed bell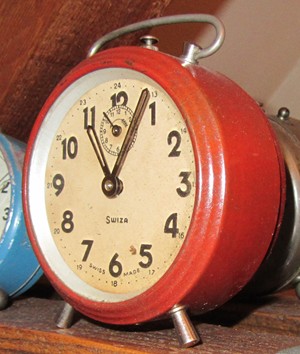 By the 1920s the fashionable alarm clock did not have a visible bell. It was concealed within the case.
This type of mechanical alarm clock sold in reasonable numbers until the 1970s.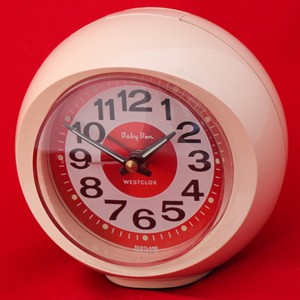 In the UK the most common makers of clockwork (or wind-up) alarm clocks (double or concealed bell) were:
Bayard - France
Eurastyle - Yugoslavia
Goldbühl - West Germany
Junghans - West Germany
Peter - West Germany
Rhythm - Japan
Smiths - UK
Topflite - East Germany
Westclox - Scotland (although they often had foreign-made movements)
Source: Which? November 1972 page 327
Electric clock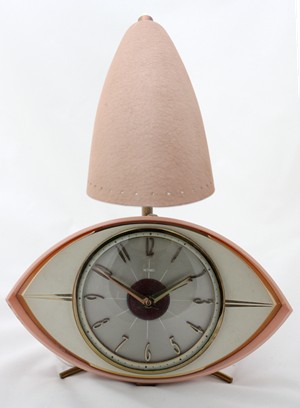 The electric clock predates the transistorised battery clocks of the 1960s, or indeed the quartz clocks of the 1970s and 1980s.
The electric alarm clock first became popular in the 1930s. Smiths Selectric was one of the most well-known brands.
Alarm clocks from the 1950s followed contemporary fashion. Modern was in and clocks generally had a modern feel to them.
This bedside alarm clock from Metamec (left) features a light above the clock. The face has the appearance of an eye.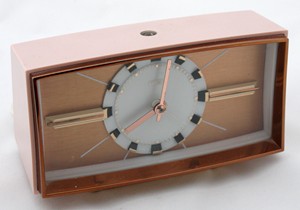 Just as space age looking is this Metamec electric clock from the early 1970s. It had a lighted dial so you could see what time it was without putting the light on.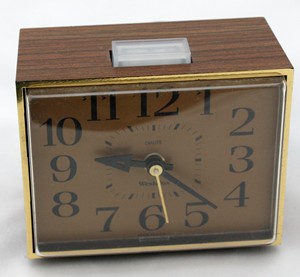 Westclox introduced a snooze function in 1960 [1]. The Westclox Dialite has a single button snooze feature. This one is from the mid-1970s. I love the fake wood finish!
Other electric clocks from the early 1970s included:
Emes Synchro 80 (West Germany)
Metamec A905 (UK)
Smiths Autowake (UK)
Westclox Moonbeam (UK)
Source: Which? November 1972 page 327
Digital alarm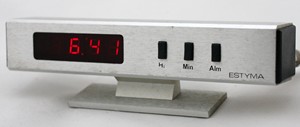 As the technology of pocket calculators emerged, the next step was the digital alarm and the digital alarm clock/radio.
The Estyma 305C Electronic Alarm clock was made in Germany in 1976. It brought brushed chrome minimalism to clock design. You could also get it in a gilt finish.
Unlike quartz battery alarms, it needed 50Hz alternating current and came with a plug-in transformer.
You could buy one from Debenhams (UK department store) in 1976 for £19.95. In today's money that would have been over £100.
The style was a little too stark for most people's homes. Debenhams pointed out that it could also be used as a desk clock. It did not sell well and the price was reduced to £15.95 the following year. Most people would have preferred a clock radio.
Conclusion
The double-bell traditional alarm clock remains a firm favourite today. You can buy new or search out a vintage one on eBay or at an antique market. Happy clock hunting!
References
The History of Westclox Drowse (Snooze) Electric Alarm Clocks retrieved from clockhistory.com
Read more: