70s Fashion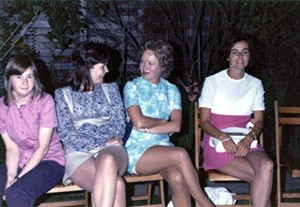 70s fashion began where the 60s left off. Mini skirts were popular and flower power influenced everything. 60s' trends first adopted by the beautiful people became mainstream. Trousers were flared and shirts had big collars. For men the kipper tie soon became standard wear.
These girls (left) are at a party in the summer of 1970. They show that the mini skirt was far from dead.
70s' fashion took on a multitude of different styles and influences. As well as the hippy style, there was nostalgia for the past. First for the 20s and 30s, then the 40s and 50s and finally the Edwardian era. There was also concern for the environment and a strong ethnic influence.
Men's fashion adopted a look that would have been considered feminine a few years earlier. Shirts were tight fitting with big collars. Paisley or floral patterns were popular. There was also a trend towards unisex clothes.
There was a brief fashion for brightly patterned apache scarfs in the early 1970s.
The formal suit was still expected at dinner party in the 70s. But for younger men it was only worn in the office and for formal occasions. Jeans, increasingly flared, were popular with men and women for everyday wear.
By the end of the decade, change was on the way. Punk rejected everything that had gone before.
In the early 70s the fashions were changing. Shirts had those large penny collars, flared trousers were happening. Also there was period where the smart dressed man wore a double breasted blazer with a matching tie and shirt rather wide ties. If I remember, with the girls wearing platform sole shoes, they were taller than the men. So platform shoes became the style for men. Of course, by the mid 70s men wore skin tight see through shirts open to the waist. Andrew Eves
Mini, midi or maxi
The popularity of the mini skirt was challenged in the early 70s and a group of (male) truckers organised a campaign to bring it back in 1970. The mini remained popular in the early 70s. But women could now choose between, mini, midi, (mid-calf length) or maxi (full length) skirts.
Hot pants, ultra short shorts, sometimes with a bib and braces, were a variation on the theme.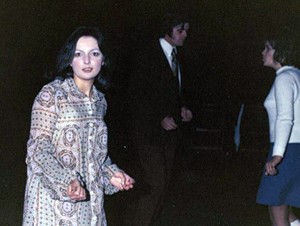 Longer dresses, inspired by the hippy era of the late sixties, were also in fashion. Paisley and floral patterns were popular.
I lived in Portsmouth in 1970/71/72 and was aged 16-18 at that time so had the best of it. Hot pants, mini skirt/dress, long dress and maxi coat, wide brimmed hats, seed bead jewellery and a headband round my head!! I was a true hippy to begin with and went to the Isle of Wight pop festival in 1970. Chris
Flares and platform soles
Two trends defined the 70s in a fashion sense: flared trousers and platform soles. Flares came from the hippy fashion for loon pants of the late 60s. Both men and women wore flared trousers. The flare was from the knee and reached exaggerated proportions in the mid-70s. Trousers were hipsters, sitting on the hips rather than the waist, and tight fitting.
The combination of flares and denim made flared jeans the fashion phenomenon of the decade.
Platform soles were worn by women and more fashionable men. Doctors issued health warnings about damage to the back in later life. But the fashion did not last long enough for people to have problems.
There was an element of thirties retro in the style of some of the shoes. They echoed the thirties' love of two-tone or co-respondent black and cream or brown and cream colours, but had a 70s twist. Bright colours also gave the shoes a space age look.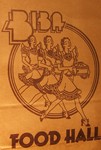 Nostalgia
Nostalgia had a big influence on fashion in the 70s. Barbara Hulanicki's Biba label popularised the look of the 20s and 30s. There was a brief fashion for loudly checked tweed Oxford Bags for men and women from around 1972. People wore them with platform soles in 30s' style two-tone patterns.
In 1973 Biba turned the venerable London department store, Derry and Toms, into an Art Deco palace. The new store, Big Biba, became a hip meeting place and a complete lifestyle emporium. The Biba look was a long cotton skirt, worn with a long sleeved shirt or smock, and topped with a floppy brimmed hat.
Biba was ahead of its time in providing a complete lifestyle store. But it did not make commercial sense. Biba was a place to hang out rather than to shop. A large part of the store's floor space was not used to sell merchandise. Big Biba closed two years later.

Laura Ashley, founded by Bernard and Laura Ashley in the 1950s, looked back even further. They introduced British women to Edwardian style dresses and nineteenth century inspired floral prints in the mid-70s. Laura Ashley, unlike Biba, was commercially successful. It is still going today, although sadly Laura Ashley herself met an untimely death in 1985.
Formal occasions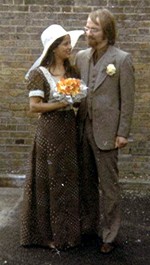 The 70s were more relaxed than the 60s. But on formal occasions and in the office men still wore suits. The kipper tie, favoured by the fashionable in the late sixties, was a standard men's accessory.
Women wore long dresses for formal occasions. This wedding, left, is from 1970. The lady's floppy hat and long dress drew inspiration from the hippy era as well as nostalgia for the 1930s. The brown colour, also derived from the 1930s, was very popular throughout the 70s.
Long hair was fashionable for both men and women. Beards were also popular. This was a hangover from the flower power years of the late 60s. In many peoples' minds psychedelia was very much in, although the music scene had moved on by then.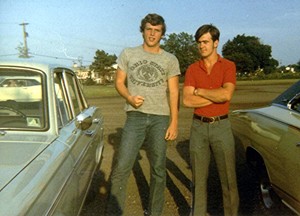 Jeans and the casual look
In the more relaxed mood of the 70s jeans were popular. Initially little changed from the sixties, by the mid seventies most people were wearing flares. Printed t-shirts were also a hit, as were trainers and canvas shoes.
Late 70s fashion
By the end of the 70s, flares were still mainstream fashion. This group, left, shows two younger men with long hair. One wears a suede safari jacket with a wide collar and brown, flared trousers. This look was favoured by Brodie and Doyle in the TV series, 'The Professionals'. The other young man with a short leather jacket and flared blue jeans is more casual. The older man has a beard (a very fashionable look in the 70s) and wears a wet-look type anorak. The woman is wearing a trouser suit.
Flares, denim, long hair and cheesecloth shirts were the staple of 70s men's fashion. Inspired by the hippy movement of the late 60s, this look echoed the hippy dream of free love and optimism. It did not fit with the closing years of the 70s, but mainstream fashion was unable to change.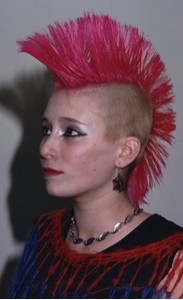 70s Punk fashion
Punk came to most people's attention in 1977 through the publicity surrounding the original Punk band, The Sex Pistols. The Sex Pistols' promoter, Malcolm McLaren, together with his partner, designer Vivian Westwood, created the original Punk look. Their shop at 430 Kings Road, originally named 'Let it Rock', a Ted revival store, was called 'Sex' at the time the Sex Pistols band appeared. The look was based on a sexual fetish for black leather for its shock value. It was combined with ripped t-shirts carrying slogans designed to provoke. McLaren and Westwood changed their shop's name again to 'Seditionaries: Clothes for Heroes' at the end of 1976. The new name heralded a wholly Punk outlook. The stock featured bondage trousers, bondage dresses and a new t-shirt featuring the Punk message, "Destroy".
Punk was a rejection of good taste. Ripped and bleached clothes were part of the look, as was spiked hair, dyed in bright colours. Punks wore black make up and safety pins as earrings. For most Punks, quite a few of whom were unemployed, the look came from modifyied second-hand clothes rather than from a trip to the Kings Road.
Punk itself lasted into the early 80s. Its importance though was as a catalyst for change in the fashion world. Punk rejected the flared jeans and cheesecloth shirts which were popular mainstream fashion. It rejected the hippy style and the hippy view of the world.
Late 70s fashion trends
The end of the seventies saw the appearance of a number of youth cults formed in the wake of Punk. Amongst those was a revival of the Mod style of the sixties, as well as the Teddy Boy look of the fifties.
Mainstream youth fashion also changed dramatically. The 1980 film, 'Gregory's Girl' shows how quickly. One of Gregory's mates, Billy, who is a year older, has left school and got a job as a window cleaner. Billy has saved his money to buy a white jacket with enormous lapels. Gregory's contemporary, Steve, has a white jacket with lapels an inch wide.
There was always a particular way to wear a school tie. In 1979 the knot was tied very near the wide end. The 3 inch long tie was tucked into a pullover, to give the impression it was a kipper tie. From 1980 it was folded in half length ways to reduce the width and pressed with an iron so it stayed put.
By 1980, school ties were often worn 'back to front' so that the 'thin end' was prominent. The fat end was tucked into the school shirt, behind the knot. A bit uncomfortable, but very trendy. Al
I was coming into my teens in 1979, but the punk look was still very much for the minority and most kids still had longish hair, shirts with big collars and flared trousers, although the flares were becoming smaller. Locally the mod revival at the end of 1979 killed off this fashion rather than punk. By 1981 seventies fashions and music had become a total joke and almost no one under 50 would be seen dead in flares. Even punk was being classed as old hat and too seventies. Glenn A
High fashion was very different at the end of the 70s. Ralph Lauren designed the clothes for the hit Woody Allen film, 'Annie Hall' in 1977. There was a distinct 1980s' feel to the outfits worn by Annie (Diane Keaton), who wore crumpled socks, full skirts and layered jackets.
More fashionable men dropped the wide lapels and kipper ties in 1979. Pleated trousers sometimes with turn-ups crept into fashion. Jackets had narrower lapels and ties shunk to three inches in width.
Older people were slower to change from the 1970s look, but by around 1983, the 70s style was extinct.
Comments on 70s fashion: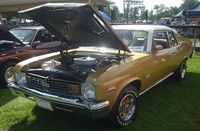 "As my handle or moniker says, I am the 70s man! I wear these clothes, listen to music on vinyl LPs, and own a 1974 Chevy Nova with pride. This stuff is too good it'll NEVER go out of style man! Can you all dig THAT?!" That70sMan
In case, like me, you were wondering what a '74 Chevy Nova might look like, I've found a picture. Actually this car is from 1973. It is a Chevrolet SS Nova Coupé. Thanks That70sMan, really cool car!
"I was at primary school for most of the 70's...boys would wear hand knitted baraclavas and the girls all wore furry hats with strings and pom poms on the end or crocheted hats. There were lots of dungrees and cheesecloth shirts...hmmmm" lilya03
"I have newspaper advertisements for fashion shops from 1969 featuring flared trousers, not 'loon pants'. This fashion would appear to have been establishing itself as early as 1968. The 1969 ads also feature the maxi skirt and maxi coat. The 1960s were amazingly influential. There is also an advertisement from November 1969 featuring the space hopper, which is recorded by some as arriving in the UK in 1971." Andrew Brett
"For me the the early 70's was the change from skinheads to suedeheads, moving up from church hall discos to Scamps in Sutton & Croydon, the 'great' smell of Brut, the fragrance of choice for the girls was Styx or Gingham, smart clothes, a razor sharp crease on your trousers, polished shoes, listening to the best music on import labels and where a night out didn't include getting rat ar*ed on drink or drugs nor was a punch up the the best end to the night. Where tattoos on girls were as rare a bird cr*p in cuckoo clocks, and by todays standards we had respect for ourselves and others.
I don't like getting old and even allowing for the rose coloured specs looking back creates, give them nights out anytime, we certainly had the better times, fashion and music...... Good Times" Bigbloke
"don't forget that the mod revival started around 1976/7, thanks to The Jam, and lasted till about 1984. i was a mod from 1983-4, and remember fashionized bowling shoes on sale, red white and blue, plain white, plain black, black, and, white, and black and red." wayne
Comments
I turned 13 in 1970 and always had a keen eye for streetwear and tribes. In 1970 teenagers might be in tie-dye grandad shirts, ex-RAF great coats, desert boots and beanie hats, or cord or denim jackets and jeans by Levi or Wrangler. Other kids might have gone with the (as yet unpolitucised) skinhead look which by 1971 was to become suedehead, a sort of Mod look, before Mod came back in later on. The mid-70s saw longer hair (Faces-long, nit Deep Purple long) on nearly every male, even football hooligans, with huge widths at the bottom of jeans and trousers over platforms. The presence and influence of punk as a look is always overstated in articles about the 70s. it remained very much a minority look even among the sometimes quite large crowds who went to watch punk/new wave bands. The Mohican hairstyle was an 80s thing, virtually unseen in the 70s. Skinny jeans were just about in as the decade ended, I remember a radio discussion on the lines of 'would you wear them'. By '81 they were everywhere, the 80s had a very different look.
Wow, this takes me back - I was in my early teens in the late 70s. I loved my cheesecloth shirt, platform shoes and flares, and yes, brown was so popular in that decade as well as other neutral colours. Movies inspired fashion a lot - Annie Hall, Grease and Saturday Night Fever. I do beg to differ with you that many punks were unemployed - lots of the punks I knew were posh kids with parents who were in professions like doctors, lawyers and academics.