60s Mods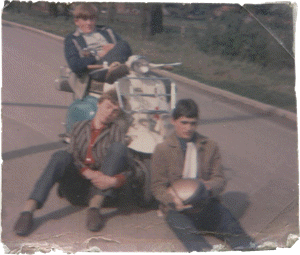 Being a Mod in the 60s was a complete lifestyle choice - clothes, music, clubs and scooters. Mods did normal, nine to five jobs, often at the bottom of the corporate ladder, but outside of work, they totally immersed themselves in the Mod lifestyle. By 1964, Mods had their own monthly magazines, 'The Mod' and 'The Mod's' and their own television programme, 'Ready, Steady Go' (or RSG), which was first broadcast in 1963. The programme's co-host, Cathy McGowan, also wrote for 'The Mod's' monthly. Mod bands such as The Who, the Small Faces and the Kinks also adopted the Mod style.
Mod history
Origins of Mod
It is difficult to pinpoint exactly when Mod started. Probably as early as the late 50s, small groups of individuals reacted against the Beatnik scene, baggy clothes, scruffy beards and Trad Jazz and the violence and yobbishness associated with Teddy Boys. They opted for smart suits, strongly influenced by Italian and French styles, and listened to Modern Jazz. They revelled in the new modern lifestyle of coffee bars and supermarkets that came to Britain in the late 50s. These early Mod pioneers were known as 'Modernists', because of their liking for Modern Jazz, but approved of 'modern' in every aspect of their lives. Influences from the Continent were strong. Early Modernists liked French films, often watched for the style of the actors' suits rather than the content as many did not understand the French language. They smoked French cigarettes - Galois and had French or Italian style haircuts.
There was also a strong influence from the US. They liked Modern Jazz, by black US artists and later US Rhythm and Blues hits, also by black artists, usually rare tracks from the Tamla Motown label. There was also an American influence on clothes. Button-down shirts, rare in the UK, were sometimes bought from US servicemen. Another early Mod haircut was the 'College Boy' - derived from the American Ivy League look of the late fifties.
Mod terms
Faces were top Mods who were seen as taste makers in the Mod movement, the first to start a new trend.
Numbers were younger Mods. The term came from having t-shirts with numbers on. For a time The Who called themselves The High Numbers; the name was meant to appeal to the Mod market. Younger Mods were also called sixes and sevens because the t-shirts cost 7/6 from Woolworths.
Tickets could also mean the same as Numbers, or might have referred to people with no fashion sense. A First Class Ticket being the worst offender.
Mockers copied both Mods and Rockers, and mixed and matched from both.
Mids did the same, but by accident rather than design.
States were people who tried to be Mods, but could not get the look right. Alternatively this term was used to describe Rockers by Jimmy in Quadrophenia. It meant in a bit of a state.
Modernists become Mods
The Modernists were small groups of individuals, mainly males, although there were a few females. Within their circle they talked about clothes; they were completely obsessed with the right look and style. These early Mods spent small fortunes on made to measure suits, shirts and shoes. It simply was not possible to get what they wanted in Burtons.
The early Mods sought out tailors in South and East London who could knock up a suit based on drawings they supplied. The back street tailors, used to supplying the extravagant taste of the Teddy Boys in the 50s, adapted to the new youth fashion of the Mods.
There was a strong Jewish element amongst the early Mods. Many Jewish boys had fathers in the rag trade and grew up with an interest in clothes. They also had the right connections to find tailors who would make suits to their requirements. At this stage Mod was a middle class, as well as a working class, cult.
Within these groups were individuals who lead the style and taste of the others: the 'Faces'. One early Face was Mark Feld, later much better known as Marc Bolan from T-Rex. In 1962 aged 15, he was interviewed for 'Town' magazine along with two other lads. The group managed, on an apparent shoe-string, to buy the very latest styles. Mark Feld and his associates also bought clothes from John Stephen's first shop, 'His Clothes' and John Michael. Harry Fenton was another early Mod label.
It was important to look different and distinct from the crowd. Mods compromised sometimes and altered clothes bought from the chain stores, but they still looked streets ahead of their time. Their attitude was cynical. It was all about living for now; it was not worth waiting for the future.
Mod becomes noticed
1964 was the first year in which the Mods came to public attention. They clashed with rival youth group, the Rockers, who preferred leather jackets, motor bikes and traditional Rock'n'Roll. The disturbances began at Clacton and spread to Brighton and Hastings during the Bank Holiday weekends in 1964. The scale of the violence was often over-reported and sensationalised. It took a while for the straight press to work out what was going on. Some of them preferred to refer to both groups as Teddy Boys.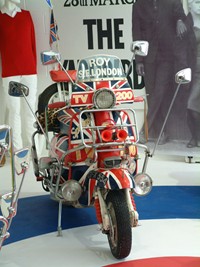 Some of the original Mods wanted to distance themselves from the fighting and now preferred to call themselves Individualists or Stylists. Being a Mod was now less about being an individual and more about being part of a wider movement and to some extent conforming to its norms. Jimmy in Quadrophenia illustrated the dichotomy of being a Mod in the mid-sixties. He wanted to be someone, an individual, someone who stood out from the crowd, yet he was part of a gang that adopted a similar style of dress.
The Mods were now mainly working class teenagers. The school leaving age was 15. The economy was booming and many of these youngsters had little responsibility and money in their pockets. They saw little value in saving for the future and lived for the moment, the short years between leaving school and getting married.
By 1964 the Mod style was fully formed. Rhythm and Blues had replaced Modern Jazz as the Mods' favourite music. Early Mods liked listening to rare Tamla Motown discs, often bought from American servicemen in the UK. The Rolling Stones' music appealed to the Mods, but not their scruffy image and Mods never liked the Beatles. Their own bands were The Who, the Small Faces, the Kinks, the Animals and the Yardbirds.
The Small Faces were an authentic Mod band. The Who were introduced to the style by Pete Meadon, their manager for a brief period. Meadon was a Mod himself and saw the commercial potential of a Mod band. Originally known as the Detours, they had changed their name to The Who, because of a dance hall MC who introduced them as 'The Detours, the who?'. Meadon persuaded the band to change their name again, to the High Numbers - a clearly Mod label. Numbers were young Mods with numbers on their t-shirts.
Under their new managers, Chris Stamp and Kit Lambert, The Who reverted back to their original name.
The Who's Pete Townsend claims he introduced the pop art target into Mod fashion. The Who certainly brought more colour to the style and popularised the Union Jack jacket, another pop art motif.
Stylistically Mods still liked a smart suit, in a style that was constantly updated. Jackets became waisted, rather than box style, drawing on the influence of the traditional City Gent look. The length of the vents in a jacket and centre, or side vents became particular points of style. Lapels were always thin and trousers slim fitting with narrow bottoms. Mohair was often the first choice for material. It could be two-tone mohair, which looked a different colour if viewed from a different angle. Slim ties were still popular, with knitted ties being particularly fashionable. Shirts were slim fitting, the button-down collar was very important.
Favourite tailors and outfitters included Harry Fenton, John Michael and of course, John Stephen. By the mid 60s John Stephen's men's shop had taken over from the backstreet tailors. John Stephen's on Carnaby Street became the male equivalent of Mary Quant's Bazaar. In 1966 you could buy a suit from John Stephen for 37gns. (guineas: 1 guinea = £1 1 shilling see Old money) John Stephen also sold a gold lame leather jacket for 50gns.

In the mid 60s, the London Mods congregated in Carnaby Street for a regular fashion parade. Pop music poured from the boutiques and men's shops along the small, narrow street. By the mid 60s, boutiques catering for girls as well as boys were common on Carnaby Street; the Mods usually brought their girlfriends along with them. Shops on Carnaby Street often came and went. Shops that were on Carnaby Street in the 60s included:
Men's shops/male boutiques:
John Stephen
Lord John
Adam W1
Tre Camp
Carna B Hive
Paul's Male Boutique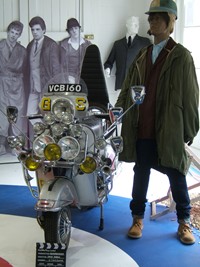 Carnaby Street also had a junk shop called Gear. It sold furniture from our Victorian past and reminders of the then fashionable Art Nouveaux era. Also on Carnaby Street in 1967 were a couple of old fashioned pubs, a health food shop, a toyshop and Button Queen, which sold old buttons.
Mods also wore casual clothes. The original Modernists saw this as a dilution of the style. Jeans had to be Levis, shrunk to fit. The Fred Perry polo shirt was always a favourite with the Mods. Originally only available in white, in the 60s it was sold in various colours. The Fred Perry could be worn with a suit or with jeans. Jeans or slacks could be worn in a variety of colours; hipsters and flares came in and out. Mods also wore blazers, sometimes brightly striped boating blazers. Sports jackets in similar style were also worn, as well as suits.
A favourite casual jacket was the Harrington. It was a short, blouson style, zipper jacket named after Rodney Harrington, a character in Peyton Place. James Dean also famously wore a red Harrington in the 50s.
Favourite shoes were Clarks Desert Boots, Chelsea Boots, originally with Cuban heels and Hush Puppies. Winklepickers were also worn by Mods in the very early sixties, but were quickly replaced by chisel toes, which were Winklepickers finished with a square toe. These in turn were replaced by round-toed shoes. Bowling shoes also came in and out of Mod fashion. Mods also wore sneakers with jeans.
The look was often finished with an ex-US Army Parka. These were worn to protect the suits on the Mods' favourite form of transport, the scooter. Favourite scooters were Lambrettas or Vespas, both from Italy.
Women as well as men followed Mod fashion. The Mod girls had neat, short hair, cut in simple geometric styles. They wore twin sets from Marks and Spencer, combined with A-line skirts. Mod girls also wore trousers and men's shirts.
The Mods's attention to detail extended to everything they owned. Their scooters were adorned with wing mirrors, extra chrome and sometimes fur. A parka, often from army surplus, was worn to protect the suit, when out on the scooter. Everything had to be just right. Mods carried transistor radios, which had to neat and stylish.
The latest thing was very soon out of fashion. Mods wore last month's style to work, if they had middle class office jobs. A favourite lunchtime meeting place for the London Mods was 'Chips with Everything', a Lyons Restaurant at 88 Chancery Lane. Mods also favoured 'Golden Egg' restaurants.
At lunch time and in the evenings, the teenage Mods went to 'Tiles', which opened in 1966. There was a dance floor, music and fashion shops within the club. Older Mods saw 'Tiles' as trashy and commercial. They preferred original Mod music venues such as 'The Scene' and the 'Marquee'. Outside of central London, the Mods frequented suburban dance halls such as the Streatham Locarno or the Wimbledon Palais de Dance.
Even as early as 1964-5, it was possible to distinguish different strands in the Mod movement. There were the original Mods, now referred to as Stylists or Individualists; they preferred sharp suits and were often older and better off than the younger Mods. Stanley Cohen in 'Folk Devils and Moral Panics' referred to this type as the 'Smooth Mods'. There were the 'Scooter Boys' who wore smart trousers and pullovers under an ex-army parka. Then there were the 'Hard Mods' who wore heavy boots, jeans with braces and Fred Perrys. They often sported a crew-cut and were the forerunners of the Skinheads. The original Skinhead fashion, like Mod start out of the Ivey League look. The first Skinheads wore button-down shirts, ties, cardigans and sheepskin jackets. That was 1968; by 1970, they were somewhat different.
From 1967 to 1968 Mod disappeared and Psychedelia took over. Those not keen to join the Hippy movement either settled down or became Skinheads.
Mod labels
Fred Perry
The Fred Perry polo shirt was popular with Mods from the early 60s. It was originally meant for tennis and only available in white. Mod fashion demanded a greater selection of colours. The Fred Perry could be worn casually with jeans or under a suit.
Ben Sherman
Ben Sherman made his own take on the classic Ivy League button-down Oxford shirt from his factory in Brighton from around 1963. The Ben Sherman shirt had buttoned-down collar with an extra button at the back, a pleat in the back and a hanging loop sewn into the shirt. Ben Sherman's were sold at John Stephen and Lord John on Carnaby Street in the 60s. They were worn by the original Mods and some of the Mod bands of the era.
Later the Ben Sherman shirt was adopted by the Skinheads.
Read more: Ben Sherman Mod shirts.
The Pills
To sustain their party-through-the-night lifestyle, some Mods used amphetamines, or speed. Favourites included: Purple Hearts, Black Bombers and French Blues.
Mod fashion today
Some of the original Mod labels still exist today and many sell clothes similar to those sold in the 60s and worn by Mods from 1979. However, they are fashion labels and do move with the times. Ben Sherman targets a younger market and mixes original Mod gear with a newer look which draws some of its inspiration from the Punk and Two Tone scenes from 1976 to the early 80s.
There are reproductions of the classic Mod look available to buy new.
Mods: reference and further reading
I can recommend two excellent books, if you want to find out more about the Mod movement.
Mods!
Mods!, by Richard Barnes is about the original Mod scene in the sixties. It was written by someone who was at its heart. The book has a huge number of original black and white photographs from the era showing Mod fashion as it was. Richard Barnes' account is full of detail about the clothes, the scooters and the bands.
Mod - A very British Phenomenon
'Mod - A very British Phenomenon' also covers the Mod movement in the sixties. It also brings you up to date. There is an excellent section about the 1979 Mod movement, covering the origins, how it developed and faded out. Terry Rawlings' book is illustrated with colour as well as black and white pictures.
I would recommend both books for a complete account of the Mod movement.
Other books I found useful were:
Revolt into Style by George Melly, published 1970 (Penguin)
Len Deighton's London Dossier, published 1967 (Penguin)
The New London Spy by Hunter Davies, published 1966 (Blond)
The Look by Paul Gorman, published 2001 (Sanctuary)
Folk Devils and Moral Panics by Stanley Cohen, published 1973 (Paladin)
See also:
Mods on the web:
For the Mods and Rockers clash on 18 May 1964, see BBC on this Day 18 May 1964, there is also a video explaining 'Mod Culture'. In May 1964, the latest Mod fashion was white or blue hipster slacks worn with a tee-shirt.
eBay is a great place to shop for original Mod gear - see
Your comments on Mod fashion
"I love the mod fashion coz its soooooo smart and smooth, my mum and dad were mods so I've been brought up with it. I just think the men in suits look the bollocks and there hair styles are wicked. I find men who are mods very, very sexy ie paul weller mmmmmmm.xx " claire natalie havard
"I've always loved the mod style. I started out as a mod in the early 80's the revival as they call it, but I was more into the sixty's mod fashion. I always thought it looked smarter. I grew up listening to 60's music and tamla and motown and soul because that was and still is heard in my mum's house. Mod aint just a fashion to me its my way of life. My vespa is my every day transport and my clothes are Fred Perry, Ben Sherman, levi's, 3 button suits boating blazers and a M51 parka that I wear every day. Its 2009, watch carefully its creeping back to another revival ....." lee blurton
"I got into the mod scene back in 1977 at the age of 16. As I was growing up I had no interest in the music of the time i.e. glam rock heavy metal and only what I can describe as complete rubbish on the clothes scene. When I got to about 14 I was given some albums of the Who, the Small Faces and the Kinks from a friend whose dad had been an original mod. I started to find out about what being a mod was all about and when I did I became completely hooked. By the time I turned 16 I had my first scooter all modded up parka and all the clothes. I am 48 this year and still heavily into the mod scene it is a style that I just love." DELLBOY
"I am now sixty two years of age and still look back on my Mod years with some great affection. We used to say, 'Once a Mod, always a Mod.' And that was and is true. Although I have some snow on the roof and am all grown up (my wife might disagree) I still feel that need to dress in a certain way. When suited and booted I still have to feel that I look sharp. sad, I know but being a Mod gave me a sense of identity, something that a teenager, in the developed word, needs as much as food. Mods were not violent, we couldn't afford to be, ours clothes being far to expensive to spoil with our own blood or that of another's. We were too cool...
I would not even look at a girl if she wasn't a Mod. I couldn't listen to the likes of Cliff Richard or Elvis Presley. I also had to be asked out by a sort (our name for a Mod girl) and then if it happened were were Sparko. We used to do a dance called the 'Block' which was big at the Scene in the West End. You had to be 'Blocked' to be able do the Block. If you took enough uppers you could do the Block. As for Marc Bolan, I remember him at a club in the West End that was called, I think, the 'Last Chance' and it was decked out like a cowboy saloon. He was not a leader but was interviewed by a national newspaper and that was that. David Bowie (then, David Jones) also used to go to that club. We also used to go to the Pink Flamingo and a club that the front of Bedford van stuck on a wall (and mattresses on the floor). There was also a cafe that opened all night and that was an important thing to do on a Friday night. Go a feeling the cafe was called the Freight Train.
Being a Mod was something special to be. In its own way it was a great discipline. It was something to aspire to. It was a chance to be someone. To be a Face.
Ahh, the nostalgia...." Bo (My nickname then) Kenneth Beauchamp
"I was a very young American mod the first time and the perfect age of 25 for the second coming with 2Tone etc. Being a mod or skin was and is something special. Mod style is classic and lasting. Brooks Brothers button downs, Loakes, Harringtons, Levis, Freds or Lacoste. Well my son is now 25 and I still love the style. I always preferred 4 wheel transport to 2 wheel ones so it was Fiats and ALFA's for me!" d r callum
"I was demobbed from the Royal Air Force in 1960 at the end of my National Service and went back to work in the Men's wear business at Smart Weston in Coventry St between Leicester Sq and Piccadilly Circus. The shop specialised in fashionable high class merchandise much of it imported from Europe and was expensive beyond the reach of most 'working class' youngsters, it was merchandised to appeal to west end types who could afford to pay for better quality clothes."
"There was at this time no particular fashion or clothes trends and teenagers tended to wear pretty much the same clothes style as their fathers."
"In 1963 I went to work in Knightsbridge for John Michael which sold the crme de la crme of imported fashion, exclusive and top end expensive, even it was appealing to youngsters it was way beyond their pocket, but by this time fashion was very much universal and seemed to appeal to everyone, the clientele at our shop was wealthy older people, many in the arts fields such as theatre and films and society, our most successful ranges were Voile shirts in pastel colours which one needed a degree of self confidence to wear, and beautifully cut flannel trousers in many shades of gray."
"The established fashion chains flirted with clothes specifically designed to appeal to the young people and were shocked at the success that they had and quickly the most forward thinking of them turned their shops over to the new styles, traditionally buyers bought for the following season so there was a lead-in time of many months between ordering and delivery, but now if something was seen on the television it was in the shops within days and that was exactly what was required by the new young buyers."
"Boutiques opened up in secondary shopping places and played loud music and immediately appealed to the youngsters, colours never before seen were produced and all types of new fashion were not only shown but worn and tradition went out of the window. "
"Shops such as John Stephen, Take Six, and to a lesser degree Harry Fenton catered for the fashion, and other shops such as 'The Squire Shop' which imported American college clothing had their own signature and a large following."
"On the whole prices at these shops was well within the ability of keen followers of fashion to pay and people were willing to save and buy exactly what they wanted no matter how unconventional their choices."
"Although fashion has continued to be thrust upon us nothing has ever had quite the same effect as the first bombshell of Teddy boys with its Edwardian suits with black velvet trimmed collars and then the Mod rage with everyone wearing soft button down collars and trousers in Tonic cloth with Marl colours which finished well above the shoes."
"Nowadays pretty much anything goes and I very much doubt if anyone is judged solely on the clothes that they wear." David Weitzman
"my mum and dad were mods, soo ivee been brought up intoo the whole mod thing! i love the way they dress and how they were back in the day, my mum and dad still have mod clothing which i tend to wear(; i just think its soo cool." leah
"In the late 50s' we had our shoes hand made by georgio who had a small workshop in earlsfield he was the best around although some went to Stans' at battersea. One of our first chat up lines was 'where did you get your shoes made?' We also wore large sunglasses everywhere. The suits were made at harris in the cut. Although we were called modernists our music was more chuck berry, ray charles etc. than modern Jazz." john taylor
"Hi, I'm an old 60's Mod too. Now on Bebo as Johny-B-Mod. Born in 1949, was 16 in October '65, first scooter stripped down 'skelly' Lammy LD in '66. Stripped 'cause i couldn't afford to chrome it up!.
Lived in Reading Berks back then. We used to meet up in the 'Bowl', Reading Bowling Ally and just doss around and drink coffee. Used to dance at the Majestic when I was 16, then at The Top Rank, by the station later on. Jobs were so easy to get, leave a job one day, start a different job next day. NO CV, no long interview, firms were crying out for workers, only q' they asked was 'when can ya start'.
I had so much bread back then, smashed up Lammys for a past time, didn't repair um just go out an get another one. Was on pills for a while, just to do the allnighters every weekend, but was no joke when i had to go to work on a Monday morning.
Clothes, yes I had tons of um. Started off buying second hand off of the top Reading Mods, well they would only wear them for a week or two, then sell them off to us lesser mods. Then when I had more cash I started to buy from Harry Fenton in Reading and I would go up to Carnaby Street and the markets in London. I must admit I bought a lot of shirts from C&A in Reading, 'cause they sold 'button downs' with back centre pleats and they were slim fits too! I had 4 suits, 2 Bottle green and 2 Gold. No black suits, too common for my liking. I had a nice boating blazer too, worn with blue hipsters and a grey wool polo shirt. Really looked outa sight, but my haircut was c--p. Had a good Italian hairstyle later when I was getting more into it. Funny, at 15 I was a 'dedicated follow of fashion'. I has this really bold Tab Collar shirt, high collar, blue with white polka dots! Worn with blue n green tartan trousers and some neat chelsea boots with built up heels.
Most of my scooters were Lammys but i did have one Vep, an SS180, but i couldn't keep the front wheel on the ground. Every time i pulled away it would wheelee and i'd lose control sometimes n fall off!!! Soon got rid of it, before i completely wrecked it. Music was Soul n Tamla Motown, with a splash of Blue Beat n Reggae. Fave Soul artist, Otis Redding, Funk James Brown, Motown artists Stevie Wonder, Four Tops, Marvin Gaye, Jnr Walker..... too many to mention. I've still got lots of original vinyl 45's and a few Lp's...
I'm 59 now and still ride scooters, well Lammys, Living in Devon and have had a few Lammys in the last ten years. Drove all the way from here in Devon to Scotland to buy my last one, but was a sad story and the scooter's gone now. If you have time look for me on Bebo, Johny-B-Mod,. I'm gonna b the g now, so take care all, keep the wheels outa the ditches, till next time, Johny-B" Johny-B-Mod
"the fashion is alwright but i think it could improve" harvey
"I am really influenced by the mod fashion and the music. When I was 15, my dad leant me one of his Small Faces c.d's. When I first listened to it, I wasn't that fond of them, but as time progressed they really grew on me. From then on I would visit music stores searching for different mod bands. My mate who was also influenced by the mod music introduced me to The Jam, in which I went out the next day and bought a c.d. I also like a lot of the mod revival bands from the late 1970's, i.e The Lambretta's, Merton Parkas, Beggar, etc."
"I love the mod fashion. I have a pair of winklepicker shoes, Merc London polo shirts and an M60 parka. I am 22 years old and I don't think I will ever lose interest in the whole Mod scene." James Meakin
"When I was in the 4th grade back in the 60's, I had a total Mod outfit that my mother bought me for my birthday. I loved it! It was a white short sleeved mock turtleneck poorboy shirt, light blue mini skirt w/white belt, and white go-go boots. It was the cutest thig that I ever had to wear, and truth be told, I beleive it was the only new outfit that she bought me that whole year. I have fond memories of it." Fay Forsythe
"thanks to you persons ,I am now 62 retired ,spend my spare time playing 60s sounds,I thought I was losing my marbles ,then I found this site, THANKS PERSONS" dave piper
"still a mod after 29yrs i love the fashions, scooters and of course the music the jam all the great mod bands such the who, small faces, the fanatastic the creation who was never really recognised for their great music, i still own a lambretta LI 150 made in 1962 in italy which i love more than my wife and kids sad aint i, after all wasnt it that film that said its way a life never a true word spoken, i remember the ruks i had i had with skinheads wot a bunch of tossers well i have onething to say mods forever we deserve it byee gaz the mod" garry brown
"do you remember hully gullies shoes and icecream jackets which were dyed different colours i remember hully gully shoes painted sneakers ice cream jackets dyed all different colours" mary and gaynor martin
"Im a mod, im 17 and loving the mod life! Do scooter rallies and heavily into the scooters. Us young ones ave our own scooter club too called The Young Ones SC and there are 20 members all under the age of 21 and all riding classic vespas and lambrettas NO PLASTIC SHIT! Got ots of cloth too, Tassled Loafers, chelsea boots, bowling shoes, desert boots, Sta Prests, dogtooth trousers, levis (501's of course) cyclng tops i could go on and on. Oh and Lee Burton i totally agree mate, i can see a mod revival coming." Mitch Griffiths
"i like the mods fashion. but i prefer the rocker. this website could do a rockers page o it's own." kisrty dakin
"I agree im 14 not old enough to get a scooter yet but i make sure dress right desert boots levis polo shir jumper and even though i havent got a scooter yet i still wear a suit and a parka but im trying wit my mates to make more people Mods and its slowly working should make another Mod flim like Quadrophenia bu i argee there coming back i hope soon" modman
"great site and very good info am doing 60s show online at moment from the hospital studio and themed on the mod movement am on every saturday from 7 to 9 pm hope you keep the site going Steve from roch valley hospital radio a volunteer run station in lancashire uk" steve
"Mod is the best fasion and culture! me being a mod myself at the age of fifteen have already had two scooters and my lammy was put in the scootering a month or two ago, lambretta j50,, cant beat a lammy unless you have a gs lol. been a modfor as long as i can remember and all the dads side of the family are to so been brought up around them. the clothes are the nicest things lol you cant beat a perfectly prest suit or levis and a fred perry with dessert boots, jam shoes or wincle pickers. cant forget the button down shirt with a skinny tie :D so gladd to hear of some more people wanting to strt off a new generation of mods keep it up people :-D" Max Hill
"mod fashion is such an essential thing in the 60's ,.also ,mod music. well,i really like the RnB grooves of the small faces. those 'freak" beat will gonna make you dance all night. in fact,i do have a mod influenced band which cover stuffs from the small faces and some bo diddley like rhythms too.. :) we always want to look sharp by wearing freds, shermans and montagut shirts with having levis 501 pants on..but branded clothes were not important as long as you look smart and cool, i think that's enough..ciao!!!" jimmyscott
"basically being a MOD is the dogs. was brought up with the music by my parents, the who, the jam, small faces etc. with the motown and soul of course. the fashion is the one of the best things about it. jeans with a pair of desert or chelsea boots with a buttoned up polo is the bees in my view and on the special occasions whip out the old suit and tie. being 18 of course my first car is an 1989 black mini thirty and is one of the best buys. the mod scene in watford isnt the biggest but if there aint a revival soon i will be disappointed." Jamie Savvides
"I was a frequent customer at Adam's W1 and Lord John in my teens as I was work in the Bishops gate area, were as the Westend was considered a posh for the city and Southend lads the suits in the city were from the sixty's but the westend was rigt next or a part of the Carnaby fare." Andre Azwaz
"I first got into the Mod thing in 1979 when i was 11. Im 41 now and im still into the whole Mod/60 s scene. I find the whole thing incredibly empowering, wearing sharp, smart clothes, the haircut, being into music that most people have no understanding of at all. I like stuff as diverse as JImi Hendrix and Vashti Bunyan!. Soul,R n B (BUT NOT THE NEW R n B!) Ska, Beat, Freakbeat, Pyschedelia, but that divesity is what marks the 60 s out as so unique and special. Where i live if you dont wear tracky bottoms, a hoody and a baseball cap you look different. The Chavs and Norms have no idea about anything. They are happy in their ignorant squalor. People say i live in the past, but contempary pop culture is so desperate and shallow and naff, im quite happy to live in the past! I see the Mod thing as a great antidote to the X factor generation.Its also timeless. You can go to your local high street and see Fred Perry, Ben Sherman, Lambretta etc Can you buy Teddy Boy gear? or Rocker gear? course not. I will always be like this, im still obssessed with clothes and music. Still obssessed wth the 60 s." Anthony
"can you tell me where i can purchase a pair of 60's mod sunglasses " Keith
Hi Keith, I would try looking on eBay. I found a few pairs that looked the part - . The style worn then would have been black plastic shades, possibly wrap around. Alternatives would be something similar to Ray Ban Wayfarers. Be careful if you are looking for original sunglasses from the 60s. You need to look very closely at the descriptions and pictures. Very few original pairs will have survived. However, there a quite a few good reproductions. Retrowow
"looking for ladys mod dresses for a mod and modet party. if u can give some ideas it would be great." juliet cole
Hi Juliet, Early Mod girls wore Marks and Spencer twin sets with A-line skirts. They sometimes wore men's' trousers. Ski pants were also popular. Initially skirts were worn below the knee. In the later sixties mini skirts and dresses were popular. Shift dresses were popular often worn for dancing. Check out for some more ideas. Retrowow
"I was there back then in the 60's. (Yeh it makes me an old fogey now) I was 16 in 1965, had my first scooter in 66. Was a mod from the age of fourteen. I really wish I had kept all of my clothes and my photos. Sorry to say that the so-called Mods today just don't get it right. Too much time spent on buying the 'names' Sherman, Levi, Perry, ect. Not enough time spent on getting the look right. Just because something has the 'name' doesn't make it right. Ben Sherman make some rubbish now. And just because something is called 'mod' doesn't mean it looks anything like original mod stuff. Check out Ebay and see all the rubbish listed under the MOD searches. People really have no idea. So be very careful if you want to look really like an original Mod. Do some deep research, find original 60's photos (they can't lie) and buy a couple of the MOD books that really give true details, not fairy tales. AND please don't think Quadraphenia is anything like the real 60's mods, because it wasn't. The film is good in it's own right, but it aint nothing like the real thing! I'm still a 60's mod at heart. Still wear brogue shoes, Levi's with ź inch turnups, polo or button down shirts & Tab collor shits for best. Red or white socks. white levi jacket. etc etc etc, Outa sight !!!" John Butler
"The event of the 'Mods' or modernist scene was like a breath of fresh air for the still dreary post war Britain. Before this for the 1950's period we somewhat emulated the US youth scene. The arrival of the Mods announced the birth of true modern British youth culture, and a clear and bright signal to all concerned that British fashion and British music are here to dominate the world scene." Stephen Minister
"Well almost true Stephen, BUT. The music was Black American (originally Blues & Jazz, then Soul & Motown) and also West Indian/Jamaican (Ska, Bluebeat, Reggea) and the clothing was Italian & French. The scooters were Italian too! "
"In fact early Modernists didn't want anything British because it was all so old fashioned. They had all their stuff hand made to their own designs. But the culture was British, The Mod 'Thing' was British, but it was a bringing together of ideas, music and fashion from around the world. "
"Even at my tender age of 60, I'm still well into all the modernist ideas. And I still love scooters (even though the sellers are ripping people off with crazy hiked up prices). Unfortunately it's a band wagon thing again, everyone jumping onboard to make a profit. (Just look at Lambretta clothing prices and other so called Mod shops) This is where being a hip modernist comes, it's cheaper to buy off ebay or maybe charity shops. Yes you can find great stuff and a quarter of the price. I've just bought 4 Tab collar shirts off ebay, very low priced and perfect condition. And I've bought lots of second hand Levi's off Ebay ('cause i've lost weight). So guys and girls, shop around, don't pay over the top. One hint, when buying off Ebay, do worldwide searches. Sometimes it's cheaper to import than to buy in the UK, but remember shipping costs.. At the moment I'm looking for another vintage white Levi's jacket, size 38 chest, but no more than £10. I'm going to slightly alter it to be a bit individual/modernist. And I stil prefer tabs to button downs. Being Mod doesn't mean copying everyone else, there is still room to be individual. The most important thing is to ENJOY it. " Johny-B
"I was a mod in the late 70's revival, I loved the fashion and had a two tone suit, boating jacket, Levi 501's, fred perry's in all colours etc etc, if you were a mod you'll know what i mean when i say all my money was spent on clothes and music. Thirty years later not much has changed, I'm still wearing the same type of stuff today." Paul Waddy
"mods r really really really awsome like totally man and i used to have a scooter and was a mod. scooters r really cool to well i guess mods r cool awsome brilliant and terrific. P.S i've writin this for my daddy because he wont get of the computer." michael
"Jeez! what memories I considered myself a 'Face' I got my shoes made at £3/10s a time at Stan Bartholomue of Battersea and my suits made at Sam Arkus of Berwick St. Soho (still get my suits there today) These cost around £20."
"My favourite hang out was lunch times at the Lyceum and other places of an evening like the Tottenham Royal & Streatham Locarno. I had my Vespa GS covered in stolen lights. The Dave Clark Five were resident group at the Royal long before their 1st hit."
"Talk about 'Jack the Lad' I wouldn't even talk to a 'bird' unless she was dead fashionable and could dance 'mod'" oceaneagle
"hi i wasd a mod in 1979 and i must say it lasted about 5 years but i think ill always be a mod. i loved my levis desert boots fred perrys when out on my scooter harrington jackets with my brogues and stay press going out was the hi lite i had a blue mohair suit made lovely with my loafers and ben sherman buttoned down shirts i had some right quality boating blazers we got from london in carnaby street originals lived it loved it still do. music my favourite still northern soul motown smallfaces paul weller still does it for me to. unfortunately now i am a gym freak so only my parka still fits love it still smells of youth and 2 stroke petrol keep the faith" wayne hawkins
"Still into all the old Mod stuff. I'm collecting Levi jackets. Cord ones as well as denim, in all different colours. Just bought some nice white narrow leg jeans as well. I'm looking for some resonably priced cuban heeled mens boots, but I'm not paying the sky high prices. I have got a few tab collar shirts now and lots of button downs of course. Started being a Mod at age 14 in the 60's, was 16 in 1965, now I'm 60 and still a Mod. Just bought myself two Vespas, one is up and running and I'm enjoying riding it even though the weather is still a bit cold. The other is to tidy up and sell on hopefully, but i will still enjoy it whilst it's mine.. I'm on Bebo as Johny-B-Mod, lots of photos on there, + facebook, myspace etc.... Well even at 60 being a Mod means being in touch, keeping up with the world, and always trying to be one step ahead !!!" Johny-B-Mod
"Johny-B-Mod u hero" clive
Comments
I was a mod in the 60's in Medway, Kent and worked in London. Remember seeing Georgie Fame at the Flamingo Club and the Beatles at Vick's in Chatham. Lambretta rides to Margate and buying clothes at Neatawear, lunching at the Printers Devil in Chancery Lane. Mini skirts, shifts, Hush Puppies and Vidal Sassoon haircut, did it all, loved it all and miss it all reading this site. Thank you to everyone for bringing back memories,
I was a converted from skinhead to MOD in 1969 after the MOD ride out to Brighton which was a blast.and have followed the culture ever since i am now 65yrs old. my wife and I will travel far and wide to attend MOD Rallys or to see a good MOD band our favourite at the moment is a Band called Malice they are a Jam tribute band.but we love all 60's music as well we saw the who at Wembley they are still great and going strong along with a lot of other bands. We are both till we die.