Honda S800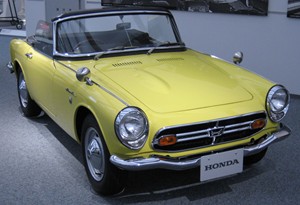 (Source 本人撮影, author 韋駄天狗, from Wikipedia Commons image slightly cropped)
A glance at motoring magazines from the second half of the sixties will reveal an increasing number of articles about "foreign cars". Renaults, Citroens and Simcas from France, BMWs and Mercedes from Germany, and Fiats from Italy were joined by Mazdas and Toyotas from Japan. By the late sixties, the British consumer was familiar with Japanese transistor radios, Seiko watches and Pentax cameras, but could a Japanese sports car be a serious proposition?
The Honda S800, launched in 1965, was the first car from Honda available in the UK. Honda already exported motorbikes to the UK. Both Motoring Which? and Motor saw it as a serious contender in the small sports car market. The Honda S800 had a tiny 791cc engine, which was kept small because of Japanese tax laws. However, with a twin overhead camshaft arrangement, this engine developed 70bhp at rather high revs.
The Honda S800 was seen in Britain as a quirky, high-tech car. Although a rival for the Sprite, Midget and Spitfire, it was a little more expensive. The Honda S800 was available as both a closed coupé and with a soft top.
Motoring journalists were intrigued by the high revving engine. 6000 rpm was considered normal for this car and the engine quite comfortably managed 8000rpm at which maximum power was available. At around 2000rpm the engine had very little torque; the 3000 to 7500 range was normal for accelerating. Performance was stunning for such a small engine. The 0-50mph time was 9.4 seconds and the top speed 97mph.
Motoring Which? though, was less than impressed with the Honda. They found it did not perform well on bumpy or wet surfaces. Of the three small sports cars, Honda, Sprite and Spitfire, the Sprite's handling on wet, bumpy or good surfaces was always rated the best. Motor concluded this also when they tested these three cars head to head in 1967. Motoring Which? praised the technical brilliance of the Honda, but this aside found very little to commend it. It was no faster than the Sprite or Spitfire, and more expensive.
The Honda S800 was available both as an open top sports car and as a closed GT style coupé for a price of £779 in 1967 [£9800 in today's money].
More on the Honda S800
The Honda S800 Sports Car Club site has more information.
See also Honda S800 on Wikipedia.
Add your comments
Comments
No comments yet. Be the first!