MG Midget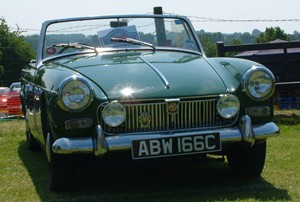 The MG Midget was mechanically identical to the Austin-Healey Sprite. It had the traditional MG grille and a different trim. The 'frogeye' Sprite was never badged as an MG, so the MG Midget was always one mark number behind the corresponding Austin-Healey Sprite. The Midget was always slightly more expensive and people questioned the value of paying a little extra for the MG name.
Motor magazine tested the Mk II Midget and found it a much better car than the Mk II Sprite they tested a year or so earlier. The equivalent Mk III Sprite was identical. The MG Midget now had the 1098cc engine, wind up windows, lockable doors and a heater. Some early Sprite enthusiasts objected to these innovations, but the appeal of the car was widening to older people and women. On the road the new Midget was faster and handled better, but it was still a squeeze and uncomfortable for tall drivers.
Your comments on the MG Midget
"Had a 1964 Racing Green midget back in 1970 for 4 years EPE 494B Wondered wether it is still on the road - It was my pride and joy Any ideas how I may find out? " Roger
Hi Roger, You could try www.mgownersclub.co.uk/lost-and-found-mgs.html Regards Retrowow
Comments
No comments yet. Be the first!