Chad Valley Globe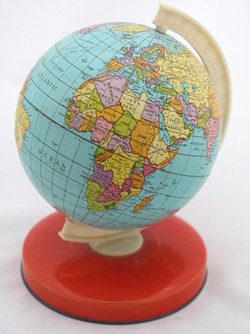 Does anyone remember having one of these small globes in the 1960s or 1970s? I remembered mine when I saw Ochuko Ojiri buy one on Bargain Hunt. I think he got it for £7 and it sold for a profit at auction.
This one was made by Chad Valley. I remember having it in the 1970s and I bought it new. But there is an anomaly with it.
The map dates from the mid-1960s.
The map shows Ceylon, which changed its name to Sri Lanka in 1972. The date of the globe can be found more precisely by looking at the Middle East and Southern Africa.
The map shows 'The Protectorate of South Arabia'. It only existed in this form between 1963 and 1967. It also shows a country called Bechuanaland. It became the Republic of Botswana in 1966. You can also see Zambia, which gained independence in 1964. On the globe it is merged with Rhodesia. Rhodesia illegally declared independence from Britain in 1965.
You can also see Tanzania. Tanzania was formed by the merger of Zanzibar and Tanganyika in 1964.
So it is reasonable to suppose that the map dates from between 1964 and 1966.
Was this globe gathering dust in the shop for seven or eight years, or did Chad Valley not bother to update it?
It was probably the latter, as there are plenty of these globes on eBay and many have later maps.
How much is it worth?
They are quite common. You should be able to get a good one for £10 to £20.
You can date the globe by looking carefully at the map. A few other visual clues might help. Earlier globes from the 1950s are more substantial. They have a metal stand and instructions for setting clocks to foreign times on the base. Later ones have pictures of flags of different countries on the base and a red plastic stand.
Look for Chad Valley globes on eBay
By Steven Braggs, February 2021
Add your comments
Comments
No comments yet. Be the first!