The Royal TV series
ITV's drama series "The Royal" is a spin off from Heartbeat. Like ITV's Heartbeat The Royal is set in the swinging 60s. "The Royal" is a medical drama which evokes memories of older medical dramas made in the 60s such as "Emergency Ward Ten". The setting is St Aidan's Royal Free Hospital in Elsinby. Elsinby is a seaside town. Most of the filming takes place in Scarborough.
Some of the characters from Heartbeat also appear in the Royal. You might have recognised Phil Bellamy, and even Claude Greengrass in some of the previous episodes.
You might recognise this building above which doubles as "The Royal" for the series.
The Royal - the cast
Dr Gordon Ormerod - Robert Daws
Dr Jill Weatherill - Amy Robbins
Dr Jeff Goodwin - Paul Fox - now in BBC1's Casualty
Dr Joan Makori - Kananu Kirimi
Mr Rose - Denis Lill
Dr Mike Banner - Sam Callis
Nurse Stella Davenport - Natalie Anderson
Nurse Marion McKaig - Kari Corbett
Sister Brigid - Linda Armstrong
Nurse Catherine Deane - Amelia Curtis
Matron - Wendy Craig
Lizzie Hopkirk - Michelle Hardwick
Alun Morris - Andy Wear
Ken Hopkirk - Michael Starke
Teddy Catchpole - Tom Mannion
T J Middleditch - Ian Carmichael
Adam Carnegie - Robert Cavanagh
Frankie Robinson - Scott Taylor
How realistic was The Royal?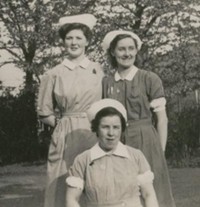 If the Royal is set in the late 1960's how come the female doctor is taking maternity leave? When I worked full time in 1979, maternity leave was only just being introduced.Before then it was not a concept and certainly not in the late 1960s. This is just one anachronism that I have noticed; I do not see the point in setting a programme in a particular era and then ignoring the mores of that time. It is noticeable that some of the views expressed are those of the 21 century and they do not sit well with the life styles which were current at the time in which the programme is supposed to be set. Songsinger
I agree completely with regard to maternity leave, which was introduced in 1975.
Actually we thought that Jill was making a private arrangement to return to work, but you may be right. I guess most mothers would have stayed off much longer, probably returning to work several years later in the 60s. The part played by Gordon showed a fair degree of chauvinism which was right for the era. Why wasn't he consulted about his wife returning to work? Editor
Certainly I feel that Gordon showed the attitude that was prevalent in the late sixties. In the mid sixties I worked for a bank and if you were a married woman, you were not allowed a permanent contract, but had to renew month by month as it was accepted that as soon as you were pregnant you were going to leave! Indeed at interviews it was not unknown to be quizzed as to when you were likely to start a family - how the world changes. Songsinger